FRAME SLIDERS
ENGINE SLIDERS | TIMING HOLE PLUGS | POINT GUARDS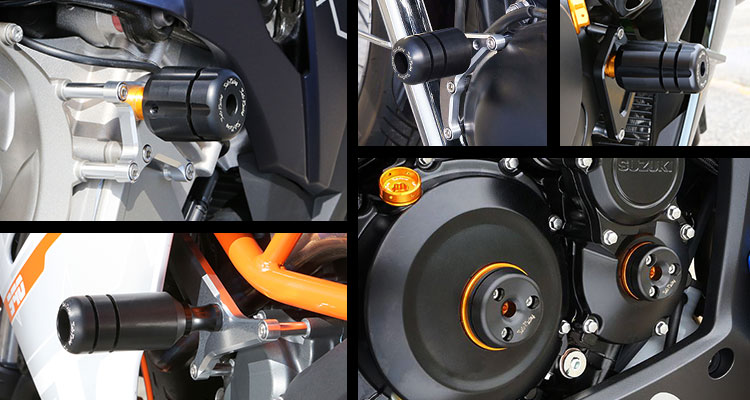 SATO RACING Frame Sliders, Engine Sliders, Timing Hole Plugs and Point Guards utilize slider pucks made of tough DELRIN plastic. DELRIN is an abrasion-resistant material that makes it ideal for protecting your bike if you slide at speed on the track. The sliders have a standoff sufficient to keep the most exposed areas of the engine case and/or fairings from touching the pavement in a crash or lowside, with the slider pucks absorbing and dissipating any potential damage while the smooth, low-friction properties of the slider puck help to glide the bike to a smooth controlled stop. The sliders are attached to the frame or engine case with stainless steel or chrome molybdenum bolts, and anodized billet aluminum collars and brackets (on applicable models). *


aprilia Index
BIMOTA Index
BMW Index
DUCATI Index
HARLEY-DAVIDSON Index
HONDA Index
HUSQVARNA Index
INDIAN Index
KAWASAKI Index
KTM Index
MOTO GUZZI Index
MV AGUSTA Index
SUZUKI Index
TRIUMPH Index
YAMAHA Index

AXLE SLIDERS
SATO RACING also makes Front and Rear Axle Sliders for most sport bike models. Click Here for more info.

- ATTENTION -
* SATO RACING Frame Sliders are made with very hard Delrin plastic. The sliders are designed and developed for track use, and feature a level of abrasion resistance ideally suited to protect your bike during high speed slides. Delrin plastic, with its low coefficient of friction and hard resilient surface, demonstrates the best performance on this situation.

The rider should also be aware that the rigid race-optimized composition of the sliders means they won't provide much energy absorbsion from blunt impacts, such as a low speed or kickstand fall over, and may even shatter if hit hard enough. Hard direct impacts on Sato frame sliders could potentially even damage the frame or engine at the points where they are mounted, and the rider must understand these limitations before installation. Sato Racing is not responsible for slider-related damage to your bike in a fall.

SATO RACING carries a full selection of Replacement Parts
for all our Frame and Engine Sliders.

* * * Contact us to place an order * * *
Individual part names can be found on the illustrated parts list included
with your SATO Sliders, or you can go Here to view a PDF version.
Replacement Slider Pucks
Replacement Slider Pucks and other parts for SATO Frame and Engine Sliders are now available for purchase through our Online Store. Click Here for details.

Home | What's New | Rear Sets | Axle Sliders | Other Parts | Accessories | Replacement Parts | Contact | Facebook | Site Map
Search by Model: aprilia | BMW | Ducati | H-D | Honda | Indian | Husqvarna | Kawasaki | KTM | Moto Guzzi | MV Agusta | Suzuki | Triumph | Yamaha | Other Makes