HONDA MONKEY ('22)
ENGINE SLIDERS
SATO RACING Engine Sliders (Frame Sliders) for 2022 Honda Monkey feature slider pucks made out of high density, abrasion resistant black DELRIN for optimal protection of the engine case, exhaust and other exposed parts if you lay it down at speed. Sliders are mounted over the engine case on both sides with high strength anodized billet aluminum brackets and collars, and stainless steel bolts.
(L/R Set of 2)

We also make matching Universal Position Sliders that protect the upper seat area on the left or right side (Scroll down for more info on these sliders).

Also check out our Timing Hole Plug (part# THP-HON2) that fits several Honda models, including the Monkey, for even more protection for the left engine case.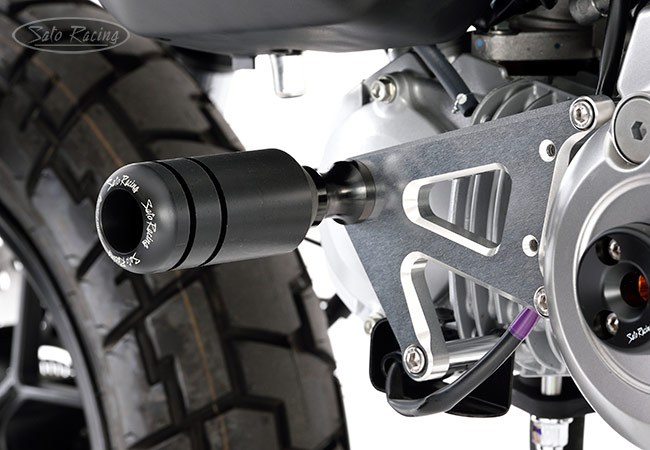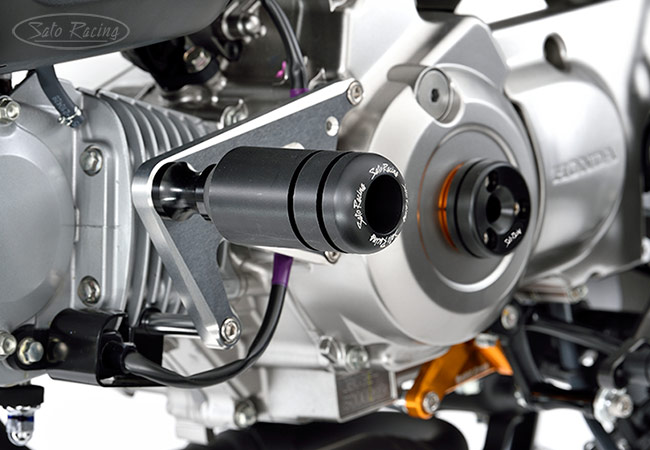 Engine Sliders shown installed together with our Timing Hole Plug (part# THP-HON2).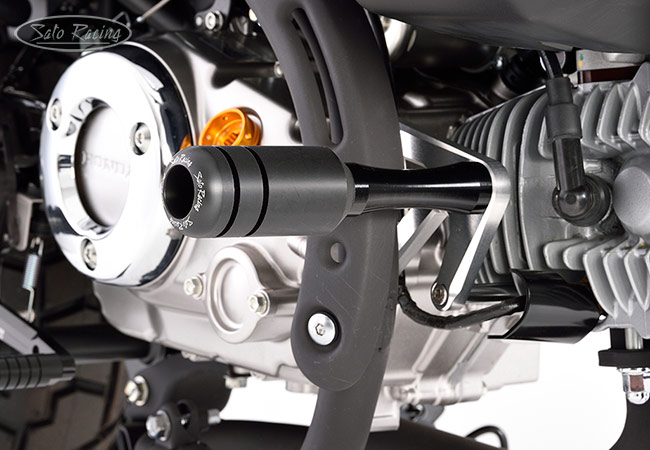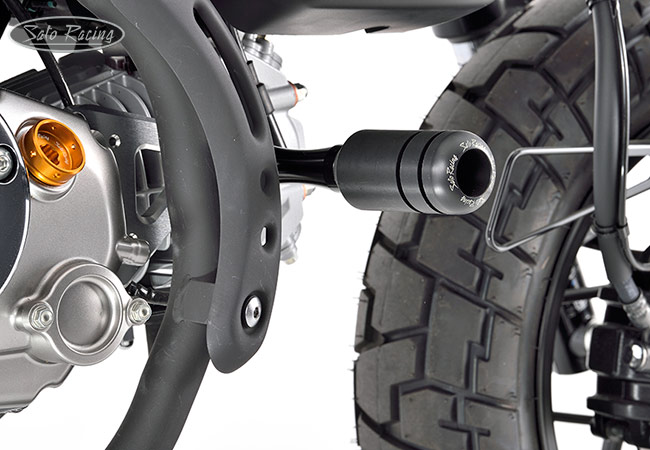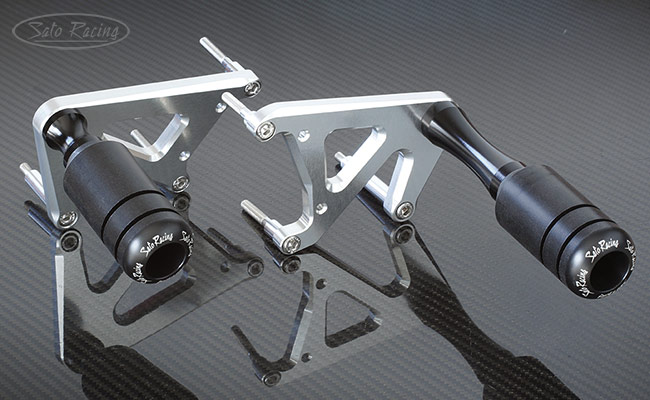 ENGINE SLIDERS
(L/R Set of 2)
H-MKY22ES
$195

YouTube channel eastcoastish made a great how-to video showing the installation of our Monkey Engine Sliders and Universal Position Sliders on a custom 2019 Honda Monkey 125 track bike. Although the Engine Slider model in the video is the version for the earlier Monkey, the installation steps are similar to the 2022 Monkey. Check it out!

HONDA MONKEY ('18-'22)
UNIVERSAL POSITION SLIDERS
SATO RACING Universal Position Sliders for 2018-22 Honda Monkey fit at the upper shock attachment point on the left or right side, protecting the seat and other exposed parts around the upper rear section of the bike if you lay it down while in motion. Slider can be adjusted to the desired position. Features a tough Delrin slider puck mounted on a high strength anodized billet aluminum bracket. Choice of standard length, and a longer version that adds a spacer collar for installation on the right side.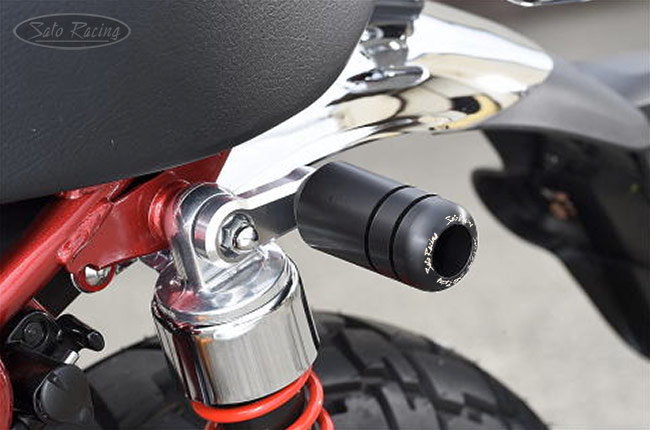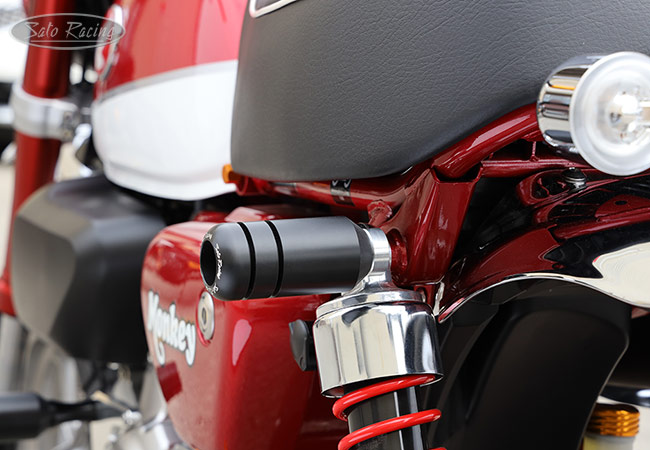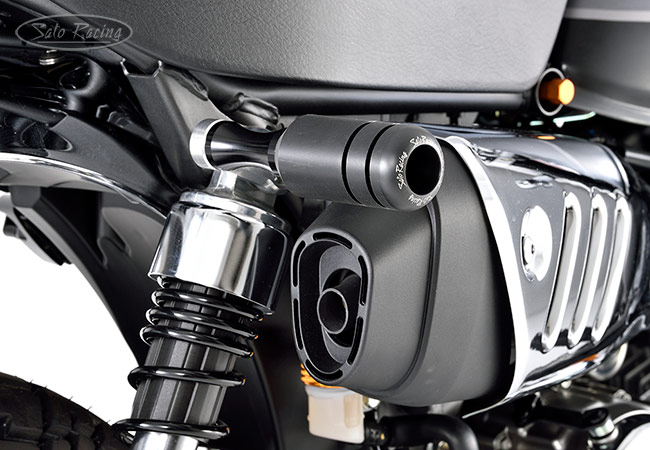 Part# H-MKYUPS2 adds an aluminum spacer collar behind the
slider puck, extending the length so it protects the muffler.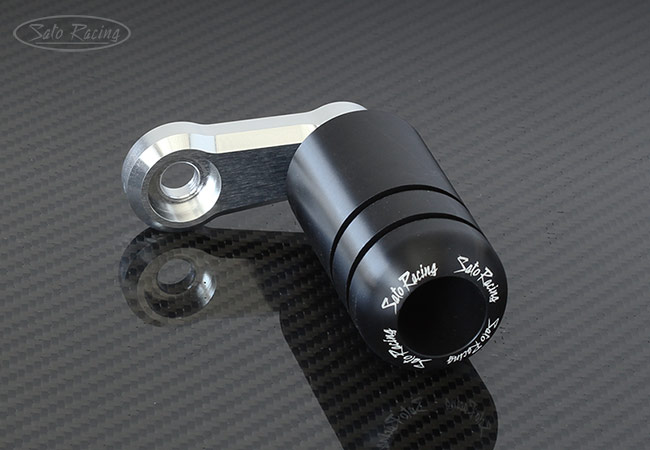 Part# H-MKYUPS
STANDARD LENGTH
H-MKYUPS
$65
LONGER VERSION
(Includes Spacer Collar)
H-MKYUPS2
$75
Have questions or prefer to order by phone? You can call us to place an order -



REPLACEMENT PARTS
SATO RACING offers a full selection of Replacement Parts for all our Sliders.
* * * Contact us to place an order * * *
To find out individual part names & numbers, see the
illustrated parts list included with your Sato Racing Sliders.
Replacement slider puck for the Engine Sliders:
SLIDER PUCK
L10-85MFJ [BLACK]
SDR-L10-85MFJ
$40

More Sato Racing items for 2022 Honda Monkey