KTM 1290 SUPER DUKE R ('14-'19)
FRAME SLIDERS
SATO RACING Frame Sliders for 2014-19 KTM 1290 Super Duke R feature slider pucks made of high-density black DELRIN, a tough, abrasion-resistant material that provides optimal protection if in a slide at speed on the track. The slider pucks are attached to the frame with high strength anodized billet aluminum collars and brackets, and are perfectly positioned to protect the exposed areas of the upper engine, frame and bodywork from scraping the pavement in a crash, while helping the bike slide to a smooth, controlled stop. (L/R Set of 2)

Also available for 1290 Super Duke: [R]-Side Engine Slider and Axle Sliders.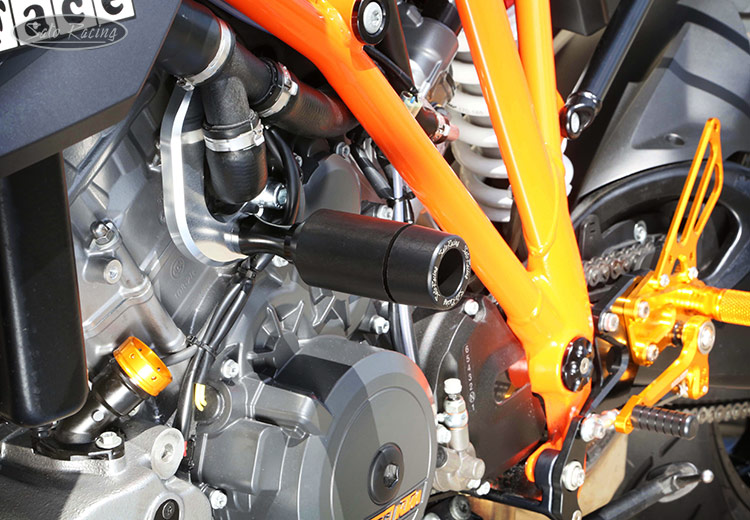 (LEFT SIDE)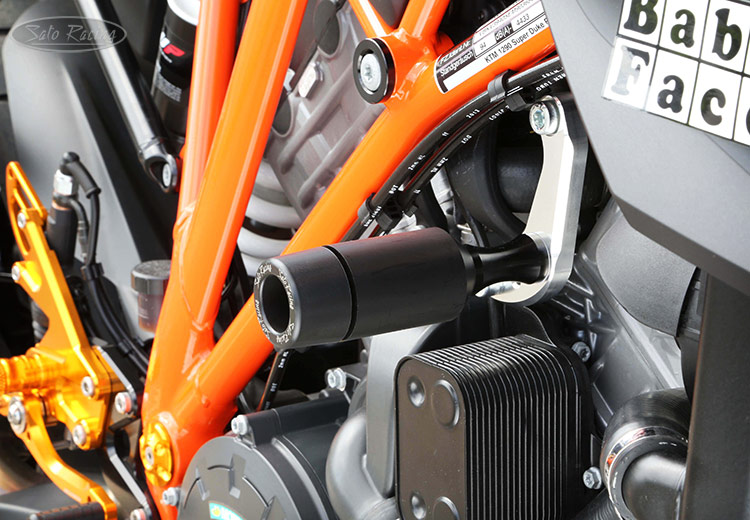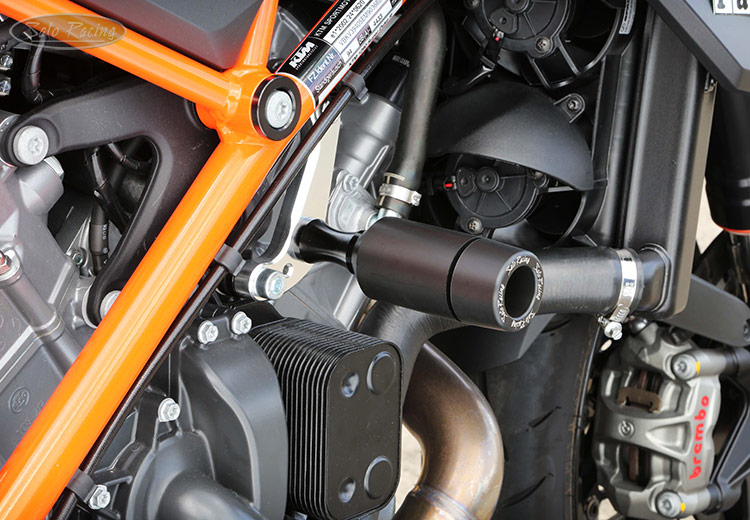 (RIGHT SIDE)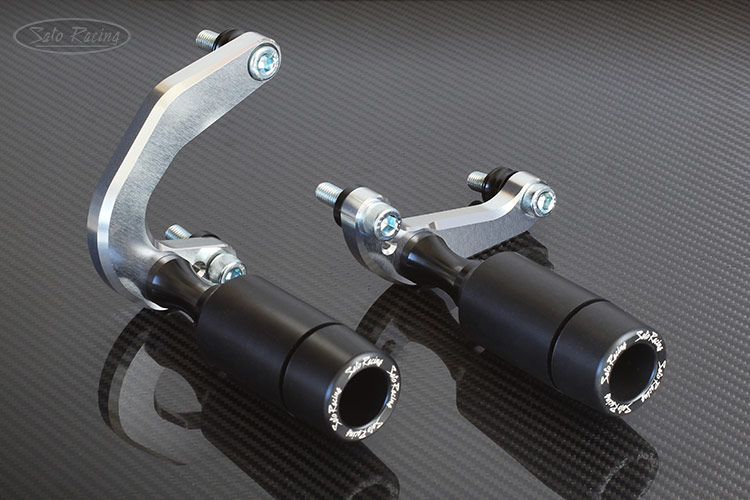 FRAME SLIDERS
(Set of 2)
KTM-1290FS
$220

KTM 1290 SUPER DUKE R ('14- )
[R] ENGINE SLIDER
SATO RACING [R]-side Engine Slider for KTM 1290 Super Duke R helps protect the engine clutch case and surrounding parts from scrapes and other damage if you lay it down on the track. Sturdy anodized billet aluminum mounting bracket with a tough, abrasion-resistant Delrin Slider plate, securely attached to the engine case with aluminum collars and stainless steel bolts. Also fits 2013-15 KTM RC8 R.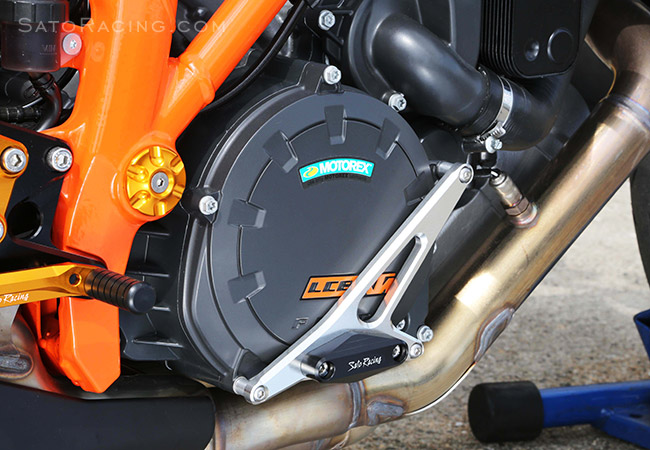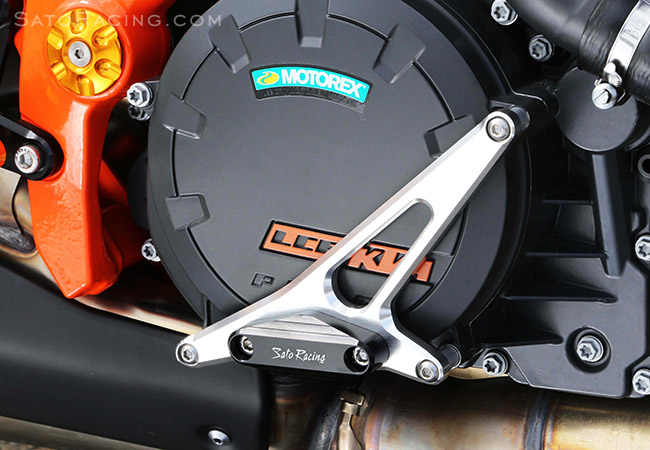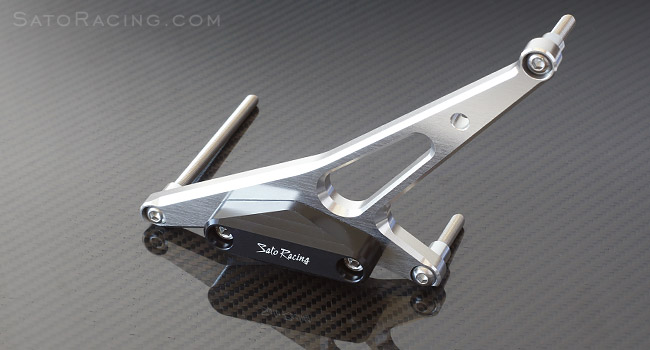 [R] ENGINE SLIDER
KTM-1290ESR
$120
Have questions or prefer to order by phone? You can call us to place an order -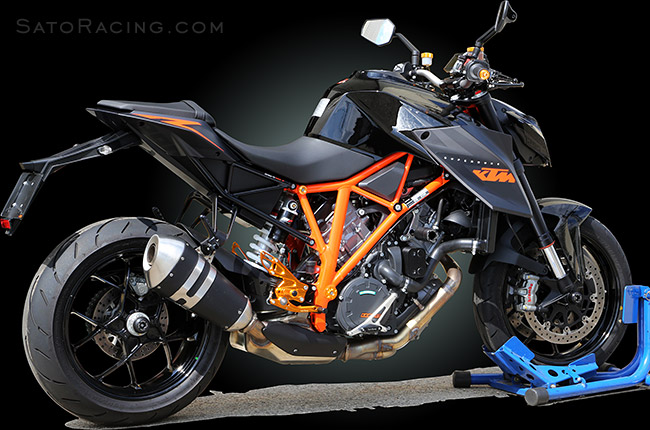 SATO RACING stocks a full selection of Replacement Parts for our Frame and Engine Sliders.
* * * Contact us to place an order * * *
To find out individual part names & numbers, see the illustrated parts list included with
your SATO Sliders, or view the PDF parts list: Frame Sliders | [R] Engine Slider
Replacement slider pucks and related parts:
SLIDER PUCK SDR-L100D
+ COLLAR 10Z
$50
SLIDER PLATE SDRP-55
(for Right Engine Slider)
SDRP-55
$30
SOCKET HEAD M6x10mm
(for Right Engine Slider)
SBT-M610
$1.50

More Sato Racing items for 1290 Super Duke R