HONDA RC51 SP2 ('02-'06)
FRAME SLIDERS
SATO RACING Frame Sliders for Honda RC51 SP2 (VTR1000 SP2) feature beefy slider pucks made of black DELRIN, a tough, abrasion-resistant material with low friction properties that make it ideal for protecting the bike from scrape damage if you lay it down at speed on the track. These heavy-duty sliders have a standoff sufficient to keep the fairings and other exposed parts around the core of the bike from touching the pavement during a slide, with the slider pucks absorbing and dissipating any potential damage, while helping to glide the bike to a smooth, controlled stop. Black anodized billet aluminum collars and a chrome molybdenum throughbolt hold the sliders securely in place.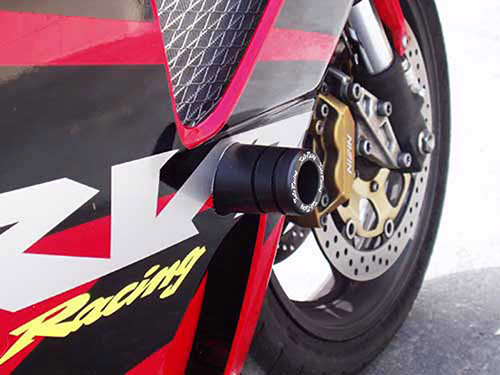 (Installation requires cutting holes in the fairings.)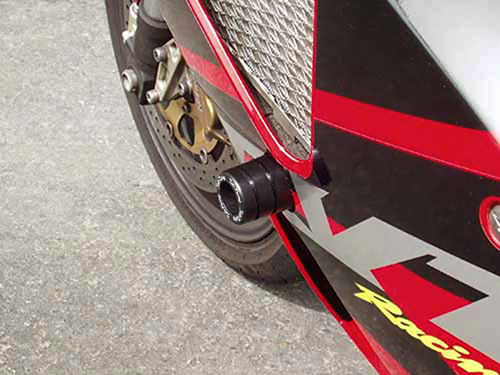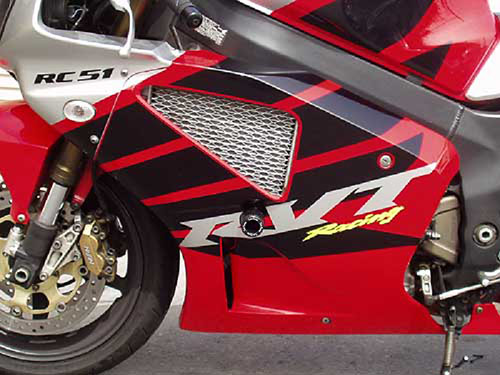 NOTE: INSTALLATION REQUIRES MINOR FAIRING MODIFICATIONS.

FRAME SLIDERS
H-RC5102FS-BK
$129
Have questions or prefer to order by phone? You can call us to place an order -



REPLACEMENT PARTS
SATO RACING stocks a full selection of Replacement Parts for these Frame Sliders.
* * * Contact us to place an order * * *
To find out individual part names & numbers, see the illustrated parts list
included with your SATO Frame Sliders, or view the PDF: Parts List
Replacement slider pucks for this model:
SLIDER PUCK L12-100RCL
[BLACK] (for Left side)
SDR-L12-100RCL-BK
$40
SLIDER PUCK L12-85RCR
[BLACK] (for Right side)
SDR-L12-85RCR-BK
$40

More Sato Racing items for '02-'06 RC51 SP2