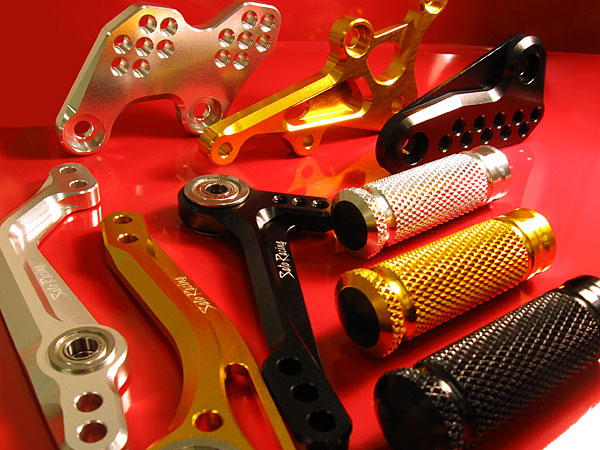 REPLACEMENT PARTS
SATO RACING carries a full selection of replacement parts for every item we sell. Whether you need a new Slider Puck for your Frame Sliders, or a Footpeg or Heel Guard for your Rear Sets, we can help get your bike back on the track.

- HOW TO ORDER -

E-mail us a list of the replacement parts you are looking for, along with your shipping address, to info@satoracing.com, and we'll send you information about availability and a cost estimate. If everything is correct on the estimate and all the parts requested are in stock, we will then e-mail you an invoice that allows you to securely purchase the parts via PayPal (Visa/ Mastercard/ AmEx/ Discover accepted). We usually ship replacement parts by Priority Mail (delivery in 2-4 business days).

Or call us directly at 831-899-1822 (MON-FRI 9am-4pm PST)
(Visa, Mastercard, Discover accepted for phone orders)

- PARTS LIST -

If you still have the Parts List Diagram included with your Sato Racing part, use that for reference. SatoRacing.com also has downloadable Parts Lists for most of our current Rear Sets and Frame Sliders. (If the parts list diagram you need is not listed there, we can email it to you).

REPLACEMENT PARTS FOR REAR SETS
SatoRacing.com now has Parts Lists of most current Sato Rear Sets as downloadable PDF files: Rear Set Parts Lists*. When ordering replacement parts, please let us know the color of your Rear Sets, and if the part # is on the shifter side or the brake side.

Many replacement parts for SATO Rear Sets are now available for purchase through our Online Store, including Foot Pegs and Peg Bolts, Shift Rods and Rod Ends, Pedal Tips, and Replacement Bolts, Nuts and other hardware.

* If your Sato Rear Sets is a discontinued model no longer listed on this site, or an earlier- design version than what we now sell, E-mail us and we'll send you the correct parts list. We carry replacement parts for most discontinued/ "sold out" Sato Rear Sets models, but unique parts such as baseplates may no longer be available, and color options may be limited.

Note: Our Rear Sets' shift and brake pedal design changed several years ago, so it is unlikely we still carry exact replacement pedals for the earliest Sato Rear Sets (those sold around '04-'08). Our updated pedal design is fully compatible with those older Rear Sets, even though they may look different. Another design difference with our new pedals is they now have laser-etched Sato Racing script logos, while most Sato Rear Sets manufactured prior to 2009 or 2010 came with decal-type logos in block letters.

If you need a replacement part for Sato gold-anodized Rear Sets, you should be aware that due to the variable nature of gold-anodizing (each batch comes out different), and the tendency for gold-anodized parts to fade over time from UV exposure, the replacement part probably won't perfectly match the shade of gold on your Rear Sets.

REPLACEMENT PARTS FOR
FRAME SLIDERS / ENGINE SLIDERS / AXLE SLIDERS
SatoRacing.com has downloadable Parts Lists for most models of our Frame Sliders, Engine Sliders and Axle Sliders. Individual part names can be found on the illustrated parts list included with your SATO Sliders, or you can go Here to view a PDF version.

Replacement Slider Pucks for SATO Sliders are now available for purchase through our Online Store. Replacement Bolts in most sizes are also available. Click Here for details.

If you need a slider puck for an earlier model of Sato Frame Sliders, note the style of slider puck on your bike. Our new slider pucks are Black and have white laser-etched Sato Racing script logos on the outer rim, while most Sato Frame Sliders made prior to 2009 came with decal-type logos in block letters on the side of the puck. Many earlier slider models also had the option of White slider pucks, in addition to Black. Our new-style pucks are fully compatible with our earlier models of Sato Frame Sliders, but for many models we still have some of the original-style slider pucks in stock, so if that is what you prefer, you can request that instead.

EXHAUST SYSTEMS
SATO RACING discontinued production of Exhaust Systems around 2010, and most of our remaining stock of complete exhausts has since sold out. We do still have a good selection of replacement parts for many of our exhausts, although the exhaust parts that are most likely to break are often the parts that we no longer have in stock.

Repacking Kits to refurb a Sato Exhaust Canister, including repacking wool and rivets, are available for certain models. (Note: We do not have any replacement canister sleeves or end bands). We also still carry replacement Springs. Let us know what you are looking for and we'll see if we have it in stock.

( Note for Honda RC51 Exhaust System owners - We are now completely sold out of all replacement parts specific to these exhausts, such as midpipes and new replacement canisters. )

Home | What's New | Rear Sets | Frame Sliders | Axle Sliders | Racing Hooks | Other Parts | Gear | Contact | Facebook | About | Site Map
Search by Model: aprilia | Bimota | BMW | Ducati | H-D | Honda | Husqvarna | Indian | Kawasaki | KTM | Moto Guzzi | MV Agusta | Suzuki | Triumph | Yamaha