SUZUKI GSX-R1000 ('09-'16)
REAR SETS
SATO RACING Rear Sets for 2009-16 Suzuki GSX-R1000 are CNC-machined from billet aluminum and anodized in your choice of all Black, or Silver or Gold finish with Black-anodized shift pedal assembly. Modular design lets you choose from 8 adjustable positions that bring your feet progressively higher up compared to stock, to help you achieve a more aggressive riding position well-suited to the fast straights and steep lean angles you may encounter on the track. These Rear Sets can be set up for either stock shift pattern or reverse (GP style) shift pattern.

Available options for these Rear Sets include a Brake Return Spring, a Shift Spindle Holder which reinforces the shift shaft for more precise shift action, and a billet aluminum Shift Arm that provides a wider adjustability compared to the stock shift arm.

Also available for GSX-R1000 '09-'16 : Race Concept Racing Rear Sets (high positions)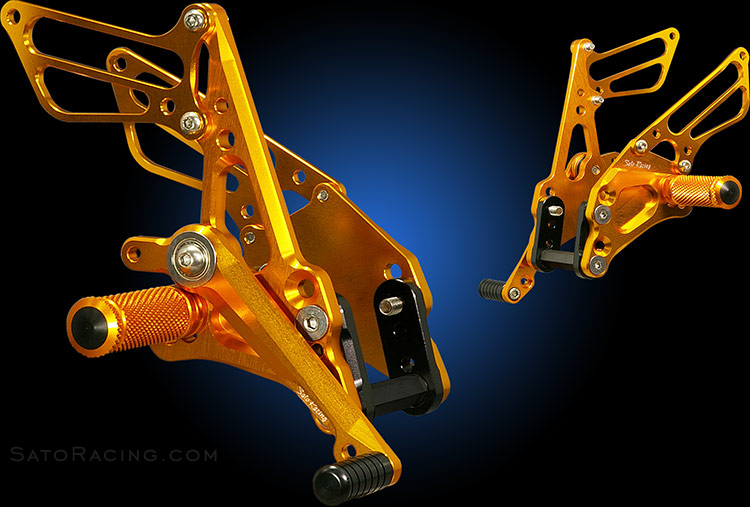 POSITIONS
| | | |
| --- | --- | --- |
| 1 | 0mm Back | 14mm Up |
| 2 | 0mm Back | 24mm Up |
| 3 | 10mm Back | 14mm Up |
| 4 | 10mm Back | 24mm Up |
| 5 | 2.5mm Back | 29mm Up |
| 6 | 2.5mm Back | 39mm Up |
| 7 | 12.5mm Back | 29mm Up |
| 8 | 12.5mm Back | 39mm Up |
note: all measurements are in relation to stock position (0 mm).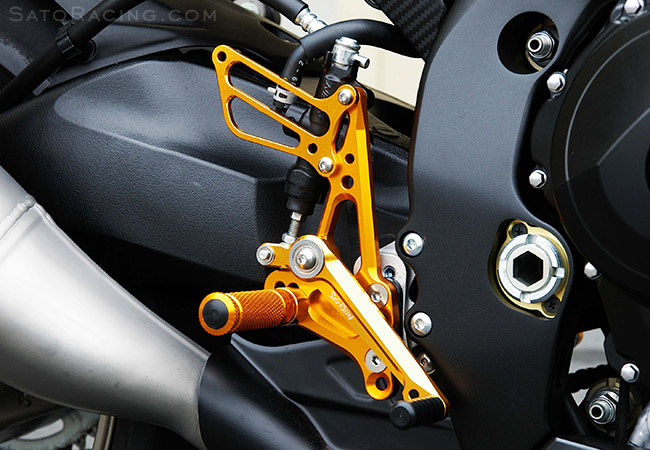 Footpegs feature a finely knurled grip pattern with excellent non-slip characteristics. The shift
and brake pedals utilize double stainless bearings for smooth, precise movement and a solid feel.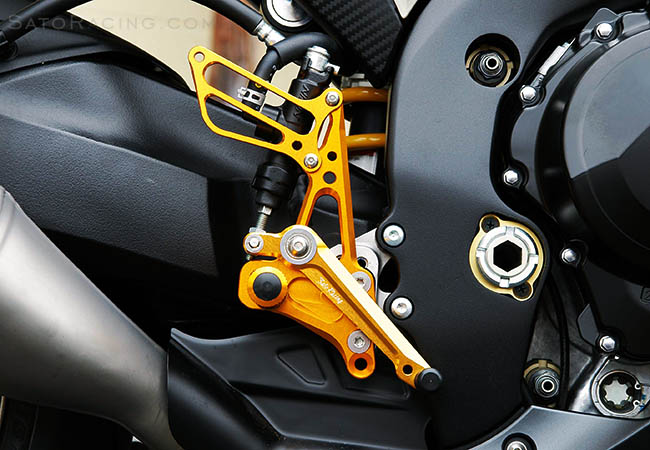 Step Plate position is adjustable. You can also adjust the positions of the shift and brake pedal tips.
A brake light switch (not shown installed in the above photos) is included with these Rear Sets.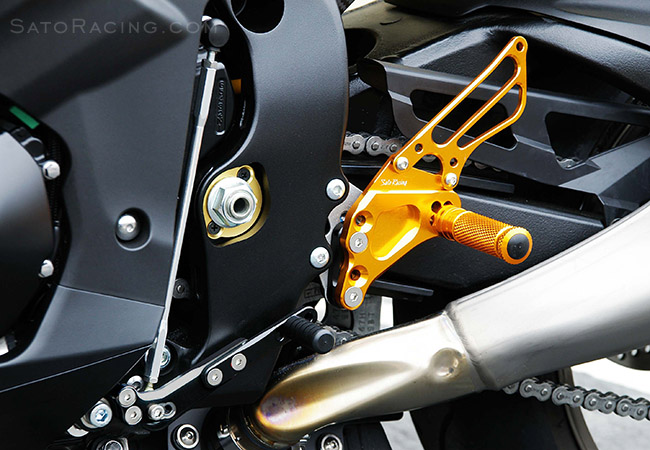 (Shift Pedal Assembly comes in BLACK only)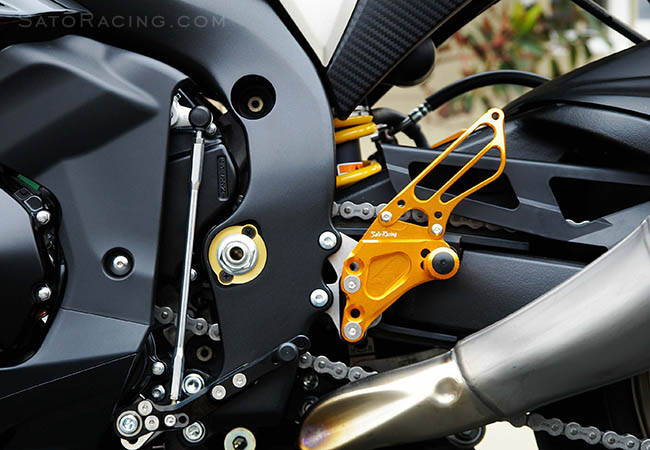 You can set it up for either stock shift pattern or reverse (GP) shift pattern by flipping the stock change arm. These Rear Sets are designed for use with the stock Suzuki shift rod, but if you want a shift rod in another color, or shorter length (such as if you will be using these rear sets with a quickshifter), We do sell Shift Rods separately in various colors and lengths. Click Here for details.
BLACK
S-GSX109RS-BK
$545
SILVER
w/ BLACK Shift Assembly
S-GSX109RS-SV
$545
GOLD*
w/ BLACK Shift Assembly
S-GSX109RS-GD
$545
(Brake light switch is included in kit)
* Click Here for important info about Sato GOLD-anodized parts.



OPTIONS


SUZUKI GSX-R1000 ('09-'16)
SHIFT SPINDLE HOLDER
Our Shift Spindle Holder for GSX-R1000 reinforces the stock shift spindle, adding strength and rigidity to the spindle and reducing lateral movement and excessive play during shifting. Works great with Sato Rear Sets. Gold anodized billet aluminum with a Teflon-coated bushing.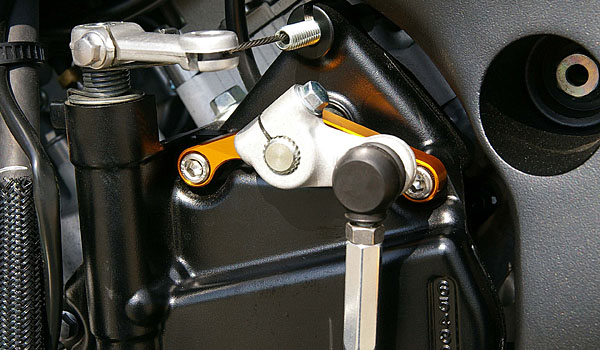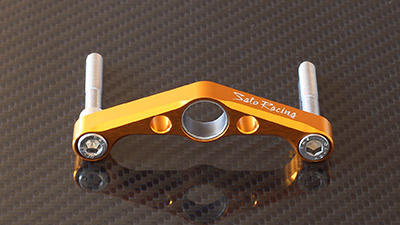 GOLD
S-GSX109RS-SHDR
$75
Click Here for important info about Sato color-anodized parts.

BRAKE RETURN SPRING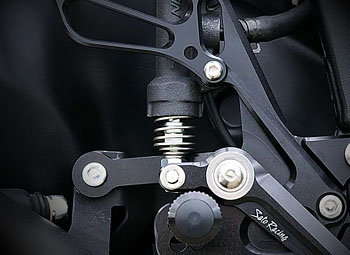 SATO RACING Brake Return Spring quickens the pedal return and may make the pedal feel stiffer and more responsive compared to no spring. (For use with specified SATO RACING Rear Sets).
RS-RSP
$8.00
Have questions or prefer to order by phone? You can call us to place an order -



REPLACEMENT PARTS
SATO RACING offers a full selection of Replacement Parts for our Rear Sets.
* * * Contact us to place an order * * *
To find out individual part names & numbers, see the illustrated parts list
included with your Sato Racing Rear Sets, or view the PDF: Parts List
Common replacement parts for Rear Sets part# S-GSX109RS:
FOOT PEG [BLACK]
PEG-BK
$42
FOOT PEG [SILVER]
PEG-SV
$42
FOOT PEG [GOLD]
PEG-GD
$42
HEX HEAD M8-40mm
(Foot Peg bolt)
HBT-M840
$2.00
PEDAL TIP (DELRIN)
ST-001D18
$15
BUTTON HEAD M6-20mm
(for R-side Pedal Tip)
BBT-M620
$1.50
BUTTON HEAD M6-25mm
(for L-side Pedal Tip)
BBT-M625
$1.50
SHIFT PEDAL SPD8 [BLACK]
(L-side #8)
SPD-8B
$30.00
FLAT HEAD M6-10mm
(L-side #18)
FBT-M610
$1.50
WASHER M6
(R-side #17)
WS-6
$1.00
E-CLIP M6
(R-side #18)
ECP-6
$1.50
BRAKE LIGHT SWITCH
(P-1.25)

BSW-125
$25
Additional replacement parts such as Rod Ends and related hardware can be found HERE.

More Sato Racing items for 2009-16 GSX-R1000