SHIFT ROD
Replacement part for SATO RACING Rear Sets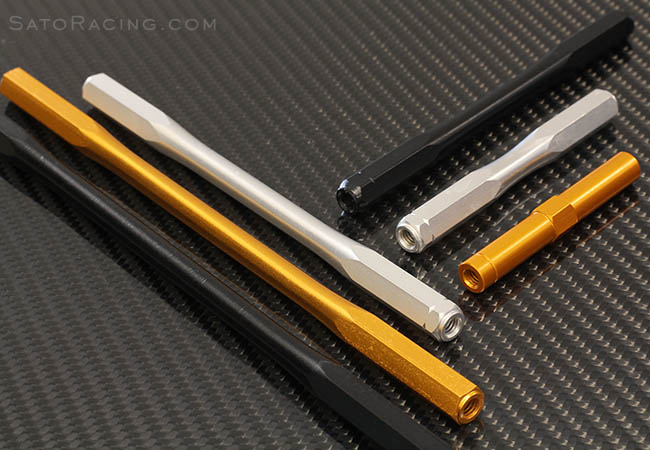 SATO RACING Shift Rods are made of high strength billet aluminum, and are available in a wide variety of lengths, ranging from 40mm all the way up to 255mm. Our shift rods have M6-size internal threading on both ends (unless otherwise specified), with a standard (right hand) thread on one end, and a left hand (reverse) thread on the other end. Choice of anodized Black, Silver or Gold (most sizes).

Whether you need a new replacement Shift Rod for your Sato Rear Sets, or want a different length of rod than what came standard with your Rear Sets (such as might be the case if installing an aftermarket quick-shifter with Sato Rear Sets), we most likely have the length of Shift Rod you are looking for.
(To find the correct Shift Rod for your Sato Rear Sets model, see the Parts List Diagram).
LENGTH
(mm)
COLOR
PRICE
40
BLACK
SRD-40-B
$35
40
SILVER
SRD-40-S
$35
40
GOLD
SRD-40-G
$35
50
BLACK
SRD-50-B
$39
50
GOLD
SRD-50-G
$39
70
BLACK
SRD-70-B
$39
70
SILVER
SRD-70-S
$39
70
GOLD
SRD-70-G
$39
80
BLACK
SRD-80-B
$39
90
BLACK
SRD-90-B
$39
90
SILVER
SRD-90-S
$39
90
GOLD
SRD-90-G
$39
100
BLACK
SRD-100-B
$39
100
SILVER
SRD-100-S
$39
100
GOLD
SRD-100-G
$39
110
BLACK
SRD-110-B
$39
110
SILVER
SRD-110-S
$39
110
GOLD
SRD-110-G
$39
LENGTH
(mm)
COLOR
PRICE
120
BLACK
SRD-120-B
$39
120
SILVER
SRD-120-S
$39
120
GOLD
SRD-120-G
$39
130
BLACK
SRD-130-B
$39
130
SILVER
SRD-130-S
$39
130
GOLD
SRD-130-G
$39
135
BLACK
SRD-135-B
$39
135
SILVER
SRD-135-S
$39
140
BLACK
SRD-140-B
$39
140
SILVER
SRD-140-S
$39
140
GOLD
SRD-140-G
$39
145
BLACK
SRD-145-B
$39
145
SILVER
SRD-145-S
$39
145
GOLD
SRD-145-G
$39
150
BLACK
SRD-150-B
$39
150
SILVER
SRD-150-S
$39
150
GOLD
SRD-150-G
$39
LENGTH
(mm)
COLOR
PRICE
160
BLACK
SRD-160-B
$39
160
SILVER
SRD-160-S
$39
160
GOLD
SRD-160-G
$39
170
BLACK
SRD-170-B
$39
170
SILVER
SRD-170-S
$39
170
GOLD
SRD-170-G
$39
180
BLACK
SRD-180-B
$39
180
SILVER
SRD-180-S
$39
180
GOLD
SRD-180-G
$39
190
BLACK
SRD-190-B
$39
190
SILVER
SRD-190-S
$39
190
GOLD
SRD-190-G
$39
LENGTH
(mm)
COLOR
PRICE
195
BLACK
SRD-195-B
$39
195
SILVER
SRD-195-S
$39
195
GOLD
SRD-195-G
$39
205
BLACK
SRD-205-B
$45
205
SILVER
SRD-205-S
$45
205
GOLD
SRD-205-G
$45
210
BLACK
SRD-210-B
$45
210
SILVER
SRD-210-S
$45
210
GOLD
SRD-210-G
$45
220
BLACK
SRD-220-B
$45
220
SILVER
SRD-220-S
$45
LENGTH
(mm)
COLOR
PRICE
230
BLACK
SRD-230-B
$45
230
SILVER
SRD-230-S
$45
245
BLACK
SRD-245-B
$45
245
SILVER
SRD-245-S
$45
245
GOLD
SRD-245-G
$45
255
GOLD
SRD-255-G
$48
SHIFT ROD HARDWARE
M6 MALE ROD END
RDED-M6
$12.50
M6 MALE
REVERSE ROD END
RDED-M6L
$12.50
M6 FEMALE ROD END
RDED-F6
$15
M6 FEMALE
REVERSE ROD END
RDED-F6L
$15
STUD BOLT M6
STUD-M6
$2.50
REVERSE
STUD BOLT M6
STUD-M6L
$4.50
JAM NUT M6
JNT-6
$1.75
REVERSE
JAM NUT M6
JNT-6L
$2.50
ROD END COLLAR 3
RDED-CLR3
$6.00
ROD END COLLAR 6
RDED-CLR6
$6.00
SOCKET HEAD M6x20mm
SBT-M620
$1.50
SOCKET HEAD M6x25mm
SBT-M625
$1.50
HEX HEAD M6x18mm
HBT-M618
$2.00
BUTTON HEAD M6x15mm
BBT-M615
$1.50
BUTTON HEAD M6x18mm
BBT-M618
$2.00

Home | What's New | Frame Sliders | Axle Sliders | Other Parts | Gear | Replacement Parts | Contact | Facebook | Site Map
Search By Model: aprilia | Bimota | BMW | Buell | Ducati | H-D | Honda | Husqvarna | Kawasaki | KTM | Moto Guzzi | MV Agusta | Suzuki | Triumph | Yamaha