Important info about
SATO RACING color-anodized parts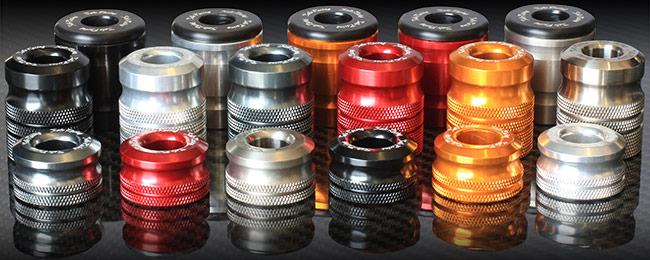 Aluminum anodizing is an electrochemical process that increases the thickness of a passive, naturally occurring, protective aluminum oxide film. Without this process, regular aluminum will corrode and become weak. Anodizing provides protection from these effects. One known drawback of all color anodizing, including Black anodized finishes, is its tendency to fade with prolonged exposure to UV rays. Since this does not affect the primary purpose of anodizing - corrosion protection - Color fading is not covered by the Sato Racing warranty.
Customers interested in GOLD Sato Racing parts should be aware that our parts are anodized in a unique tone that we call 'Osaka Gold' (deep and vivid, with hints of orange/ copper) that likely won't be an exact match with other anodized gold parts you may already have on your bike, especially from other manufacturers. Additionally, due to variations of the tone between batches of parts that are anodized, replacement Gold, Red and other color parts could be a slightly different shade than the original part. Sato Racing will not accept a warranty return on a color anodized part that the buyer decides to return solely because they are unsatisfied with the shade or color tone of the part.. New color-anodized items that have not yet been installed can be returned, but there may be a restocking fee of up to 20%, particularly in cases where the parts have been removed from the packaging and handled. So if you decide to try out our color anodized parts, it should be with the full understanding of these characteristics of color anodizing.

Home | What's New | Rear Sets | Frame Sliders | Axle Sliders | Racing Hooks | Other Parts | Gear | Replacement Parts | Contact | Facebook
Site Map | Search By Model: aprilia | Bimota | BMW | Ducati | Honda | Kawasaki | KTM | Moto Guzzi | MV Agusta | Suzuki | Triumph | Yamaha