SUZUKI GSX-R1000 ('09-'16)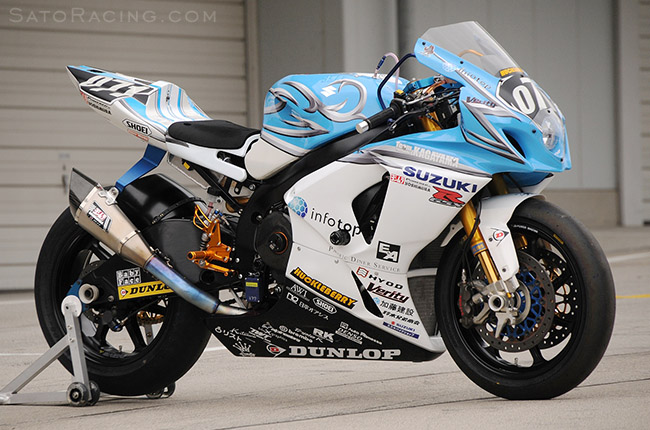 SATO RACING Race Concept-edition Rear Sets for 2009-16 GSX-R1000 are pure race-spec Rear Sets based on the prototype rear sets originally developed for Team Kagayama for the 2013 Suzuka 8 Hours endurance race. These anodized billet aluminum Rear Sets have a dedicated reverse (GP) shift pattern, and provide an agressive range of positions that place your feet further back and significantly higher up compared to stock. Double stainless bearings used in the shift and brake pedals give you smooth pedal movement with a solid feel. These Rear Sets are available in either Black with gold accents, or Gold anodized finish with Black base plates and shift assembly.

NOTE: For non-ABS model only.

Not for street use - No brake light switch is included.

Available options for these Rear Sets include a Shift Spindle Holder which reinforces the shift shaft for more precise shift action, and a billet aluminum Shift Arm that provides a wider adjustability compared to the stock shift arm.
POSITIONS
| | | |
| --- | --- | --- |
| 1 | 15mm Back | 35mm Up |
| 2 | 27mm Back | 35mm Up |
| 3 | 39mm Back | 35mm Up |
| 4 | 15mm Back | 45mm Up |
| 5 | 27mm Back | 45mm Up |
| 6 | 39mm Back | 45mm Up |
| 7 | 15mm Back | 55mm Up |
| 8 | 27mm Back | 55mm Up |
| 9 | 39mm Back | 55mm Up |
| 10 | 15mm Back | 65mm Up |
| 11 | 27mm Back | 65mm Up |
| 12 | 39mm Back | 65mm Up |
| 13 | 15mm Back | 75mm Up |
| 14 | 27mm Back | 75mm Up |
| 15 | 39mm Back | 75mm Up |
| 16 | 15mm Back | 85mm Up |
| 17 | 27mm Back | 85mm Up |
| 18 | 39mm Back | 85mm Up |
note: all measurements are in relation to stock position (0 mm).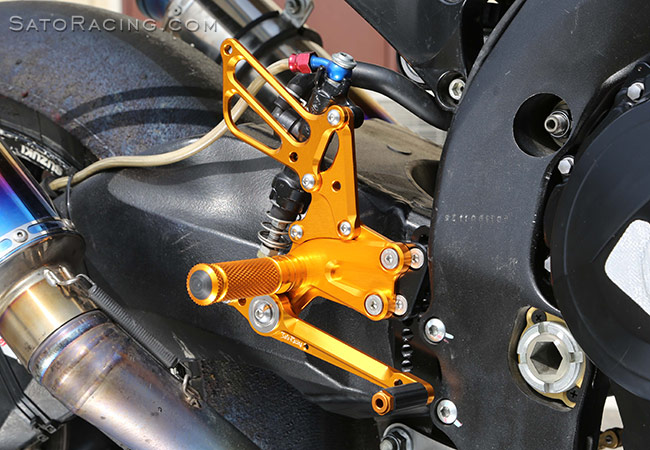 Deeply knurled footpegs provide excellent grip even in wet conditions. Aluminum
Pedal Tips with fluted rubber sleeves are standard with our 'Race Concept' Rear Sets.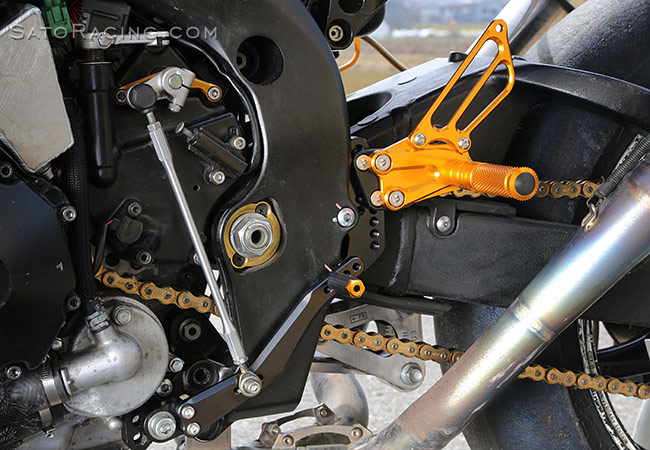 The modular design of these Rear Sets increases the range of adjustability compared to stock. The shift pedal features multiple adjustment holes for fine-tuning the shift stroke and the shifter feel.

Rear Sets shown with optional Shift Spindle Holder (sold separately).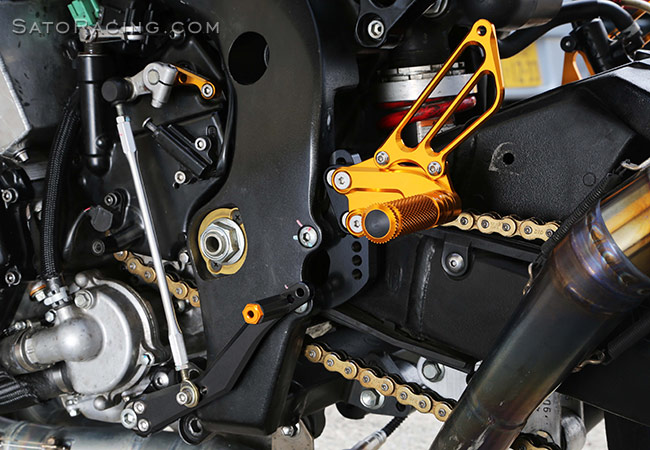 Note: The shift pedal shown in these photos is an early prototype
version. See photo below for the updated shift pedal design for this model.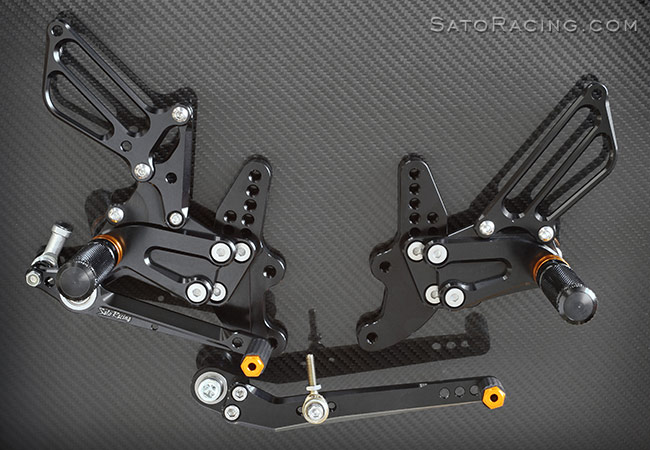 The 'Black' Rear Sets feature Gold peg collars and pedal tips.
A Brake Return Spring (not pictured) is also included in the kit.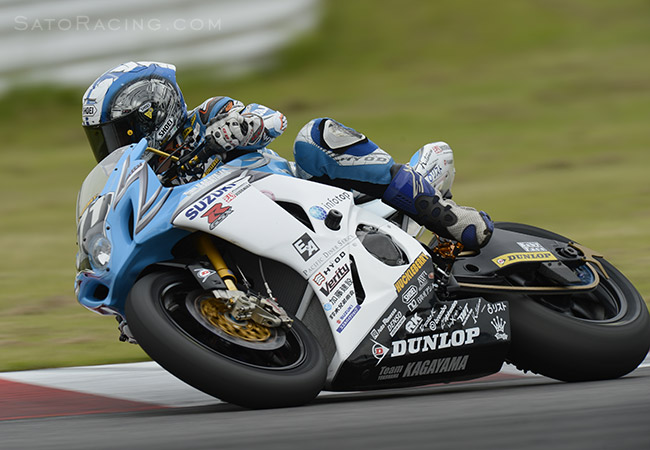 BLACK
S-GSX109RCRS-BK
$595
GOLD
w/ BLACK Shift Assembly
S-GSX109RCRS-GD
$595



OPTIONAL PARTS


SUZUKI GSX-R1000 ('09- )
SHIFT SPINDLE HOLDER
Our Shift Spindle Holder for 2009-16 GSX-R1000 adds strength and rigidity to the shift shaft, reducing lateral play for smoother, more consistent shift action in heavy duty use. Made of anodized billet aluminum with a Teflon-coated bushing.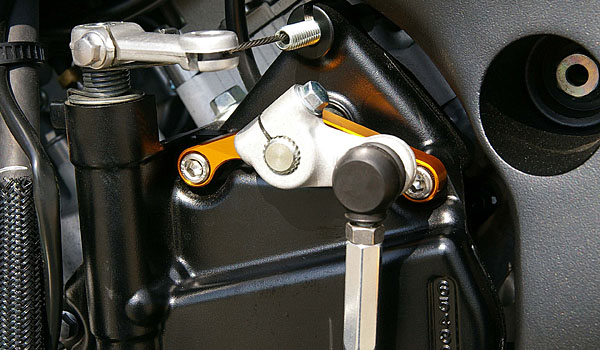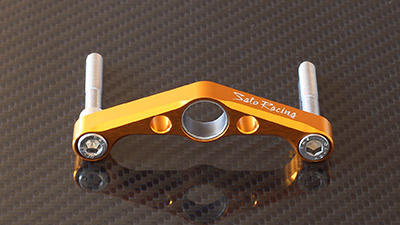 GOLD
S-GSX109RS-SHDR
$75

SUZUKI SHIFT ARM
SATO RACING Shift Arm for Suzuki models is machined from high strength billet alimunum and anodized in a deep Black finish, and includes a rod end and attachment hardware. Works great with either stock or aftermarket rear sets. Features 2 mounting positions for attaching the rod end, so you can adjust the shift stroke to your preference. (Use stock flange head bolt to tighten Shift Arm onto shift spindle). 2 versions of this Shift Arm are available:

Part# S-CA (includes male rod end)
Fits*:
GSX-R600/ 750 ('06-16)
GSX-R1000 ('09-16)

Part# S-CA2 (includes female rod end)
Fits*:
GSX-S1000/F
GSX-S750 '15-'16 (GSR750 '11-'16)
GSX-R1000 ('00-'08)
GSX1100S/ GSX-R1100 / TL1000
HAYABUSA / RF900/ GSF/Bandit
(does not fit GSX1250)

*Stock shift arm / shift rod setup. In some cases you might require a different type of rod end than recommended, such as if you are using it with an aftermarket quick shifter.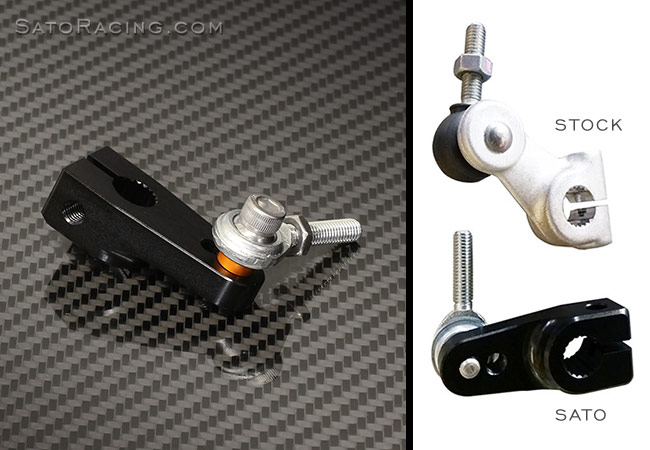 There are 2 mounting holes on the Shift Arm: Attaching the rod end to the inner hole will give you a shorter shift stroke, with a corresponding increase in pedal force required due to having less leverage, while attachment to the outer hole would would result in a longer stroke with a lighter shift feel. (Shift Arm part# S-CA shown above)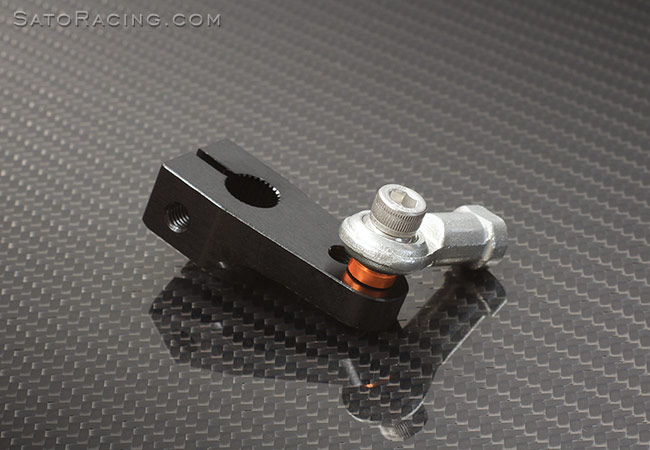 Shift Arm part# S-CA2 includes a female rod end.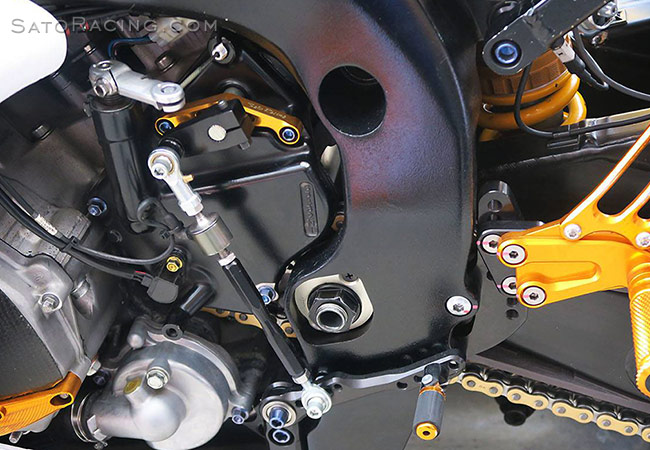 A protoype version of our Shift Arm kit is shown installed on the Team Kagayama GSX-R1000
endurance race bike. Also shown are our Shift Spindle Holder, and a modded version of our
GSX-R1000'Race Concept' edition Rear Sets with our Folding-style Pedal Tip installed.
SHIFT ARM
(+ Male Rod End)
S-CA
$75
SHIFT ARM
(+ Female Rod End)
S-CA2
$75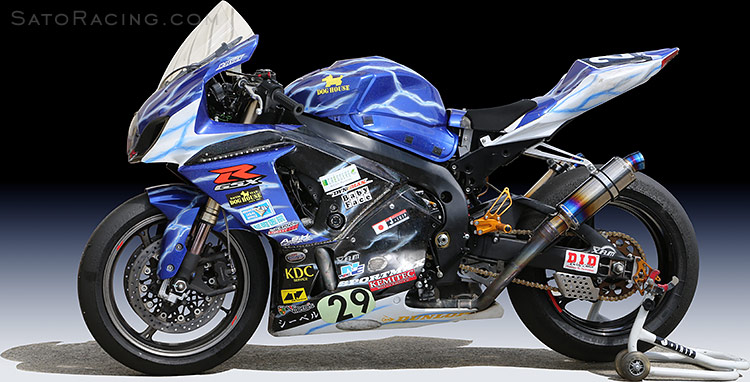 SATO RACING offers a full selection of Replacement Parts for our Rear Sets.
* * * Contact us to place an order * * *
To find out individual part names & numbers, see the illustrated
parts list included with your Sato Rear Sets

More Sato Racing items for '09-'16 GSX-R1000