FOOT PEG
Replacement Foot Peg for SATO RACING Rear Sets
SATO RACING Foot Peg is made of anodized billet aluminum (Choice of Black, Silver or Gold), with a finely knurled grip pattern for superior traction. This is an exact replacement (OEM) Foot Peg for SATO RACING Rear Sets, and is compatible with both shift and brake side of all models of our Rear Sets, past and current. Great for when you need to replace a damaged or broken peg, or just want to make your well-worn SATO Rear Sets look new again. Includes black DELRIN plastic End Cap pre-installed.

Also now available: 'Race Concept' Cutout-style Foot Pegs

Looking for a wrench to hold the foot peg while tightening it? Try our new Foot Peg Tool.
FOOT PEG (standard version) (Qty:1)
BLACK
PEG-BK
$42
SILVER
PEG-SV
$42
GOLD *
PEG-GD
$42
Note: Peg bolt and related hardware is sold separately (see below).
NEW 'Race Concept' Cutout-style FOOT PEG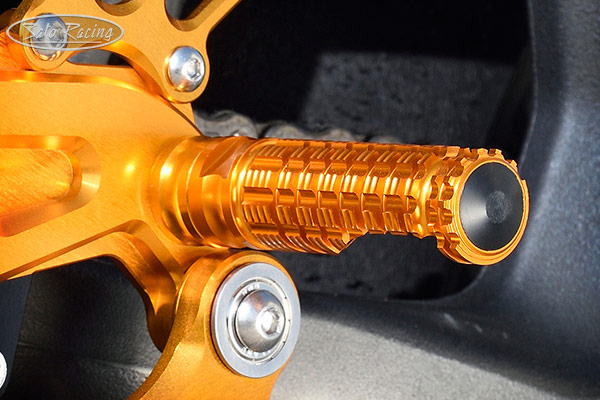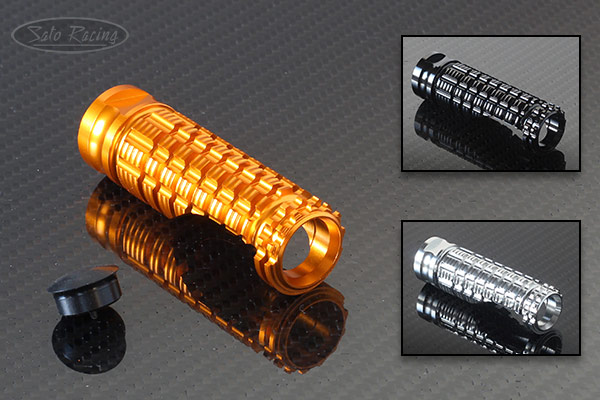 This super-lightweight anodized billet aluminum peg for competition use* is compatible with many of our Rear Sets models. Features a rectangular-motif grip pattern and an M8-threaded hole. An End Cap made of abrasion-resistant black Delrin is included.

* NOTE: Due to the lightweight hollowed-out design, this peg is intended for track use only. Not recommended for heavier riders or stunting purposes.
Race Concept Cutout-style FOOT PEG (Qty:1)
BLACK
RCPEG-BK
$48
SILVER
RCPEG-SV
$48
GOLD *
RCPEG-GD
$48
Note: Peg bolt and related hardware is sold separately (see below).
Click Here for important info about Sato color-anodized parts.

OPTIONS

FOOT PEG TOOL
SATO RACING PEG TOOL is an aluminum wrench designed specifically for use with Sato Racing Foot Pegs, giving you a way to hold the peg firmly when removing or tightening it without risking scratching the finish, such as might happen if using a regular steel wrench or pliers to grip the peg. This versatile tool has squared off sides so it can be held in a vice. This can be useful in certain situations, such as if you need to extract a stud from a peg. Made of high strength billet aluminum with a gold anodized finish.

NOTE: Fits SATO Foot Pegs made in the last 3 years or so. Most earlier Sato pegs will also fit with the wrench, but machining tolerances for the pegs were not as precise a few years ago, so we cannot guarantee compatibility with all our pegs.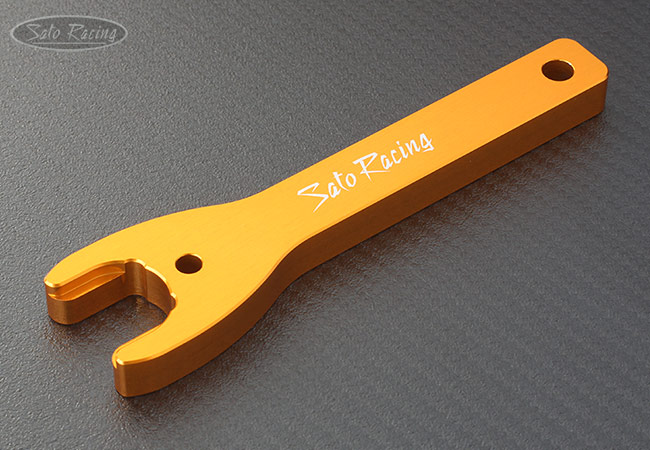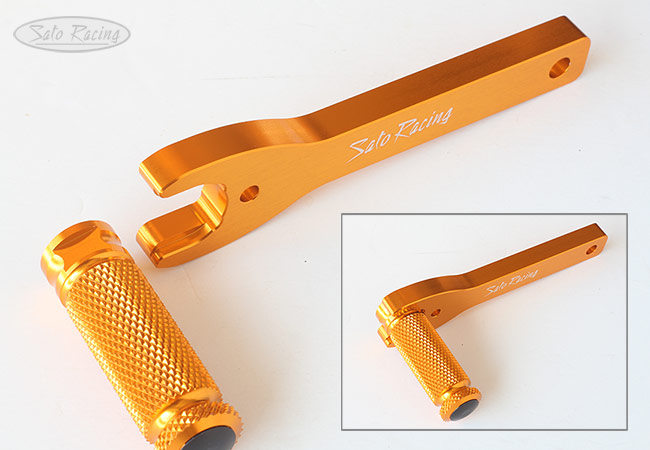 FOOT PEG TOOL
[GOLD]
TOOL-PEG
$45

FOOT PEG END CAPS
Foot Peg End Caps - Replace the worn or lost original end caps on all types of SATO Foot Pegs. Just tap out the old caps from the back side of the pegs and tap in the new End Caps using a mallet. Made of black Delrin plastic. (Caps are sold as a set of 2).
FOOT PEG END CAPS
(Set of 2)
ST-002
$10
PEG COLLAR (Qty:1)
Peg Collar is an aluminum piece used for extending the length of the Foot Peg on select models of Sato Racing Rear Sets. 12mm and 15mm lengths are the most common sizes for this part. (Do not confuse this part with a Peg Bearing Collar, which is an entirely different kind of collar).
PEG COLLAR 12
[BLACK]
PEGCLR-12B
$15
PEG COLLAR 12
[SILVER]
PEGCLR-12S
$15
PEG COLLAR 12
[GOLD] *
PEGCLR-12G
$15
PEG COLLAR 15
[BLACK]
PEGCLR-15B
$15
PEG COLLAR 15
[SILVER]
PEGCLR-15S
$15
PEG COLLAR 15
[GOLD] *
PEGCLR-15G
$15
Contact SATO RACING if you need other parts not listed on this page (such as a Bearing Collar). Part names can be found on the parts diagrams included with your SATO Rear Sets, or you can view a PDF version of the parts diagram Here.


* If you have SATO Rear Sets in Gold, please be aware that the new GOLD Foot Pegs and Peg Collars may not be an exact match to the gold on your Rear Sets, and may even look quite a bit different, due to variations in gold-anodizing, along with fading of gold-anodized Rear Sets over time due to UV exposure.
PEG BOLTS
To find the correct peg bolt for your Foot Peg, see the Parts List Diagram for your Sato Rear Sets.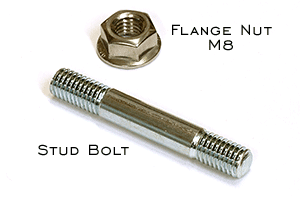 FOOT PEG STUD BOLT
- LONG - (M8x65)
STBT-L
$4.50
FOOT PEG STUD BOLT
- SHORT - (M8x55)
STBT-S
$4.50
FOOT PEG STUD BOLT
- M8 x 40 -
STBT-40
$4.50
FOOT PEG STUD BOLT
- M8 x 45 -
STBT-45
$4.50
FOOT PEG STUD BOLT
- M8 x 50 -
STBT-50
$4.50
FOOT PEG STUD BOLT
- M8 x 60 -
STBT-60
$4.50
FLANGE NUT - M8
FNT-8
$1.50
HEX HEAD BOLT
- M8 x 40 -
HBT-M840
$2.00
HEX HEAD BOLT
- M8 x 45 -
HBT-M845
$2.00
FLAT HEAD BOLT
- M8 x 40 -
FBT-M840
$2.50
FLAT HEAD BOLT
- M8 x 45 -

FBT-M845
$2.50
SPLIT WASHER - M8
SWS-8
$1.20
PEG WASHER - M8
PWS-8
$1.00

Home | What's New | Rear Sets | Frame Sliders | Axle Sliders | Racing Hooks | Other Parts | Gear | Replacement Parts | Contact | Facebook
Search By Model: aprilia | BMW | Ducati | H-D | Honda | Husqvarna | Kawasaki | KTM | Moto Guzzi | MV Agusta | Suzuki | Triumph | Yamaha