- About SATO RACING -

ORIGINS
SATO RACING is the international brand identity for BABY FACE Inc. Founded in Osaka, Japan in the 1980's by Katsuhiko 'Babyface' Sato, BABY FACE started out building race bikes. By the late-'90's the company was making a name for itself fabricating ultra-lightweight titanium exhaust systems and other specialized racing parts. Sensing there would be strong demand for the company's premium quality racing parts outside of Japan, Mr. Sato decided it was time to expand internationally. By 2001, a US distribution warehouse was established in California, and exhaust systems made by his company were being regularly imported and sold under a new brand name, SATO RACING.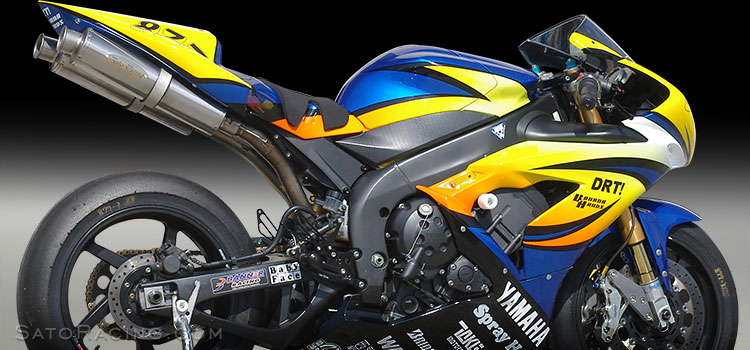 THE EARLY YEARS
SATO RACING Titanium Exhaust Systems were an immediate hit with trackday racers and custom bike builders alike, and the performance and design aesthetics of these exhausts helped to build a prestigious reputation for the SATO RACING brand in the US and beyond. Other exciting and innovative parts such as billet aluminum Rear Sets soon joined the product lineup, along with less exciting but equally vital racing parts such as Frame Sliders, Axle Sliders and Swingarm Spools.

By the end of the last decade, rising costs of titanium, along with stricter motorcycle noise regulations in Japan and elsewhere meant the party was ending for makers of unrestricted racing exhaust systems, and a decision was made to phase out production of exhausts and instead expand development and production of the other racing parts the company was known for. Although fans of our exhaust systems were disappointed, in the long run this proved to be a wise move, as the company has done very well selling its other (non-exhaust related) parts, not to mention competition in the exhaust field has become increasingly crowded with high quality alternatives in the years since we ended production.

Today, CNC-machined billet aluminum and Delrin-based parts, such as Rear Sets, Sliders and Racing Hooks, account for most of our production output, and have helped us maintain a loyal fanbase due to their high quality, refined styling and superior performance, much like our exhaust systems had in the formative years of the company.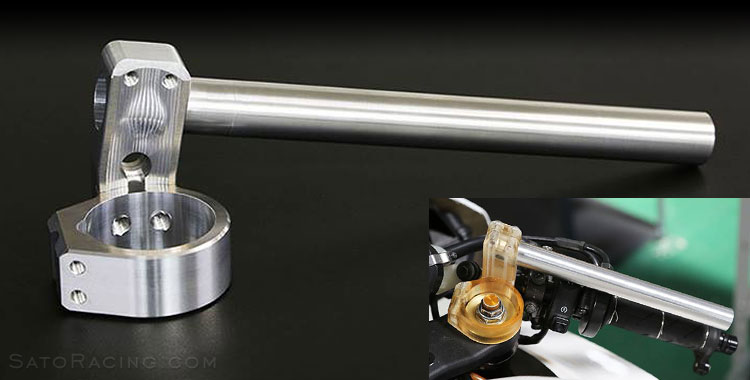 3-D PROTOTYPING
Our engineers now take full advantage of the emerging 3-D scanning and printing technologies to prototype parts. Our state-of-the-art 3-D printers can output fully functional parts in a matter of hours that are durable enough to be installed on a motorcycle for testing, making it much easier to get the design of part just right before committing to CNC machining the final version of the parts out of billet aluminum. This greatly streamlines a process that used to take weeks of trial and error, bringing the development time on many parts down to a few days or less.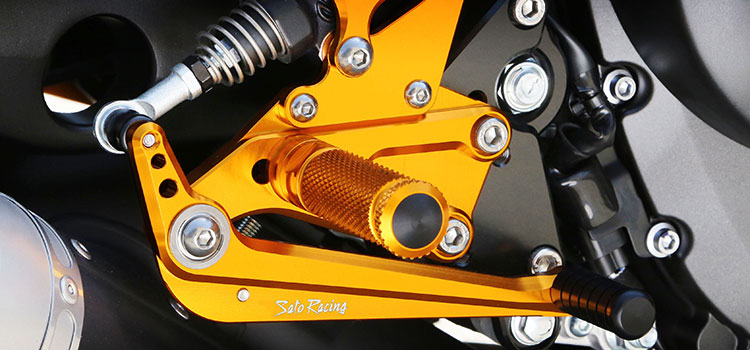 SATO RACING - Made In Japan
Early on, when we were making parts primarily for the 'Big 4' Japanese brand sportbikes, our slogan 'Made in Japan' was adopted as a way to help our limited-production, handcrafted racing parts stand out from the cheaper competitng brands of motorcycle parts being mass-produced in China and elsewhere, while at the same time embracing the uniquely Japanese 'JDM' design aesthetics of our parts. Even today when many of our most popular parts are increasingly for very non-Japanese bike brands such as BMW or Harley-Davidson, we still kept the 'Made in Japan' slogan as a way of making it clear that our parts were primarily designed by, and for, racers in Japan, who have there own distinct needs when it comes to racing parts. As a result, some of the parts we sell might seem a bit unusual to riders outside of Japan. But since our parent company's primary market is Japan, it has never been a priority to try to 'design by committee' to cater to the tastes of riders in the US or other countries. And we believe our parts are all the better for it.

It is important to emphasize that this slogan is not meant as a snub to all the great companies proudly manufacturing parts in the USA. We make no claims that our parts are superior because they originate from Japan, only that they are uniquely Japanese in design, with all the pros and cons that go with that.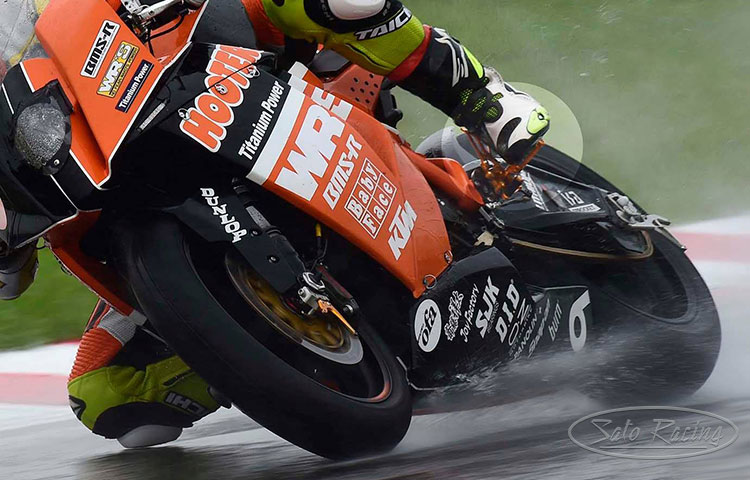 SUZUKA 8 HOURS
SATO RACING parts are developed and tested with the assistance of circuit racers in Japan. Our parent company's HQ is not too far from Suzuka Raceway, which has led to many specialized racing parts being developed for teams entering the yearly Suzuka 8 Hours endurance race. Since 2015, our engineers have been most heavily involved with the Hooters team, but many other teams also use our parts. Team Kagayama has used our Rear Sets and Frame Siders on their podium-finishing GSX-R1000 for several years, and in the 2015 race alone over half the entrants were using at least one part made by BABY FACE / SATO RACING. Many of the one-off prototype parts initially developed for racers entering the Suzuka 8 Hours end up being put in production later on, most notably our 'Race Concept' series of racing parts, so this race was and continues to be an important testbed for our parts.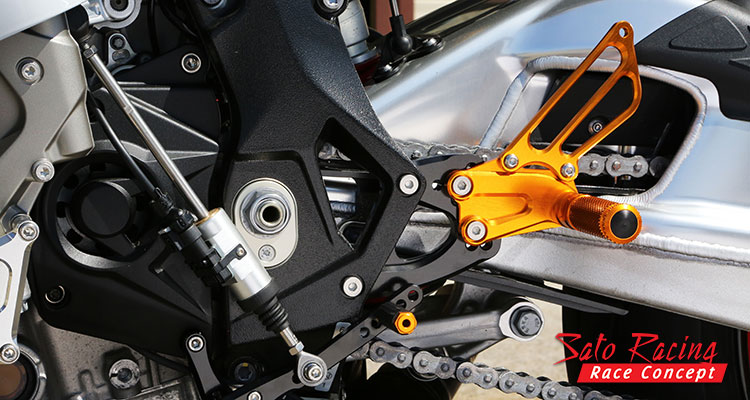 SATO RACING 'Race Concept' Racing Parts
Due in part to heavy interest in the one-off racing Rear Sets our engineers have been designing specifically for teams participating in Suzuka 8 Hours and the All-Japan endurance race series, in 2014 we introduced our Race Concept series of Rear Sets. These Rear Sets are pure racing-spec Rear Sets designed for dedicated track bikes, with no design compromises to make them also compatible for street use.

Compared to our standard Rear Sets, which often have a limited range of positions in order to maintain compatibility with the stock brake switch and ABS, our Race Concept Rear Sets are able to provide a much more aggressive range of positions. This track-optimized design means there is no built-in compatibility with the stock exhaust hanger, brake light switch / ABS on most models.

We are the first to admit our Race Concept Rear Sets are not for most riders, but if you are building a full-on race bike, these may be exactly what you are looking for to get an edge over the competition.

In addition to Rear Sets, we have been expanding our lineup of Race Concept series parts to include other categories such as Clip-on Handle Bars.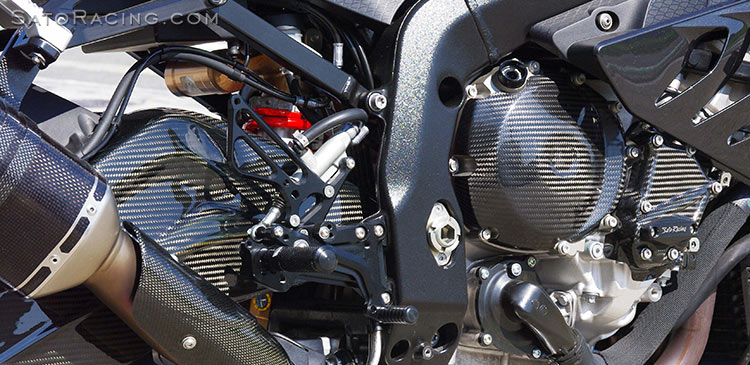 SATO CARBON
Around 2010, SATO RACING entered into the field of carbon composite parts. A state-of-the-art autoclave was obtained, and premium quality dry carbon was sourced from the same company that makes the carbon used in construction on the Boeing 787 Dreamliner. The first few years of carbon parts production was promising, and over 60 unique carbon parts were eventually designed and produced, ranging from engine covers to rear fenders and swingarm covers. But by the end of 2014, technical difficulties combined with excessive production costs conspired to prematurely halt the production of most carbon parts, with the exception of a few one-off and limited-run parts for race bikes. ( Click here to see our remaining inventory of SATO Carbon parts ).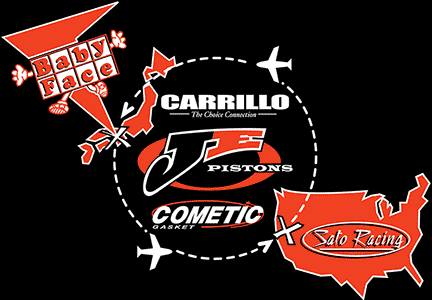 More about BABY FACE and SATO RACING
Although we carry most of the same parts as our parent company Baby Face Inc. (but with different brand logos), for various reasons certain items listed on Baby Face's Japanese website are not listed on SatoRacing.com, or vice versa.

One reason is that Baby Face sells some parts that are for use with bikes or aftermarket parts that are only sold in Japan, while Sato Racing mainly carries parts for bike models sold in the US or other countries outside of Japan. In some cases we decide not to list a part on our website or import it, either because the part in question is a little too specialized. or the bike model the part is designed for is rare or obscure. (Anyone out there looking for rear sets for a Megelli 250R?).

Another reason is that Baby Face Inc. is a leading Japan distributor for many other brands (including US based companies JE Pistons, Carrillo Pistons and Cometic Gaskets, among others), in addition to making Baby Face / Sato Racing parts, and we only sell the parts actually manufactured by us. But if you see a part at Baby Face that you are interested in that is not listed on SatoRacing.com, we will see what we can do to get it added to our inventory.

( NOTE: Due to brand trademark issues and other reasons, 'Baby Face' branded parts are only sold within Japan. SATO RACING only carries parts with the 'Sato Racing' logo, and cannot special order parts with the Baby Face logo. )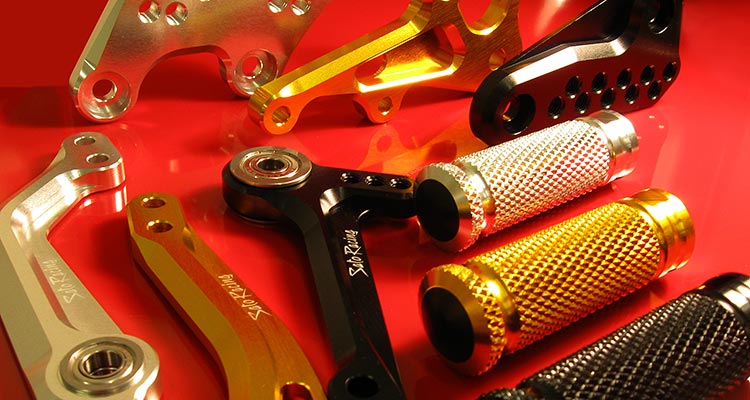 REPLACEMENT PARTS
Need Replacement parts for your Rear Sets or Sliders? Maybe not today, but the odds are good you will need spare parts in the future. That goes with the territory of riding a sport bike; Most bikes will get dropped eventually, or parts will wear out or vibrate loose and fall off. For this reason, we always keep a large inventory of replacement parts on hand at our California-based distribution center, so you can get your bike back on the road or track quicker than you might expect. If there are any parts we do not have in stock, we can usually get them within 4-5 weeks. We can also answer any questions you may have about repairing the part.
19 YEARS AND COUNTING...
Now celebrating our 19th anniversary in the U.S., SATO RACING continues to grow and expand, and we are committed to continue supporting all existing owners of our parts to the best of our abilities, along with continually bringing more new and exciting parts to our lineup in the future as new sport bike models are introduced.

Home | What's New | Rear Sets | Frame Sliders | Axle Sliders | SATO Carbon | Other Parts | Accessories | Replacement Parts | Contact | Facebook | Site Map
Search By Model: aprilia | Bimota | BMW | Buell | Ducati | H-D | Honda | Husqvarna | Kawasaki | KTM | Moto Guzzi | MV Agusta | Suzuki | Triumph | Yamaha