BMW K1200R ('05-'08)
REAR SETS
SATO RACING Rear Sets for BMW K1200R (all years) are CNC-machined from high grade billet aluminum and anodized in your choice of all-Black finish, or Silver or Gold finish with a contrasting Black shift pedal assembly. The shift and brake pedals utilize double stainless bearings for a smooth pedal feel and precice operation. Foot peg position is adjustable, giving you a choice of 6 positions. These Rear Sets can be easily switched from stock shift pattern to reverse (GP) shift pattern.
POSITIONS
| | |
| --- | --- |
| 0mm | 0mm |
| 0mm | 10mm Up |
| 0mm | 20mm Up |
| 10mm Back | 10mm Up |
| 10mm Back | 20mm Up |
| 20mm Back | 20mm Up |
note: all measurements are in relation to stock position (0 mm).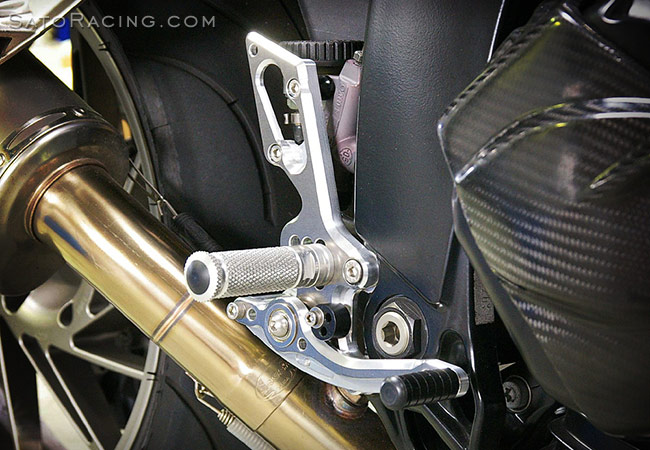 The foot pegs feature a deep knurled pattern for excellent grip and feel.
The positions of both the foot pegs and the pedal tips are adjustable.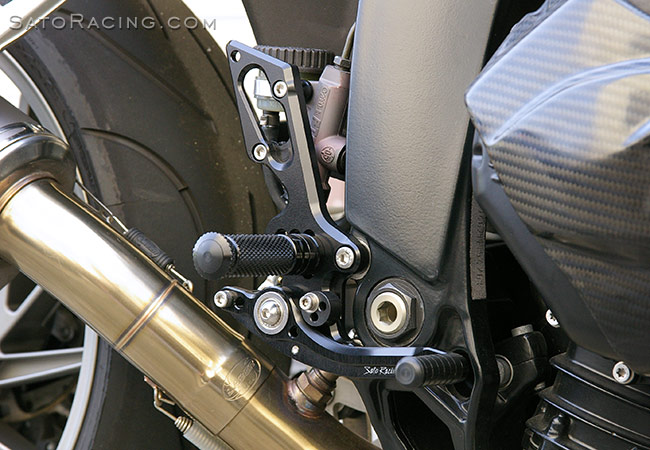 You can adjust the rest height of the brake pedal by rotating the pedal stopper.
These Rear Sets are compatible with the stock mechanical brake light switch.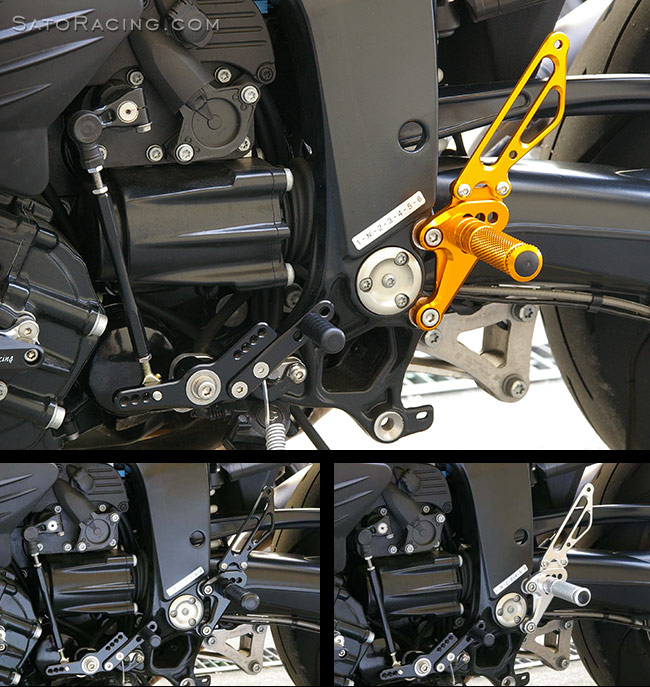 The adjustable shift pedal has attachment holes for the shift rod on both ends - Change from stock shift to reverse shift pattern by relocating the shift rod to the opposite side of the pedal. (The Shift Pedal comes in Black only.)
Online Special -
We've got a few too many sets of these Rear Sets in SILVER and GOLD in our inventory right now, so we have temporarily lowered our prices on those colors. If you have always wanted to try out these excellent Rear Sets on your K1200R, now is a good time! *
BLACK
BMW-K12RS-BK
$595
SILVER
BMW-K12RS-SV
$595 $475
GOLD
BMW-K12RS-GD
$595 $475
* (Clearance item pricing - no exchanges / returns)
Click Here for important info about Sato GOLD-anodized parts.
Have questions or prefer to order by phone? You can call us to place an order -



REPLACEMENT PARTS
SATO RACING offers a full selection of Replacement Parts for our Rear Sets.
* * * Contact us to place an order * * *
To find out individual part names & numbers, see the illustrated parts list
included with your Sato Racing Rear Sets, or view the PDF: Parts List
Some common replacement parts for these Rear Sets
can be purchased in our online store:
FOOT PEG [BLACK]
PEG-BK
$42
FOOT PEG [SILVER]
PEG-SV
$42
FOOT PEG [GOLD]
PEG-GD
$42
PEG COLLAR 15 [BLACK]

PEGCLR-15B
$15
PEG COLLAR 15 [SILVER]

PEGCLR-15S
$15
PEG COLLAR 15 [GOLD]

PEGCLR-15G
$15
HEX HEAD M8-40mm
(Foot Peg bolt)
HBT-M840
$2.00
SPLIT WASHER M8

SWS-8
$1.20
PEG WASHER - M8
(R-side #21)
PWS-8
$1.00
PEDAL TIP (DELRIN)

ST-001D18
$15
BUTTON HEAD M6-20mm
(for Pedal Tip)
BBT-M620
$1.50
SHIFT PEDAL SPD8 [BLACK]
(L-side #6)
SPD-8B
$30
FLAT HEAD M6-10mm
(L-side #21)
FBT-M610
$1.50
Some additional parts such as Shift Rod, Rod Ends and related hardware can be found HERE.
(For replacement parts not listed on our website, contact Sato Racing for an estimate.)

More Sato Racing items for K1200R