aprilia TUONO V4 R APRC ('12-'13)*
REAR SETS
SATO RACING Rear Sets for Aprilia Tuono V4 R APRC ('12-'13)* features a track-engineered design, with parts precision CNC-machined out of high strength anodized billet aluminum, with stainless steel bolts and hardware. These are true 'lowering' Rear Sets: The 5 adjustable Foot Peg positions provided by this set place your feet more forward and as much as 15mm lower compared to the stock pegs, for a less cramped leg position. Choice of Black, Silver (natural metal), or vivid Gold anodized finish.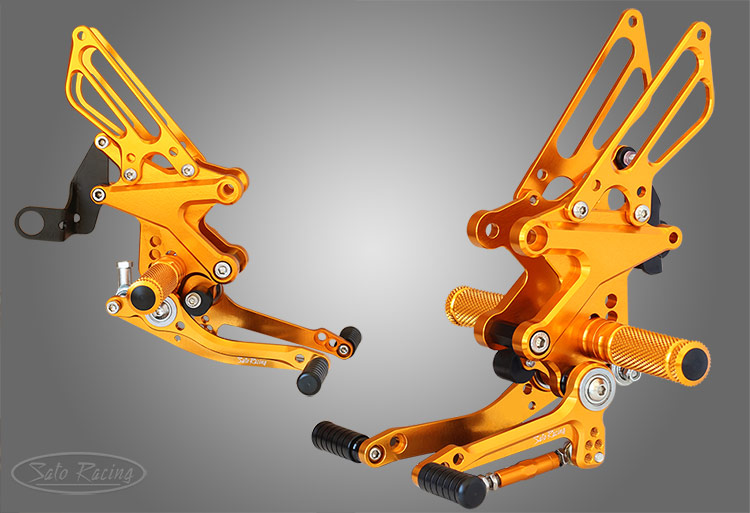 POSITIONS
| | | |
| --- | --- | --- |
| 1 | 42.5mm Forward | 15mm Down |
| 2 | 42.5mm Forward | 5mm Down |
| 3 | 30mm Forward | 15mm Down |
| 4 | 30mm Forward | 5mm Down |
| 5 | 30mm Forward | 5mm Up |
note: all measurements are in relation to stock position (0 mm).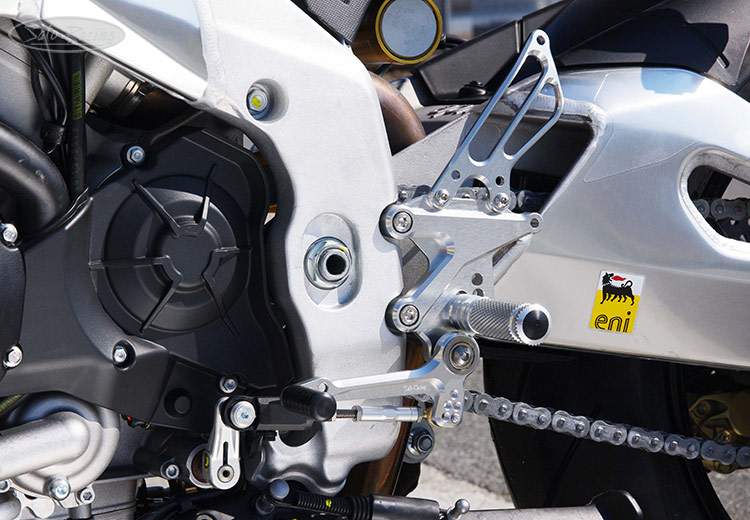 The Shifter and Brake Pedal incorporate miniature double stainless bearings for smooth,
precise lever action with a solid, durable feel. The Foot Peg and Shifter attach at separate
mount points on the Step Plate for optimal leverage and a wide range of adjustability.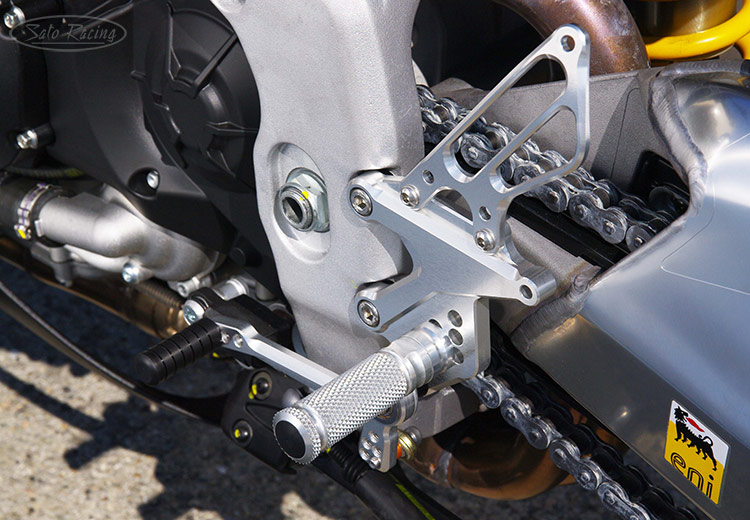 The Shift controls are optimized for use with the OEM quickshifter.
NOTE: These Rear Sets provide a dedicated stock shifting pattern.
(Reverse / GP shift pattern is not an option for this model).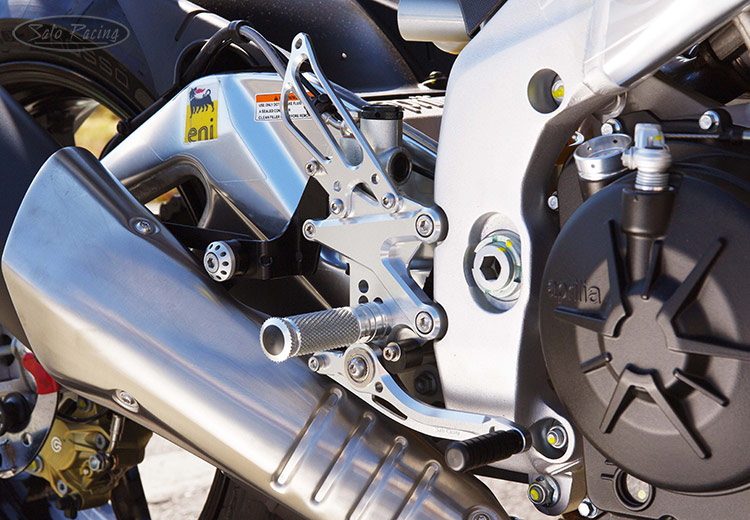 Multiple adjustment holes let you change the mounting positions of the shift and brake side
Pedal Tips (toe pegs) and the Foot Pegs, so you can find the ideal setup for your riding style.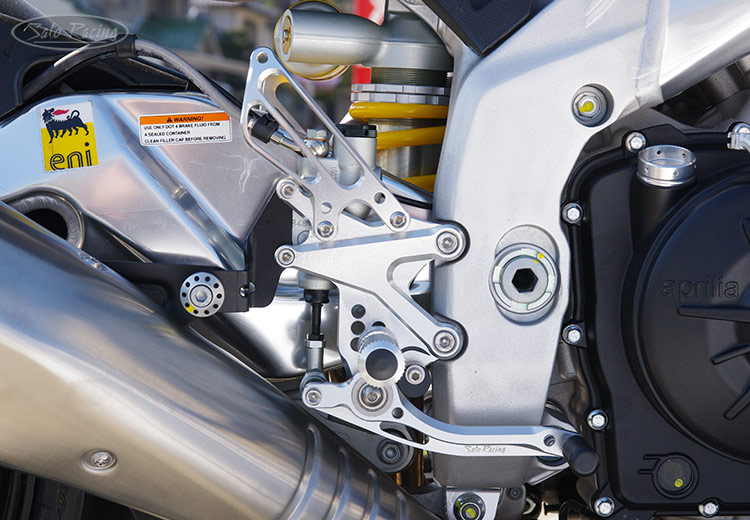 NOTE: This kit now includes a stainless steel exhaust hanger with a natural metal finish.
The Black-finished aluminum hanger shown in these photos was an earlier design spec.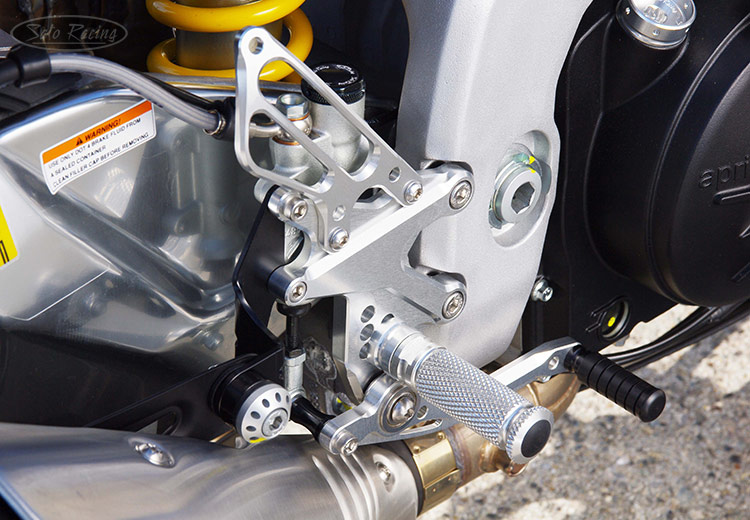 The Foot Pegs are fixed (non-folding) and have a knurled pattern for excellent grip,
along with a comfortable, intuitive feel. Foot Peg positions are adjustable 5 ways.
* NOTE: These Rear Sets were originally designed for the 2012 V4 R APRC without ABS, but they can also be installed on the 2013-16 ABS-equipped V4 models. If you have an ABS model, let us know and we will include thicker base plate collars for the right side, recommended to provide some additional clearance for the ABS-specific master cylinder.

(NOTE: Unlike our standard 2013-16 RSV4/ V4R ABS Rear Sets, these Rear Sets are not compatible with the stock brake light switch on ABS models. A hydraulic brake light switch is included with these Rear Sets).
BLACK
A-V4RRS-BK
$635
SILVER
A-V4RRS-SV
$635
GOLD*
A-V4RRS-GD
$635
(P-1.0 Brake Light Switch is included in kit)
* Click Here for important info about Sato GOLD-anodized parts.

ADDITIONAL OPTIONS



Cutout-style FOOT PEG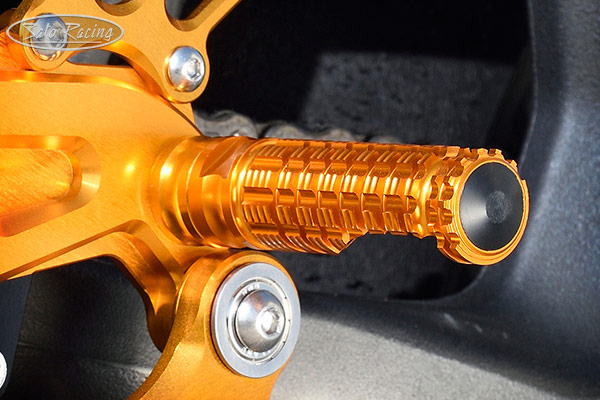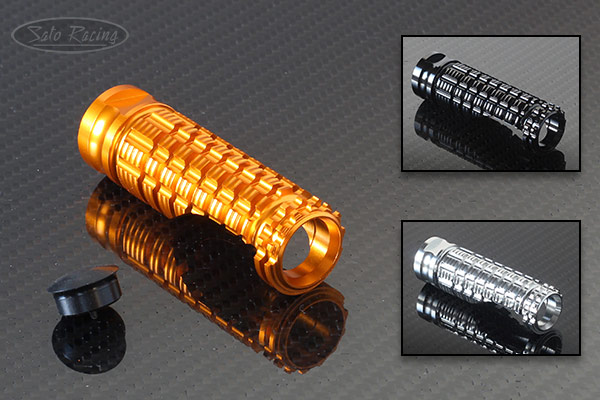 This super-lightweight anodized billet aluminum peg for competition use* features a rectangular-motif grip pattern. An End Cap made of abrasion-resistant black Delrin is included.

* NOTE: Due to the lightweight hollowed-out design, these pegs are intended for track use only. Not recommended for heavier riders or stunting purposes.
Race Concept Cutout-style FOOT PEG (Sold individually)
BLACK
RCPEG-BK
$48
SILVER
RCPEG-SV
$48
GOLD *
RCPEG-GD
$48
* Click Here for important info about Sato GOLD-anodized parts.
Have questions or prefer to order by phone? You can call us to place an order -



REPLACEMENT PARTS
SATO RACING offers a full selection of Replacement Parts for our Rear Sets.
* * * Contact us to place an order * * *
To find out individual part names & numbers, see the illustrated parts list
included with your Sato Racing Rear Sets, or view the PDF: Parts List

More Sato Racing items for Tuono V4 R