SUZUKI KATANA ('19-)
REAR SETS
SATO RACING Rear Sets for 2019+ Suzuki Katana (part# S-KATRS) features a track-engineered design, with components precision CNC-machined out of light-weight, high strength billet aluminum, with stainless steel hardware. Features an aggressive range of foot peg positions, bringing your feet up to 45mm to 57.5mm higher up and 12.5mm to 25mm further back compared to stock, for a more supersport-like riding position ideally suited for tackling the fast straights and steep lean angles encountered on the track. The higher positions are ideal if you are also using our Katana Handle Bars (part# S-KATHB). Choice of Black or Gold anodized finish.

We also make a similar Rear Sets model that provides a lower range of peg positions, part# S-S1000RS. Click Here for details.
POSITIONS
| | | |
| --- | --- | --- |
| 1 | 12.5mm Back | 45mm Up |
| 2 | 25mm Back | 45mm Up |
| 3 | 12.5mm Back | 57.5mm Up |
| 4 | 25mm Back | 57.5mm Up |
Note: all measurements are in relation to stock position (0 mm).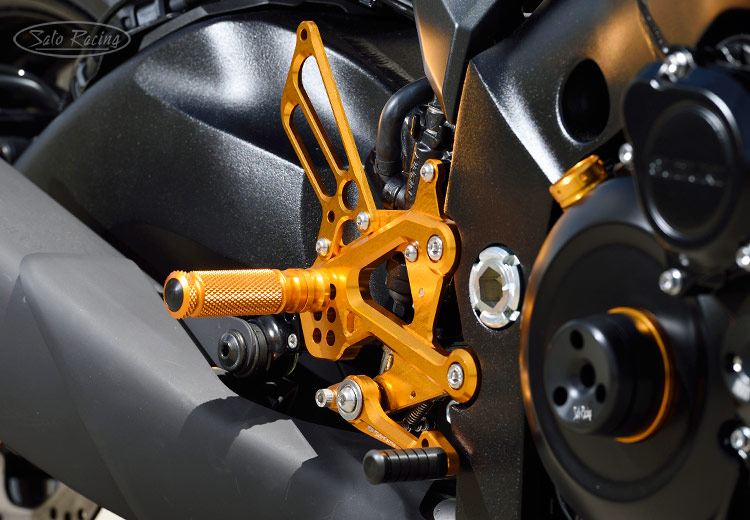 The foot peg position is adjustable 4 ways. A single-piece step plate design is utilized for maximum rigidity, along with full compatibility with the OEM brake light switch and ABS.

The Brake Pedal and Shifter incorporate miniature double stainless bearings for smooth, precise lever actuation with a solid, high-quality feel. The Brake Pedal is mounted on a separate axis from the Foot Peg for optimal leverage and braking feel. Rear Sets kit includes a black anodized aluminum hanger bracket for the exhaust.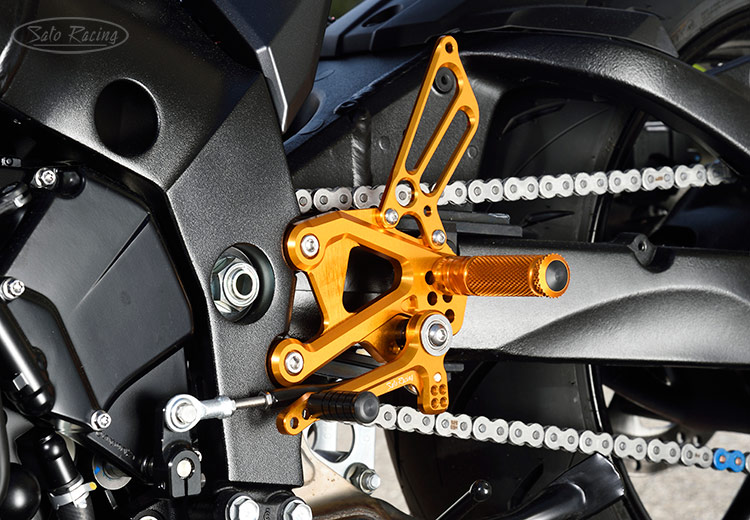 The Foot Pegs are the fixed type (non-folding), and have a finely knurled pattern for a comfortable, intuitive feel and superior grip. Rear Sets shown installed together wth optional Shift Arm part# S-CA2.

This model provides a dedicated stock shift pattern. (For Reverse/GP shift pattern, get Reverse Shift Rear Sets Part# S-S1000RSR.)
BLACK
S-KATRS-BK
$630
GOLD*
S-KATRS-GD
$630
* Click Here for important info about Sato GOLD-anodized parts.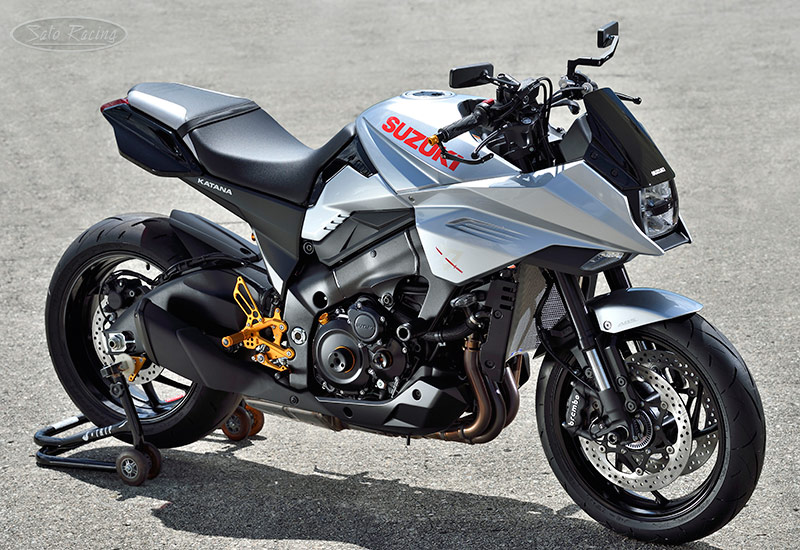 Suzuki Katana with SATO RACING Rear Sets and other parts.

OPTIONS



Cutout-style FOOT PEG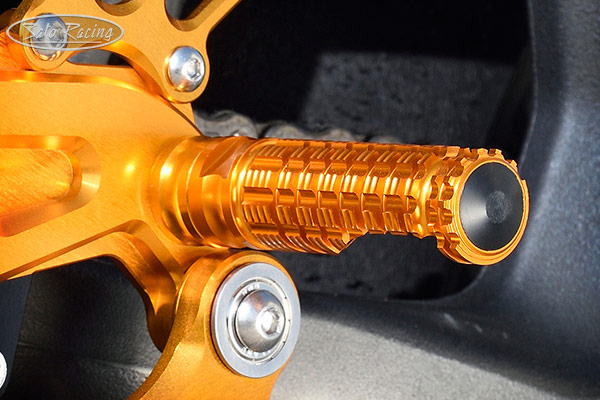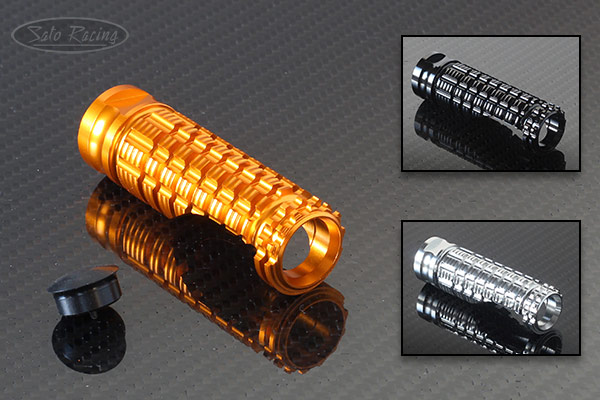 This super-lightweight anodized billet aluminum peg for competition use* features a rectangular-motif grip pattern. An End Cap made of abrasion-resistant black Delrin is included.

* NOTE: Due to the lightweight hollowed-out design, these pegs are intended for track use only. Not recommended for heavier riders or stunting purposes.
Race Concept Cutout-style FOOT PEG (Sold individually)
BLACK
RCPEG-BK
$48
GOLD *
RCPEG-GD
$48
* Click Here for important info about Sato GOLD-anodized parts.
Have questions or prefer to order by phone? You can call us to place an order -



SATO RACING offers a full selection of Replacement Parts for all our Rear Sets models.
* * * Contact us to place an order * * *
To find out individual part names & numbers, see the
illustrated parts list included with your Sato Racing Rear Sets.

More Sato Racing items for Suzuki Katana