SUZUKI GSX-R1000/R ('17- )
REAR SETS
SATO RACING Rear Sets for 2017-20 Suzuki GSX-R1000/R features a thoroughly track-engineered design, with parts precision CNC-machined from high strength anodized billet aluminum, with stainless steel bolts and hardware. Adjustable design lets you choose from 5 unique foot peg positions that bring your feet higher up and further back compared to stock, for a more aggressive riding position ideally suited to the fast straights and steep lean angles encountered on the track. These Rear Sets can be set up for either stock shift pattern or reverse (GP style) shift pattern. Choice of all Black anodized finish, or vivid Gold finish with contrasting Black-anodized shifter assembly.

Available options for these Rear Sets include a Shift Spindle Holder which reinforces the shift shaft for more precise shift action.
POSITIONS
| | | |
| --- | --- | --- |
| 1 | 12mm Back | 20mm Up |
| 2 | 12mm Back | 30mm Up |
| 3 | 12mm Back | 40mm Up |
| 4 | 24mm Back | 30mm Up |
| 5 | 24mm Back | 40mm Up |
note: all measurements are in relation to stock position (0 mm).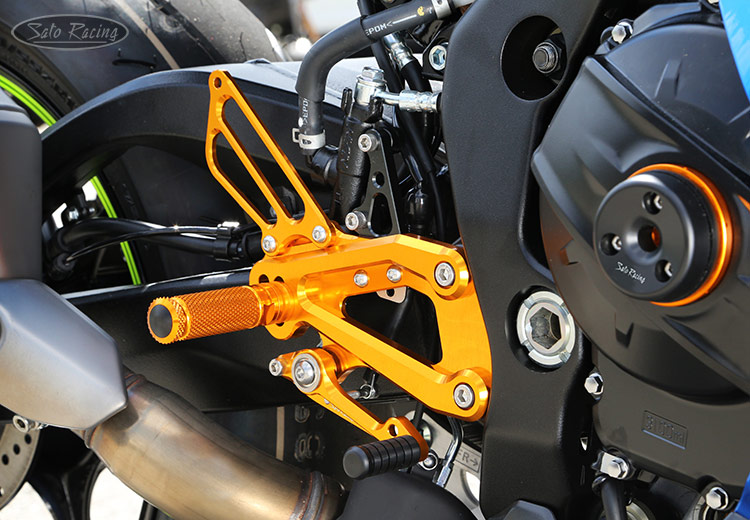 The brake pedal utilizes miniature double stainless bearings for smooth, precise lever action.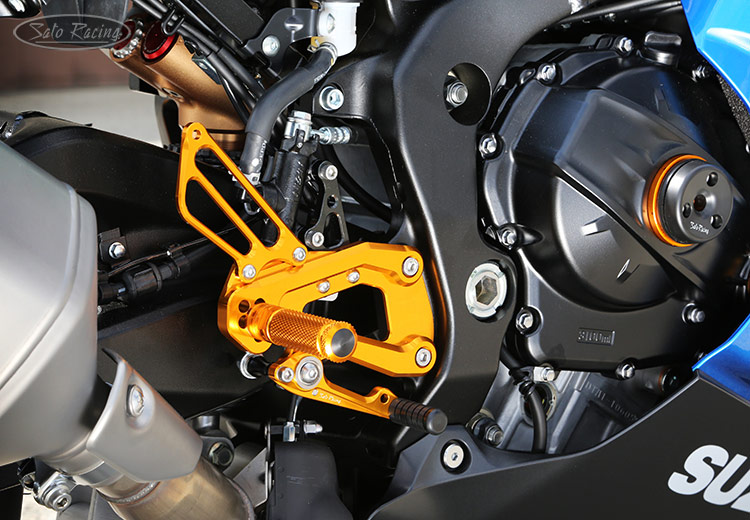 Foot Peg position is adjustable. You can also adjust the positions of the pedal tips.
These Rear Sets are fully compatible with the stock brake light switch and ABS.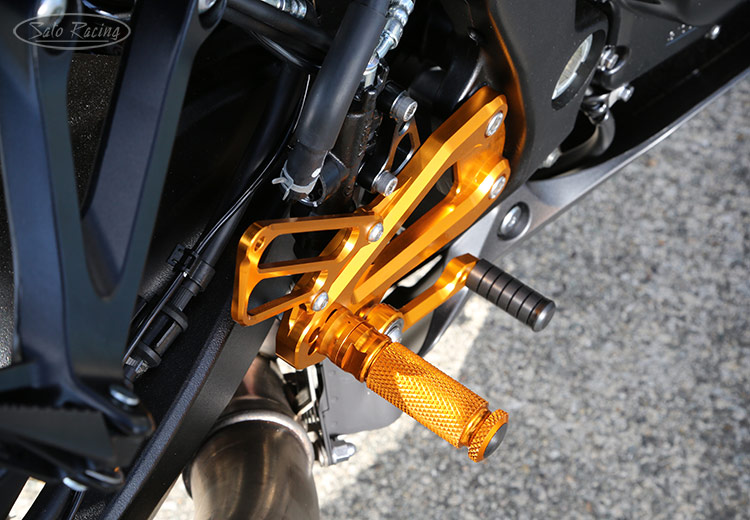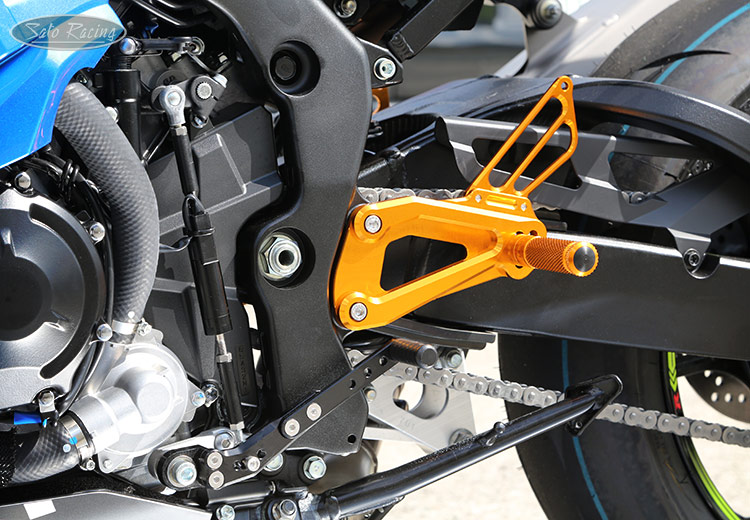 The shift pedal has multiple adjustment points for fine-tuning the shifter feel.
(Shift pedal assembly comes in Black only)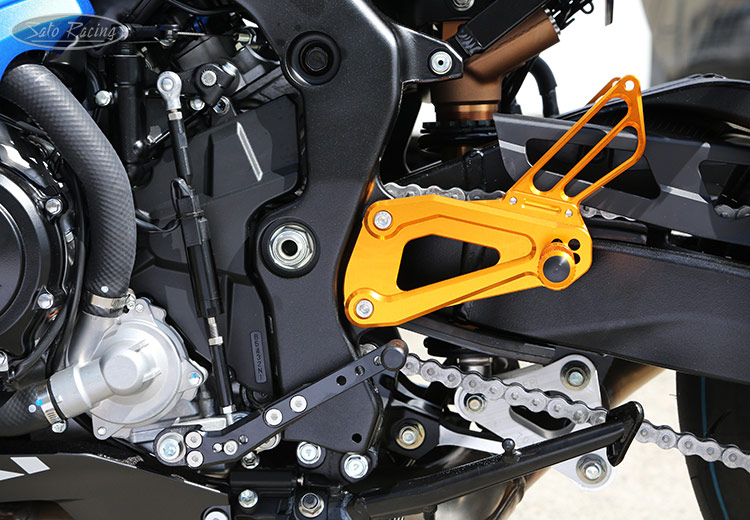 You can switch to reverse (GP) shift pattern by flipping the stock shift arm.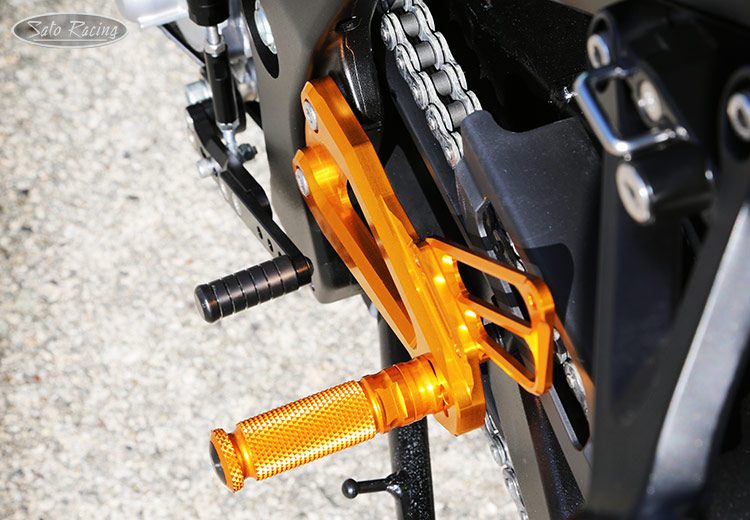 The Foot Pegs have a finely knurled pattern for great grip and a comfortable, intuitive feel.
BLACK
S-GSX117RS-BK
$565
GOLD*
w/ BLACK Shift Assembly
S-GSX117RS-GD
$565
* Click Here for important info about Sato GOLD-anodized parts.



OPTIONS


SUZUKI GSX-R1000/R ('17- )
SHIFT SPINDLE HOLDER
SATO RACING Shift Spindle Holder for 2017+ Suzuki GSX-R1000/R reinforces the stock shift spindle, adding strength and rigidity to the spindle and reducing lateral movement and excessive play during shifting. Works great with Sato Racing Rear Sets. Gold anodized billet aluminum with a Teflon-coated bushing.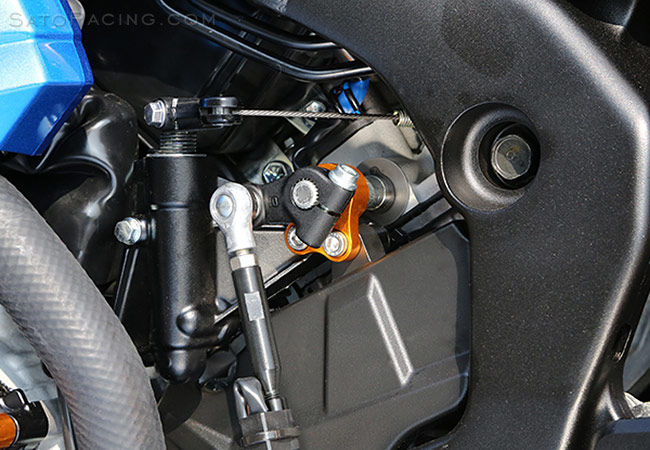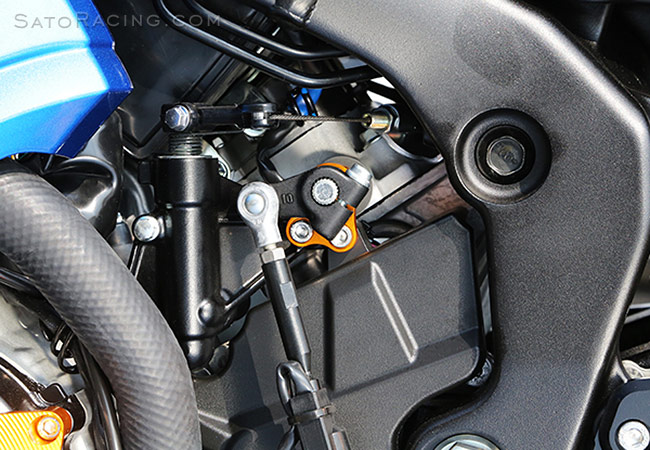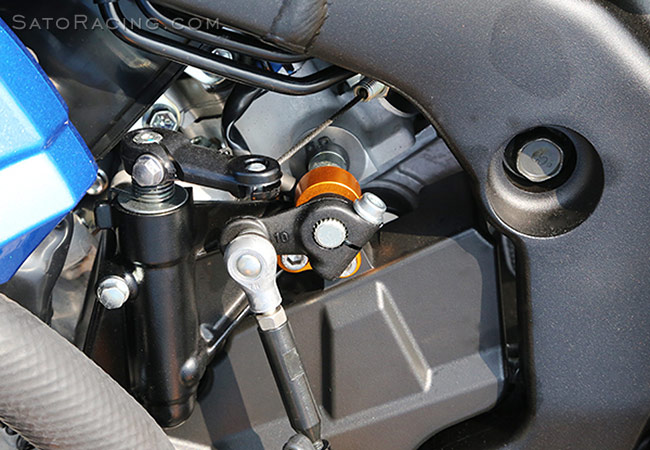 GOLD*
S-GSX117RS-SHDR
$90
* Click Here for important info about Sato GOLD-anodized parts.



Cutout-style FOOT PEG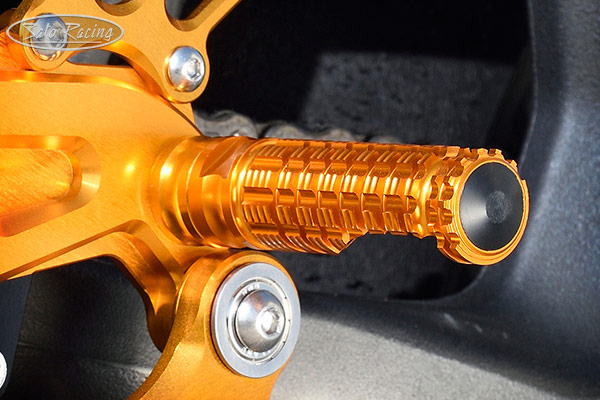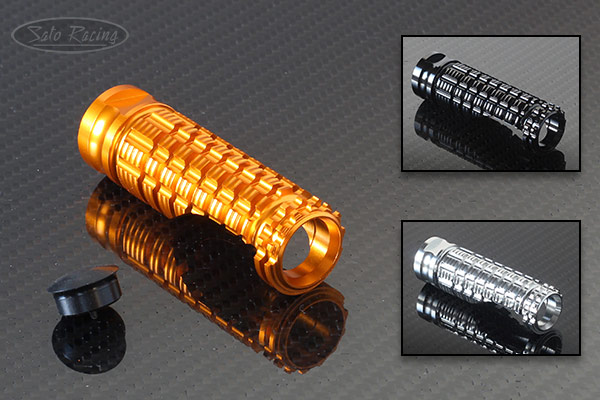 This super-lightweight anodized billet aluminum peg for competition use* features a rectangular-motif grip pattern. An End Cap made of abrasion-resistant black Delrin is included.

* NOTE: Due to the lightweight hollowed-out design, these pegs are intended for track use only. Not recommended for heavier riders or stunting purposes.
Race Concept Cutout-style FOOT PEG (Sold individually)
BLACK
RCPEG-BK
$48
SILVER
RCPEG-SV
$48
GOLD *
RCPEG-GD
$48
* Click Here for important info about Sato GOLD-anodized parts.
Have questions or prefer to order by phone? You can call us to place an order -



More Sato Racing items for 2017+ Suzuki GSX-R1000/R