HONDA CB300R / CB250R ('18- )
REAR SETS
SATO RACING Rear Sets for 2018+ Honda CB300R / CB250R is a track-engineered design, constructed of premium-quality parts precision CNC-machined from high strength anodized billet aluminum and assembled with stainless steel bolts and hardware. You can select from 4 adjustable foot peg positions in a range that is higher up and further back compared to stock, for a less upright, more superbike-like riding position ideal for the fast straights and steep lean angles encountered on the track. Choice of all-Black anodized finish, or Silver or Gold anodized finish over contrasting Black anodized base plates.
POSITIONS
| | | |
| --- | --- | --- |
| 1 | 55mm Back | 35mm Up |
| 2 | 55mm Back | 47mm Up |
| 3 | 67mm Back | 35mm Up |
| 4 | 67mm Back | 47mm Up |
note: all measurements are in relation to stock position (0 mm).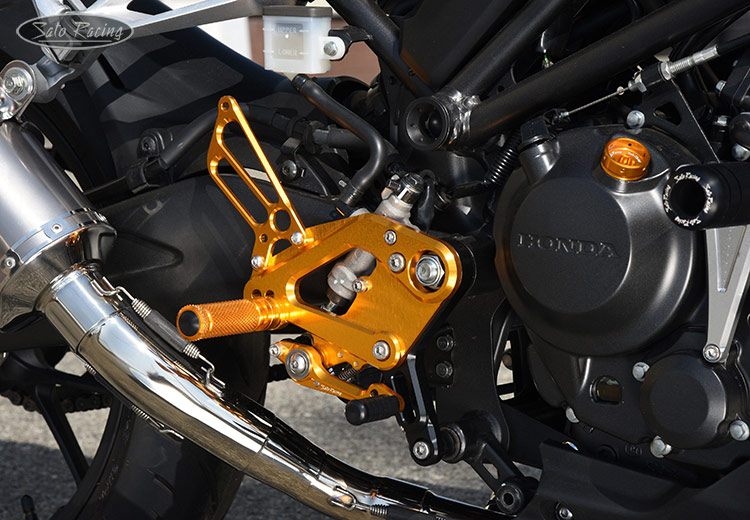 The shifter and brake lever utilize miniature double stainless bearings
for smooth, precise movement with a solid, high-quality feel.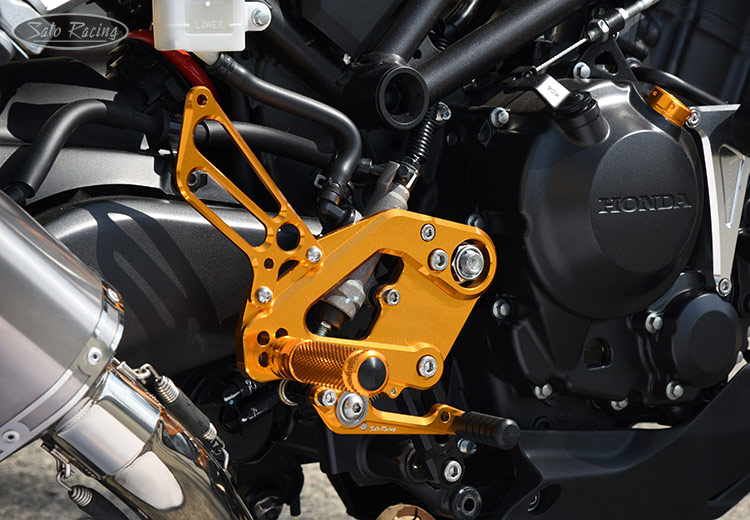 Fully compatible with the stock brake light pull switch. ABS-friendly design.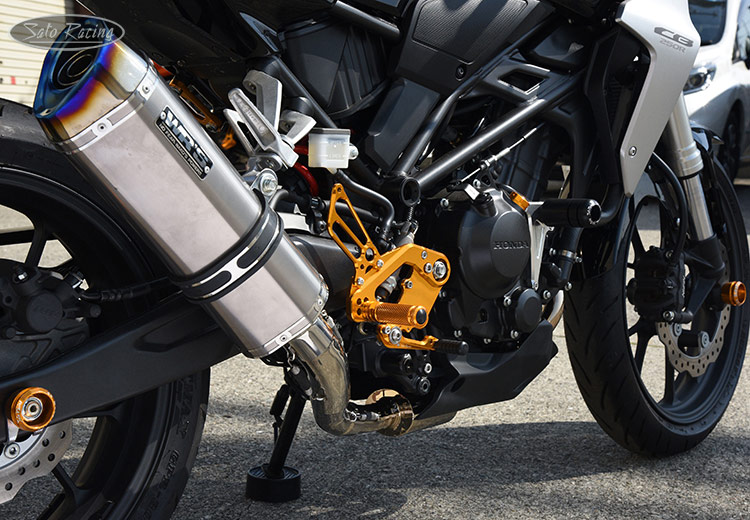 Rear Sets shown installed together with our Engine Sliders, Oil Filler Cap and other parts.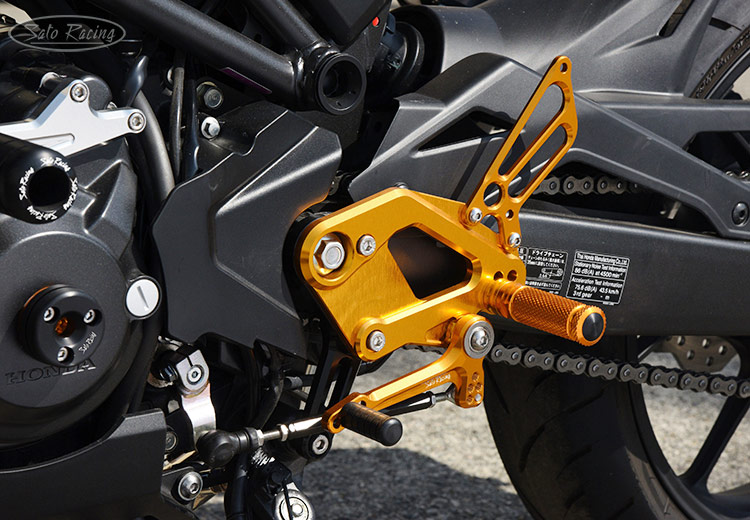 These Rear Sets provide a stock shifting pattern. (Reverse/ GP shift is not an option for this model).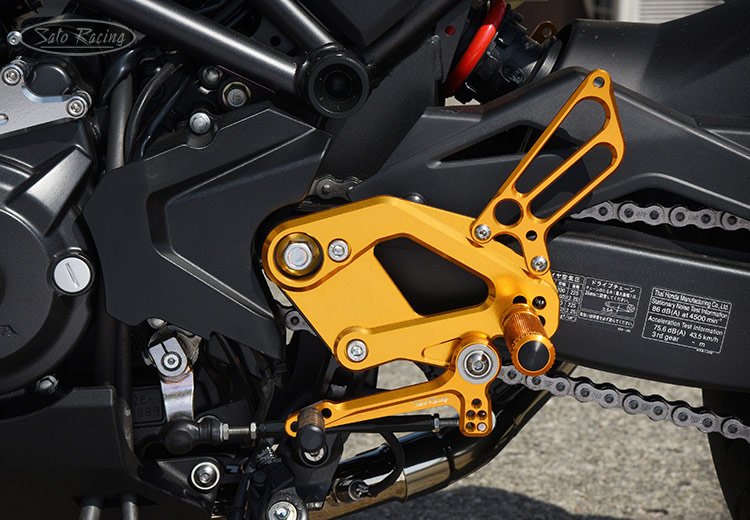 For maximum rigidity, our Rear Sets utilize the stock swingarm pivot bolt to attach to the frame.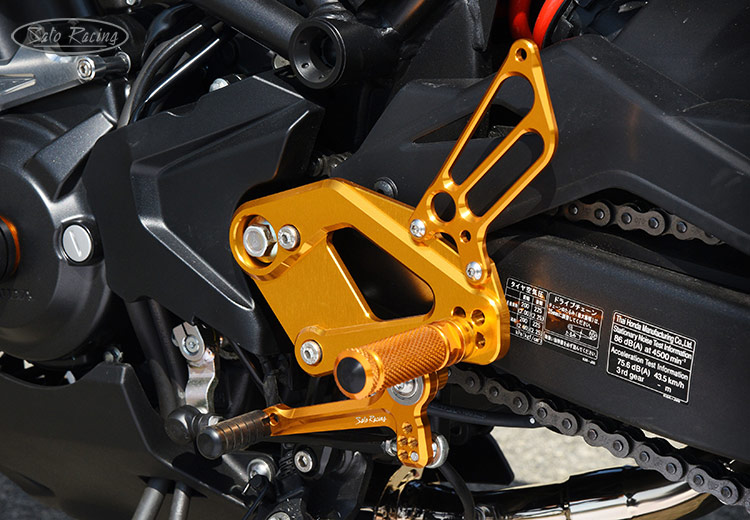 The base of the shift pedal has multiple attachment points for
attaching the shift rod, useful for adjusting the shift stroke.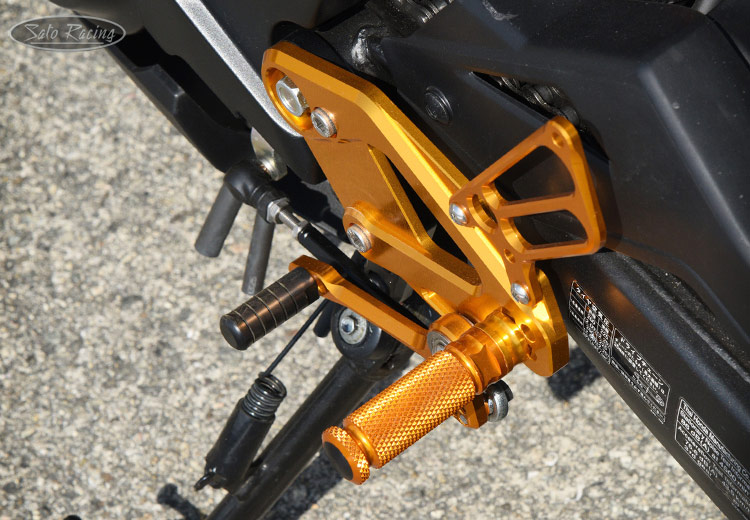 The Foot Pegs have a finely knurled pattern for optimal grip. The mounting positions
of both the Foot Pegs and the Pedal Tips (toe pegs) can be adjusted to your preference.
BLACK
H-CB25018RS-BK
$595
SILVER
H-CB25018RS-SV
$595
GOLD*
H-CB25018RS-GD
$595
* Click Here for important info about Sato GOLD-anodized parts.
Have questions or prefer to order by phone? You can call us to place an order -



REPLACEMENT PARTS
SATO RACING offers a full selection of replacement parts for our Rear Sets.
* * * Contact us to place an order * * *
To find indvidual part names and numbers, see the illustrated
parts list included with your Sato Racing Rear Sets.

More Sato Racing items for CB300R / CB250R