TRIUMPH DAYTONA 675R ('11-'12)
REAR SETS
SATO RACING Daytona 675R Rear Sets feeatures components CNC-machined from high strength anodized billet aluminum, with stainless steel bolts. Modular adjustable design provides 8 foot peg positions, ranging from stock-equivalent position to up to 20mm higher and 20mm more forward (or back 10mm). You can change these Rear Sets from stock shift pattern to reverse shifting pattern by relocating the shift rod. Choice of all Black-anodized finish, or vivid Gold anodized finish with Black shift pedal.

These Rear Sets include shift rod hardware designed specifically for use with the Triumph quickshifter such as on the '11-'12 675R, but should also work well on non-R models ('06-'12) that have been upgraded with a quickshifter.

A Shift Spindle Holder is an available option for these Rear Sets. It adds extra strength and rigidity to the shift shaft for heavy-duty shift action.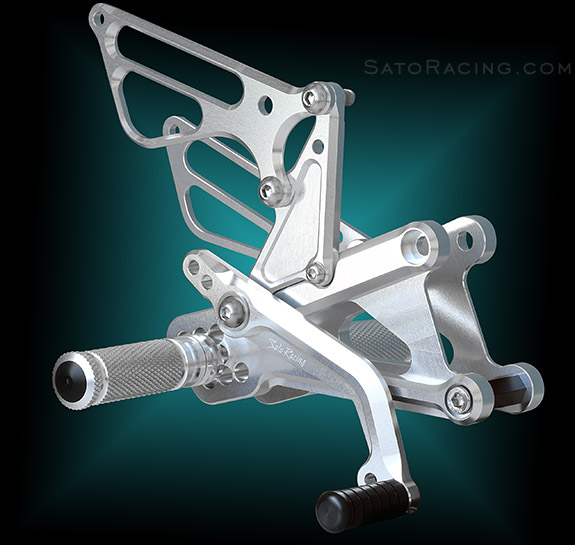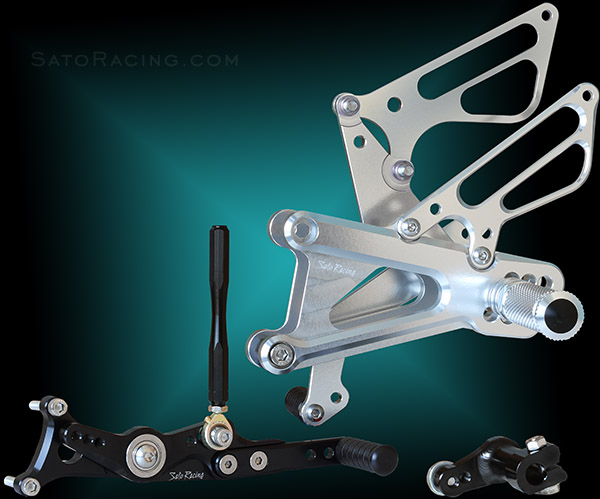 NOTE: The Silver finish shown above is no longer available.
These Rear Sets are currently available in Black or Gold.
POSITIONS
| | | |
| --- | --- | --- |
| 1 | 20mm Forward | 0mm |
| 2 | 10mm Forward | 0mm |
| 3 | 10mm Forward | 10mm Up |
| 4 | 10mm Forward | 20mm Up |
| 5 | 0mm | 0mm |
| 6 | 0mm | 10mm Up |
| 7 | 0mm | 20mm Up |
| 8 | 10mm Back | 20mm Up |
Note: all measurements are in relation to stock position (0 mm).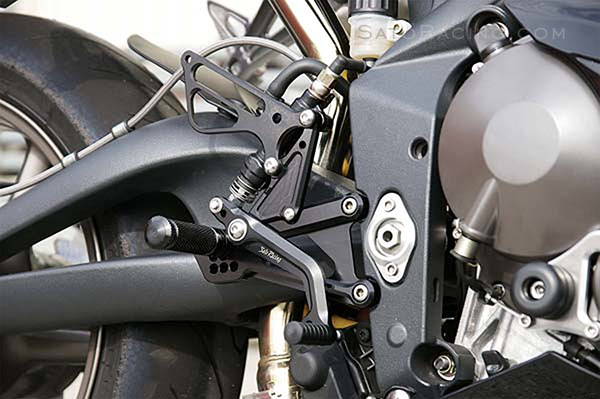 The brake pedal uses miniature double stainless bearings for smooth, precise lever actuation.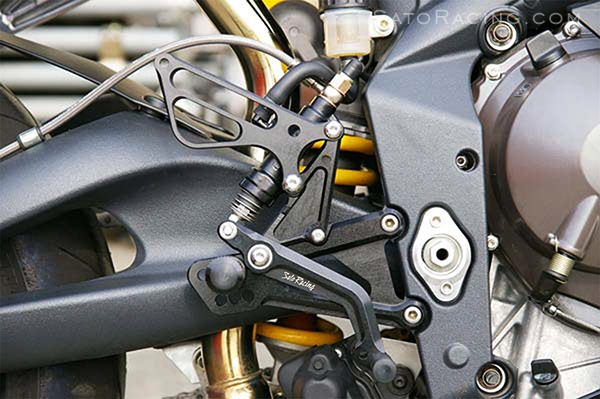 The Foot Peg and Pedal Tip positions can be adjusted to suit your riding style.
A brake light switch that attaches to the master cylinder is included with the kit.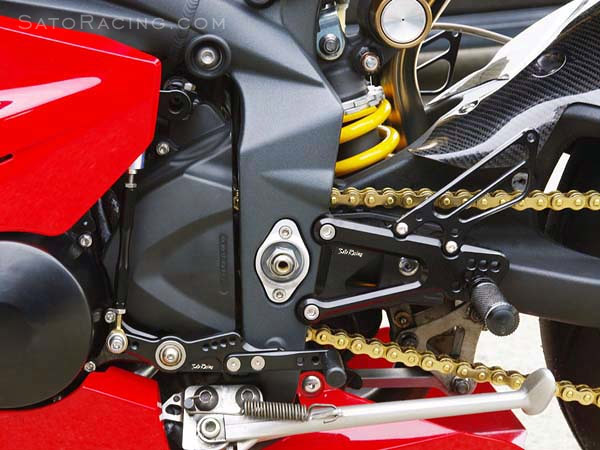 The Shift Pedal can be used with either stock or reverse (GP-style) shift pattern,
depending on which end the Shift Rod is attached. Multiple adjustment holes
on the Shift Pedal are useful for fine-tuning the shift stroke to your preference.

Deeply knurled footpegs provide excellent grip along with a comfortable feel.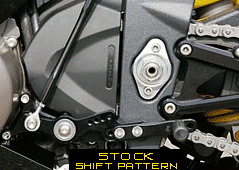 You can change to reverse shift pattern by relocating
the shift rod to one of the rear holes.
BLACK
T-67511RS-BK
$595
GOLD*
w/ BLACK Shift Pedal
T-67511RS-GD
$595
Click Here for important info about Sato GOLD-anodized parts.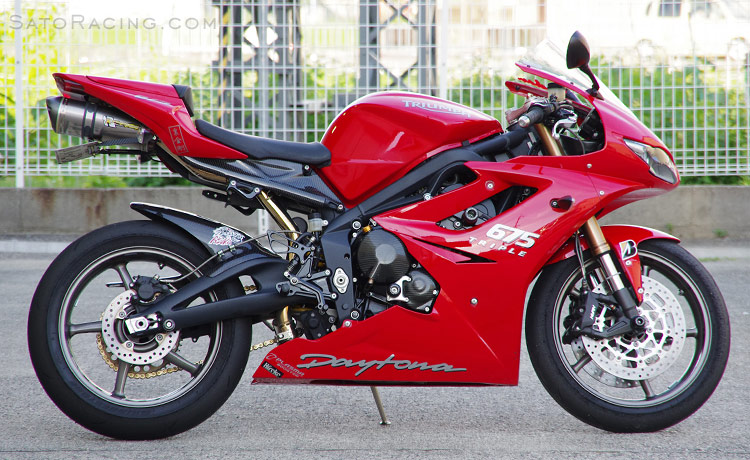 OPTIONAL PARTS

SHIFT SPINDLE HOLDER
Our Shift Spindle Holder for Triumph Daytona 675/ R ('06-'12) and Street Triple ('07-'16) and adds strength and reinforcement to the shift linkage and reduces excessive play in the shift spindle, for smoother, more consistent shift action in heavy duty use. Gold anodized billet aluminum with a Teflon-coated bushing.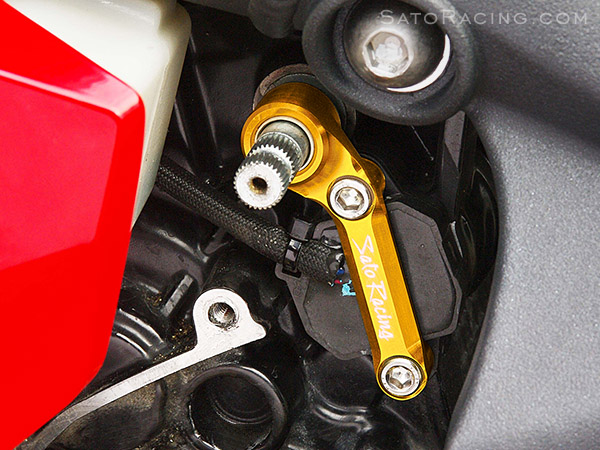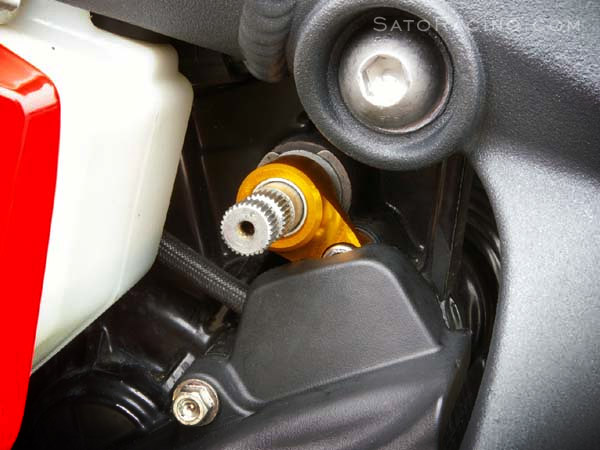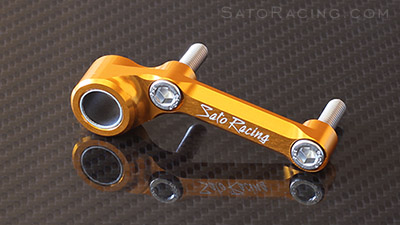 GOLD*
T-675RS-SHDR
$95
* Click Here for important info about Sato GOLD-anodized parts.
Have questions or prefer to order by phone? You can call us to place an order -





Cutout-style FOOT PEG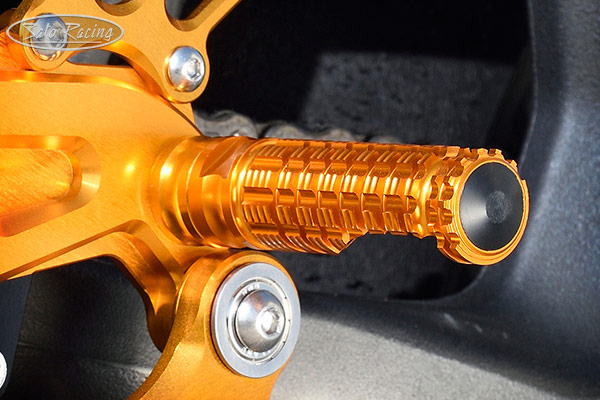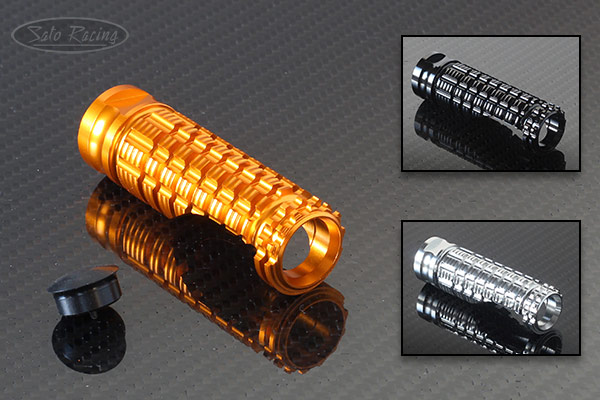 This super-lightweight anodized billet aluminum peg for competition use* features a rectangular-motif grip pattern. End Cap made of abrasion-resistant black Delrin is included.

* NOTE: Due to the lightweight hollowed-out design, these pegs are intended for track use only. Not recommended for heavier riders or stunting purposes.
Race Concept Cutout-style FOOT PEG (Sold individually)
BLACK
RCPEG-BK
$48
SILVER
RCPEG-SV
$48
GOLD *
RCPEG-GD
$48
* Click Here for important info about Sato GOLD-anodized parts.
Have questions or prefer to order by phone? You can call us to place an order -



REPLACEMENT PARTS
SATO RACING offers a full selection of replacement parts for our Rear Sets.
* * * Contact us to place an order * * *
To find out individual part names & numbers, see the illustrated parts list
included with your Sato Racing Rear Sets, or view the PDF: Parts List
Some common replacement parts for these Rear Sets
can be purchased in our online store:
FOOT PEG [BLACK]
PEG-BK
$38
FOOT PEG [SILVER]
PEG-SV
$38
FOOT PEG [GOLD]
PEG-GD
$38
HEX HEAD M8-40mm
(#28, Foot Peg bolt)
HBT-M840
$2.00
SPLIT WASHER M8
(#35)
SWS-8
$1.20
STANDARD PEDAL TIP
(DELRIN plastic)
ST-001D
$15
BUTTON HEAD M6-20mm
(#23, for Pedal Tip)
BBT-M620
$1.50
SHIFT PEDAL SPD8 [BLACK]
(L-side #10)
SPD-8B
$30
FLAT HEAD M6-10mm
(L-side #26)
FBT-M610
$1.50
WASHER M6
(R-side #29)
WS-6
$1.00
E-CLIP M6
(R-side #36)
ECP-6
$1.50
BRAKE LIGHT SWITCH
(P-1.25)

BSW-125
$25
Some additional parts such as Shift Rod, Rod Ends and related hardware can be found HERE.
(For replacement parts not listed on our website, contact Sato Racing for an estimate.)

More Sato Racing items for 2011-12 Daytona 675R