HONDA GROM ('16-'19)
REAR SETS
SATO RACING Rear Sets (Standard version) for 2016 and up* Honda GROM/ MSX125 are precision CNC-machined from high strength billet aluminum and anodized in your choice of deep Black or vivid Gold finish. Select from 2 foot peg positions that bring your feet higher and significantly further back compared to stock, for a more aggressive position well-suited for spirited riding. These Rear Sets are compatible with the stock rear brake light switch and stock exhaust canister. Provides a stock shifting pattern.

We also offer an optional Shift Spindle Holder that works well with these Rear Sets, reducing play in the shift spindle for more precise shift action.

*(Compatibility with 2018 ABS model has not yet been confirmed)
POSITIONS
| | | |
| --- | --- | --- |
| 1 | 87.5mm Back | 37.5mm Up |
| 2 | 100mm Back | 37.5mm Up |
note: all measurements are in relation to stock position (0 mm).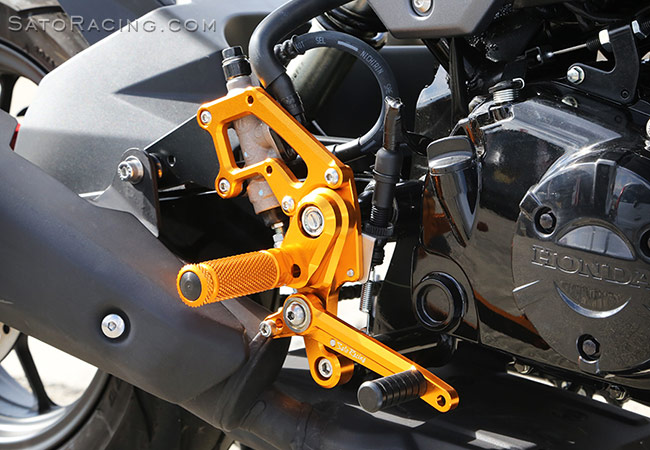 You can adjust the position of the Foot Pegs 2 ways. The Pedal Tip position is also adjustable.

Rear Sets kit includes a hanger for the stock exhaust canister. (Exhaust hanger might need modifications or additional hardware to be compatible with some aftermarket exhausts such as Yoshimura).

NOTE: Our Rear Sets eliminate the stock passenger peg brackets, so you won't be able to carry passengers after the set is installed.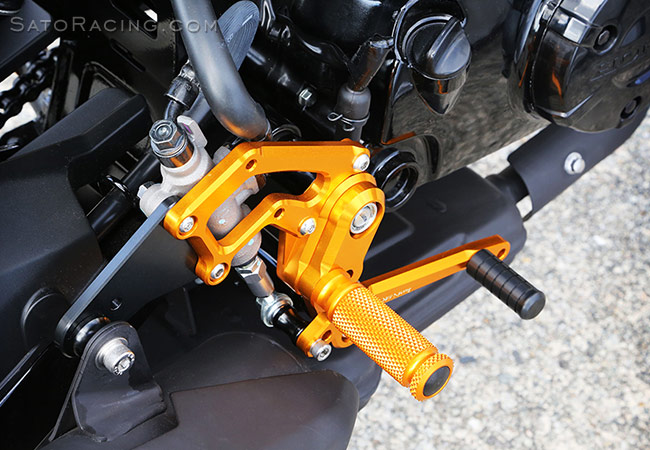 The Foot Pegs have a finely knurled pattern for excellent grip, along with a comfortable,
intuitive feel. These Rear Sets are designed for use with the stock brake light pull switch.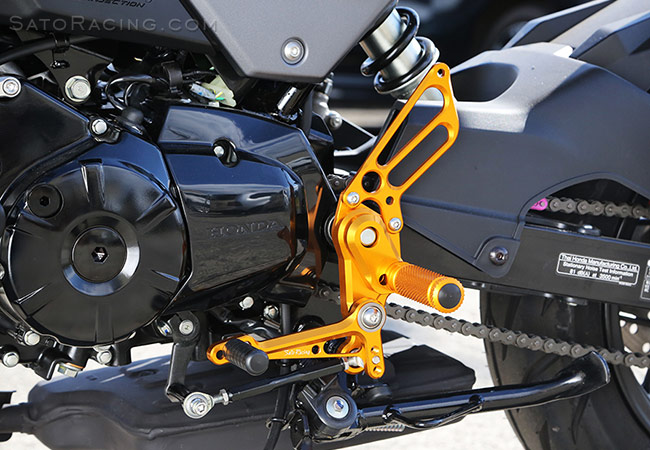 These Rear Sets provide a stock shifting pattern.
(For Reverse / 'GP' shift pattern, try our GROM Race Concept Rear Sets)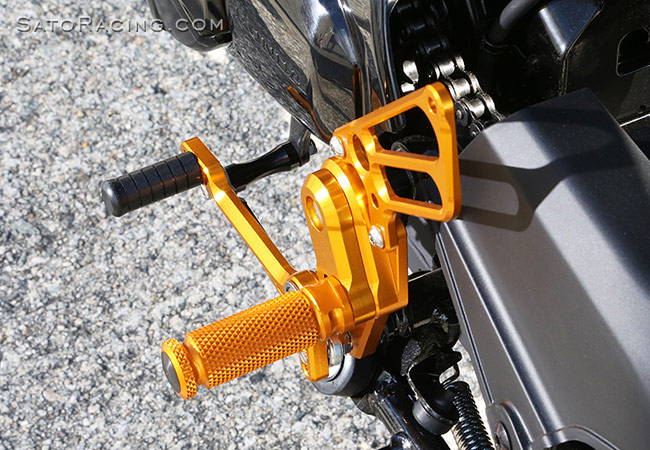 The shift and brake pedals utilize double stainless bearings for smooth movement and a solid feel.

The standard Pedal Tips are made of tough Delrin plastic. Additional Pedal Tip styles, such as
folding-style aluminum Pedal Tips with rubber sleeves, are an available option: More Details
BLACK
H-GROM16RS-BK
$450
GOLD *
H-GROM16RS-GD
$450
* Click Here for important info about Sato GOLD-anodized parts.

OPTIONAL PART

HONDA GROM / MONKEY 125 ('13-'19)
SHIFT SPINDLE HOLDER
SATO RACING Shift Spindle Holder for Honda GROM (all years), along with the 2018+ Monkey, adds strength and rigidity to the shift rod linkage by reducing play in the shift spindle, for more consistent and precise shifting and extra durability in heavy-duty use. Gold anodized billet aluminum with a Teflon inner bushing.

( Shift Spindle Holder shown installed with our GROM Race Concept Rear Sets
For the standard version Rear Sets, The Spindle Holder fits behind the stock shift arm.)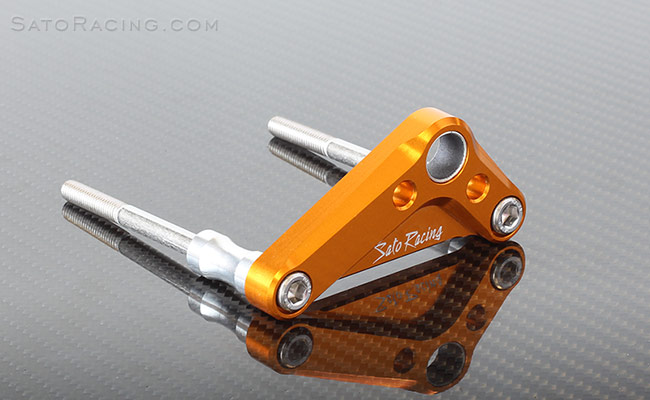 GOLD
H-GROMRS-SHDR
$75

REPLACEMENT PARTS
SATO RACING offers a full selection of replacement parts for our Rear Sets.
* * * Contact us to place an order * * *
To find indvidual part names and numbers, see the illustrated
parts list included with your Sato Racing Rear Sets.

More Sato Racing items for 2016-19 GROM