DUCATI S2R / S4R/S ('03-'08)
REAR SETS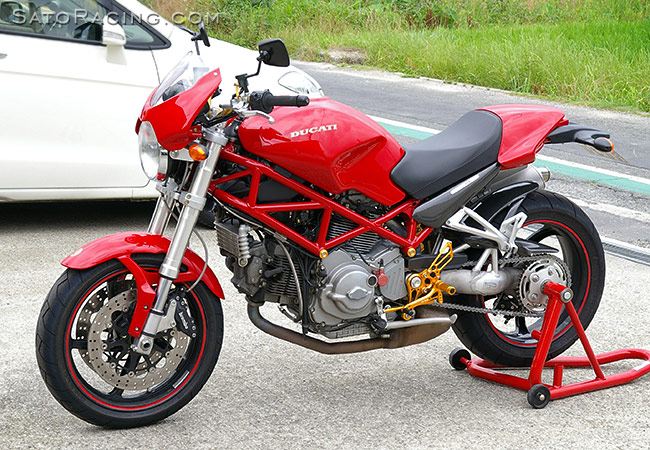 SATO RACING Rear Sets for 2003-08 Ducati S4R and S2R series are a track-engineered design, precision CNC-machined out of billet aluminum, with your choice of Black, Silver, or Gold anodized finish. These fine quality Rear Sets provide 4 adjustable positions which bring your feet progressively higher up and further back compared to the stock foot peg position, making it easier to achieve a less-upright body position well-suited for spirited riding.
POSITIONS
| | | |
| --- | --- | --- |
| 1 | 0 mm | 15mm Up |
| 2 | 10mm Back | 15mm Up |
| 3 | 10mm Back | 25mm Up |
| 4 | 20mm Back | 25mm Up |
note: all measurements are in relation to stock position (0 mm).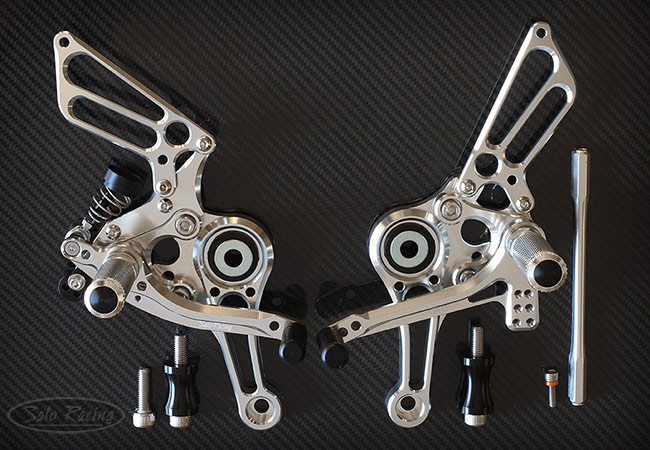 Rear Sets kit shown in brilliant Silver (clear metal) anodized finish (part# D-S4RS2-SV).
Also available in deep Black and vivid Gold finish. Rear Sets kit includes Black anodized
billet aluminum collars and high strength stainless steel and chrome molybdenum bolts.
NOTE: The following photos show an earlier version of our S2R/S4R Rear Sets. The latest version
of these Rear Sets has an updated pedal design with additional adjustment holes. (See above photo)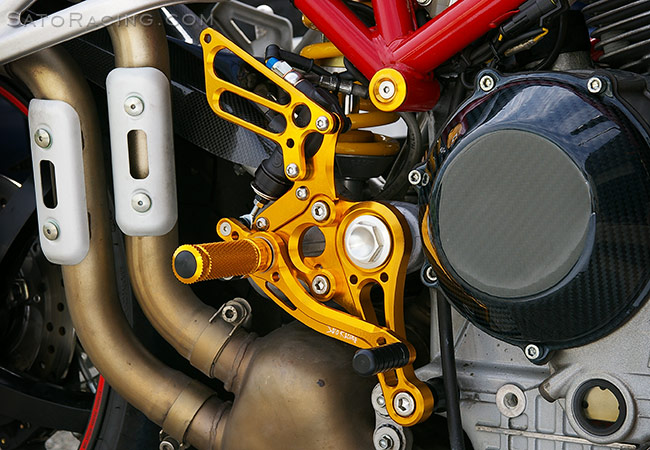 The shift and brake pedals utilize miniature double stainless bearings
for smooth, precise lever movement with a solid, substantial feel.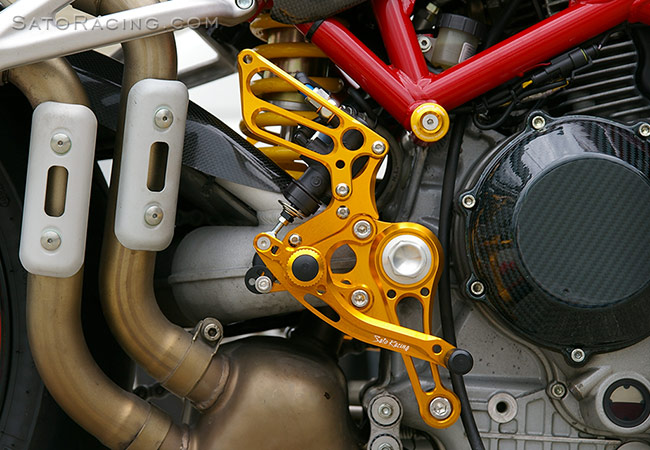 The Step Plate is adjustable 4 ways. The pedal tip position can also be adjusted.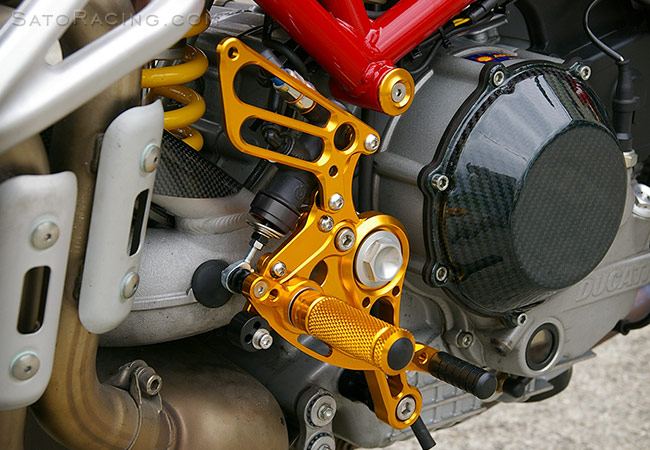 Deeply knurled footpegs provide a nice feel, with excellent grip.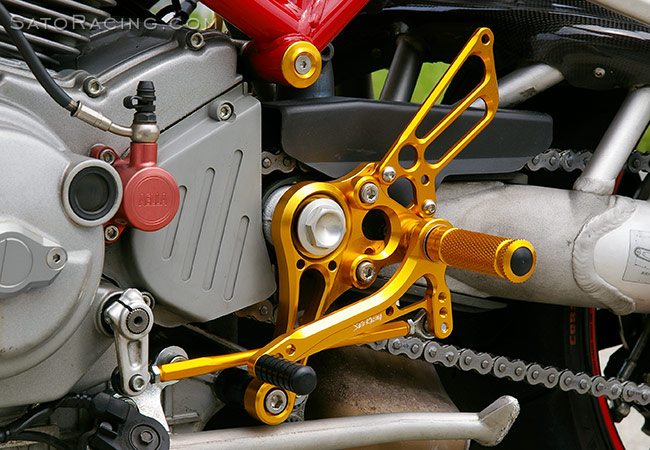 Multiple adjustment holes on the shift pedal let you fine-tune the shift stroke.

We also make an optional matching billet aluminum Shift Arm (not pictured)
that provides more range of adjustment and can give the shifter a shorter stroke
compared to the OEM shift arm shown above. Click Here for more details.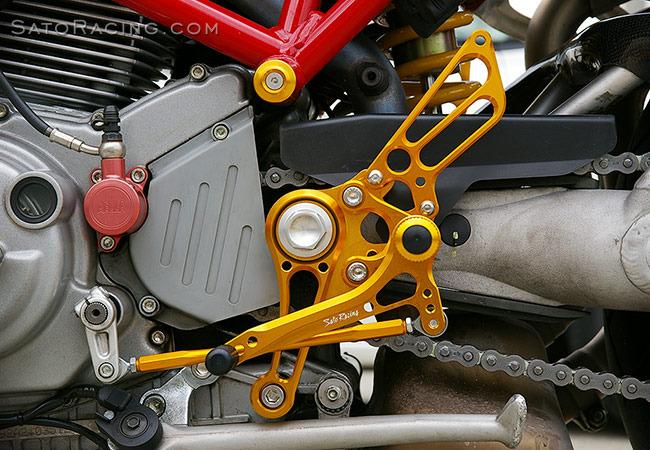 These Rear Sets are designed for stock shift pattern only.
Reverse (GP) shift pattern is not an option for this model.
BLACK
D-S4RS2-BK
$645
SILVER
D-S4RS2-SV
$645
GOLD *
D-S4RS2-GD
$645
* Click Here for important info about Sato GOLD-anodized parts.

REPLACEMENT PARTS
SATO RACING offers a full selection of Replacement Parts for our Rear Sets.
* * * Contact us to place an order * * *
To find out individual part names & numbers, see the illustrated parts list
included with your Sato Racing Rear Sets, or view the PDF: Parts List
Some common replacement parts for these Rear Sets
can be purchased in our online store:
FOOT PEG [BLACK]
PEG-BK
$38
FOOT PEG [SILVER]
PEG-SV
$38
FOOT PEG [GOLD]
PEG-GD
$38
FLAT HEAD M8-45mm
(Foot Peg bolt)
FBT-M845
$2.50
PEG WASHER - M8
(L-side #7 / R-side #9)
PWS-8
$1.00
BEARING COLLAR SUS
(R-side #7)
BGCLR-SUS
$6.50
STANDARD PEDAL TIP
(DELRIN plastic)
ST-001D
$15
BUTTON HEAD M6-20mm
(for Pedal Tip)
BBT-M620
$1.50
SOCKET HEAD M6-20mm
(L-side #24)
SBT-M620
$1.50
ROD END COLLAR 3
(L-side #25)
RDED-CLR3
$6.00
Some additional parts such as Shift Rod, Rod Ends and related hardware can be found HERE.
(For replacement parts not listed on our website, contact Sato Racing for an estimate.)

More Sato Racing items for S4R / S2R