TRIUMPH THRUXTON/ R/ RS ('16-'20)
REAR SETS

SATO RACING Rear Sets for 2016+ Triumph Thruxton 1200/R / RS feature components precision CNC-machined from high strength billet aluminum, and feature a unique design that blends well with the classic styling of the Thruxton. A fixed peg position places your feet higher and further back compared to the stock foot rest, for a more aggressive riding position well-suited to spirited riding. Choice of Black or Silver anodized finish.
POSITION
note: measurement is in relation to stock position (0 mm).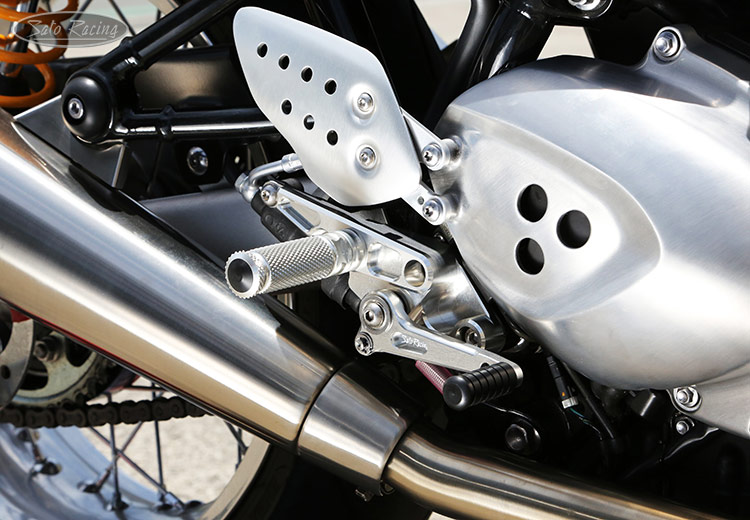 The shift and brake pedals feature double stainless bearings for smoothest operation.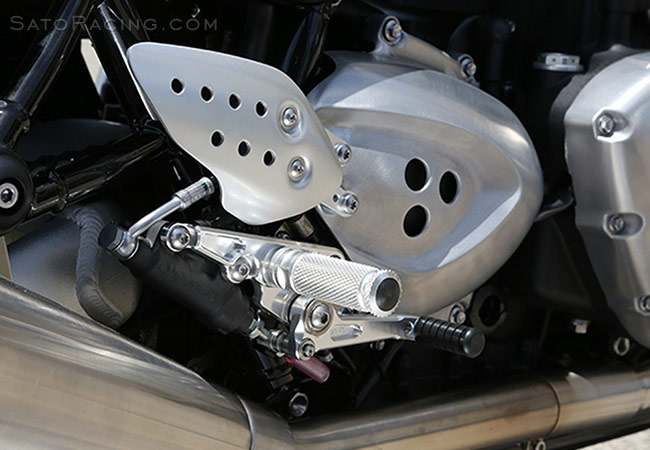 Our Thruxton Rear Sets are designed to incorporate the stock heel guards,
which are re-located rearward using specially designed setback brackets.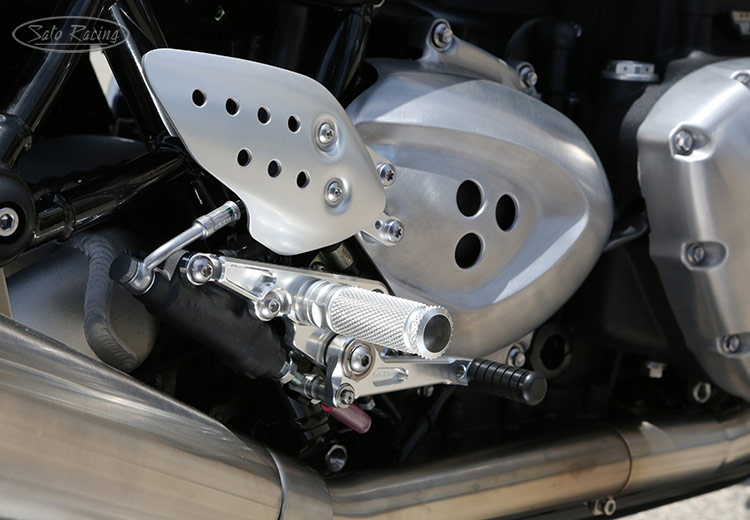 The foot pegs are knurled for excellent grip, along with a comfortable, intuitive feel.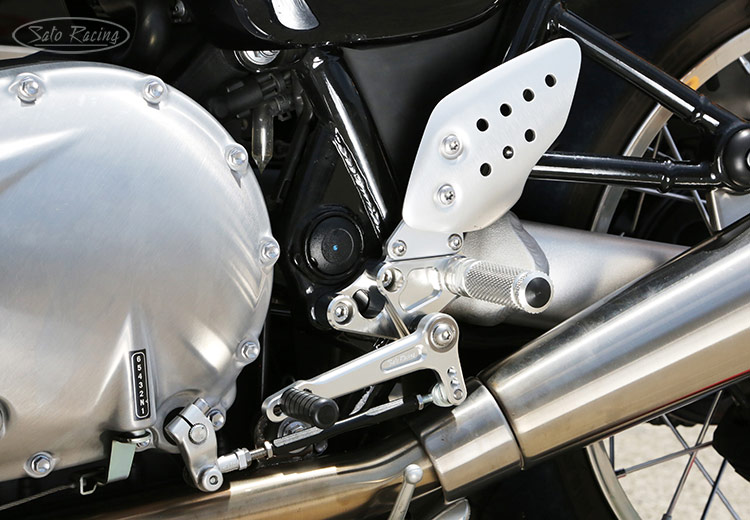 These Rear Sets use the stock change arm hardware, and provide a stock shift pattern.
(Reverse/ GP-style shift pattern is not an option for this model).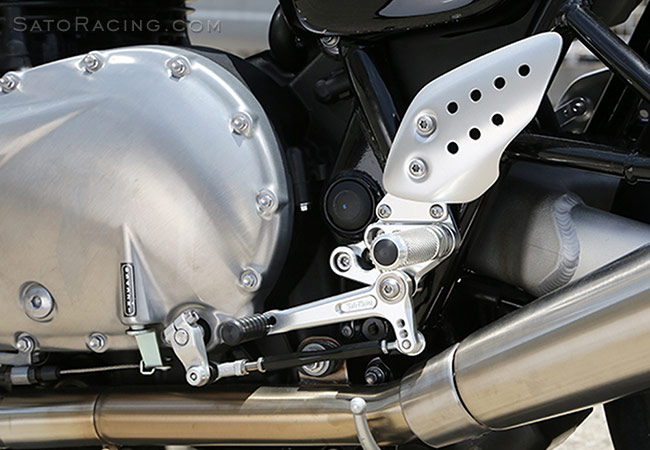 The shift stroke can be adjusted by changing the mounting position of the shift rod on the shift lever.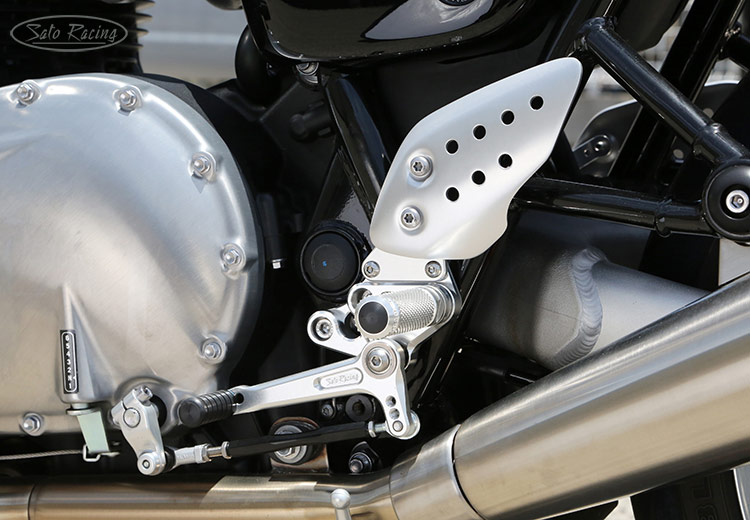 The standard Pedal Tips are made of tough Delrin plastic. Additional styles of Pedal Tips,
such as aluminum Pedal Tips with fluted rubber sleeves, are an option: More Details
BLACK
T-THRUX16RS-BK
$620
SILVER
T-THRUX16RS-SV
$620
Have questions or prefer to order by phone? You can call us to place an order -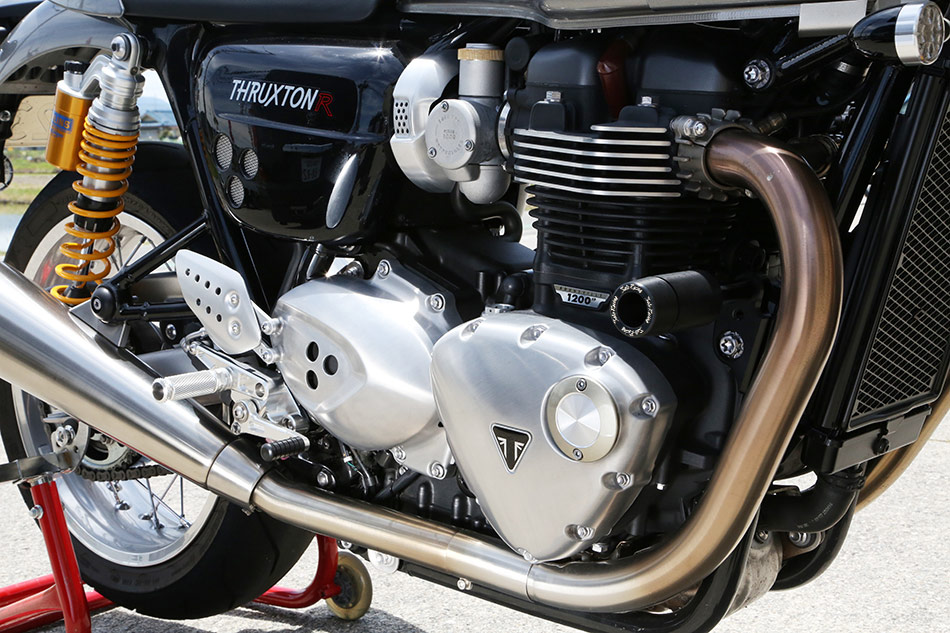 REPLACEMENT PARTS
SATO RACING offers a full selection of Replacement Parts for our Rear Sets.
* * * Contact us to place an order * * *
To find indvidual part names and numbers, see the
illustrated parts list included with your Sato Racing Rear Sets.
Some common replacement parts for these Rear Sets
can be purchased in our online store:
FOOT PEG [BLACK]
PEG-BK
$38
FOOT PEG [SILVER]
PEG-SV
$38
FLAT HEAD M8 x 40mm
(Foot Peg bolt)
FBT-M840
$2.50
STANDARD PEDAL TIP
(DELRIN plastic - original style)
ST-001D
$15
STANDARD PEDAL TIP
(DELRIN plastic)
(New style w/ notch at base)
ST-001D18
$15
BUTTON HEAD M6-20mm
(for Pedal Tip)
BBT-M620
$1.50
Some additional parts such as Shift Rod, Rod Ends and related hardware can be found HERE.
(For replacement parts not listed on our website, contact Sato Racing for an estimate.)

More Sato Racing items for 2016+ Triumph Thruxton/R