SUZUKI GSX-S750/ Z/ ABS '15-'19 (GSR750 '11-'16)
REAR SETS
SATO RACING Rear Sets for 2015 and up Suzuki GSX-S750 series ( along with non-U.S.model GSR750 ) features a track-engineered design,with parts precision CNC-machined out of lightweight, high strength billet aluminum with your choice of Black, Silver or vivid Gold anodized finish. Provides 4 adjustable peg positions that bring your feet progressively higher up and further back compared to stock, for a more sportbike-like position that is ideal for spirited riding. Can be set up for either stock shift pattern or reverse shift pattern; Just flip the stock shift arm the opposite direction. Compatible with both ABS-equipped and non-ABS GSX-S750 models.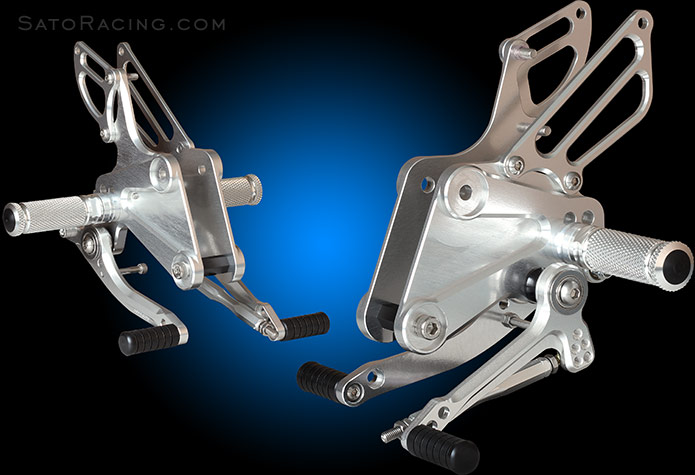 POSITIONS
| | | |
| --- | --- | --- |
| 1 | 15mm Back | 30mm Up |
| 2 | 15mm Back | 42.5mm Up |
| 3 | 27.5mm Back | 30mm Up |
| 4 | 27.5mm Back | 42.5mm Up |
note: all measurements are in relation to stock position (0 mm).
Note: The following photos show these Rear Sets installed on a 2012 and a 2015 GSR750 (Japan model). The US market GSX-S750 is similar.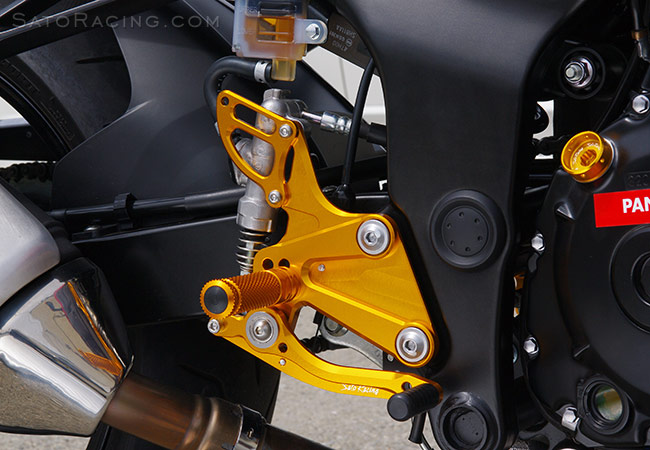 The shift and brake pedals utilize double stainless bearings for smooth, precise pedal movement.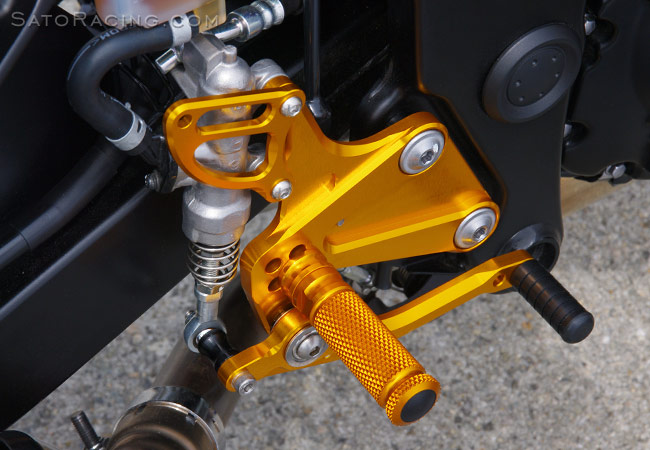 The Foot Peg position is adjustable 4 ways. The Pedal Tip position can also be adjusted.

The standard Pedal Tips are made of tough Delrin plastic. Additional Pedal Tip styles, such as
aluminum Pedal Tips with fluted rubber sleeves, are an available option: More Details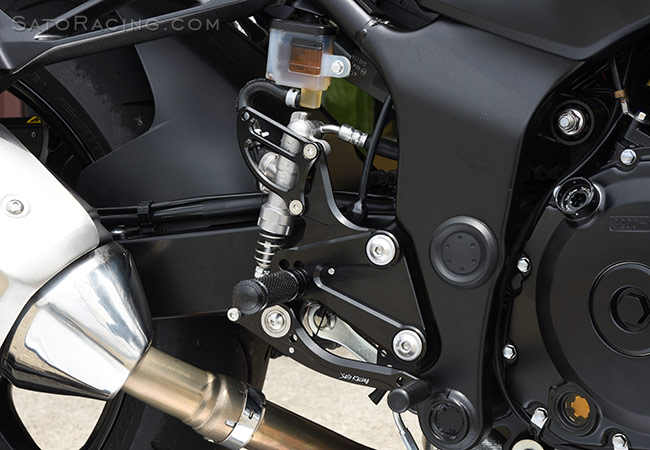 SATO Rear Sets are available in either Black, Silver (natural metal) or Gold anodized finish.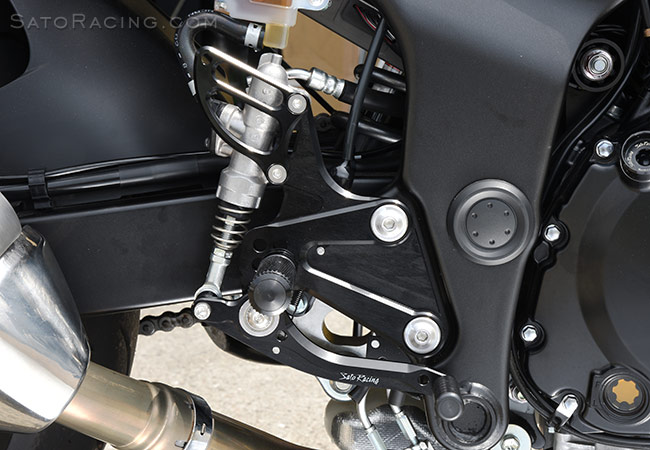 These Rear Sets are fully compatible with the stock brake light pull switch
hardware, so you won't need to splice in an aftermarket brake light switch.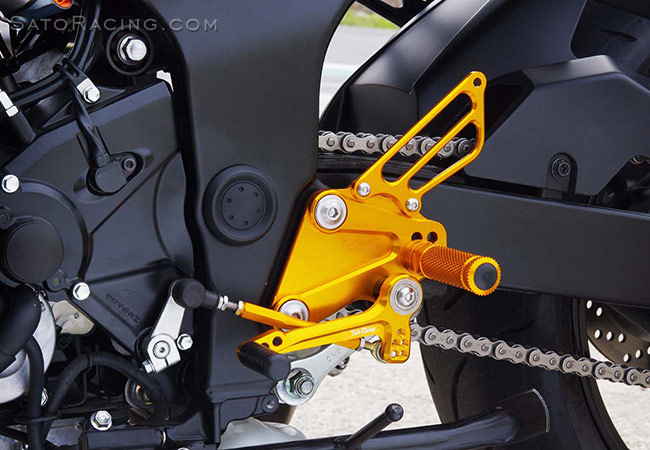 You can switch to GP-style reverse shift pattern by flipping the stock change arm.

These Rear Sets are designed for use with the stock Suzuki shift arm and rod end, (as seen in these photos). We now also make an adjustable billet aluminum Shift Arm kit (part# S-CA2) that works well with these Rear Sets, providing additional adjustment options for the shift linkage.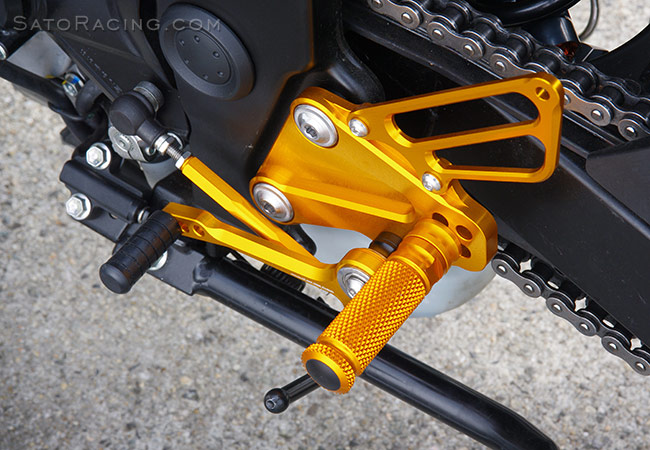 Our GSX-S750 Rear Sets are designed to utilize the stock bolts to attach the step plate to the frame.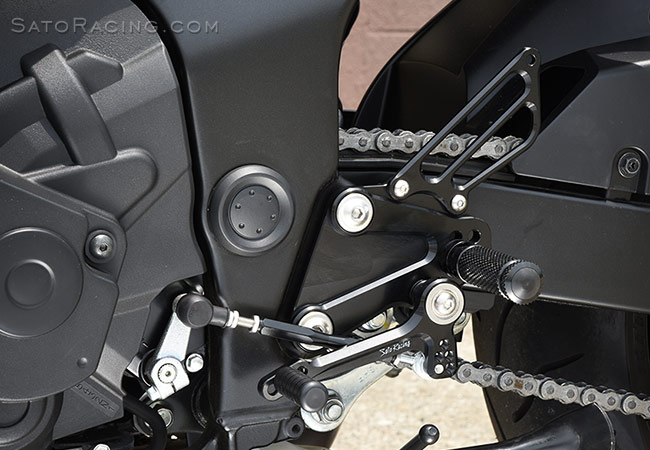 The clean, angular styling of these Rear Sets blends seamlessly with the lines of the bike.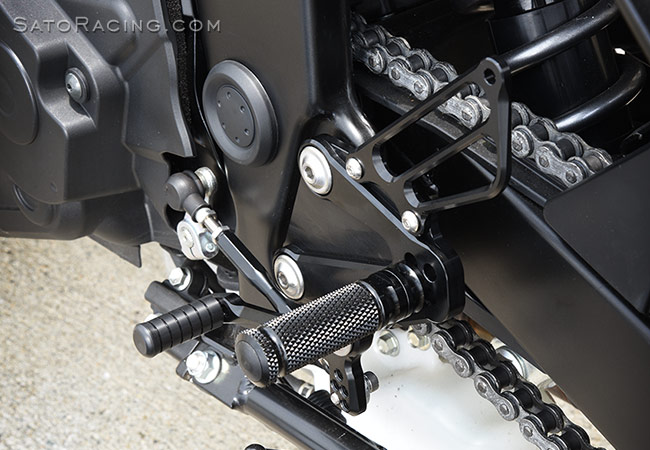 Foot Pegs have a finely knurled pattern for non-slip grip and a comfortable feel.
BLACK
S-GSR750RS-BK
$495
SILVER
S-GSR750RS-SV
$495
GOLD *
S-GSR750RS-GD
$495
* Click Here for important info about Sato GOLD-anodized parts.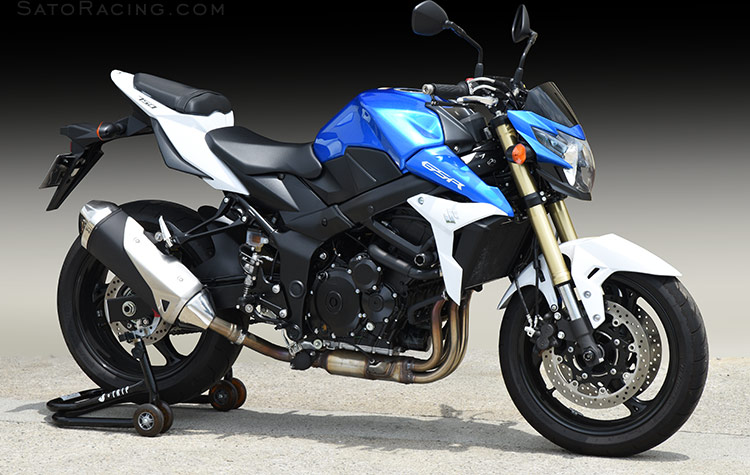 REPLACEMENT PARTS
SATO RACING offers a full selection of Replacement Parts for our Rear Sets.
* * * Contact us to place an order * * *
To find out individual part names & numbers, see the illustrated parts list
included with your Sato Racing Rear Sets, or view the PDF: Parts List

More Sato Racing items for Suzuki GSX-S750