DUCATI Monster 696/ ABS ('08-'14)
REAR SETS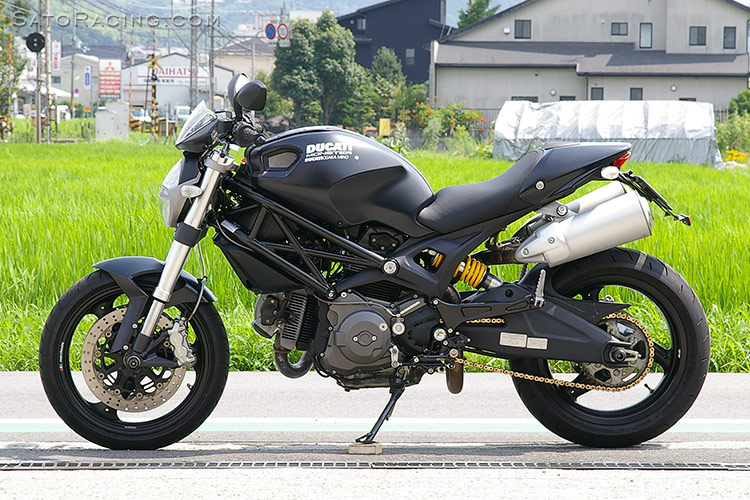 SATO RACING Rear Sets for Ducati Monster 696 (all years) feature components precision CNC machined out of lightweight, high strength billet aluminum and anodized in your choice of Black, Silver, or Gold finish. Adjustable design gives you 11 unique peg positions that bring your feet higher up compared to stock, for a sportier riding position well-suited for performance riding. Can be set up for either stock shift pattern or a reverse shift pattern.

Options include a Tandem Brackets set that goes well with the Rear Sets, and a matching adjustable Shift Arm that increases the range of adjustability of the shifter linkage compared to the stock shift arm.

POSITIONS
| | | |
| --- | --- | --- |
| 1 | 10mm Forward | 5mm Up |
| 2 | 10mm Forward | 15mm Up |
| 3 | 10mm Forward | 25mm Up |
| 4 | 10mm Forward | 34mm Up |
| 5 | 0 mm | 15mm Up |
| 6 | 0 mm | 20mm Up |
| 7 | 0 mm | 25mm Up |
| 8 | 0 mm | 30mm Up |
| 9 | 0 mm | 40mm Up |
| 10 | 10mm Back | 30mm Up |
| 11 | 10mm Back | 40mm Up |
note: all measurements are in relation to stock position (0 mm).
(Note: The following pics show the original version of these Rear Sets designed for the '08-'09 model (part# D-M696RS). An updated version (part# D-M69610RS) has some minor design changes, such as different base plates that provide better compatibility with 2010 and later model years, and a slightly different shift pedal with additional adjustment holes.)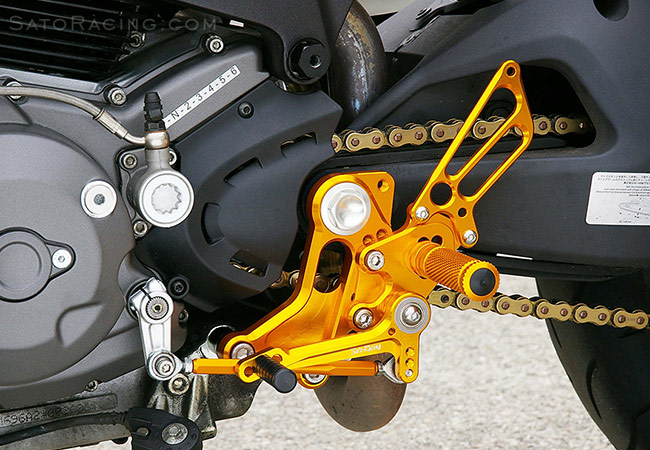 You can switch from stock to reverse (GP style) shift pattern by flipping the stock shift arm upward.
We also offer a matching adjustable billet aluminum Shift Arm that fits well with these Rear Sets.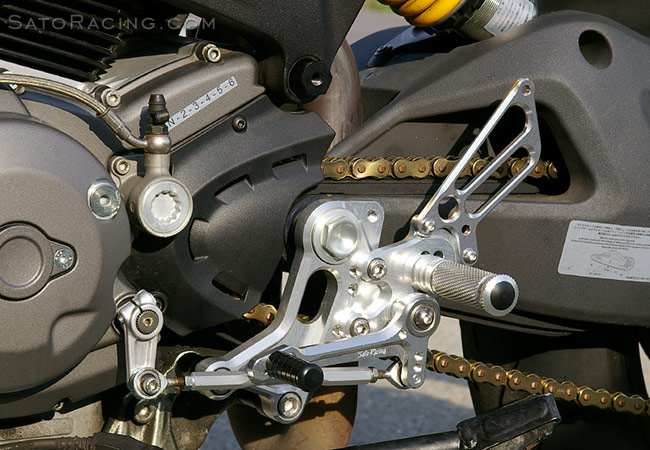 Modular step plate design provides multiple mounting positions. The positions of the Foot Peg and
the Pedal Tip are also adjustable, so you can easily find the ideal position to suit your riding style.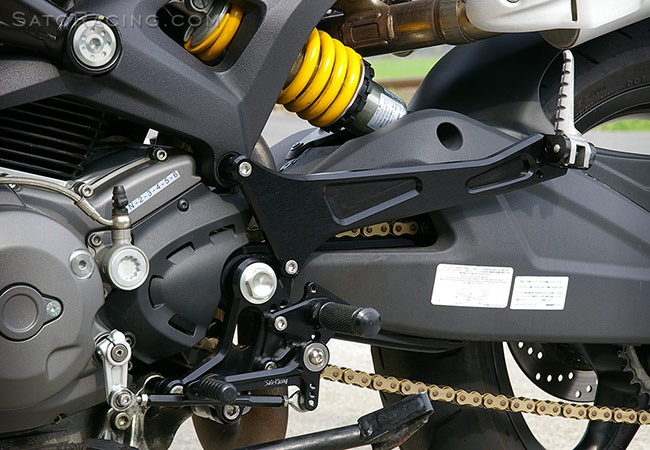 BLACK Rear Sets with optional Tandem Brackets.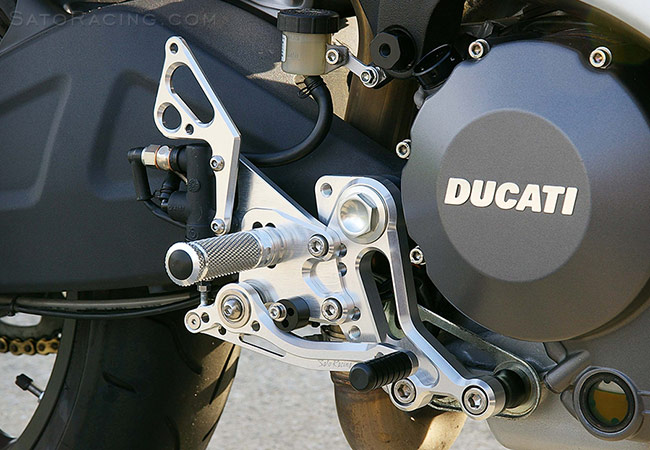 Rear Sets kit includes a brake light switch (shown attached to the master cylinder).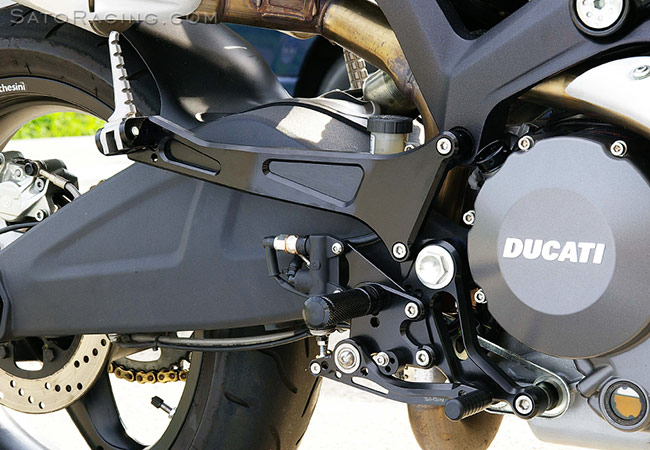 BLACK Rear Sets with optional Tandem Brackets. These Tandem Brackets are available in
either BLACK or SILVER, and are designed for use with the stock Ducati passenger peg hardware.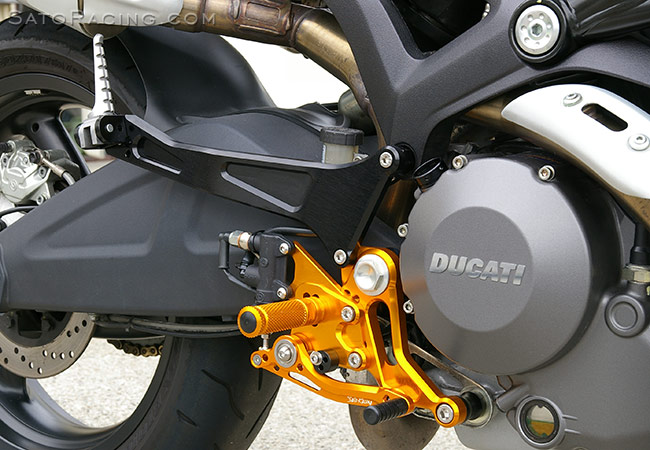 GOLD Rear Sets look sharp with contrasting BLACK Tandem Brackets
REAR SETS (Design version 2 - Fits all model years)
BLACK
D-M69610RS-BK
$715
SILVER
D-M69610RS-SV
$715
GOLD *
D-M69610RS-GD
$715
REAR SETS (Original version - fits 2008-09 model)
GOLD *
D-M696RS-GD
$575
* Click Here for important info about Sato GOLD-anodized parts.
TANDEM BRACKETS
Designed for use with SATO RACING Rear Sets, this handy Tandem Bracket set is perfect for those times when you have a passenger. Choice of Black or Silver anodized billet aluminum brackets, with chrome molybdenum bolts. Use with the stock passenger foot pegs.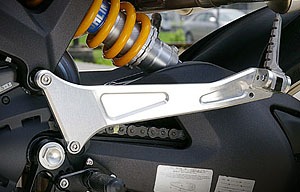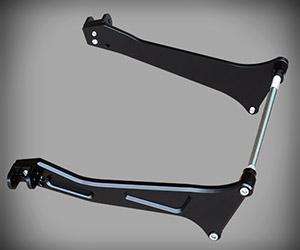 BLACK
D-MTB-BK
$395
SILVER
D-MTB-SV
$395
Have questions or prefer to order by phone? You can call us to place an order -



REPLACEMENT PARTS
SATO RACING offers a full selection of Replacement Parts for our Rear Sets.
* * * Contact us to place an order * * *
To find out individual part names & numbers, see the illustrated parts list
included with your Sato Racing Rear Sets, or view the PDF: Parts List

More Sato Racing items for Monster 696