BIMOTA DB6 ('08-'10)
REAR SETS

SATO RACING Rear Sets for Bimota DB6 series feature parts precision CNC-machined out of high strength billet aluminum, with your choice of Black or vivid Gold anodized finish. Modular design provides 6 adjustable positions in a useful range that can bring your feet up to 30mm higher compared to the stock pegs, so you can find the ideal position for your riding style. These Rear Sets can be used in stock shift pattern, or flip the included shift arm the opposite direction for GP-style reverse shifting pattern.
POSITIONS
| | | |
| --- | --- | --- |
| 1 | 10mm Forward | 10mm Up |
| 2 | 0mm | 10mm Up |
| 3 | 5mm Forward | 20mm Up |
| 4 | 5mm Back | 20mm Up |
| 5 | 0mm | 30mm Up |
| 6 | 10mm Back | 30mm Up |
note: all measurements are in relation to stock position (0 mm).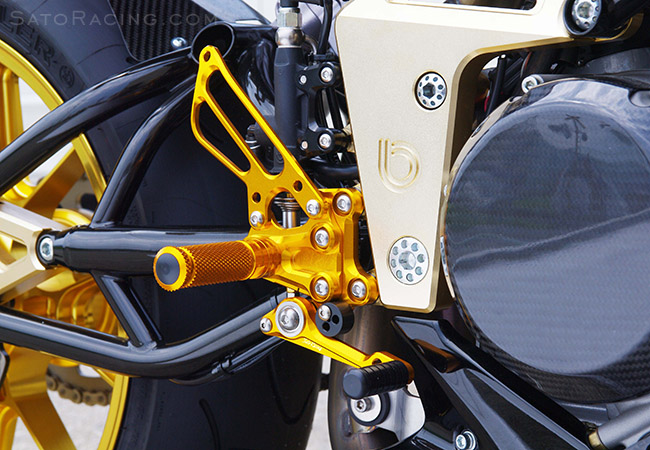 The shift and brake pedals utilizes double stainless bearings for smooth, precise movement and
a solid feel. You can adjust the rest height of the brake pedal by rotating the round pedal stopper.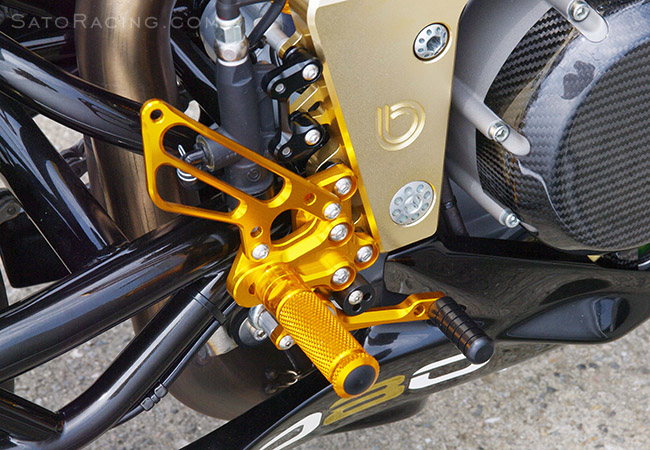 The positions of the Step Plate, Foot Peg and Pedal Tip are adjustable.
The Foot Pegs feature a deeply knurled pattern for excellent grip.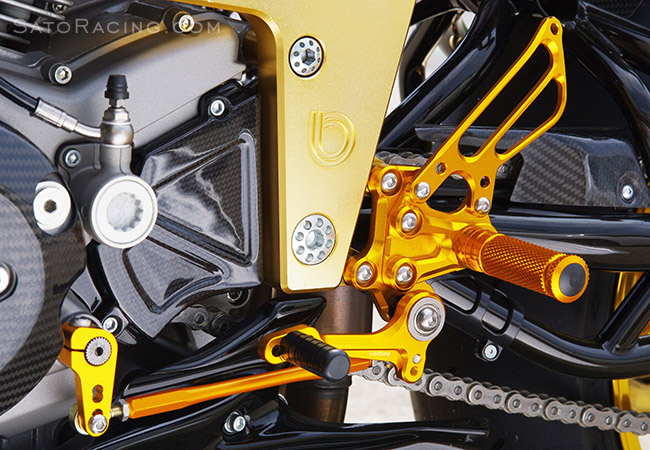 The shift stroke can be adjusted by changing the position of the Shift Rod on the Shift Arm.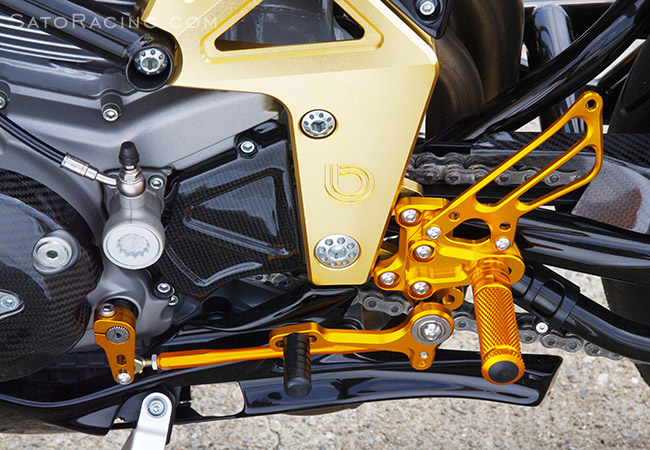 You can switch from stock shift to reverse shift pattern by changing the angle of the Shift Arm.

Online Special -
Producction has ended on these Rear Sets, and we have lowered the prices on remaining inventory to help clear them out! So if you have always wanted to try out these excellent Rear Sets on your Bimota, now is a great time! *
BLACK
BIM-DB6RS-BK
$680 $545
GOLD
BIM-DB6RS-GD
$680 $545
* (Clearance item pricing - no exchanges / returns)
Have questions or prefer to order by phone? You can call us to place an order -



ADDITIONAL OPTIONS



Cutout-style FOOT PEG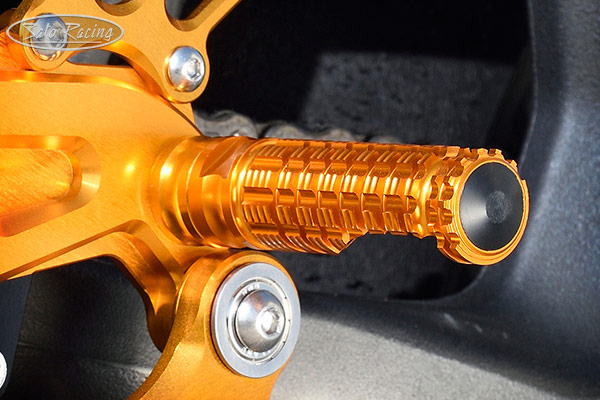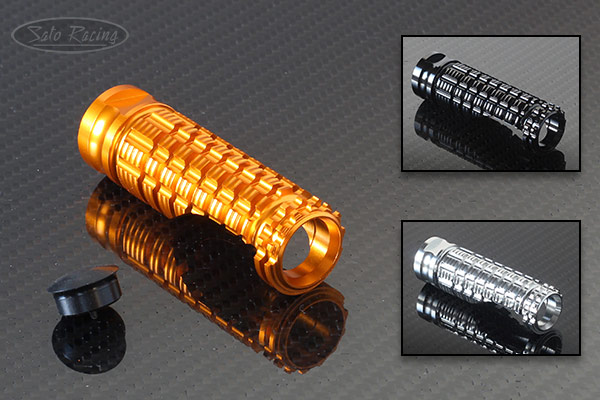 This super-lightweight anodized billet aluminum peg for competition use* features a rectangular-motif grip pattern. An End Cap made of abrasion-resistant black Delrin is included.

* NOTE: Due to the lightweight hollowed-out design, these pegs are intended for track use only. Not recommended for heavier riders or stunting purposes.
Race Concept Cutout-style FOOT PEG (Sold individually)
BLACK
RCPEG-BK
$48
SILVER
RCPEG-SV
$48
GOLD *
RCPEG-GD
$48
* Click Here for important info about Sato GOLD-anodized parts.

SATO RACING offers a full selection of Replacement Parts for these Rear Sets.
* * * Contact us to place an order * * *
To find out individual part names & numbers, see the illustrated
parts list included with your Sato Racing Rear Sets.

More Sato Racing items for Bimota DB6