| | | |
| --- | --- | --- |
| 1 | 47.5mm Back | 37.5mm Up |
| 2 | 47.5mm Back | 50mm Up |
| 3 | 60mm Back | 50mm Up |
| 4 | 47.5mm Back | 62.5mm Up |
| 5 | 60mm Back | 62.5mm Up |
note: all measurements are in relation to stock position (0 mm).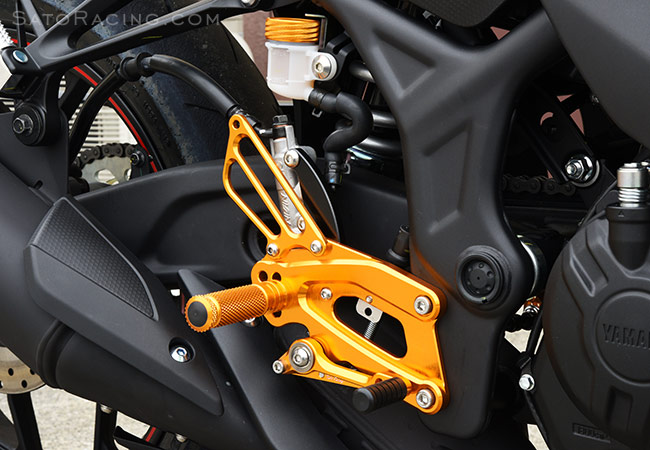 The shift and brake pedals utilize double stainless bearings for smooth, precise pedal movement.
There are 5 possible mount positions for the Foot Peg. The Pedal Tip position is also adjustable.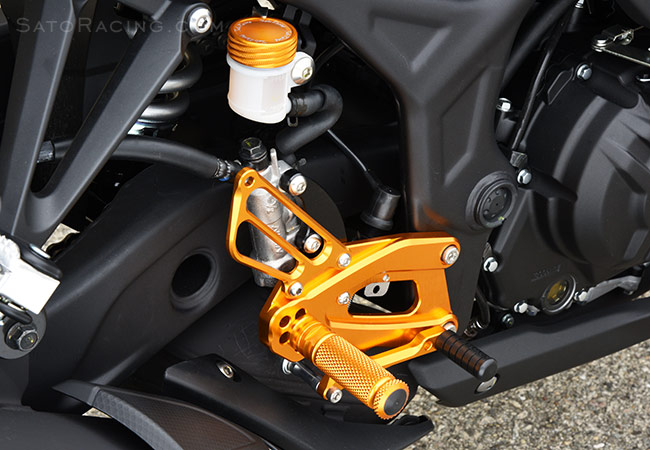 The Foot Pegs have a finely knurled pattern for excellent grip, along with a comfortable, intuitive
feel. A fixed step plate design enables compatibility with the stock brake light switch and ABS.
(Also shown in photo: Brake Fluid Reservoir Cap part# FC-N38-G, available separately.)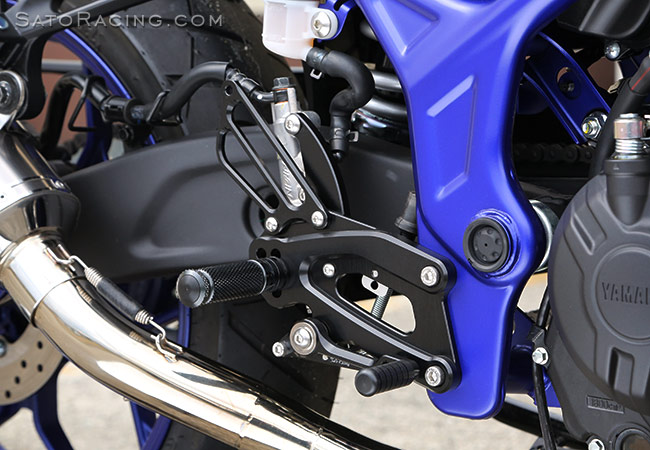 BLACK Rear Sets, shown installed on a Japan-market Yamaha MT-25 (similar to the MT-03).
These Rear Sets are compatible with YZF-R25, MT-25 and MT-03, in addition to the YZF-R3.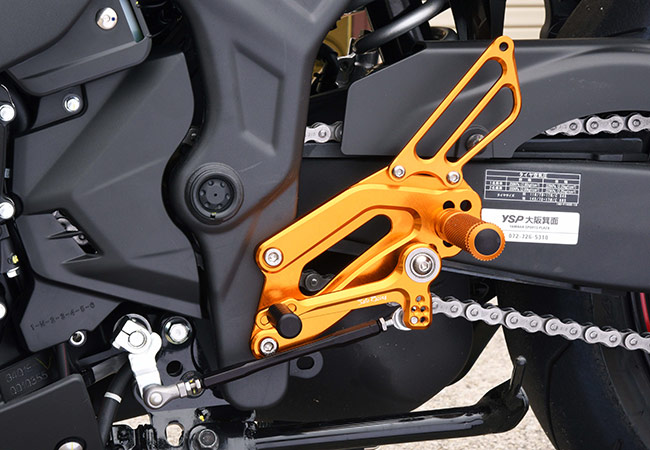 The shift pedal has multiple adjustment points for fine-tuning the shifter feel.
To change to reverse (GP-style) shift pattern, flip the change arm 180 degrees.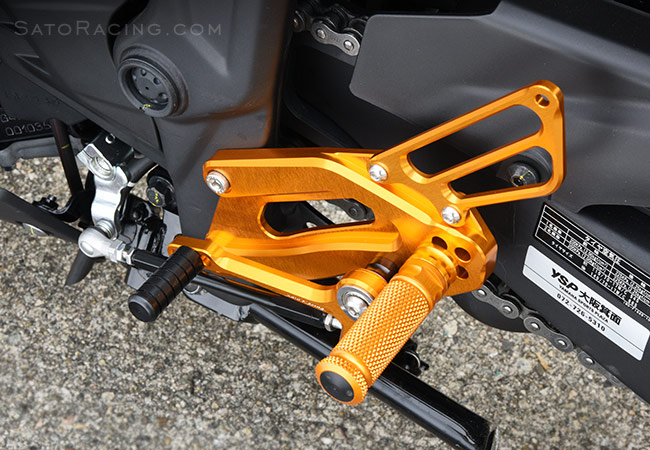 The standard Pedal Tips are made of tough Delrin plastic. Additional Pedal Tip styles, such as
folding-style aluminum Pedal Tips with rubber sleeves, are an available option: More Details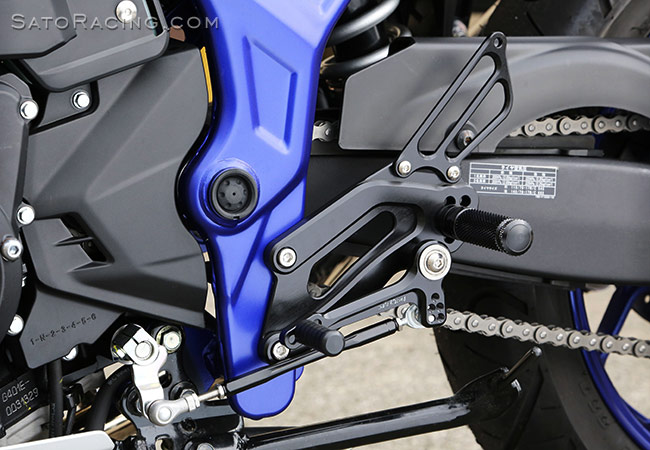 Rear Sets installed on a Yamaha MT-25 (MT-03)
YouTube channel Motonosity did a build project with a 2015 R3 and they used our R3 Rear Sets. The whole build series is well worth watching, since you get to see a stock R3 get completely taken apart and then gradually re-assembled and transformed into a cool-looking streetfighter-style custom, but check out Part 11 in particular for a nice step-by-step walk-through for installing these Rear Sets: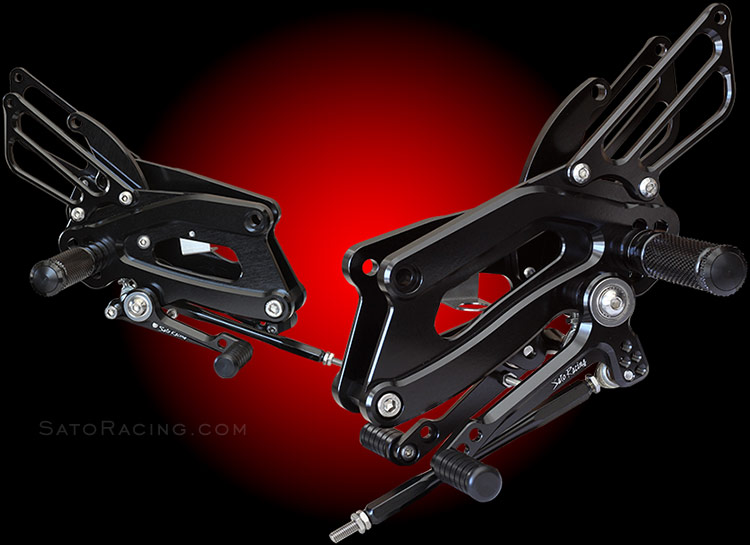 BLACK
Y-R3RS-BK
$500
GOLD *
Y-R3RS-GD
$500
* Click Here for important info about Sato GOLD-anodized parts.

OPTIONS



Cutout-style FOOT PEG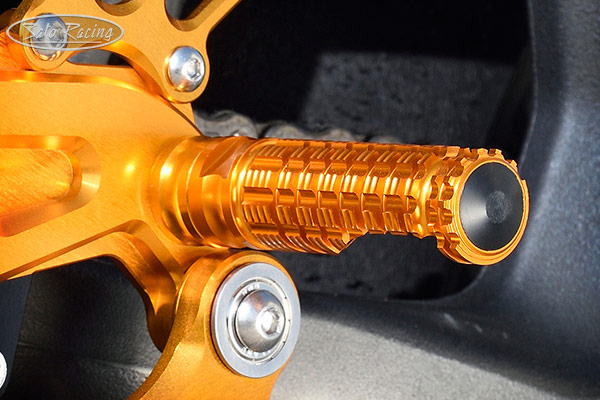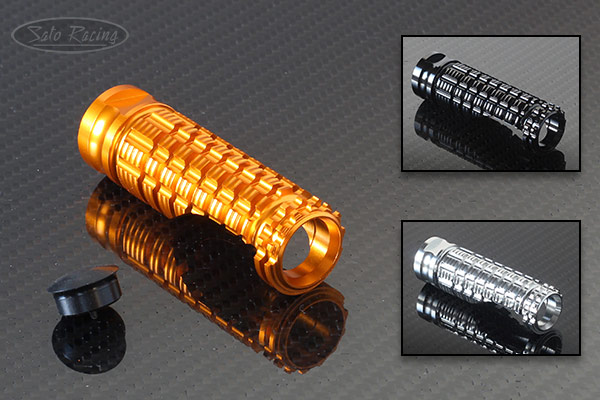 This super-lightweight anodized billet aluminum peg for competition use* features a rectangular-motif grip pattern. An End Cap made of abrasion-resistant black Delrin is included.

* NOTE: Due to the lightweight hollowed-out design, these pegs are intended for track use only. Not recommended for heavier riders or stunting purposes.
Race Concept Cutout-style FOOT PEG (Sold individually)
BLACK
RCPEG-BK
$48
SILVER
RCPEG-SV
$48
GOLD *
RCPEG-GD
$48
* Click Here for important info about Sato GOLD-anodized parts.
Have questions or prefer to order by phone? You can call us to place an order -



REPLACEMENT PARTS
SATO RACING offers a full selection of Replacement Parts for our Rear Sets.
* * * Contact us to place an order * * *
To find out individual part names & numbers, see the illustrated parts list
included with your Sato Racing Rear Sets, or view the PDF: Parts List