HONDA VFR800F ('14- )
REAR SETS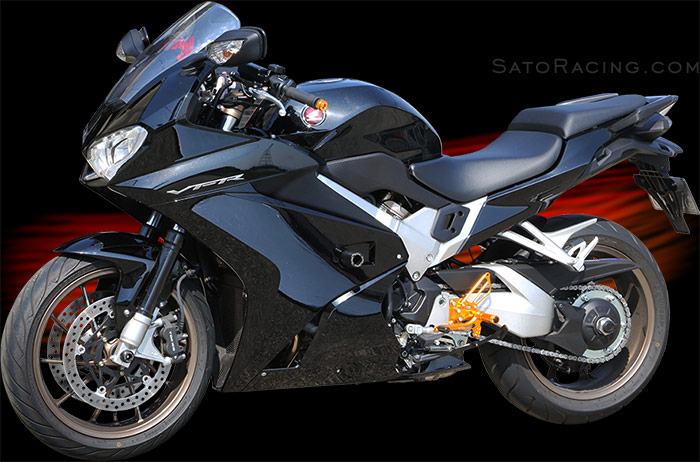 SATO RACING Rear Sets for 2014+ Honda VFR800F / Interceptor features a competition-proven design, with components precision CNC-machined out of high strength anodized billet aluminum, with stainless steel bolts. The modular design of these Rear Sets lets you choose from 6 adjustable positions, so you can find the ideal position for your riding style. Choice of Black, Silver, or Gold anodized finish

2 versions of these Rear Sets are available: for quick-shifter equipped models and for standard (non-quickshifter) models.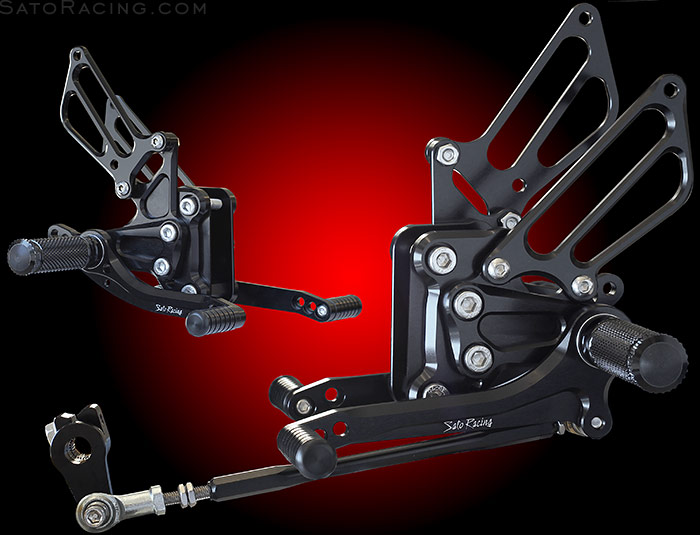 Standard Rear Sets

Quickshifter version Rear Sets
POSITIONS

| | | |
| --- | --- | --- |
| 1* | 10mm Forward | 12.5mm Down |
| 2 | 10mm Forward | 0mm |
| 3 | 0mm | 0mm |
| 4 | 0mm | 12.5mm Up |
| 5 | 10mm Back | 12.5mm Up |
| 6 | 10mm Back | 25mm Up |
Note: all measurements are in relation to stock position (0 mm).
* Position 1 is not for use with the Quickshifter version Rear Sets.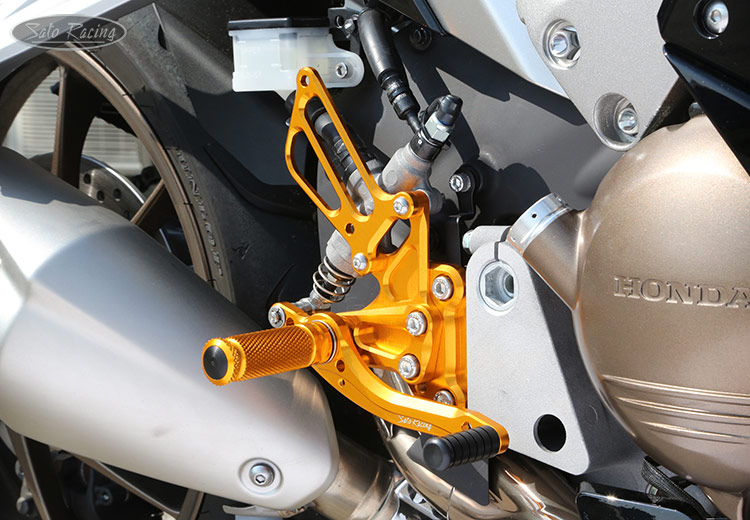 The shift and brake pedals utilize double miniature stainless bearings for smooth, precise lever action.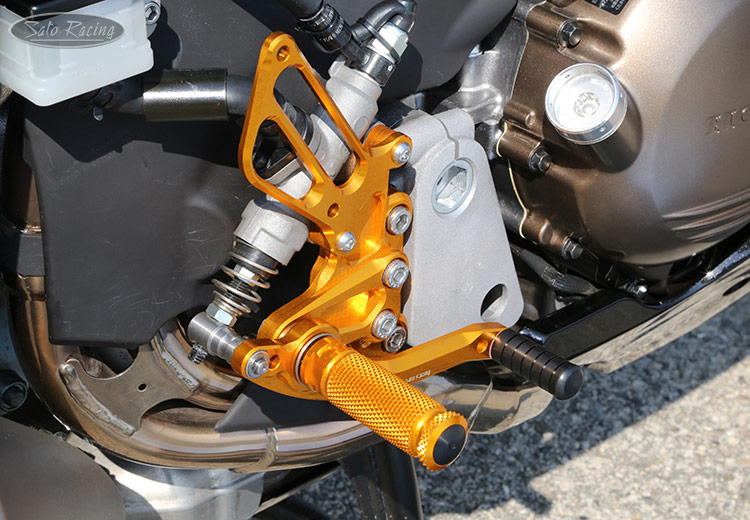 The position of the step plate can be adjusted 6 ways. Pedal Tip position can also be adjusted.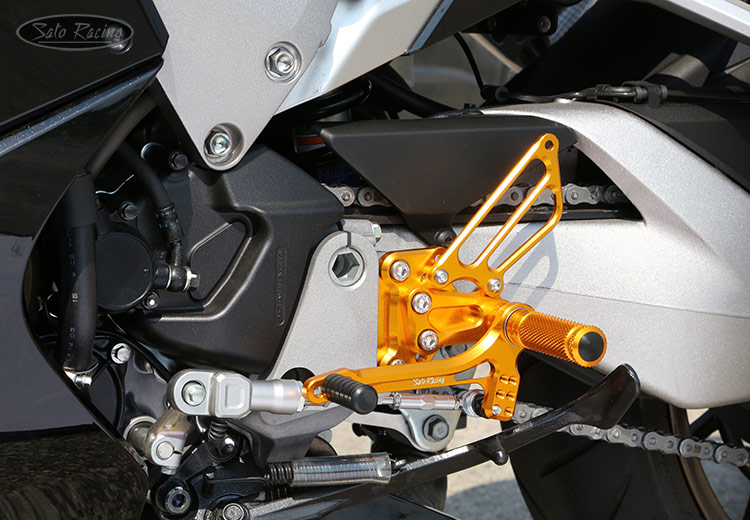 Rear Sets (Quick Shifter-compatible version)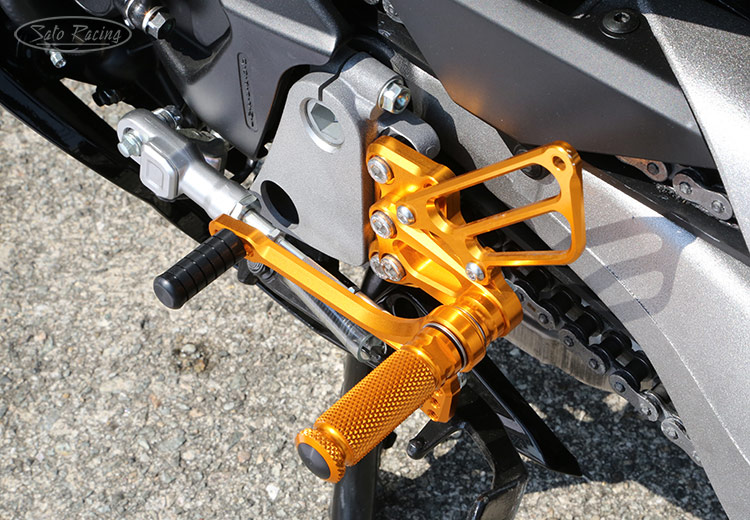 Finely knurled footpegs have a comfortable feel with excellent non-slip characteristics.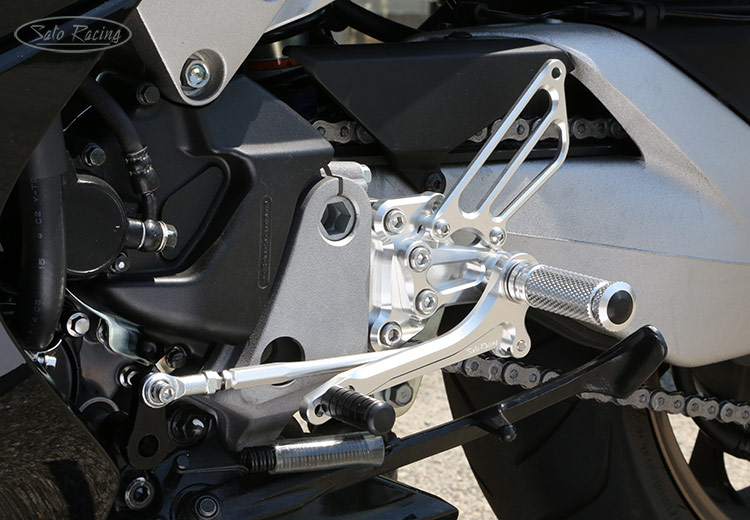 Standard version Rear Sets (non-quick shifter) includes a full length shift rod and a shift arm.

(Note: These Rear Sets provide a stock shifting pattern only)
Rear Sets (standard version)
BLACK
H-VFR814RS-BK
$590
SILVER
H-VFR814RS-SV
$590
GOLD
H-VFR814RS-GD
$590
Rear Sets (Quick-Shifter version)
BLACK
H-VFR814RSQ-BK
$560
SILVER
H-VFR814RSQ-SV
$560
GOLD
H-VFR814RSQ-GD
$560
Click Here for important info about Sato color-anodized parts.

OPTIONAL PARTS


PEDAL TIPS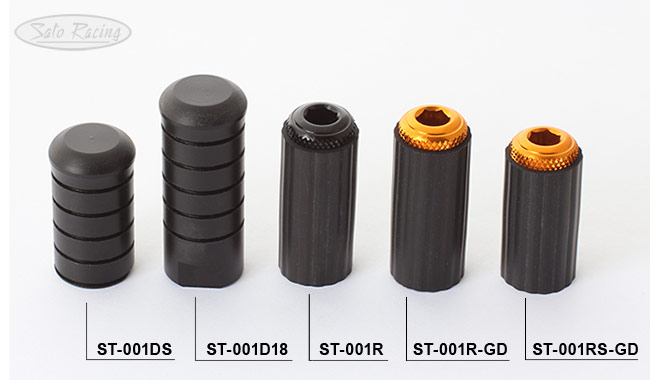 SATO RACING offers several optional styles of Pedal Tips (toe pegs) in addition the long-style black DELRIN Pedal Tips that come standard with most of our Rear Sets (part# ST-001D18 in the photo above). We also have Short-style DELRIN tips, along with Black or Gold anodized aluminum Pedal Tips with fluted rubber grips.
Click Here for details.
Have questions or prefer to order by phone? You can call us to place an order -



REPLACEMENT PARTS
SATO RACING offers a full selection of Replacement Parts for our Rear Sets.
* * * Contact us to place an order * * *
To find indvidual part names and numbers, see the illustrated parts list included with
your SATO RACING Rear Sets, or view the PDF: Parts List - H-VFR814RSQ

More Sato Racing items for VFR800F