KTM 990 SUPER DUKE ('05-'12)
REAR SETS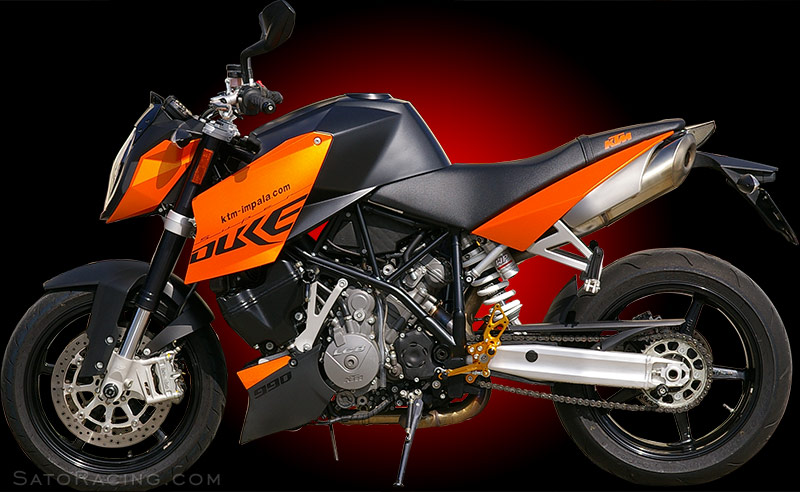 SATO RACING SUPER DUKE 990 Rear Sets are made from high grade billet aluminum anodized in your choice of Black, Silver (clear metal), or vivid Gold finish. These fine quality Rear Sets let you select from 7 adjustable positions in a range that brings your feet higher up compared to stock.

An optional Reverse Shift Plate is also available, changing the standard shift pattern of the Rear Sets to GP-style reverse shift pattern.
POSITIONS
| | | |
| --- | --- | --- |
| 1 | 20mm Forward | 10mm Up |
| 2 | 20mm Forward | 20mm Up |
| 3 | 10mm Forward | 10mm Up |
| 4 | 10mm Forward | 20mm Up |
| 5 | 10mm Forward | 30mm Up |
| 6 | 0 mm | 20mm Up |
| 7 | 0 mm | 30mm Up |
note: all measurements are in relation to stock position (0 mm).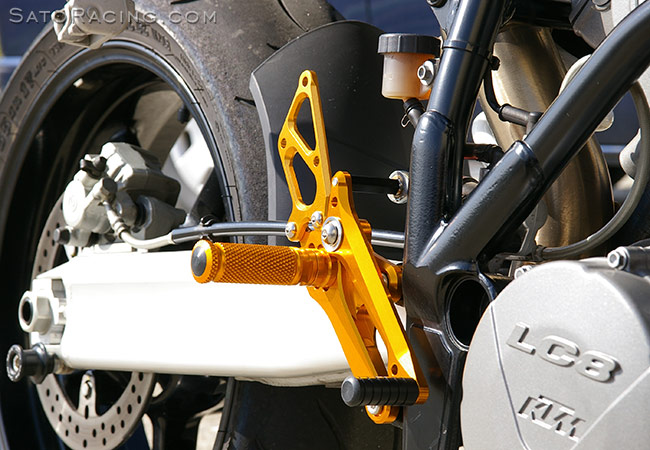 The shift and brake pedals utilize miniature double stainless bearings for smooth, precise lever action. Knurled foot pegs keep your feet firmly planted in both wet and dry conditions.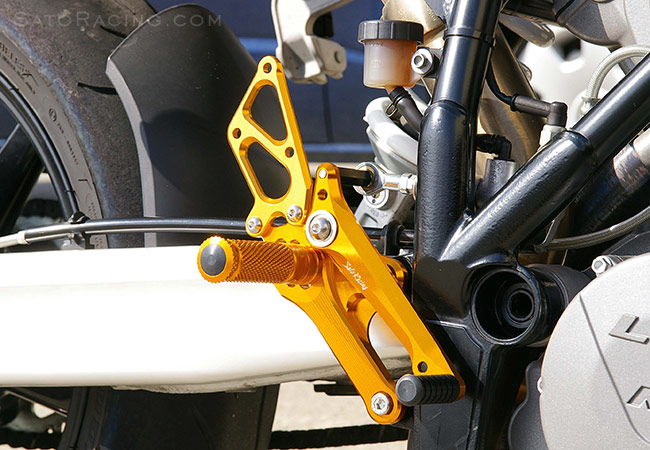 The mounting position of the Foot Peg on the Step Plate can be set to your preference. The Pedal Tip position is also adjustable.

The standard Pedal Tips are made of abrasion-resistant black Delrin. Additional Pedal Tip styles, such as aluminum Pedal Tips with fluted rubber grips, are also available.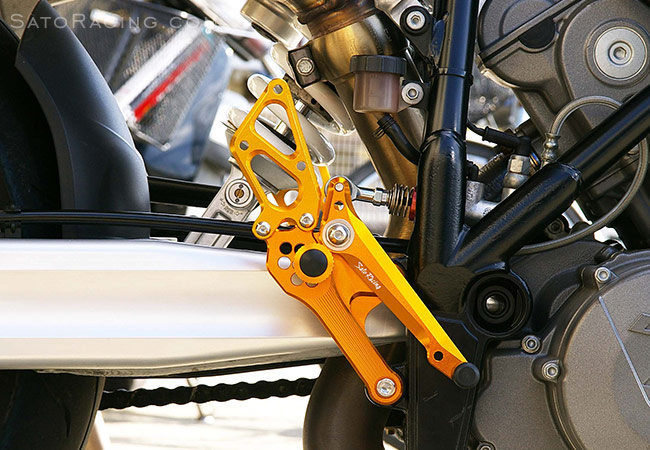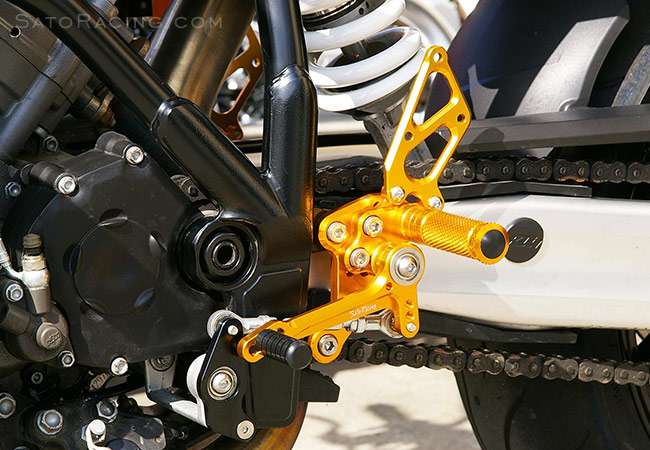 The Step Plate mounting position is adjustable 7 ways. These Rear Sets are shown installed with the optional Reverse Shift Plate, which attaches to the shift spindle, changing these Rear Sets from stock shift pattern to reverse (GP) shift pattern.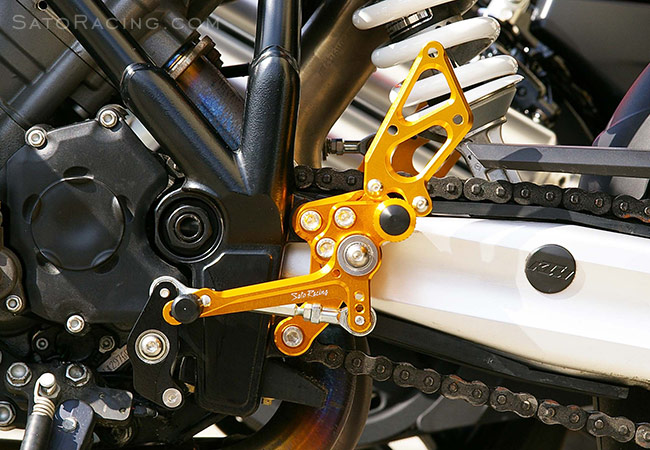 The shift pedal has multiple attachment holes for the shift rod, allowing the shift stroke to be fine tuned to your preference. (Use with the stock KTM rod ends)

Note: The above photos show the original version of these Rear Sets. The latest design version of these Rear Sets has an updated shift pedal with more adjustment holes, and a few other cosmetic differences. (Rear Sets shown with optional Reverse Shift Plate)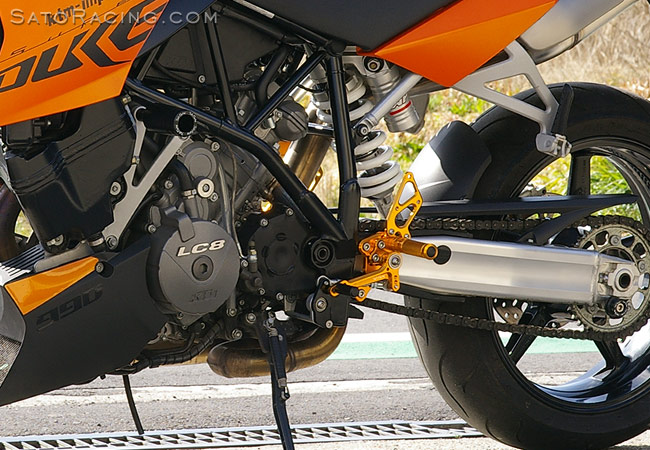 REAR SETS
BLACK
KTM-990RS-BK
$545
SILVER
KTM-990RS-SV
$545
GOLD *
KTM-990RS-GD
$545
* Click Here for important info about Sato GOLD-anodized parts.
REVERSE SHIFT PLATE
Provides a reverse shifting pattern for SATO RACING 990 and 1290 Super Duke
Rear Sets. Also works with the stock rear sets on KTM 990 or 1290 Super Duke.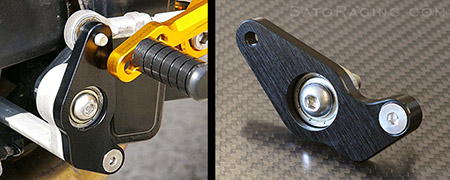 BLACK
KTM-990RS-RSP
$65

REPLACEMENT PARTS
SATO RACING offers a full selection of Replacement Parts for our Rear Sets.
* * * Contact us to place an order * * *
To find out individual part names & numbers, see the illustrated parts list included
with your Sato Racing Rear Sets, or view the PDF: Parts List
Some common replacement parts for these Rear Sets
can be purchased in our online store:
FOOT PEG [BLACK]
PEG-BK
$42
FOOT PEG [SILVER]
PEG-SV
$42
FOOT PEG [GOLD]
PEG-GD
$42
FLAT HEAD M8-40mm
(L-side Foot peg bolt)
FBT-M840
$2.50
HEX HEAD M8-40mm
(R-side Foot Peg bolt)
HBT-M840
$2.00
SPLIT WASHER M8
(R-side #15)
SWS-8
$1.20
PEG WASHER - M8
(R-side #16)
PWS-8
$1.00
PEDAL TIP (DELRIN)
ST-001D18
$15
BUTTON HEAD M6-20mm
(for Pedal Tip)
BBT-M620
$1.50
SOCKET HEAD M6-20mm
(L-side #13)
SBT-M620
$1.50
ROD END COLLAR 6
(L-side #11)
RDED-CLR6
$6.00
Some additional parts such as Shift Rod, Rod Ends and related hardware can be found HERE.
(For replacement parts not listed on our website, contact Sato Racing for an estimate.)

More Sato Racing items for KTM 990 Super Duke