SUZUKI GSX-R1000 ('07-'08)
REAR SETS
SATO RACING Rear Sets for 2007-08 Suzuki GSX-R1000 are CNC-machined from high grade billet aluminum and anodized in your choice of Black, Silver (clear metal), or Gold finish. Deeply knurled footpegs provide optimal grip even in wet conditions, along with a comfortable, intuitive feel. Modular design lets you choose from 8 adjustable positions, which when combined with the 3 positions of the stock mount, effectively tripling the number of possible positions to 24. You can also easily switch these Rear Sets to a GP-style reverse shift pattern by flipping the stock shift arm the opposite direction.

Options include an adjustable Black-anodized billet aluminum Shift Arm that matches our GSX-R1000 Rear Sets and can provide a shorter shift stroke compared to stock.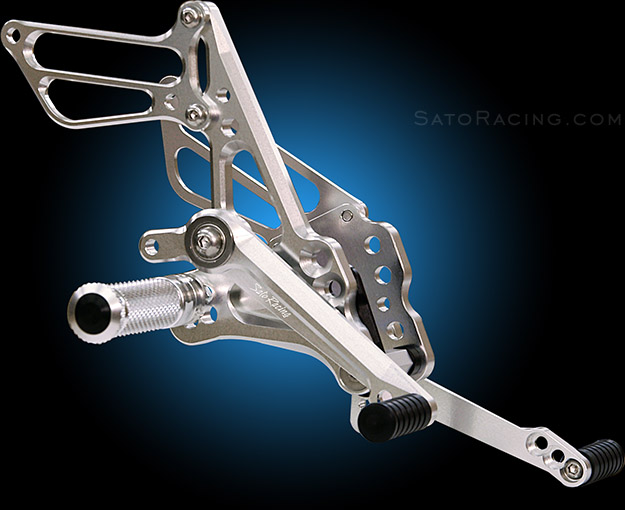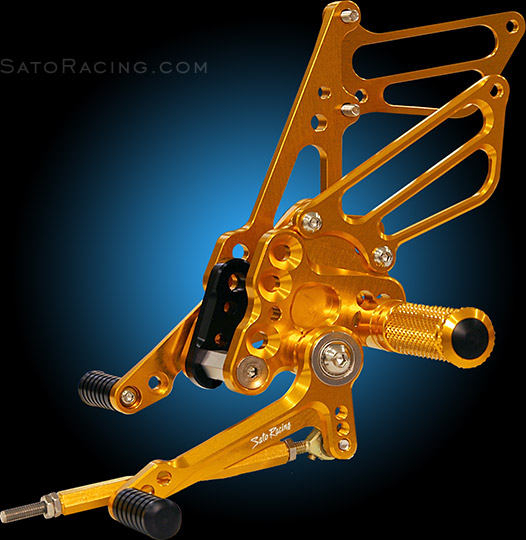 POSITIONS
| | | |
| --- | --- | --- |
| 1 | 0mm | 14mm Up |
| 2 | 0mm | 24mm Up |
| 3 | 10mm Back | 14mm Up |
| 4 | 10mm Back | 24mm Up |
| 5 | 2.5mm Back | 29mm Up |
| 6 | 2.5mm Back | 39mm Up |
| 7 | 12.5mm Back | 29mm Up |
| 8 | 12.5mm Back | 39mm Up |
Note: Sato Racing Rear Sets triples the number of possible mounting positions
to 24, compared to 3 positions provided by the stock mount.

The shift and brake pedals use miniature double stainless bearings for smooth, precise lever action
with a solid feel. A brake light switch (not pictured) is included with the Rear Sets kit.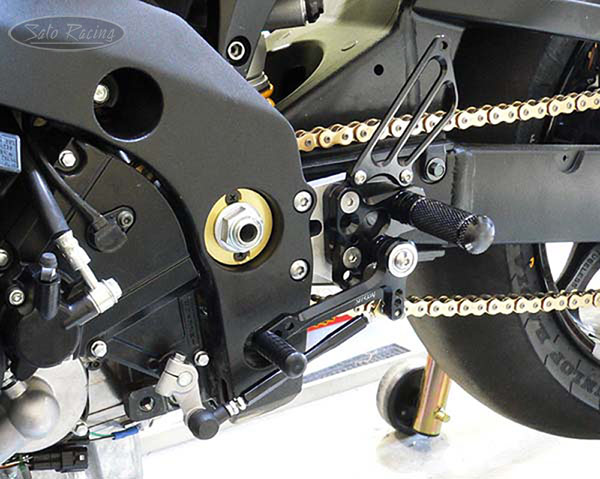 Our GSX-R Rear Sets utilize the stock 3-position mounting plate, with the Step Plate adding 2 vertical positions, and there are 4 additional positions for the Foot Peg where it mounts to the Step Plate. All positions place your feet higher up compared to the stock pegs.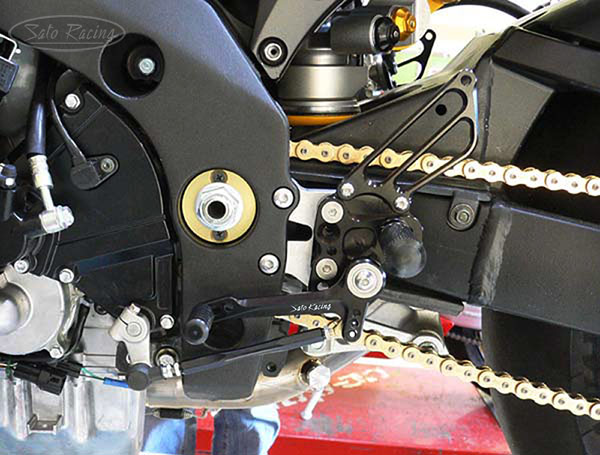 Stock shift pattern shown above. These Rear Sets allow you to switch to GP-style
reverse shift pattern by flipping the direction of the shift arm so it is pointing up.
Online Special -
We've got some new old stock (NOS) rear sets kits for this model in Black and Silver. These have our earlier-style 3-hole shift and brake pedals with the 'Sato Racing' block letter decals on them. We have temporarily lowered our prices to help get them in the hands of K7 Gixxer fans. If you have always wanted to try out these excellent Rear Sets on your GSX-R1000, now is a good time! *
BLACK
S-GSX107RS-BK
$500 $375
SILVER
S-GSX107RS-SV
$500 $375
GOLD
S-GSX107RS-GD
$500
(Brake light switch is included in kit)
* (Clearance item pricing - no exchanges / returns)
Click Here for important info about Sato GOLD-anodized parts.
Refurbished Rear Sets
(Demo or Returned Item. Like new, but may have some minor scratches.)
SILVER
RFB-S-GSX107RS-SV
$350

REPLACEMENT PARTS
SATO RACING offers a full selection of Replacement Parts for our Rear Sets.
* * * Contact us to place an order * * *
To find out individual part names & numbers, see the illustrated parts list
included with your Sato Racing Rear Sets, or view the PDF: Parts List
Some common replacement parts for these Rear Sets
can be purchased in our online store:
FOOT PEG [BLACK]
PEG-BK
$38
FOOT PEG [SILVER]
PEG-SV
$38
FOOT PEG [GOLD]
PEG-GD
$38
HEX HEAD M8-45mm
(Foot Peg bolt)
HBT-M845
$2.00
SPLIT WASHER M8
SWS-8
$1.20
BEARING COLLAR SUS
(R-side #13)
BGCLR-SUS
$6.50
PEDAL TIP (DELRIN)
ST-001D
$15
BUTTON HEAD M6-20mm
(for Pedal Tip)
BBT-M620
$1.50
SOCKET HEAD M6-20mm
(L-side #6)
SBT-M620
$1.50
ROD END COLLAR 3
(L-side #17)
RDED-CLR3
$6.00
WASHER M6
(R-side #10)
WS-6
$1.00
E-CLIP M6
(R-side #11)
ECP-6
$1.50
BRAKE LIGHT SWITCH
(P-1.25)

BSW-125
$25
Some additional parts such as Shift Rod, Rod Ends and related hardware can be found HERE.
(For replacement parts not listed on our website, contact Sato Racing for an estimate.)

More Sato Racing items for '07-'08 GSX-R1000