KAWASAKI NINJA 400 / 250 ('18- )

SATO RACING 'Race Concept' Rear Sets for 2018+ Kawasaki Ninja 400 (along with the non-U.S. Ninja 250) are pure, no-compromise race-spec Rear Sets, designed for track-only Ninja's. CNC-machined out of high strength anodized billet aluminum, these premium racing Rear Sets feature a modular design that provides 7 adjustable foot peg mounting positions that bring your feet significantly higher up and further back compared to the stock foot pegs, for a much more aggressive riding position that is ideal for tackling the fast straights and steep lean angles at the track. Provides a dedicated reverse shift pattern. Choice of vivid 'Osaka Gold' anodized finish with contrasting Black base plates, or Black anodized finish with Gold accents.
NOTE: Not recommended for street use - No brake light switch hardware is included. For use with non-ABS brakes; Compatibility with ABS is unknown.
(For more street-friendly Rear Sets, see our standard Ninja400 Rear Sets ).
POSITIONS
| | | |
| --- | --- | --- |
| 1 | 68mm Back | 60mm Up |
| 2 | 68mm Back | 70mm Up |
| 3 | 70.5mm Back | 60mm Up |
| 4 | 70.5mm Back | 70mm Up |
| 5 | 70.5mm Back | 80mm Up |
| 6 | 83mm Back | 70mm Up |
| 7 | 83mm Back | 80mm Up |
note: all measurements are in relation to stock position (0 mm).
NOTE: The following photos show these Rear Sets installed on a Japan-market 2018 Ninja 250. The
U.S.-spec Ninja 400 shares the same platform and is nearly identical except for engine displacement.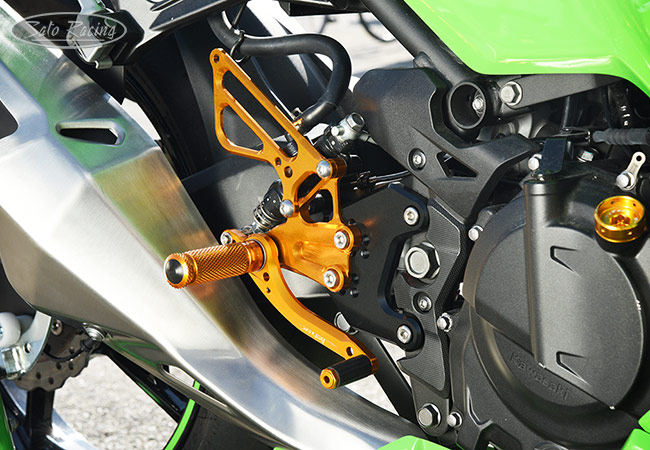 Modular base plate design provides 7 possible mounting positions for the rear set assembly.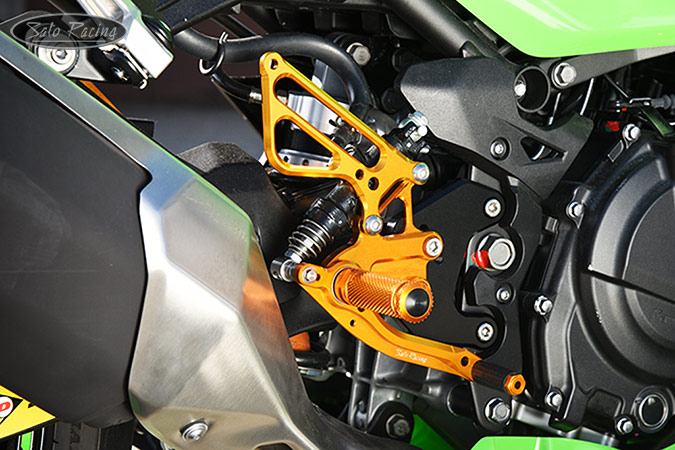 The shift and brake pedals utilize miniature double stainless bearings for smooth, precise lever movement
with a solid feel. To maximize clearance for the exhaust, the brake pedal pivots from the foot peg axis.
This can be especially useful if installing together with a custom or aftermarket high mount exhaust.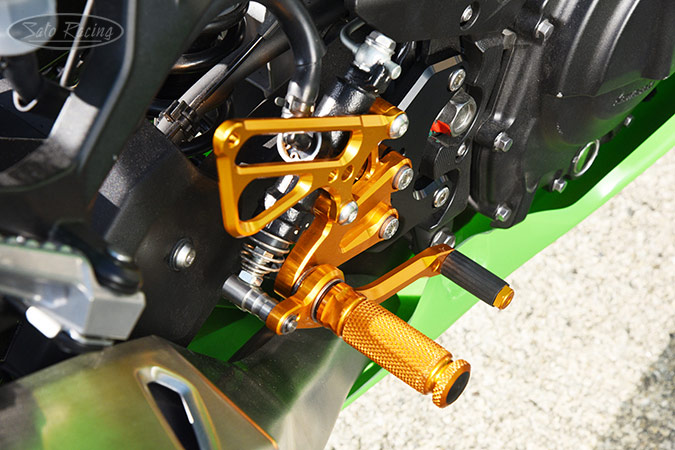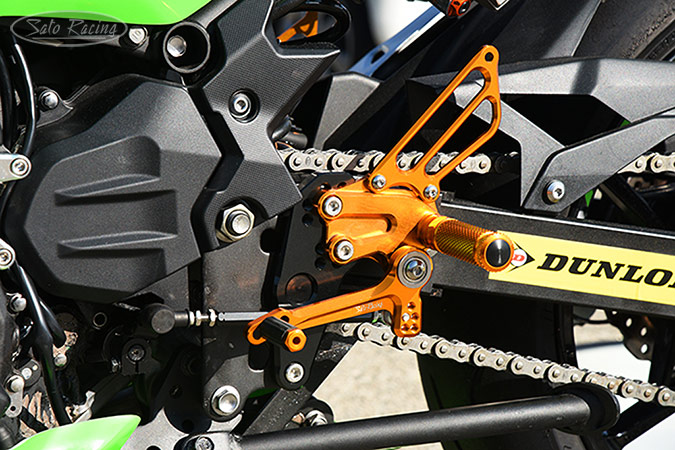 These racing Rear Sets provide a dedicated reverse (GP style) shift pattern.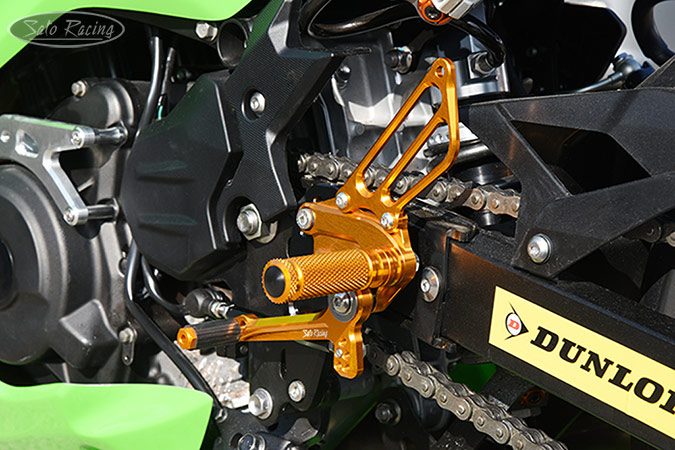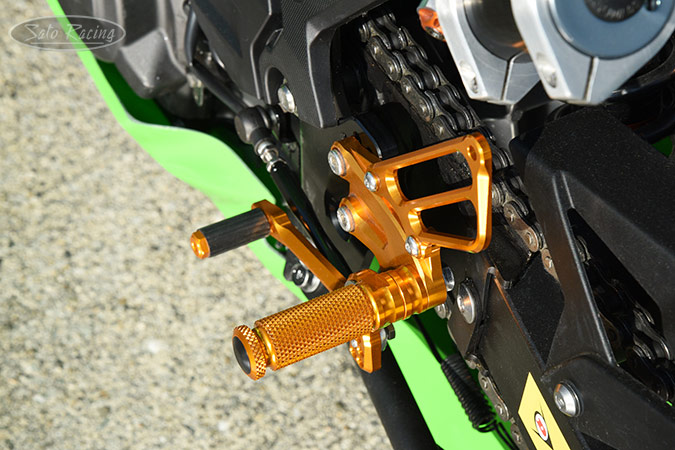 The foot pegs feature a finely knurled pattern for excellent grip characteristics, along with a comfortable, intuitive feel. Our foot pegs have end caps made of abrasion-resistant Delrin, so if the end of the foot peg touches the ground, the end cap will help it slide smoothly instead of scraping.
BLACK
w/ Gold accents
K-25018RCRS-BK
$495
GOLD *
w/ Black base plates
K-25018RCRS-GD
$495
* Click Here for important info about Sato GOLD-anodized parts.
Have questions or prefer to order by phone? You can call us to place an order -



REPLACEMENT PARTS
SATO RACING offers a full selection of Replacement Parts for these Rear Sets.
* * * Contact us to place an order * * *
To find out individual part names & numbers, see the illustrated parts list
included with your Sato Racing Rear Sets, or view the PDF file: Parts List

More Sato Racing items for 2018+ Ninja 400