HARLEY-DAVIDSON
SPORTSTER 883/1200 5s (-'03)
REAR SETS
SATO RACING Rear Sets for 1991-2003 Sportster 883/1200 (5 speed) features components precision CNC-machined out of high strength billet aluminum and anodized in your choice of deep Black or brilliant Silver finish. These premium Rear Sets are designed for riders who want a true mid-mount cafe race-style riding position, providing a foot peg position that sits higher and quite a bit further back compared to the stock foot rests. Our Sportster Rear Sets are not compatible with the stock exhaust due to interference with the rear pipe, so an aftermarket 2-into-1 style of exhaust system similar to what is shown in the photos below will be necessary.

Available options include a billet aluminum Sprocket Cover that looks great with these Rear Sets.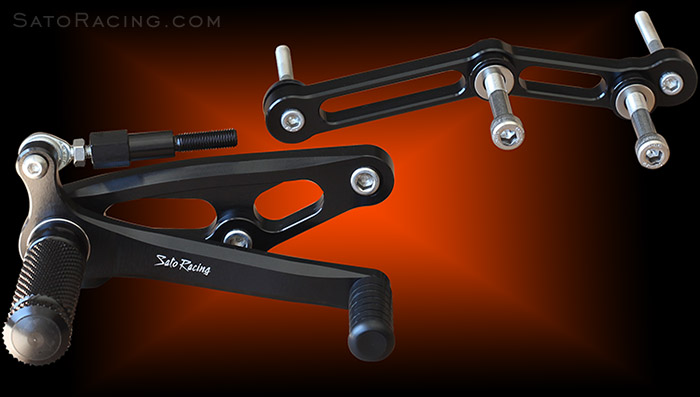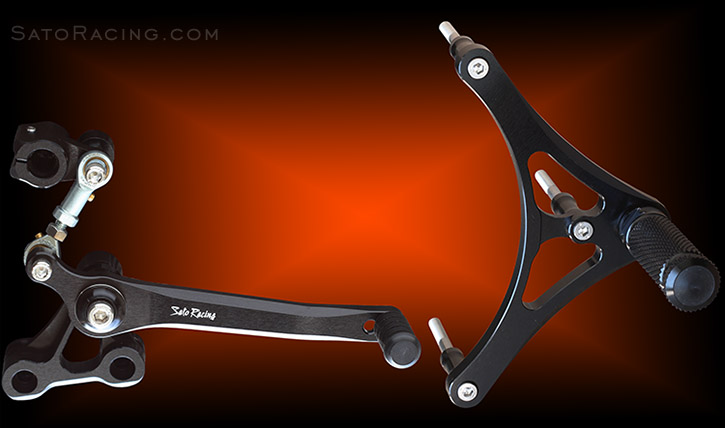 POSITIONS
| | | |
| --- | --- | --- |
| R | 250mm back | 20mm up |
| L | 230mm back | 15mm up |
note: all measurements are in relation to stock position (0 mm).

The shifter and brake pedal utilize double stainless bearings for smooth, precise pedal
movement with a solid feel. Our Sportster Rear Sets provide a stock shifting pattern.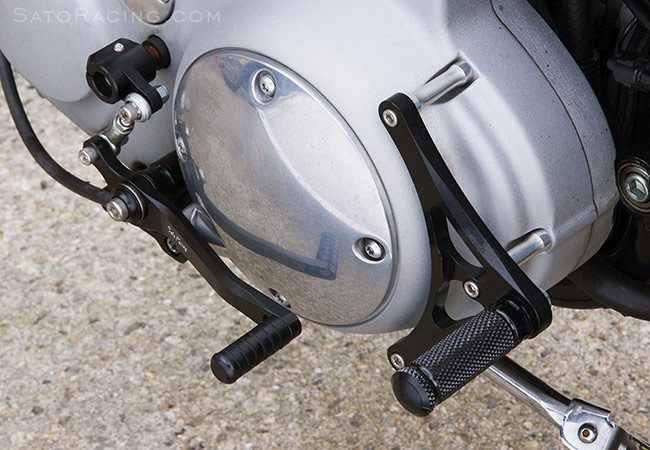 The Foot Pegs have a finely knurled pattern for nice grip and a comfortable, inuitive feel.
The Pedal Tips are made of tough, abrasion-resistant Delrin. Pedal Tip position is adjustable.

Rear Sets shown installed with optional Sprocket Cover. The exhaust pipe should
be a style that sits low enough to provide good clearance for brake lever actuation.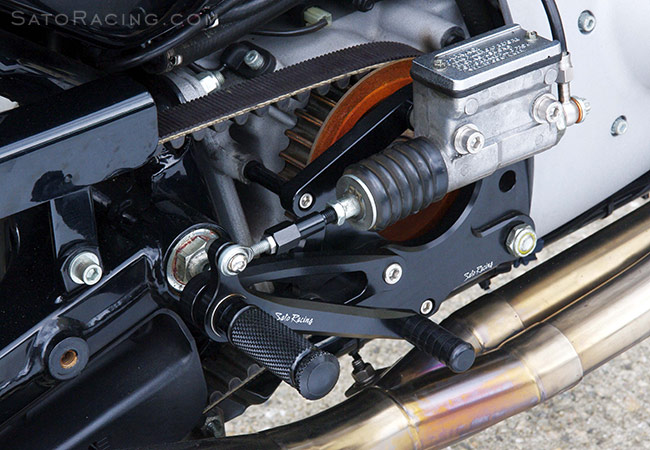 With our Rear Sets, the master cylinder is flipped around and mounted backwards compared
to the stock setup, with the plunger right over the pedal, providing a more direct braking feel.
(Rear Sets shown installed with optional Sprocket Cover)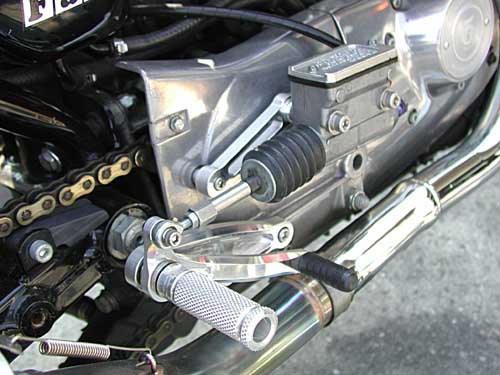 Rear Sets shown installed over stock sprocket cover
Rear Sets
BLACK
HD-SSTRRS-BK
$710
SILVER
HD-SSTRRS-SV
$710

HARLEY-DAVIDSON SPORTSTER 883/1200 5s ( -'03)
SPROCKET COVER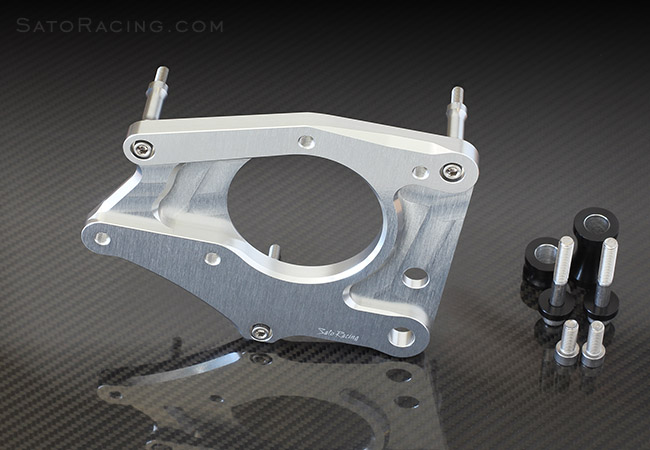 SATO RACING Sportster (-'03) Sprocket Cover is compatible with the stock brake assembly, and also looks great with SATO Sportster Rear Sets. CNC-machined from high grade billet aluminum, with your choice of Black or Silver (clear) anodized finish, with black anodized collars and stainless steel bolts.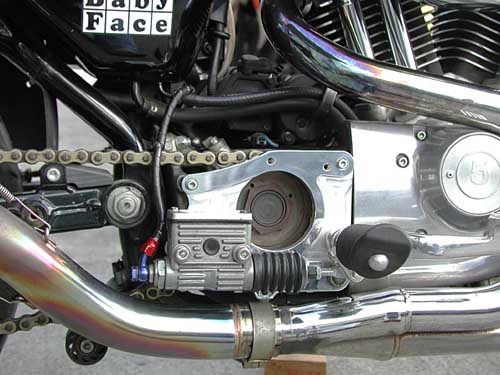 Sprocket Cover shown installed with the stock brake pedal assembly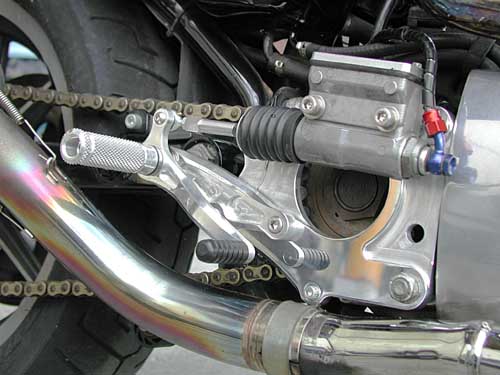 Sprocket Cover installed with SATO Sportster Rear Sets
Sprocket Cover
BLACK
HD-SSTRSCVR-BK
$250
SILVER
HD-SSTRSCVR-SV
$250

SATO RACING offers a full selection of Replacement Parts for our Rear Sets.
* * * Contact us to place an order * * *
To find out individual part names & numbers, see the illustrated parts list
included with your Sato Racing Rear Sets, or view the PDF: Parts List
Some common replacement parts for these Rear Sets
can be purchased in our online store:
FOOT PEG [BLACK]
PEG-BK
$38
FOOT PEG [SILVER]
PEG-SV
$38
HEX HEAD M8-25mm
(L-side Foot Peg bolt)
HBT-M825
$2.00
HEX HEAD M8-45mm
(R-side Foot Peg bolt)
HBT-M845
$2.00
SPLIT WASHER M8

SWS-8
$1.20
PEDAL TIP SHORT (DELRIN)
(L-side Pedal Tip)
ST-001DS
$15
BUTTON HEAD M6-15mm
(for L-side Pedal Tip)
BBT-M615
$1.50
PEDAL TIP (DELRIN)
(R-side Pedal Tip)
ST-001D
$15
BUTTON HEAD M6-20mm
(for R-side Pedal Tip)
BBT-M620
$1.50
BEARING COLLAR SUS
(R-side #5)
BGCLR-SUS
$6.50
PEG WASHER - M8
(R-side #20)
PWS-8
$1.00
Some additional parts such as Rod Ends and related hardware can be found HERE.
(For replacement parts not listed on our website, contact Sato Racing for an estimate.)