YAMAHA FZ-07 / MT-07 ('14-'17*)
REAR SETS
SATO RACING Rear Sets for 2014-17* Yamaha FZ-07 / MT-07 features a track-engineered design, with components precision CNC-machined out of light-weight, high strength billet aluminum with your choice of all-Black anodized finish, or Silver or Gold anodized finish with contrasting Black shift pedal assembly. You can select from 5 adjustable foot peg positions that bring your feet higher and further back compared to stock, helping you achieve a more aggressive, tucked-in body position well-suited for spirited riding. You can use these Rear Sets with the stock shifting pattern, or switch them to reverse (GP-style) shift pattern.

* Installation on later model years of MT-07, along with XSR700, might also be possible, but fitment has not been confirmed by our engineers.
PEG POSITIONS
1
42.5mm Back
(1.7" Back)
25mm Up
(1" Up)
2
42.5mm Back
(1.7" Back)
35mm Up
(1.4" Up)
3
42.5mm Back
(1.7" Back)
45mm Up
(1.8" Up)
4
55mm Back
(2.2" Back)
35mm Up
(1.4" Up)
5
55mm Back
(2.2" Back)
45mm Up
(1.8" Up)
note: all measurements are in relation to stock position (0 mm).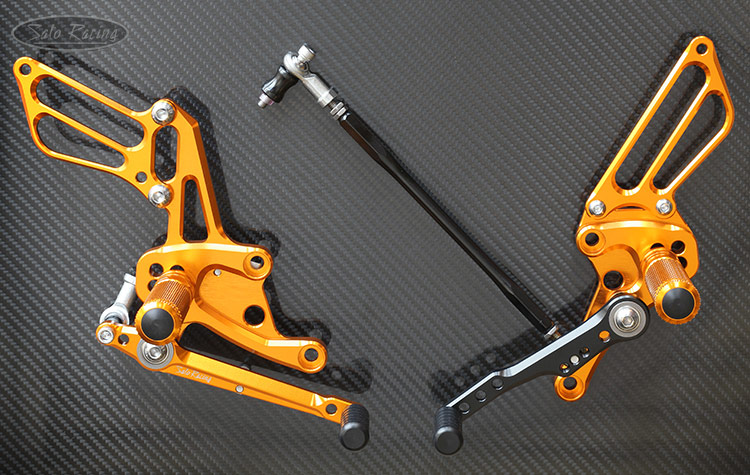 Foot peg position is adjustable 5 ways. Pedal Tip position is also adjustable.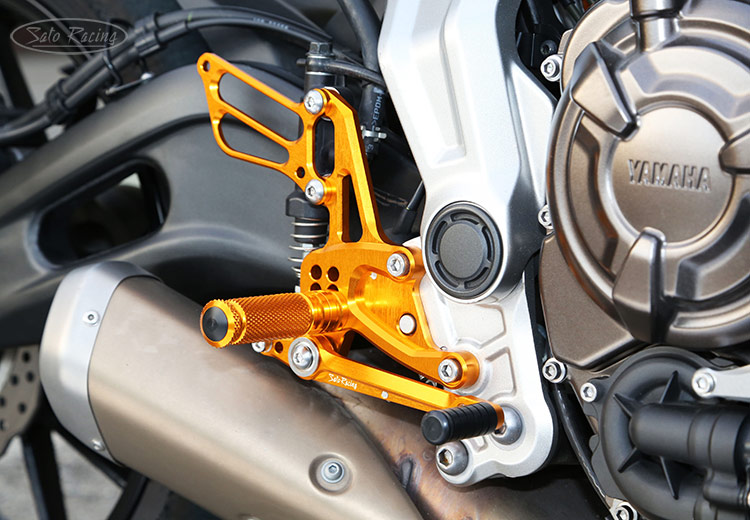 The shift and brake pedals use miniature double stainless bearings for smooth, precise lever action.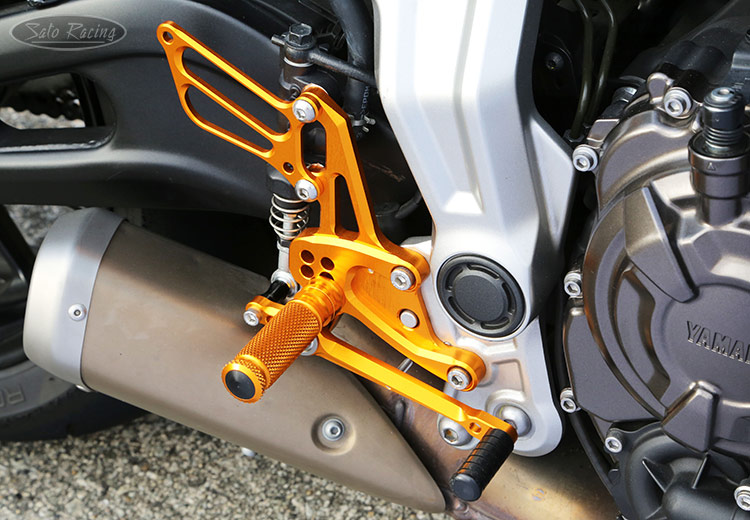 'Street'-friendly design - compatible with the stock brake light pull switch.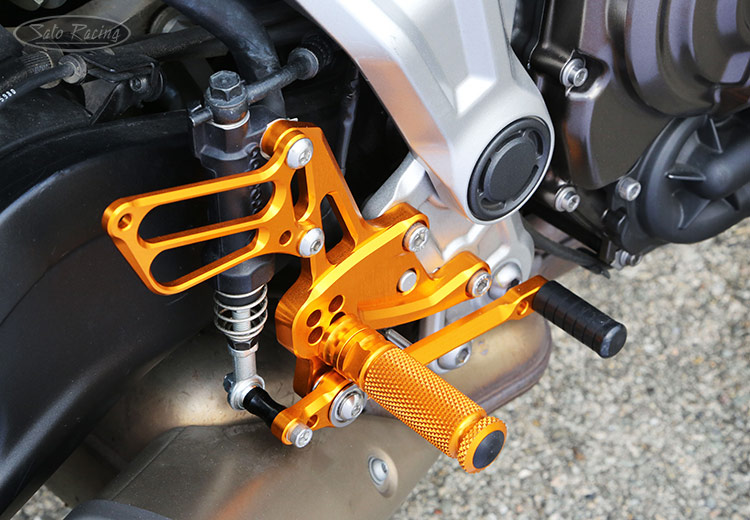 Foot pegs are finely knurled for excellent grip even in wet conditions.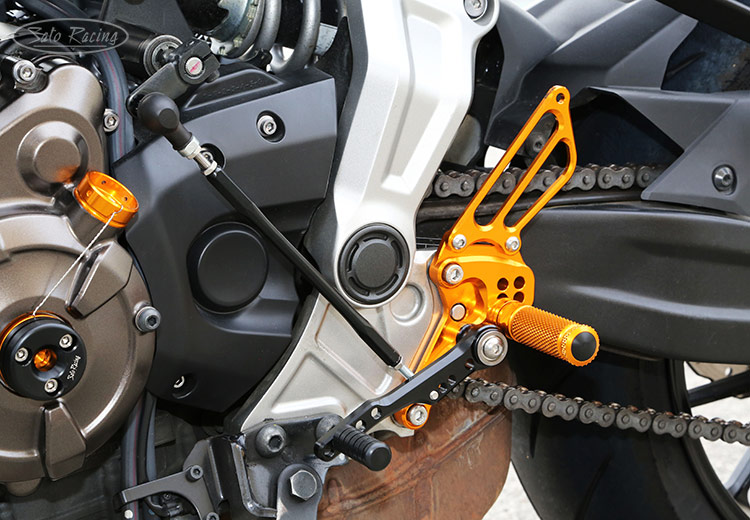 The shift pedal has multiple adjustment points for fine-tuning the shifter feel.
To change to reverse shift pattern, flip the change arm the opposite direction.
(The shifter components come in Black only.)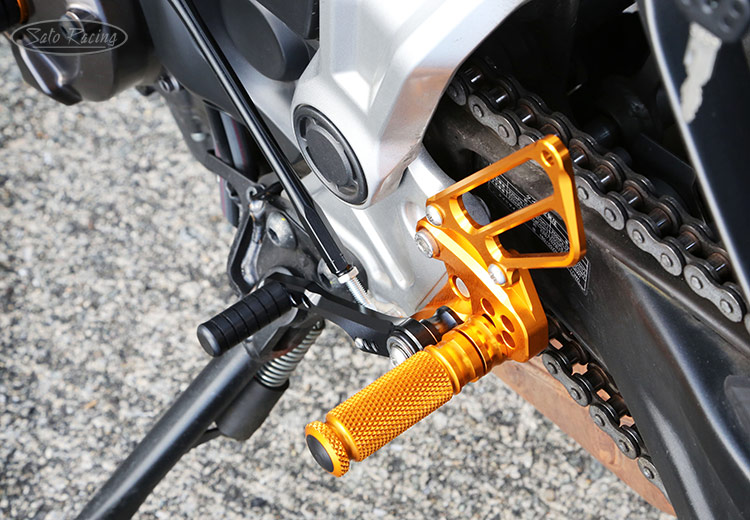 BLACK
Y-MT07RS-BK
$550
SILVER
w/ Black Shift Pedal
Y-MT07RS-SV
$550
GOLD *
w/ Black Shift Pedal
Y-MT07RS-GD
$550
* Click Here for important info about Sato GOLD-anodized parts.
Have questions or prefer to order by phone? You can call us to place an order -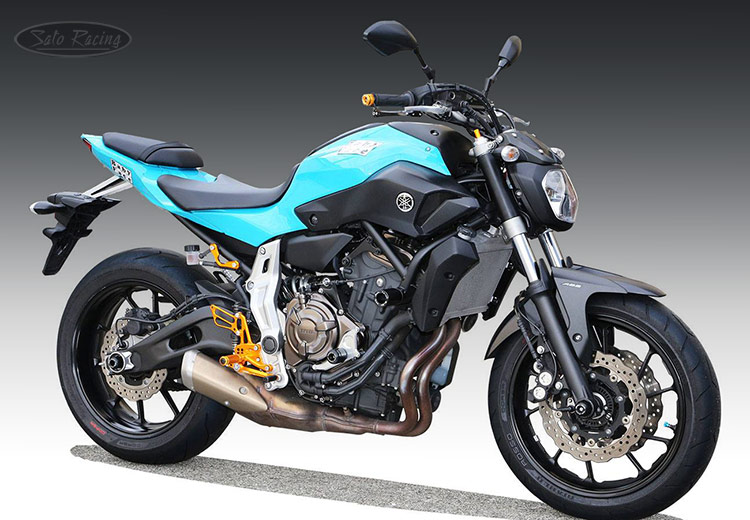 REPLACEMENT PARTS
SATO RACING offers a full selection of Replacement Parts for our Rear Sets.
* * * Contact us to place an order * * *
To find individual part names & numbers, see the illustrated parts list
included with your Sato Racing Rear Sets, or view the PDF: Parts List
Some replacement parts for these Rear Sets
can be purchased in our online store:
FOOT PEG [BLACK]
PEG-BK
$42
FOOT PEG [SILVER]
PEG-SV
$42
FOOT PEG [GOLD]
PEG-GD
$42
SHIFT ROD 180 [BLACK]
(#6)
SRD-180-B
$35
PEDAL TIP (DELRIN)
ST-001D18
$15
ROD END COLLAR 20
(#12)
RDED-CLR20
$8.00
ROD END COLLAR 19
(#13)
RDED-CLR19
$8.00
BASE PLATE COLLAR 2
(#14)
BPCLR-2
$5.00
PEG COLLAR 15 [BLACK]
(#15)
PEGCLR-15B
$15
PEG COLLAR 15 [SILVER]
(#15)
PEGCLR-15S
$15
PEG COLLAR 15 [GOLD]
(#15)
PEGCLR-15G
$15
STUD BOLT M8-50mm
(#16, Foot Peg bolt)
STBT-50
$4.50
STUD M6
(#17)
STUD-M6
$2.50
HEX HEAD M6-18mm
(#19)
HBT-M618
$2.00
SOCKET HEAD M6-40mm
(#21)
SBT-M640
$2.00
SOCKET HEAD M6-45mm
(#22)
SBT-M645
$2.00
SOCKET HEAD M8-20mm
(#23)
SBT-M820
$1.50
BUTTON HEAD M6-10mm
(#24)
BBT-M610
$1.50
BUTTON HEAD M6-20mm
(#25, for Pedal Tip)
BBT-M620
$1.50
BUTTON HEAD M8-25mm
#26
BBT-M825
$1.50
BUTTON HEAD M8-40mm
(#27)
BBT-M840
$2.00
NUT M5 (#28)
NUT-5
$1.50
JAM NUT M6
(#29)
JNT-6
$1.75
REVERSE JAM NUT M6
(#30)
JNT-6L
$2.50
LOCK NUT M6
(#31)
LNT-6
$1.50
FLANGE NUT M8
(#32)
FNT-8
$1.50
M6 MALE
REVERSE ROD END
(#33)
RDED-M6L
$12.50
FEMALE ROD END 6-M8
(#34)
RDED-F6-8
$25
RETURN SPRING 40
(#36)
RS-RSP
$8.00
(For replacement parts not listed on our website, contact Sato Racing for an estimate.)

More Sato Racing items for FZ-07 / MT-07