KAWASAKI ZX-14R ('12- )
REAR SETS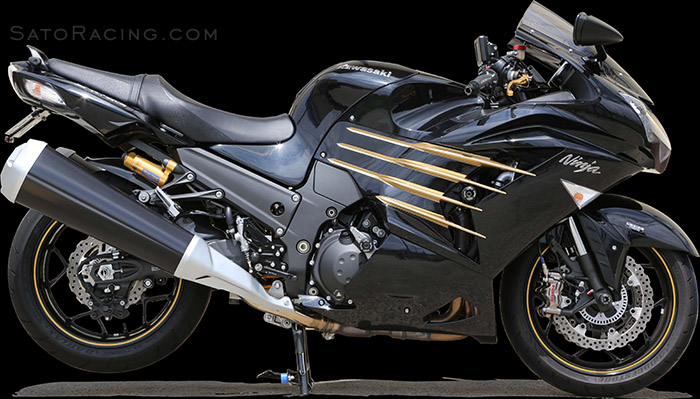 SATO RACING Rear Sets for 2012 and up ZX-14R (ZZR1400) features a thoroughly track-tested design, with parts CNC-machined out of high strength billet aluminum and anodized in your choice of all Black, or Silver or Gold finish with contrasting Black base plates. Compatible with both ABS-equipped and non-ABS models of ZX-14R. Provides 9 adjustable positions in a range that puts your feet higher and further back compared to stock, giving you a sportier, more agressive riding position well suited for spirited riding.

A Reverse Shift version of these Rear Sets is also available, for riders who prefer a GP-style reverse shifting pattern.
POSITIONS
| | | |
| --- | --- | --- |
| 1 | 7.5mm Back | 18.5mm Up |
| 2 | 17.5mm Back | 18.5mm Up |
| 3 | 27.5mm Back | 18.5mm Up |
| 4 | 15mm Back | 26mm Up |
| 5 | 25mm Back | 26mm Up |
| 6 | 35mm Back | 26mm Up |
| 7 | 22.5mm Back | 33.5mm Up |
| 8 | 32.5mm Back | 33.5mm Up |
| 9 | 42.5mm Back | 33.5mm Up |
note: all measurements are in relation to stock position (0 mm).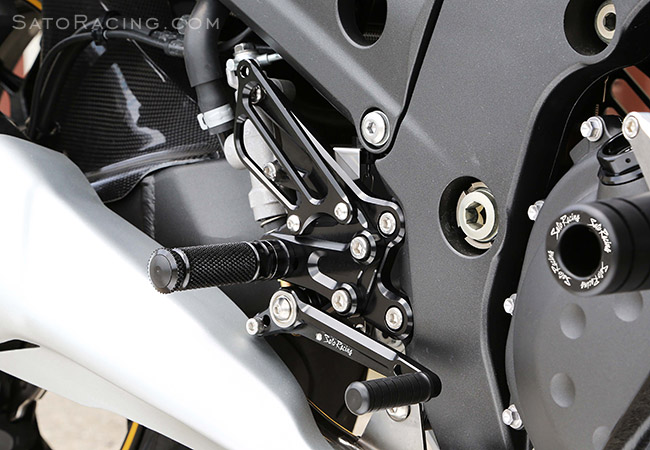 The shift and brake pedals utilize double stainless bearings for smooth, precise pedal movement.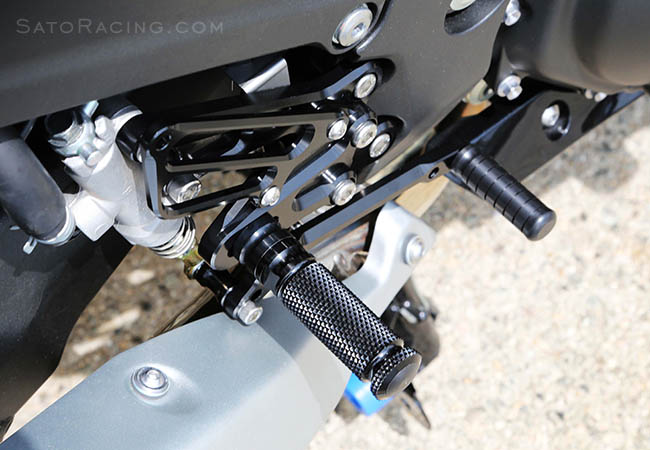 Our Foot Pegs feature a finely knurled grip pattern with excellent non-slip characteristics.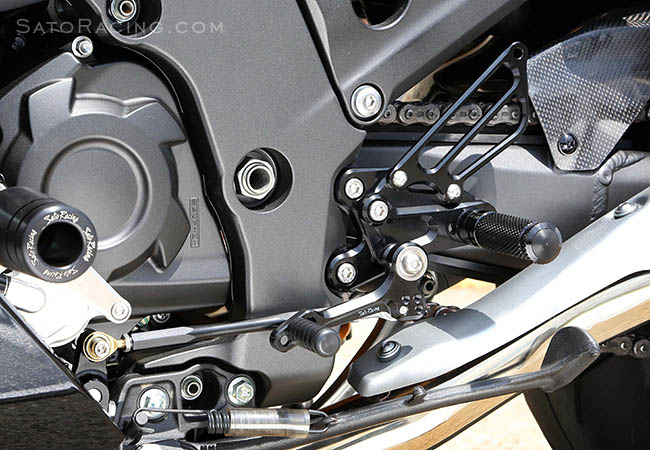 Multiple adjustment holes for the shift rod end and
pedal tip let you fine-tune the shift pedal feel.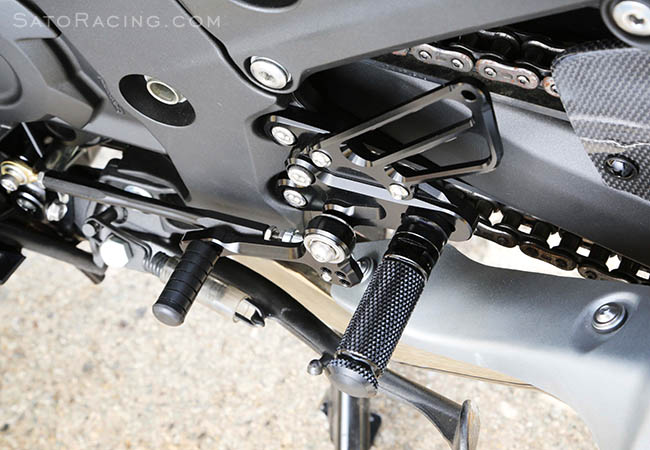 REAR SETS - Stock Shift Pattern
BLACK
K-ZX1412RS-BK
$575
SILVER
K-ZX1412RS-SV
$575
GOLD
K-ZX1412RS-GD
$575
REAR SETS - Reverse Shift Pattern
(NOTE: Reverse Shift Rear Sets are a special order item - If
the color you want is not in stock, Contact us to place an order)
BLACK
K-ZX1412RSR-BK
$575
SILVER
K-ZX1412RSR-SV
$575
GOLD
K-ZX1412RSR-GD
$575
Refurbished Rear Sets (Stock Shift Pattern)
(Returned Item. Like new, but may have some minor blemishes.)
BLACK
RFB-K-ZX1412RS-BK
$525
IMPORTANT NOTE: While our ZX-14R Rear Sets are compatible with most
common aftermarket exhausts, a few high-mount full exhaust systems are not
compatible due to possible interference with rear brake.
Have questions or prefer to order by phone? You can call us to place an order -



REPLACEMENT PARTS
SATO RACING offers a full selection of Replacement Parts for our Rear Sets.
* * * Contact us to place an order * * *
To find out individual part names & numbers, see the illustrated parts list included with your
Sato Racing Rear Sets, or view the PDF: ZX-14R Rear Sets | ZX-14R Reverse Shift Rear Sets
Some common replacement parts for these Rear Sets
can be purchased in our online store:
FOOT PEG [BLACK]
PEG-BK
$38
FOOT PEG [SILVER]
PEG-SV
$38
FOOT PEG [GOLD]
PEG-GD
$38
PEG COLLAR 15 [BLACK]
(#18)
PEGCLR-15B
$15
PEG COLLAR 15 [SILVER]
(#18)
PEGCLR-15S
$15
PEG COLLAR 15 [GOLD]
(#18)
PEGCLR-15G
$15
BUTTON HEAD M8-40mm
(Foot peg bolt)
BBT-M840
$2.00
PEDAL TIP (DELRIN)
(L-side #11)
ST-001D
$15
PEDAL TIP LONG (DELRIN)
(R-side #12)
ST-001DL
$15
BUTTON HEAD M6-20mm
(for L-side Pedal Tip)
BBT-M620
$1.50
BUTTON HEAD M6-25mm
(for R-side Pedal Tip)
BBT-M625
$1.50
SOCKET HEAD M6-20mm
(L-side #21)
SBT-M620
$1.50
ROD END COLLAR 3
(L-side #15)
RDED-CLR3
$6.00
Some additional parts such as Shift Rod, Rod Ends and related hardware can be found HERE.
(For replacement parts not listed on our website, contact Sato Racing for an estimate.)

More Sato Racing items for ZX-14R