HONDA CB1100 ('13-'16)
REAR SETS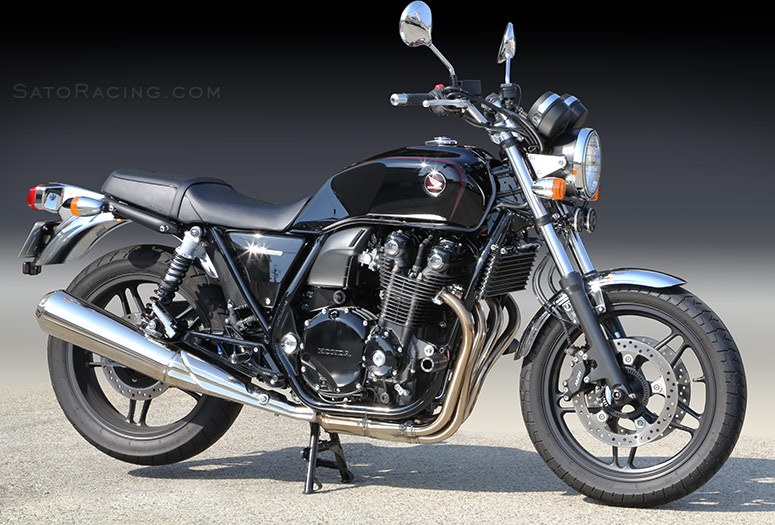 SATO RACING Rear Sets for 2013*-2016 Honda CB1100 are fixed-position Rear Sets that place your feet 40mm higher and 40mm further back compared to the stock footrests, providing a more aggressive riding position better suited to spirited riding. Made of billet aluminum anodized in your choice of Black or Silver (clear) finish, with stainless steel bolts. Compatible with both the standard version CB1100 and the Deluxe model with ABS.

*(These Rear Sets were originally designed for the 2014 CB1100, but we have received independent confirmation from customers that they will also fit the 2013 model without any issues.)

Our Rear Sets are designed to fit over the stock foot rest
brackets, so you can still use the stock passenger pegs.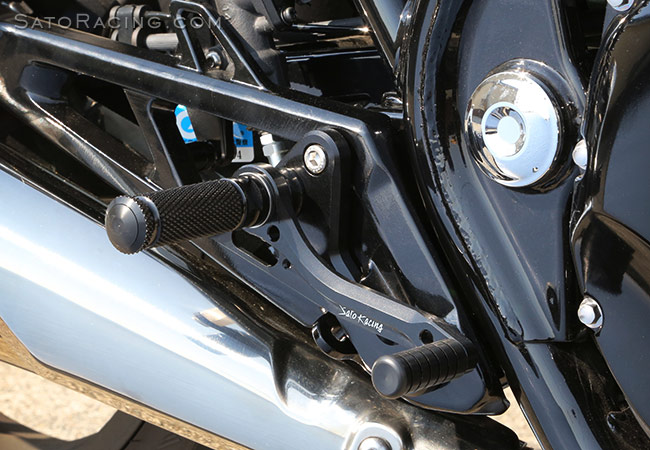 The shift and brake pedals utilize double stainless bearings for smooth, precise lever action.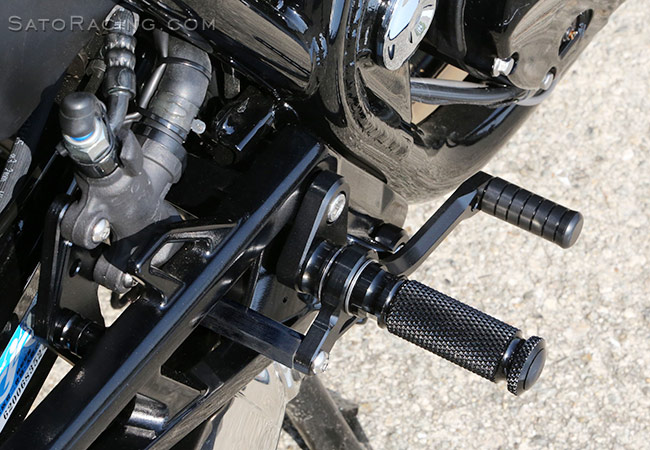 A brake light switch is included with these Rear Sets.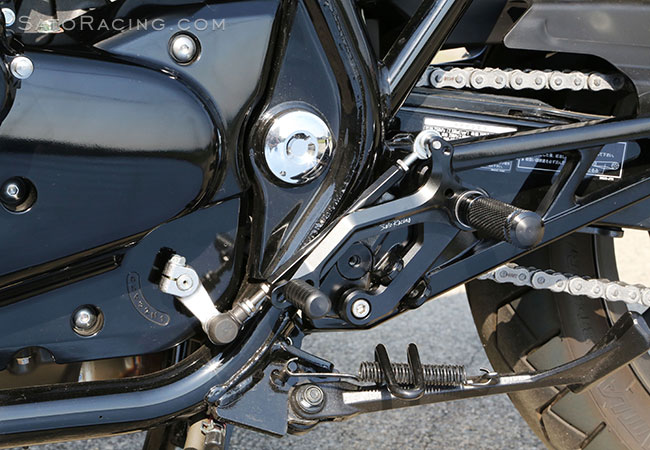 These rear sets are designed to provide a stock shifting pattern.

The pedal tip position is adjustable.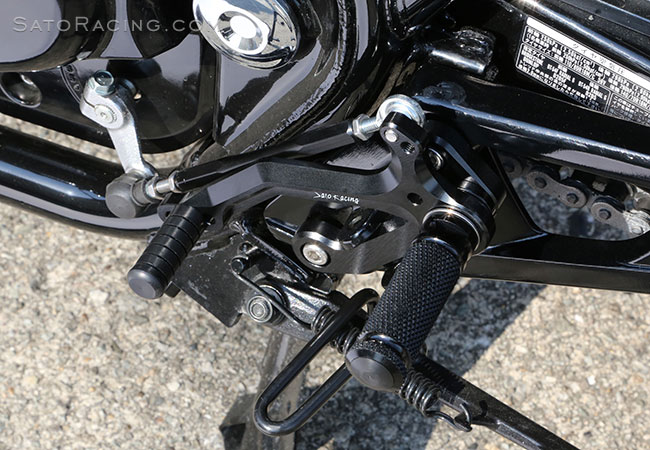 The Foot Pegs have a comfortable feel, with a finely knurled grip pattern.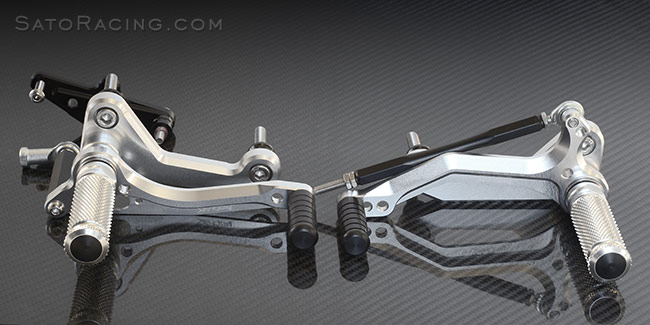 Choice of Black or Silver anodized finish.
BLACK
H-CB1100RS-BK
$365
SILVER
H-CB1100RS-SV
$365
(Brake light switch is included in kit.)
Have questions or prefer to order by phone? You can call us to place an order -



REPLACEMENT PARTS
SATO RACING offers a full selection of Replacement Parts for our Rear Sets.
* * * Contact us to place an order * * *
To find out individual part names & numbers, see the illustrated parts list
included with your Sato Racing Rear Sets, or view the PDF: Parts List
Some replacement parts for these Rear Sets
can be purchased in our online store:
FOOT PEG [BLACK]
PEG-BK
$42
FOOT PEG [SILVER]
PEG-SV
$42
PEDAL TIP (DELRIN)
(New style w/ notch at base)
ST-001D18
$15
SHIFT ROD 120 [BLACK]
(#4)
SRD-120-B
$39
COLLAR 10-6 [BLACK]
(#11)
HGCLR-10
$8.00
PEG BEARING COLLAR 5
[BLACK] (#13)
PEGBGCLR-5B
$15.00
PEG BEARING COLLAR 12.5
[BLACK] (#14)
PEGBGCLR-125B
$15
SOCKET HEAD M6-30mm
(#15)
SBT-M630
$2.00
SOCKET HEAD M8-50mm
(#16)
SBT-M850
$2.00
BUTTON HEAD M6-18mm
(#17)
BBT-M618
$2.00
BUTTON HEAD M6-20mm
(#18)
BBT-M620
$1.50
REVERSE STUD M6
(#19)
STUD-M6L
$4.50
STUD BOLT M8-45mm
(#20)
STBT-45
$4.50
STUD BOLT M8-55mm
(#21)
STBT-S
$4.50
PEG WASHER - M8
(#22)
PWS-8
$1.00
JAM NUT M6
(#23)
JNT-6
$1.75
REVERSE JAM NUT M6
(#24)
JNT-6L
$2.50
M6 MALE ROD END
(25)
RDED-M6
$12.50
FEMALE ROD END 6-M8
(#26)
RDED-F6-8
$25
BRAKE LIGHT SWITCH (P-1.25)
BSW-125
$25
(For replacement parts not listed on our website, contact Sato Racing for an estimate.)

More Sato Racing items for Honda CB1100