DUCATI 748 / 916 / 996 / 998
REAR SETS
SATO RACING Rear Sets for Ducati 748 / 916 / 996 / 998 features components precision CNC-machined out of lightweight and high strength billet aluminum and anodized in your choice of deep Black or brilliant Silver finish, with stainless steel bolts. Modular step plate design provides 4 adjustable positions, in a range that places your feet higher and more forward compared to stock, so you can find the ideal position for your riding style. Right side is designed for use with the stock brake pedal, simplifying installation.
POSITIONS
| | | |
| --- | --- | --- |
| 1 | 15mm Forward | 10mm Up |
| 2 | 10mm Forward | 15mm Up |
| 3 | 5mm Forward | 20mm Up |
| 4 | 3mm Forward | 5mm Up |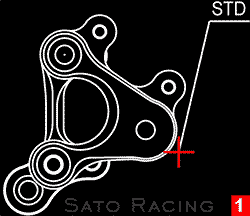 note: all measurements are in relation to STD (stock) foot peg position.
Note: the following photos show an earlier design version of these Rear Sets, pictured installed on a 916. The most recent version of these Rear Sets features an updated shift pedal design with additional adjustment holes, along with a few other design improvements. The Gold color option shown below is now sold out and no longer available.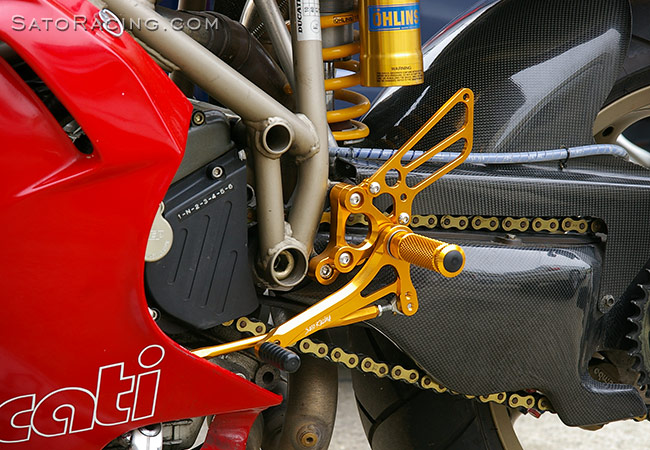 The shift pedal utilizes double stainless bearings for smooth, precise movement with a solid feel.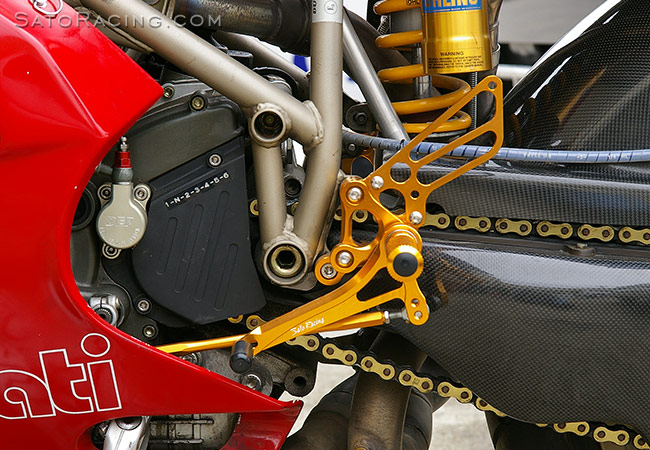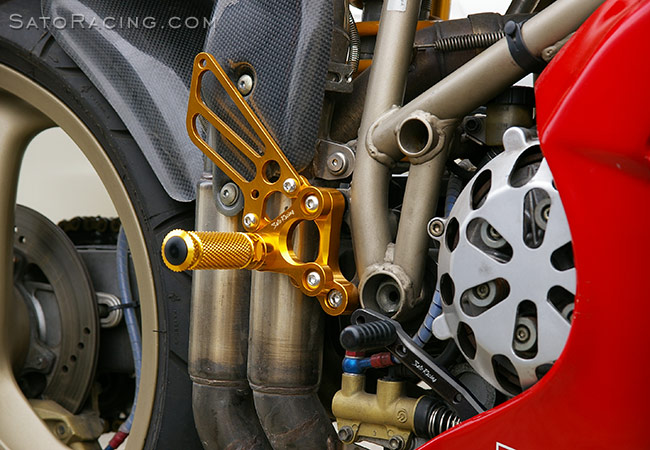 The R-side is designed to be used with the stock brake pedal. (The photo above
shows our optional brake pedal, which is now sold out and no longer available.)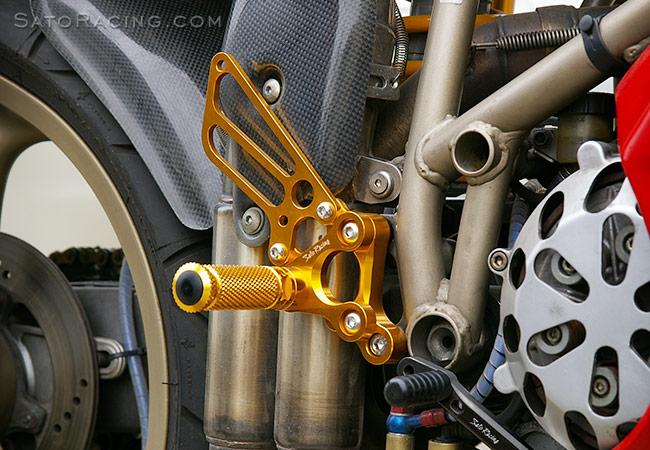 Our Foot Pegs have a finely knurled grip pattern with a comfortable,
feel. The Step Plate can be repositioned on the Base Plate 4 ways.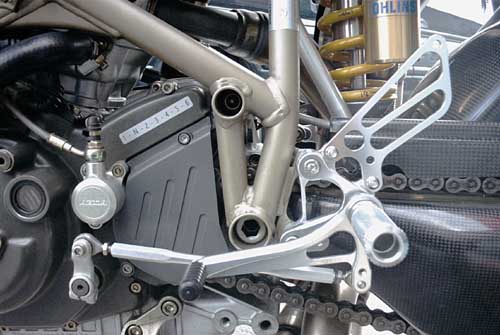 You can switch from stock shift to reverse shift pattern
by flipping the stock change arm the opposite direction.
BLACK
D-916RS-BK
$525
SILVER
D-916RS-SV
$525
Have questions or prefer to order by phone? You can call us to place an order -



REPLACEMENT PARTS
SATO RACING offers a full selection of Replacement Parts for our Rear Sets.
* * * Contact us to place an order * * *
To find out individual part names & numbers, see the illustrated parts list
included with your Sato Racing Rear Sets, or view the PDF: Parts List.
NOTE: The parts used on this rear sets model have had some design updates since first introduced, so depending on when your set was made, some replacement parts (such as the shifter and heel guards) might not look exactly like the parts originally included with the kit.
Some replacement parts for these Rear Sets
can be purchased in our online store:
FOOT PEG
(BK/ SV/ GD)
PEG
$42
PEDAL TIP (DELRIN)
ST-001D18
$15
[L] HEEL GUARD
(BK/ SV/ GD) (#5)
HG-6L
$60
[R] HEEL GUARD
(BK/ SV/ GD) (#6)
HG-6R
$60
SHIFT ROD 190
(BK/ SV/ GD) (#11)
SRD-190
$39
BEARING COLLAR SUS
(#12)
BGCLR-SUS
$6.50
PEG COLLAR 12
(BK/ SV/ GD) (#13)
PEGCLR-12
$15
ROD END COLLAR 3
(#14)
RDED-CLR3
$6.00
SOCKET HEAD M6-20mm
(#15)
SBT-M620
$1.50
SOCKET HEAD M8-15mm
(#16)
SBT-M815
$1.50
SOCKET HEAD M8-20mm
(#17)
SBT-M820
$1.50
SOCKET HEAD M8-35mm
(#18)
SBT-M835
$2.00
BUTTON HEAD M6-10mm
(#19)
BBT-M610
$1.50
BUTTON HEAD M6-20mm
(#20)
BBT-M620
$1.50
FLAT HEAD M8-45mm
(#21)
FBT-M845
$2.50
PEG WASHER - M8
(#22)
PWS-8
$1.00
SOCKET HEAD M6-25mm
(#23)
SBT-M625
$1.50
ROD END COLLAR 6
(#24)
RDED-CLR6
$6.00
BASE PLATE COLLAR 5
(#31)
BPCLR-5
$8.00
(For replacement parts not listed on our website, contact Sato Racing for an estimate.)

More Sato Racing items for these Ducati models