KAWASAKI Ninja 300 (Ninja250) (non-ABS, '13-'17)

SATO RACING 'Race Concept' Rear Sets for 2013-17 Kawasaki Ninja300 / Ninja250 are pure, no-compromise race-spec Rear Sets, designed for track-only bikes. CNC-machined out of high strength billet aluminum, with a Gold anodized finish, these racing Rear Sets provide 4 adjustable footpeg positions in a useful range for the track, bringing your feet significantly higher up and further back compared to stock. Can be set up for stock shift pattern or GP-style reverse shift pattern.
NOTE: Not recommended for street use - No brake light switch hardware is included. Not designed for use with ABS.
(For more street-friendly Rear Sets, see our standard Ninja300 Rear Sets ).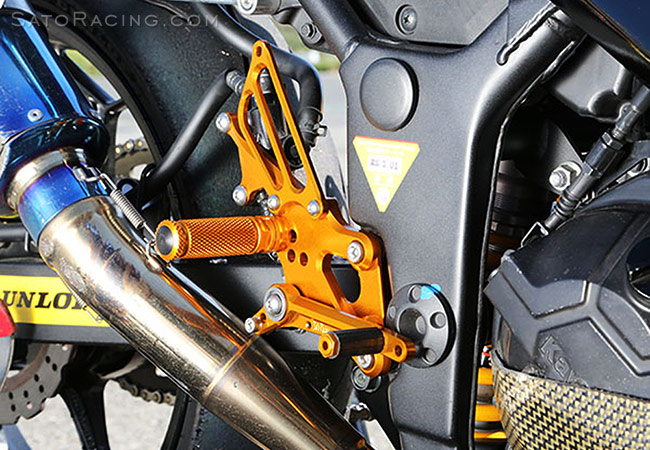 The shift and brake pedals utilize miniature double stainless bearings for smooth, precise movement.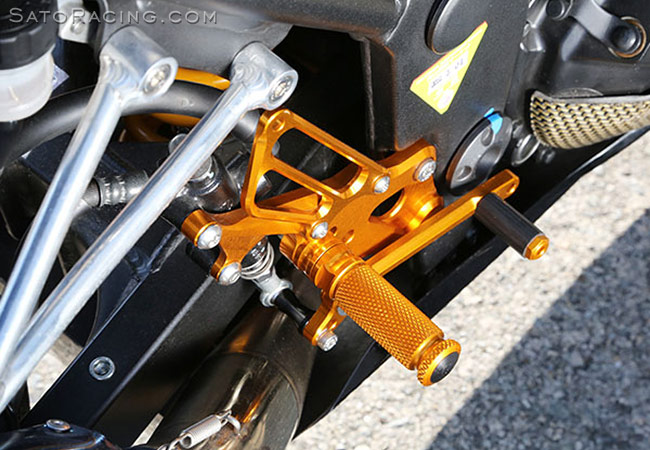 The Foot Pegs are finely knurled for superior grip and comfort. The Pedal Tips are gold-anodized
aluminum, with replaceable fluted rubber grips. Additional Pedal Tip styles are also available.

NOTE: Unlike our standard Ninja300 Rear Sets, these 'track-only' Rear Sets are not compatible
with the stock brake light pull switch. Not recommended for ABS-equipped Ninja300 models.
POSITIONS
| | | |
| --- | --- | --- |
| 1 | 50mm Back | 50mm Up |
| 2 | 62.5mm Back | 50mm Up |
| 3 | 62.5mm Back | 62.5mm Up |
| 4 | 75mm Back | 62.5mm Up |
note: all measurements are in relation to stock position (0 mm).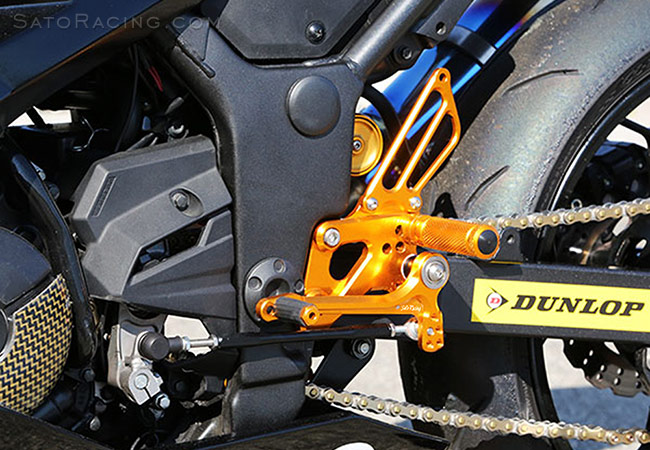 You can set it up for stock shift pattern or reverse (GP) shift pattern by flipping the change arm.
Reverse shift pattern requires cutting or removing the sprocket cover, as shown in the above photo.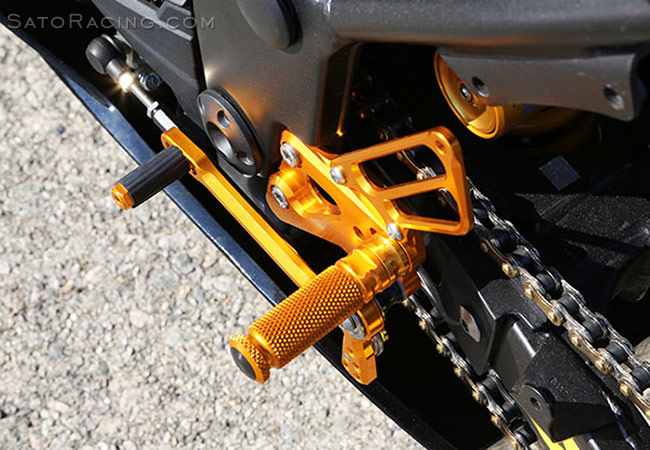 GOLD *
K-25013RCRS-GD
$450
* Click Here for important info about Sato GOLD-anodized parts.
NOTE: this part is a 'special order' item that we may not regularly have in stock, so if you are interested, Contact Us directly to place an order. ETA is usually 4-8 weeks for 'out of stock' items.
Have questions or prefer to order by phone? You can call us to place an order -



More Sato Racing items for 2013-17 Ninja300