HONDA GROM ('22- )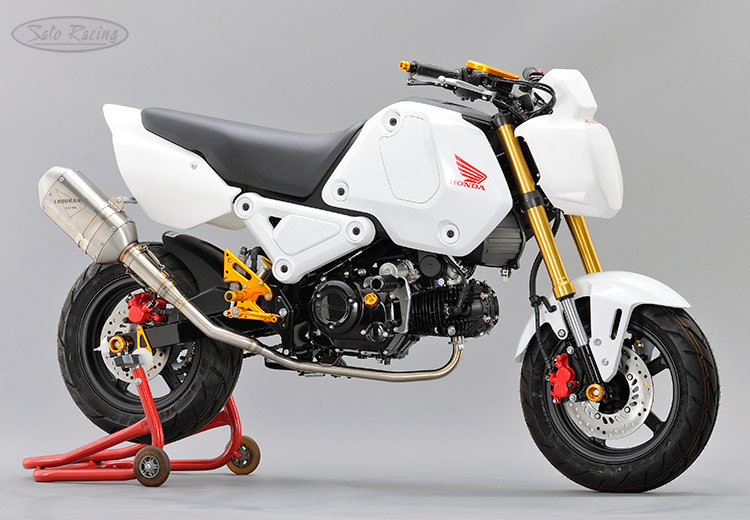 SATO RACING 'Race Concept' Rear Sets for 2022+ Honda GROM are pure, no-compromise race-spec Rear Sets, designed for track-only Groms. Precision machined out of light-weight, high strength anodized billet aluminum, these premium racing Rear Sets provides 4 adjustable foot peg positions that bring your feet significantly higher up and further back compared to the stock foot position, for a much more aggressive riding position that is ideal for tackling the fast straights and steep lean angles at the track. Provides a dedicated reverse shift pattern.
NOTE: Not recommended for street use - No brake light switch hardware or exhaust hanger is included. Since it is intended for racing brake setups. compatibility with the stock ABS brakes is not known.
(For more street-friendly Rear Sets, see our standard Grom '22 Rear Sets ).
POSITIONS
| | | |
| --- | --- | --- |
| 1 | 185mm Back | 90mm Up |
| 2 | 200mm Back | 90mm Up |
| 3 | 185mm Back | 105mm Up |
| 4 | 200mm Back | 105mm Up |
note: all measurements are in relation to stock position (0 mm).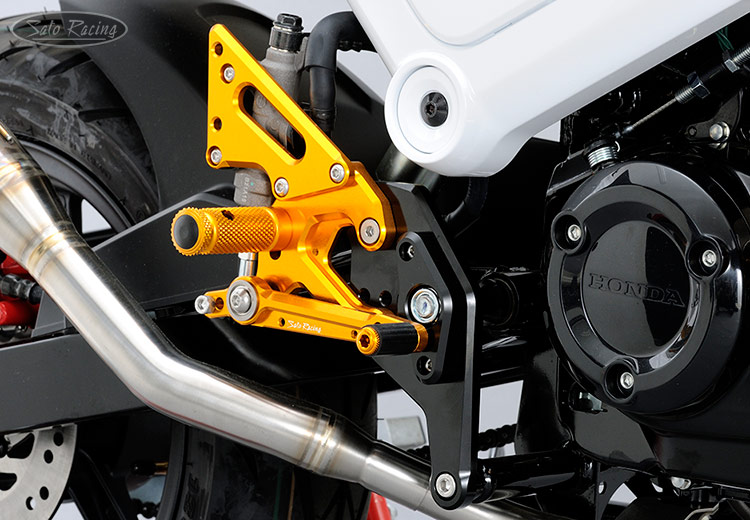 Features short-style foot pegs and pedal tips (toe pegs) and the very high position range make this kit ideal for smaller riders.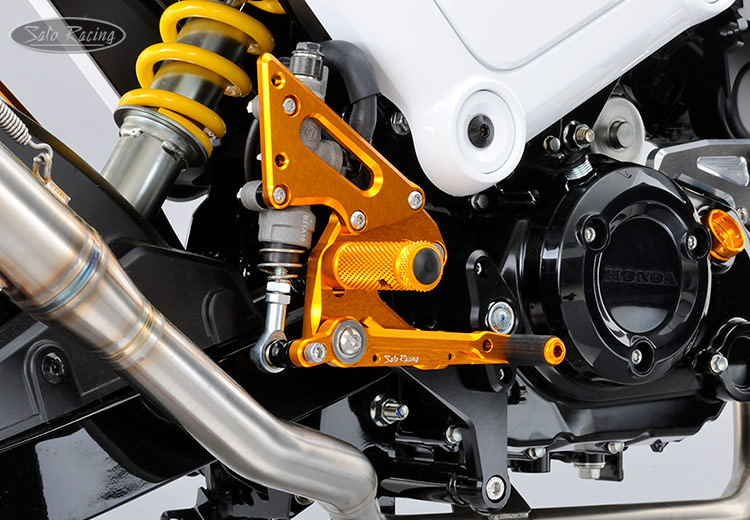 No exhaust hanger is included. Use with an aftermarket / racing exhaust such as the one in the photo, or use a high mounted muffler hanger such as our Universal Hanger.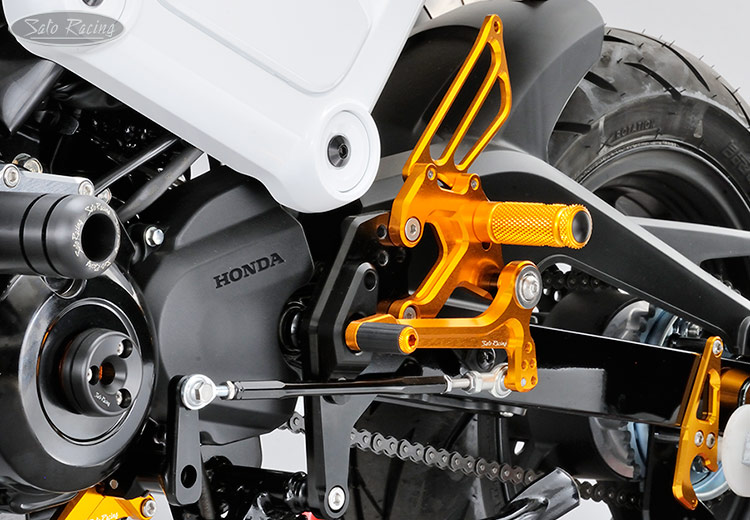 These racing Rear Sets provide a dedicated reverse (GP style) shift pattern.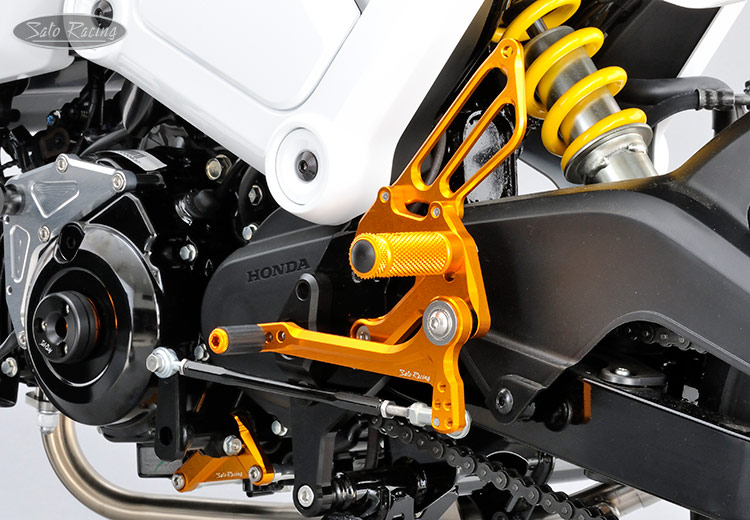 The short-style foot pegs have a finely knurled pattern for excellent grip, along with a comfortable, intuitive feel. Our foot pegs have end caps made of abrasion-resistant Delrin, so if the end of the foot peg touches the ground, the end cap will help it slide smoothly instead of scraping.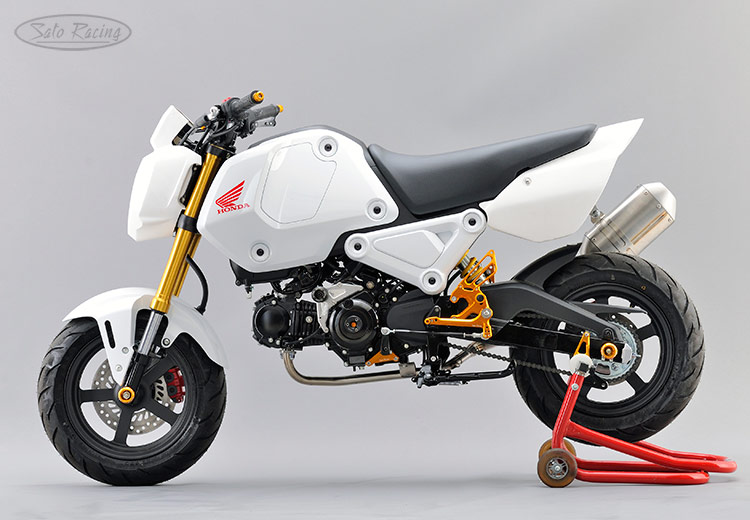 GOLD

H-GROM22RCRS-GD
$540
ARRIVING SOON

Click Here for important info about Sato color-anodized parts.

OPTION

HONDA GROM / MONKEY ('22- )
SHIFT SPINDLE HOLDER
SATO RACING Shift Spindle Holder for 2022+ Honda Grom and Monkey (5sp) reinforces the shift linkage by reducing lateral play in the spindle shaft during shifts, for more consistent and precise shifting and extra durability in heavy-duty use. Gold anodized billet aluminum with a Teflon inner bushing.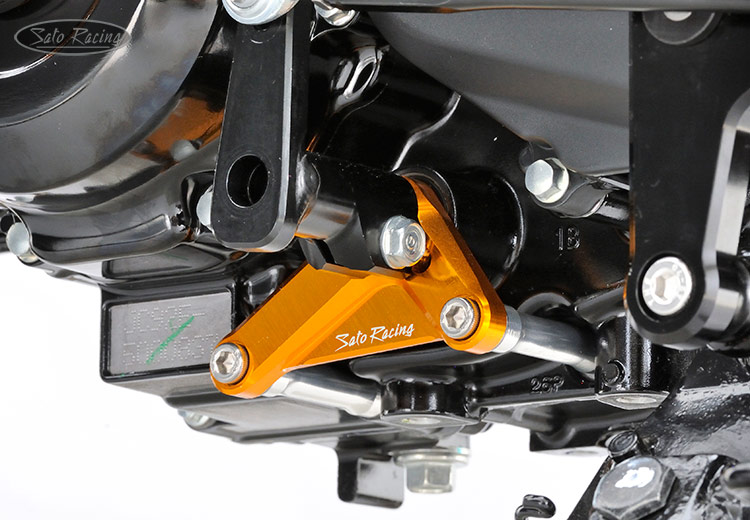 GOLD
H-GROM22RS-SHDR
$85
Have questions or prefer to order by phone? You can call us to place an order -



More Sato Racing items for 2022 GROM