HONDA CBR1000RR ('08-'16, non-ABS)
REAR SETS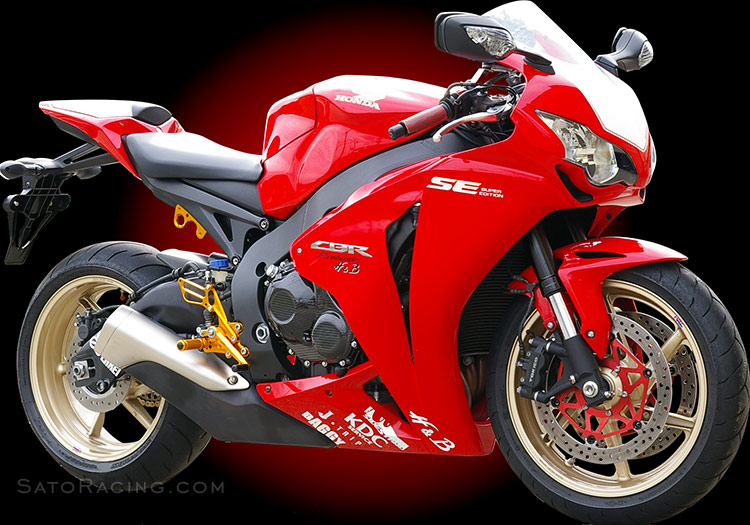 SATO RACING Rear Sets for 2008-16 Honda CBR1000RR (non-ABS models) are a track-engineered design, precision CNC-machined out of high strength billet aluminum and anodized in your choice of a deep Black finish, or Silver or Gold anodized finish with a contrasting Black shift pedal. Modular adjustable design lets you select from 12 foot positions, ranging from stock-equivalent position to more aggressive positions that bring your feet higher and further back. Easily switch to reverse shift pattern too.

We also offer a Shift Spindle Holder that works well with these Rear Sets, reducing play in the shift spindle for more precise shift action.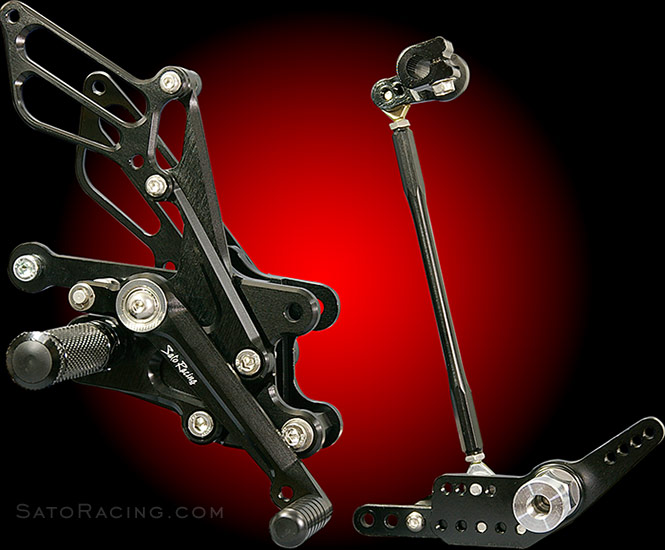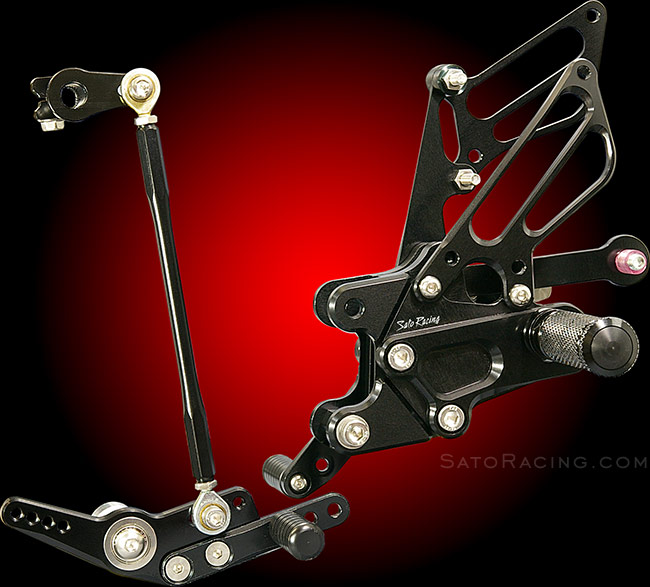 POSITIONS
| | | |
| --- | --- | --- |
| 1 | 0mm | 0mm |
| 2 | 0mm | 10mm Up |
| 3 | 10mm Back | 0mm |
| 4 | 10mm Back | 10mm Up |
| 5 | 15mm Back | 20mm Up |
| 6 | 15mm Back | 30mm Up |
| 7 | 25mm Back | 20mm Up |
| 8 | 25mm Back | 30mm Up |
| 9 | 30mm Back | 40mm Up |
| 10 | 30mm Back | 50mm Up |
| 11 | 40mm Back | 40mm Up |
| 12 | 40mm Back | 50mm Up |
note: all measurements are in relation to stock position (0 mm).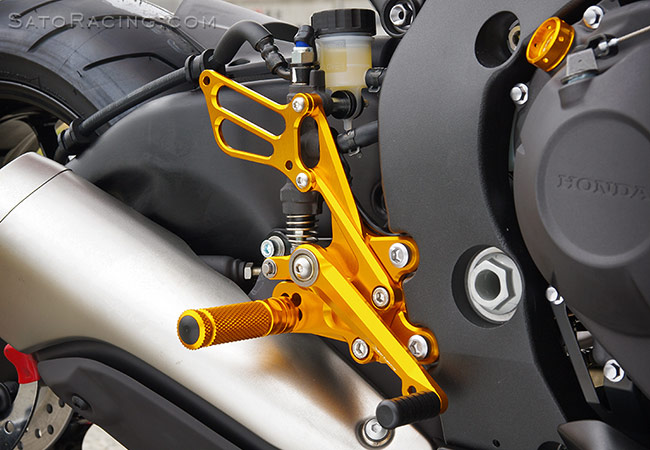 The shift and brake pedals have double stainless bearings for smooth, precise pedal movement.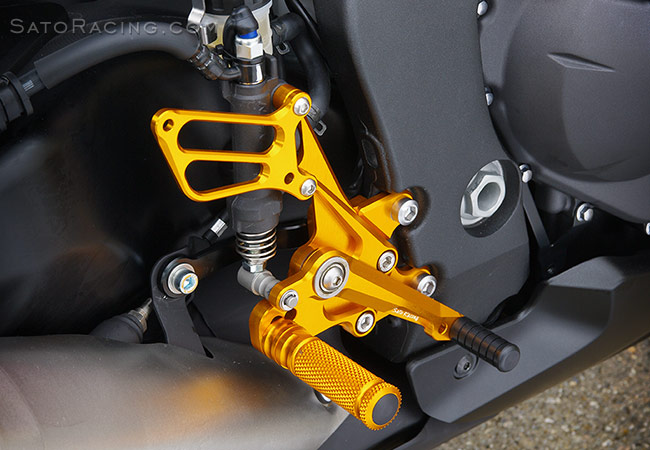 Our Foot Pegs have a finely knurled pattern for excellent grip and a comfortable feel. Rear Sets kit includes a brake light switch which attaches at the top of the master cylinder. ( Rear Sets shown with optional Return Spring )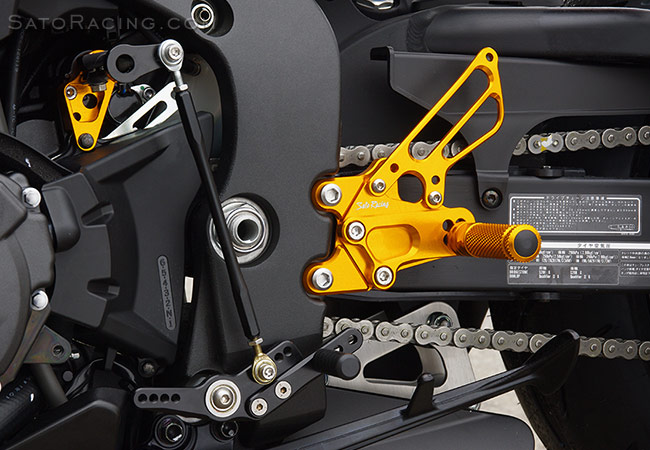 The shift stroke can be adjusted by changing the mounting position of the shift rod. Stock shift pattern is shown in these photos. For reverse (GP-style) shift pattern, relocate the shift rod to the forward end of the pedal. ( Rear Sets shown with optional Shift Spindle Holder )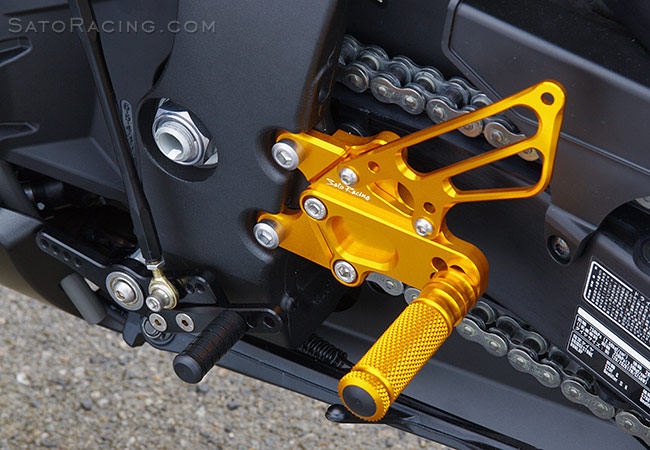 Modular design lets you adjust the mount postion of the Step Plate and the Foot Peg to your liking. Pedal Tip position is also adjustable.

The standard Pedal Tips are made of tough Delrin plastic. Additional Pedal Tip styles, such as folding-style aluminum Pedal Tips with rubber sleeves, are an available option: More Details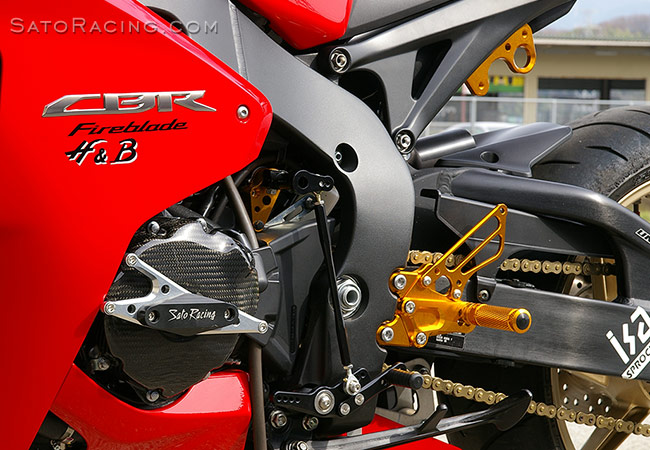 CBR1000RR with Sato Rear Sets, Shift Spindle Holder, Street Hooks, and Engine Sliders.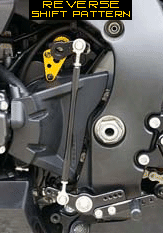 You can change the shifting pattern by relocating
the SATO SHIFT ROD to the front or back hole.

Cycle World recently republished a Sport Rider magazine article from 2011 where they modified a CBR1000RR for the track using several SATO RACING parts, including these Rear Sets in Gold, along with our CBR1000RR Engine Sliders and Oil Filler Cap! This article includes some great closeup photos of our parts on the CBR1000RR. Check it out:

Sport Rider - Honda CBR1000RR Traction Control and Chassis Upgrades | Literbike Mods

Note: These Rear Sets are designed for '08-'16 models with standard brakes.
They will NOT work with '09 - later models that have the optional ABS.
( CLICK HERE for ABS-compatible CBR1000RR Rear Sets )
BLACK
H-CBR108RS-BK
$595
SILVER
w/ BLACK Shift Pedal Assembly
H-CBR108RS-SV
$595
GOLD *
w/ BLACK Shift Pedal Assembly
H-CBR108RS-GD
$595
(Brake light switch included.)
* Click Here for important info about Sato GOLD-anodized parts.

OPTIONAL PARTS

HONDA CBR1000RR ('08-'19)
SHIFT SPINDLE HOLDER
Our CBR1000RR Shift Spindle Holder adds strength and rigidity to the shift linkage, reducing excessive lateral play for smoother, more precise shifting and extra durability during heavy-duty use. This part can be especially helpful if you are using a non-standard shifter setup. Gold anodized billet aluminum with a Teflon inner bushing. Fits all CBR1000RR models 2008-19.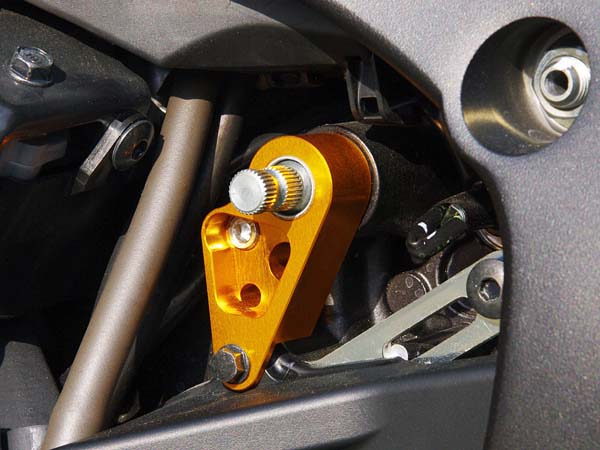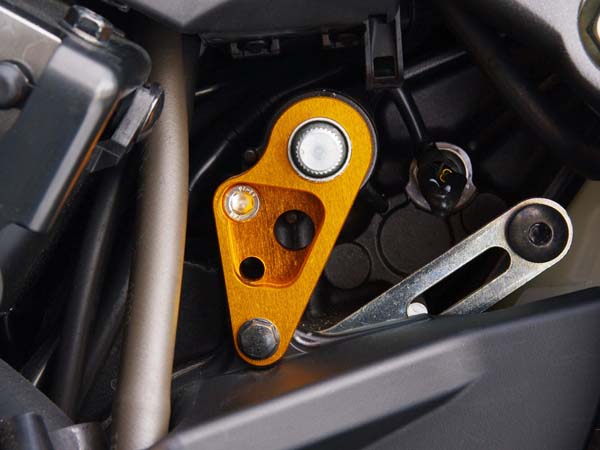 GOLD
H-CBR108RS-SHDR
$85

BRAKE RETURN SPRING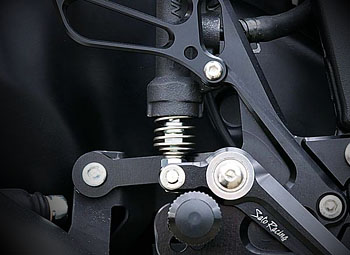 SATO RACING Brake Return Spring quickens the brake pedal return and may make the pedal feel heavier and more responsive compared to no spring. (For use with specified SATO RACING Rear Sets).
RS-RSP
$8.00

REPLACEMENT PARTS
SATO RACING offers a full selection of Replacement Parts for our Rear Sets.
* * * Contact us to place an order * * *
To find indvidual part names and numbers, see the illustrated parts list
included with your Sato Racing Rear Sets, or view the PDF: Parts List
Some common replacement parts for these Rear Sets
can be purchased in our online store:
FOOT PEG [BLACK]
PEG-BK
$38
FOOT PEG [SILVER]
PEG-SV
$38
FOOT PEG [GOLD]
PEG-GD
$38
PEG COLLAR 12 [BLACK]
(L-side #9)
PEGCLR-12B
$15
PEG COLLAR 12 [SILVER]
(L-side #9)
PEGCLR-12S
$15
PEG COLLAR 12 [GOLD]
(L-side #9)
PEGCLR-12G
$15
PEG COLLAR 15 [BLACK]
(R-side #12)
PEGCLR-15B
$15
PEG COLLAR 15 [SILVER]
(R-side #12)
PEGCLR-15S
$15
PEG COLLAR 15 [GOLD]
(R-side #12)
PEGCLR-15G
$15
HEX HEAD M8-40mm
(Foot Peg bolt)
HBT-M840
$2.00
SPLIT WASHER M8
(L-side #27, R-side #8)
SWS-8
$1.20
STANDARD PEDAL TIP
(DELRIN plastic)
ST-001D
$15
BUTTON HEAD M6-20mm
(for Pedal Tip)
BBT-M620
$1.50
SHIFT PEDAL SPD8 [BLACK]
(L-side #4)
SPD-8B
$30
FLAT HEAD M6-10mm
(L-side #21)
FBT-M610
$1.50
SOCKET HEAD M6-18mm
(L-side #18 / #19)
SBT-M618
$1.50
ROD END COLLAR 3
(L-side #26)
RDED-CLR3
$6.00
WASHER M6
(R-side #9)
WS-6
$1.00
E-CLIP M6
(R-side #7)
ECP-6
$1.50
BRAKE LIGHT SWITCH
(P-1.25)

BSW-125
$25
Some additional parts such as Shift Rod, Rod Ends and related hardware can be found HERE.
(For replacement parts not listed on our website, contact Sato Racing for an estimate.)

More Sato Racing items for 2008-16 CBR1000RR