HONDA
(+ various Kawasaki/ Yamaha models)
OIL FILLER CAP
SATO RACING Oil Filler Cap is made of billet aluminum, in your choice of a Black, Silver or Gold anodized finish, with a laser-etched Sato Racing logo.
2 types are available for Honda:
Part# H-OFCAP-R fits most Honda sport bike models, along with some Kawasaki and Yamaha models (see below).

Part# H-OFCAP2-R fits Honda VFR800/F / Interceptor ('02- ) and several earlier Honda models.

Options include a Quick Wrench specially designed for the Oil Cap, and a Titanium Locking Plate that can be attached to a safety wire to help keep the cap securely in place.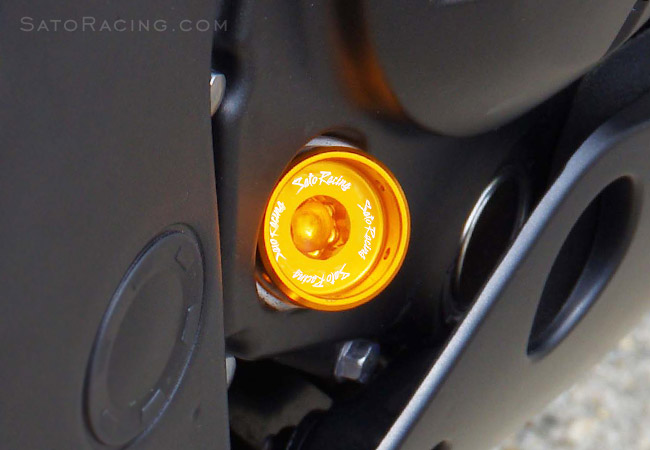 H-OFCAP-R
(Size: M20 / P-2.5)
Fits:
HONDA CBR1000RR / CBR600RR / CBR500R/400R /
CB500F/400F / CBR650F / CB1100 / VTR1000F (Superhawk) /
VTR1000R (RC51) / CB1300 -'02 / X4 / CB400SF '99- / CBR600F4 /
VFR400R (NC30) / RVF400R (NC35) / NSR
KAWASAKI Z900/RS '17- / Z1000 '10- / Ninja1000 '11- /
Ninja650 (ER-6f) /ER-6n / Ninja400 '18 / Ninja250 '18 /
Ninja 250SL '15-'16
YAMAHA TZR125/250 / RZ350 / TW200 / SRX250
BLACK
H-OFCAP-RB
$35.00
SILVER
H-OFCAP-RS
$35.00
GOLD*
H-OFCAP-RG
$35.00
H-OFCAP2-R
(Size: M24 / P-3.0)
Fits:
HONDA VFR800/F/ Interceptor ('02- )/ VTR250 ('98-) / RC24 (VFR750F) /
RC30 / CB750/1100F/R / CB1300 '03- / CBX/CB750 / CBR1100XX


BLACK
H-OFCAP2-RB
$35.00
SILVER
H-OFCAP2-RS
$35.00
GOLD*
H-OFCAP2-RG
$35.00
Note: Use stock O-ring. We also recommend safety wiring the cap.
* Click Here for important info about Sato GOLD-anodized parts.

Optional Accessories


QUICK WRENCH
Accessing your oil is a breeze with this anodized billet aluminum quick-wrench specially designed to fit Sato Racing Oil Filler Caps. Fits nicely on your keychain (especially if it is a Sato Racing Keychain).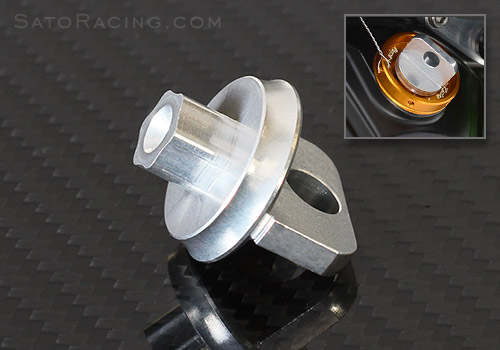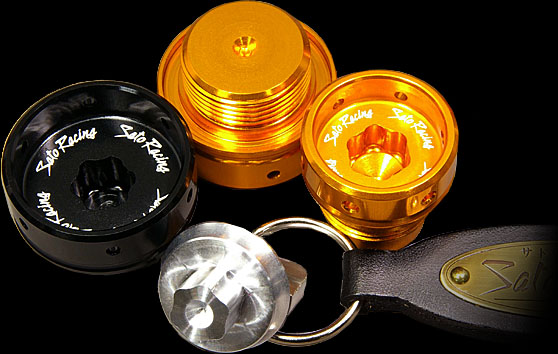 QUICK-WRENCH
OFCAP-TOOL
$20.00

TITANIUM LOCKING PLATE
This bendable titanium plate offers an anchor point to attach a safety wire, to keep your Oil Filler Cap from inadvertently coming loose or disappearing.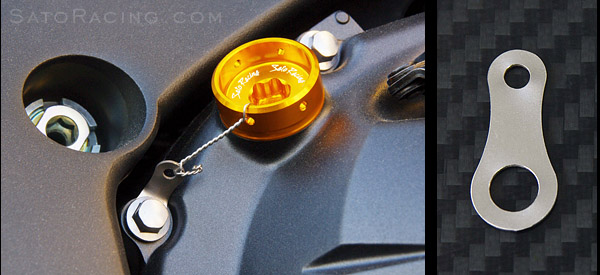 (wire not included)
TITANIUM
LOCKING PLATE
OFCAP-TILP
$7.00

More Sato Racing items for these models