HONDA
(most models)
HANDLE BAR ENDS
SATO RACING Handle Bar Ends for Honda are available in 4 styles: Anodized billet aluminum (Black, Silver, Gold and Gunmetal), and Stainless Steel. Includes Black-anodized adapters compatible with Honda handle bars.
(Set of 2)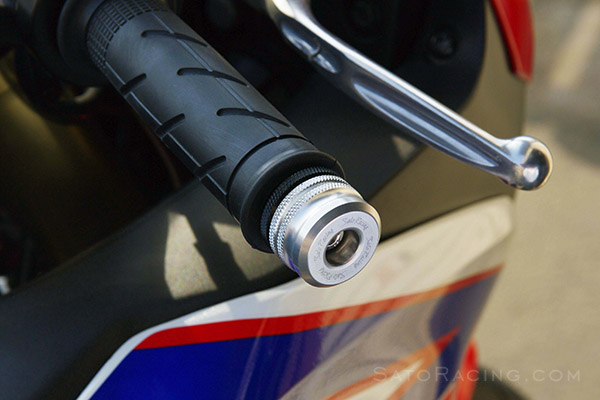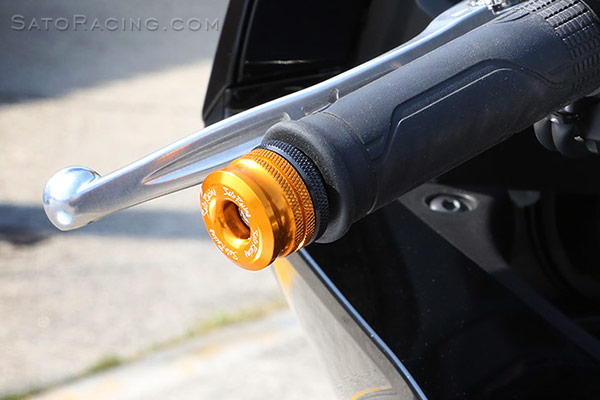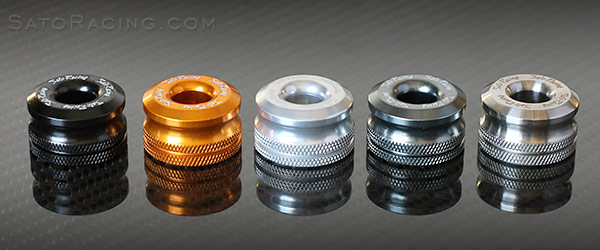 Choose from Black, Gold, Silver, or Gunmetal anodized aluminum, or Stainless Steel.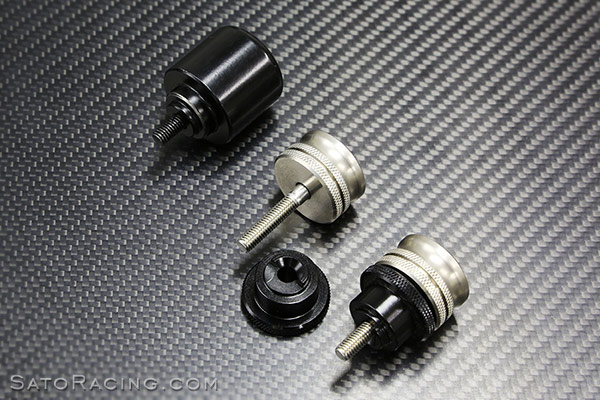 SATO RACING Honda-type Handle Bar End compared to the stock Honda bar end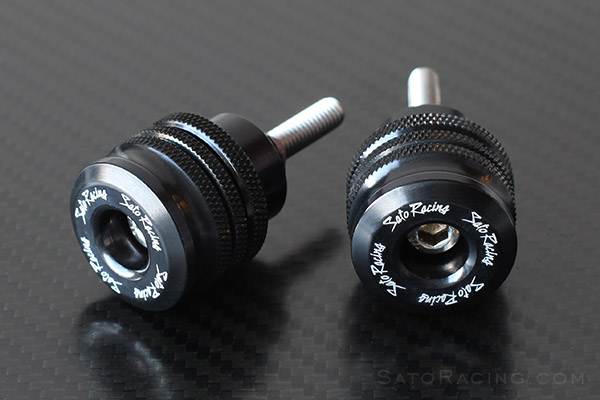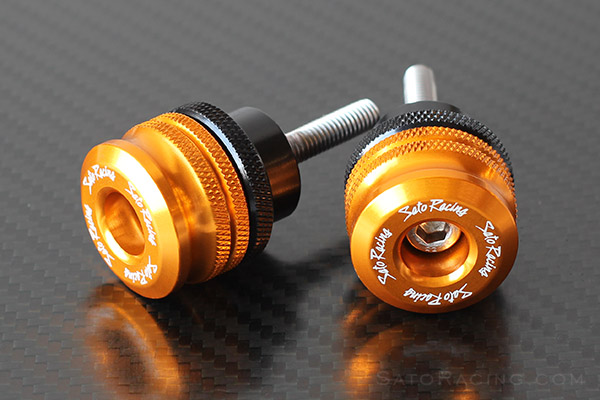 NEW 'Gunmetal' Handle Bar Ends - a striking iridescent dark gray with hints of
green, blue and magenta that shifts color depending on lighting and viewing angle.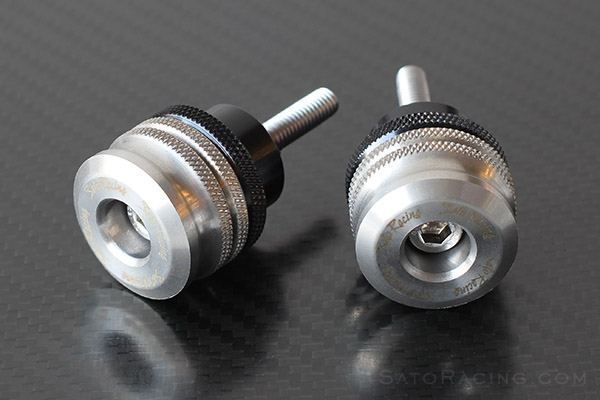 (Stainless Steel)
(Set of 2)
BLACK
BE-M6SH-B
$42
SILVER
BE-M6SH-S
$42
GOLD
BE-M6SH-G
$42
GUNMETAL
BE-M6SH-GUN
$42
STAINLESS STEEL
BE-M6SH-SUS
$52
Bar Ends part# BE-M6SH is now sold out in all colors and is no longer available from
SATO RACING. Look for some new updated Honda Bar Ends coming soon!

Lever Guard [Type2]
w/ inserts for Honda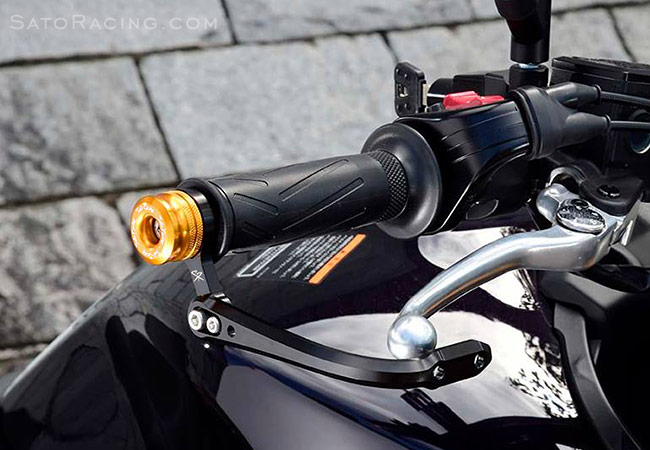 SATO RACING Lever Guards help protect your hands and prevent unintentional engagement of the clutch or brake levers, such as during contact with another rider on the track. Made of lightweight Black-anodized billet aluminum, these Lever Guards have an adjustable pivot that lets you change the angle of the arm and overall length of the guard. This pivot also allows you to rotate the arm of the Lever Guard, which means it can be installed on either the Right (brake) side or left (Clutch) side.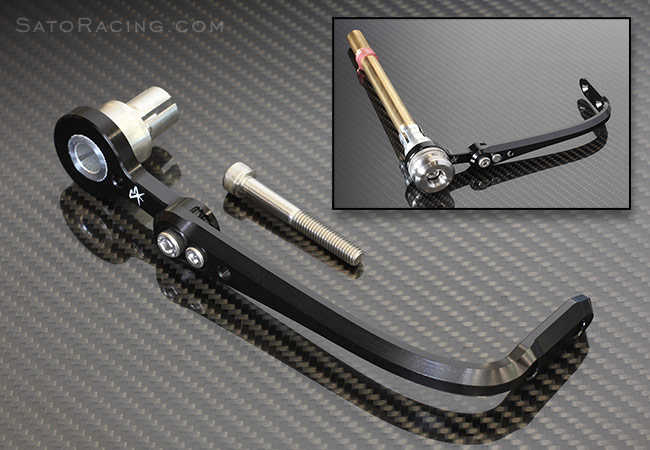 'Type2' Lever Guard for Honda. Includes an aluminum collar and an integrated 14-16mm expansion sleeve, which can be expanded to 18-19mm with the removable adapter sleeve that is included with the Bar Ends. This 'Type2' Lever Guard is designed for use with full-size (30mm) Bar Ends part# BE-1S.

NOTE: The stock Honda handle bar weighted insert will need to be removed to install this Lever Guard. Our optional Inner Bar Weight can be used with this Lever Guard on most models. (see photo inset)
LEVER GUARD [type 2]
w/ insert for Honda
LG30-H
$95
HANDLE BAR ENDS (SHORT style)
w/ 14-16mm/18-19mm INSERTS
For use with Sato Racing 'type2' Lever Guard LG30-H*
(Set of 2)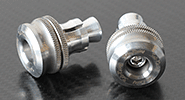 BLACK
BE-1S-B
$35
SILVER
BE-1S-S
$35
GOLD
BE-1S-G
$35
GUNMETAL
BE-1S-GUN
$35
STAINLESS STEEL
BE-1S-SUS
$45

Also available for Honda:
'Type1' Lever Guard (part#LG22-H) includes a compact 22mm Bar End in your choice of anodized aluminum (Black, Silver, Gold, or Gunmetal), or Stainless Steel. Details


OPTIONAL PARTS

BAR END SPACER KIT
* If you get Handle Bar Ends part# BE-1S to use with the 'Type2' Lever Guard for Honda (part# LG30-H), but you want a Lever Guard for one side only, this Spacer Kit will convert the other Bar End so it can be installed on the side of the handle bars without the Lever Guard. Note: The stock inner bar weight will need to be removed for this bar end to fit. You can also add on the Inner Bar Weight (optional).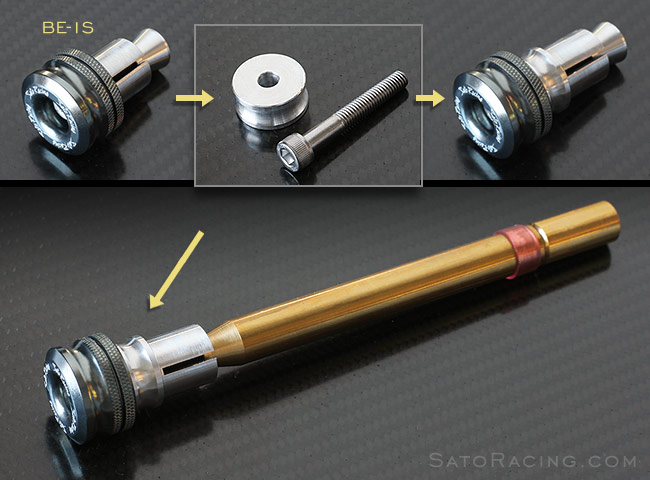 BAR END SPACER KIT
(Aluminum Collar + Bolt)
BE-H-CLR
$8.00
INNER WEIGHT
160mm (130mm + 30mm) handle bar weight (7oz).

The Inner Weight fits inside the bar. Recommended to help suppress handle bar vibration, especially if the stock inner bar weight has been removed. The end section of the Inner Weight is removable (see inset). This is useful for handle bars with shorter hollow sections, or if you just want to take a few ounces off the weight. Solid brass weight with tapered M6-size threaded opening. Note: Some Honda models such as CB1000R do not have enough room inside the bars for the weights to fit.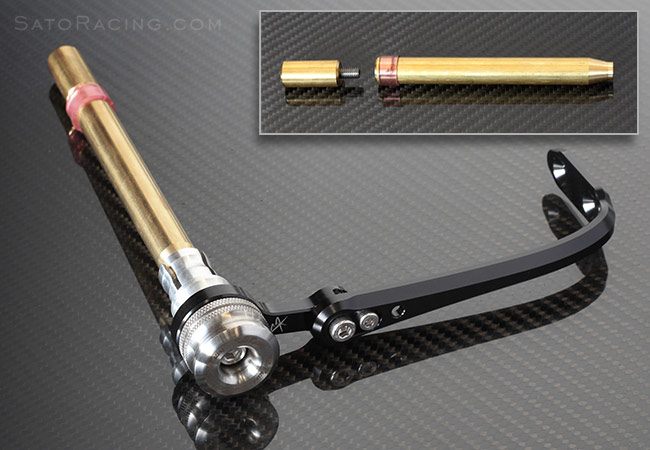 Lever Guard [LG30-H], shown with SHORT-style Stainless Steel Bar End
and optional Inner Weight.
Compatible with:
Handle Bar End part# BE22-1 / BE-1L / BE-1S
Lever Guard part# LG22-1 / LG22-H / LG30-1 / LG30-H
Qty: 1
BE-LW
$10
Qty: 2
BE-LW2
$20

More Sato Racing items for Honda