TRIUMPH
T595, T509, 955i, SPEED TRIPLE ('02-'10)
REAR SETS
SATO RACING Rear Sets for 1997-2005 Triumph T595 / T509 / 955i / Daytona and 2002-10 Speed Triple* features a track-optimized design, with parts precision CNC-machined from lightweight billet aluminum with a deep Black anodized finish, and fastened together with stainless steel bolts. The shifter and brake utilize miniature double stainless bearings for smooth, precise lever actuation. Foot Pegs are fixed (non-folding) and feature a finely knurled pattern for optimal grip, along with a comfortable, intuitive feel. The Pedal Tips (toe pegs) are made of high density, abrasion-resistant Delrin. Modular adjustable design provides 6 unique foot positions, ranging from stock equivalent to more aggressive positions that bring your feet higher and further back, so you can find the ideal position for your riding style. A brake light switch is included with the kit.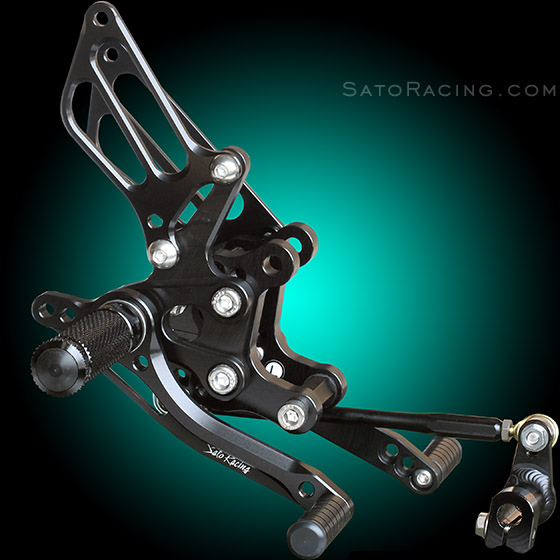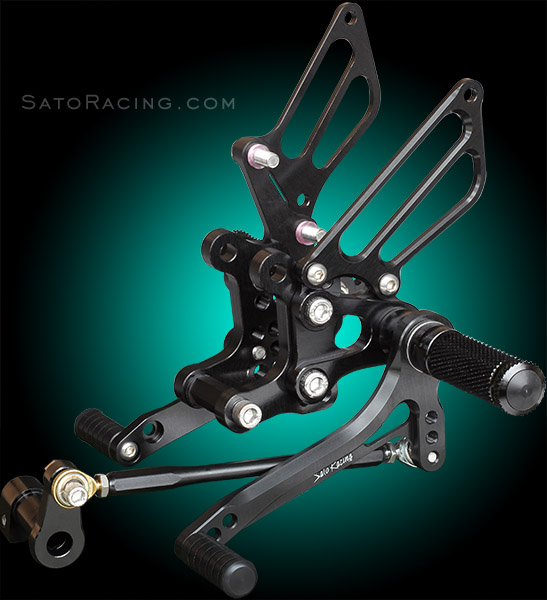 POSITIONS
| | | |
| --- | --- | --- |
| 1 | 0 mm | 0 mm |
| 2 | 0 mm | 10mm Up |
| 3 | 0 mm | 20mm Up |
| 4 | 10mm Back | 0 mm |
| 5 | 10mm Back | 10mm Up |
| 6 | 10mm Back | 20mm Up |
note: all measurements are in relation to stock position (0 mm).
Note: the following install photos depict the original version of these rear sets.
Our newest rear sets for Triumph have an updated lever design along with
a few other cosmetic changes. (See photos at top of page)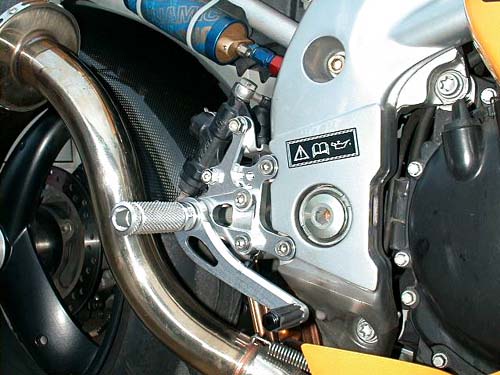 NOTE: A R-side heel guard (not pictured) is included with this kit.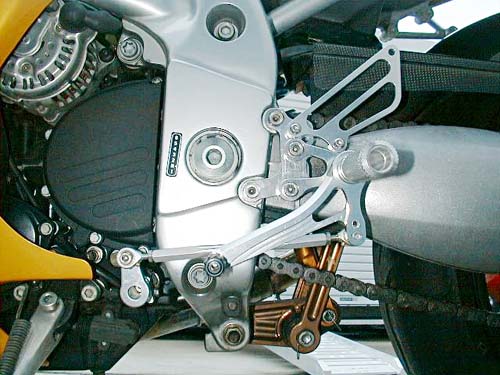 These Rear Sets are designed for stock shift pattern.
Reverse shift pattern is not an option on this model.
BLACK
T-595RS-BK
$580
(A brake light switch is included with the kit.)

*NOTE: Installation on '05-'10 Speed Triple requires a longer master brake hose.

REPLACEMENT PARTS
SATO RACING offers a full selection of Replacement Parts for our Rear Sets.
* * * Contact us to place an order * * *
To find out individual part names & numbers, see the illustrated parts list
included with your Sato Racing Rear Sets, or view the PDF: Parts List
Some common replacement parts for these Rear Sets
can be purchased in our online store:
FOOT PEG [BLACK]
PEG-BK
$42
FOOT PEG [SILVER]
PEG-SV
$42
FOOT PEG [GOLD]
PEG-GD
$42
STUD BOLT LONG (M8x65mm)
(L-side peg bolt)
STBT-L
$4.50
STUD BOLT SHORT (M8x55mm)
(R-side peg bolt)
STBT-S
$4.50
FLANGE NUT M8

FNT-8
$1.50
BEARING COLLAR SUS
(R-side #8)
BGCLR-SUS
$6.50
PEG WASHER - M8
(L-side #9 / R-side #15)
PWS-8
$1.00
PEDAL TIP (DELRIN)
ST-001D18
$15
BUTTON HEAD M6-20mm
(for Pedal Tip)
BBT-M620
$1.50
ROD END COLLAR 3
(L-side #7)
RDED-CLR3
$6.00
WASHER M6
(L-side $24 / R-side #13)
WS-6
$1.00
E-CLIP M6
(R-side #14)
ECP-6
$1.50
BRAKE LIGHT SWITCH
(P-1.25)

BSW-125
$25
Some additional parts such as Shift Rod, Rod Ends and related hardware can be found HERE.
(For replacement parts not listed on our website, contact Sato Racing for an estimate.)

More Sato Racing items for Triumph Speed Triple (-'10)