HONDA VFR750R (RC30) ('87-'90)
REAR SETS
SATO RACING Rear Sets for Honda VFR750R/ RC30 features an extensively track-proven design, with components precision CNC-machined out of light-weight, high strength billet aluminum anodized in a striking deep Black or brilliant Silver (natural metal) finish. The shift and brake pedals use double miniature stainless bearings for smooth, precise lever actuation. Knurled footpegs provide optimal grip, along with a comfortable, intuitive feel. Modular adjustable design lets you select from 5 foot positions, ranging from stock-equivalent position to 20mm higher and further back.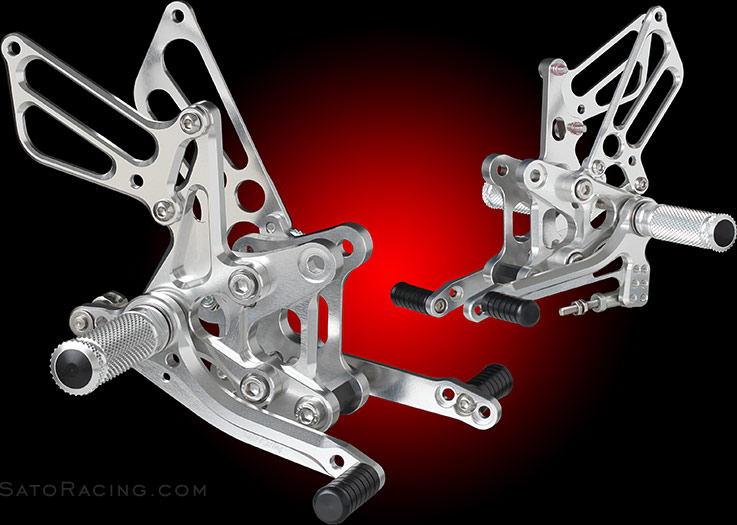 POSITIONS
| | | |
| --- | --- | --- |
| 1 | 0 mm | 10mm Up |
| 2 | 0 mm | 20mm Up |
| 3 | 10mm Back | 10mm Up |
| 4 | 10mm Back | 20mm Up |
| 5 | 20mm Back | 20mm Up |
note: all measurements are in relation to stock position (0 mm).
NOTE: The following photos show an early version of our VFR750R/ RC30 Rear Sets.
The current version of these Rear Sets have some design differences. (See photo above)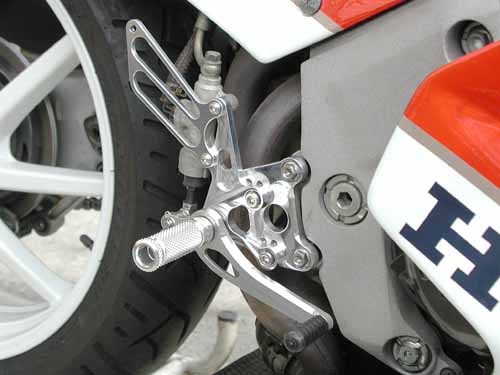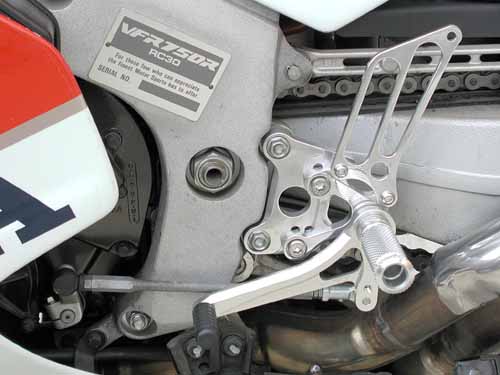 You can set up these Rear Sets for stock shift pattern or reverse (GP-style)
shift pattern by flipping the stock change arm the opposite direction.

NOTE: Our RC30 Rear Sets are designed to use the stock shift rod. If you
want a matching Sato Shift Rod, we recommend Shift Rod part# SRD-160.
BLACK
H-RC30RS-BK
$575
SILVER
H-RC30RS-SV
$575
(A brake light switch is included in kit.)

OPTIONAL PART

BRAKE RETURN SPRING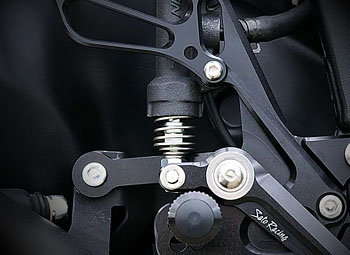 SATO RACING Brake Return Spring is not required with these Rear Sets, but we offer it as an option, since it can quicken the brake pedal return and in some cases may make the pedal feel more responsive compared to no spring.
RS-RSP
$8.00
Have questions or prefer to order by phone? You can call us to place an order -



REPLACEMENT PARTS
SATO RACING offers a full selection of Replacement Parts for our Rear Sets.
* * * Contact us to place an order * * *
To find out individual part names & numbers, see the illustrated parts list
included with your Sato Racing Rear Sets, or view the PDF: Parts List

More Sato Racing items for VFR750R / RC30