HD SPORTSTER XL1200 ('04-'13)

REAR SETS + TANDEM BRACKETS
(For use with Passenger Pegs)
These Sportster Rear Sets were designed and manufactured by request from a very passionate Harley shop owner in Japan who manufactures aftermarket exhaust systems, so they are designed to fit that particular style of exhaust*. If your Sportster has a similar aftermarket pipe (see photos) then these may just be your dream Rear Sets.

Our Sportster XL1200 Rear Sets are carved out of billet aluminum and anodized in your choice of Black or Silver, with Black tandem brackets and base plates. The shift and brake pedals have double stainless bearings for the smoothest pedal feel. Deeply knurled footpegs provide great grip even in wet conditions. Choose from a range of positions that puts your feet higher and much further back than stock for a more aggressive, cafe racer-type riding position.

*NOTE: We do not have a list of aftermarket Sportster exhausts that are compatible with this kit.
POSITIONS
| | | |
| --- | --- | --- |
| 1 | 220mm back | 35mm up |
| 2 | 230mm back | 35mm up |
| 3 | 230mm back | 50mm up |
| 4 | 230mm back | 20mm up |
note: all measurements are in relation to stock position (0 mm).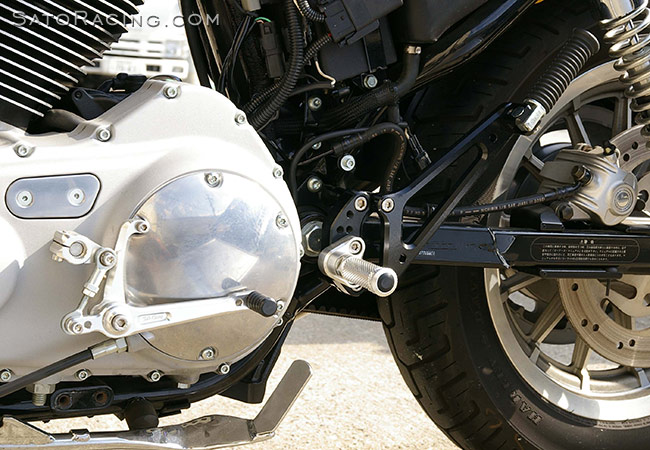 The Tandem Brackets are designed for use with the stock XL1200 passenger pegs.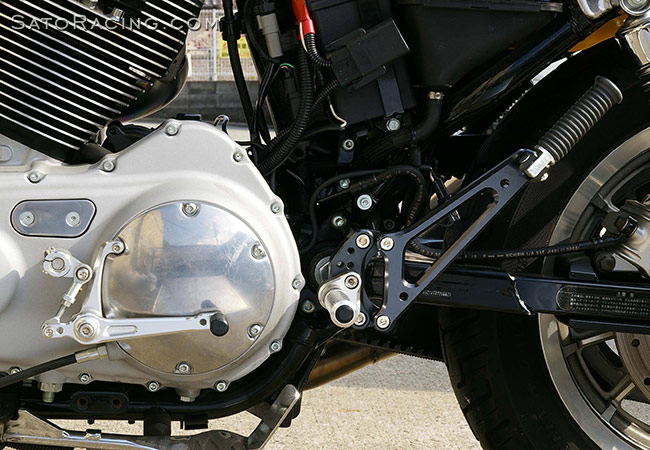 The Silver Rear Sets come with contrasting black anodized base plates and Tandem Brackets.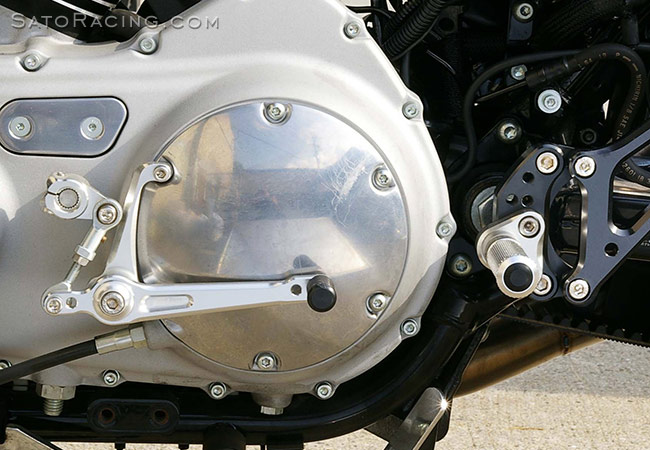 The base plates provide 4 adjustable peg positions, so you can find the ideal foot position.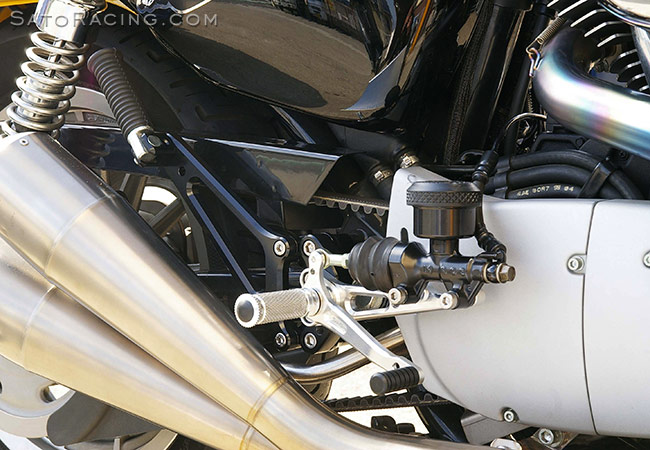 These Rear Sets can be used with compatible 2-into-1 exhaust systems with clearance similar
to what is shown in this photo. With exhaust systems that are mounted higher up than this,
there are likely to be interference issues, particularly if using the lowest rear set positions.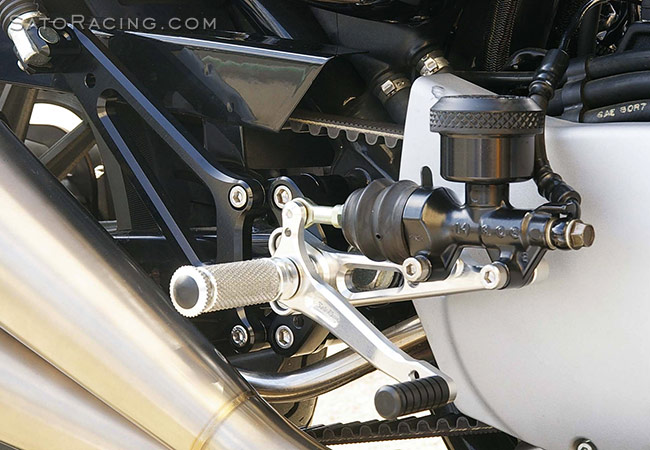 Finely knurled Foot Pegs provide the ideal blend of great grip and a comfortable, intuitive feel. The
standard Pedal Tips are made of tough Delrin. Additional styles of Pedal Tips are also available.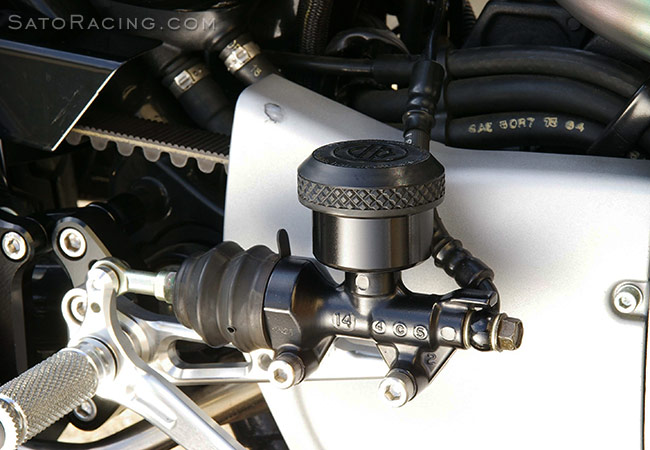 Master Cylinder Cup is included (use stock cap)
SATO RACING XL1200 Rear Sets come in stock shift pattern only.
Reverse shift pattern is not an option on this model.
BLACK
HD-SSTR04RST-BK
$995
SILVER*
HD-SSTR04RST-SV
$995
* Base Plate and Tandem Brackets come in BLACK only.


Have questions or prefer to order by phone? You can call us to place an order -



SATO RACING offers a full selection of Replacement Parts for our Rear Sets.
* * * Contact us to place an order * * *
To find out individual part names & numbers, see the illustrated parts list
included with your Sato Racing Rear Sets, or view the PDF: Parts List