SUZUKI KATANA (GSX1100/ 750S) ('81- )
REAR SETS
SATO RACING Rear Sets for 1981+ Suzuki GSX1100/ GSX750S Katana features an exquisite design that blends well the classic style of the Katana, with components precision machined out of light-weight, high strength anodized billet aluminum, with stainless steel hardware. Adjustable foot peg mount lets you choose from positions 5mm-20mm higher up compared to stock. Master cylinder (sold separately) is compatible with either Brembo (40 mm between mounting holes) or Nissin (45 mm between mounting holes). Choice of Black or Silver anodized finish.

A matching black anodized billet aluminum Shift Arm (part# S-CA2) is an available option.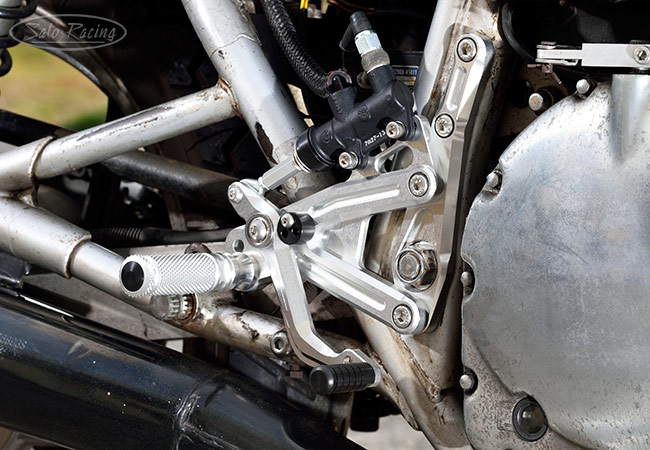 The shift and brake pedals utilize miniature double stainless bearings for smooth, precise lever action. The finely knurled Foot Pegs are fixed (non-folding), and provide optimal grip, along with a comfortable, intuitive feel. The version pictured above works with a Brembo rear master cylinder.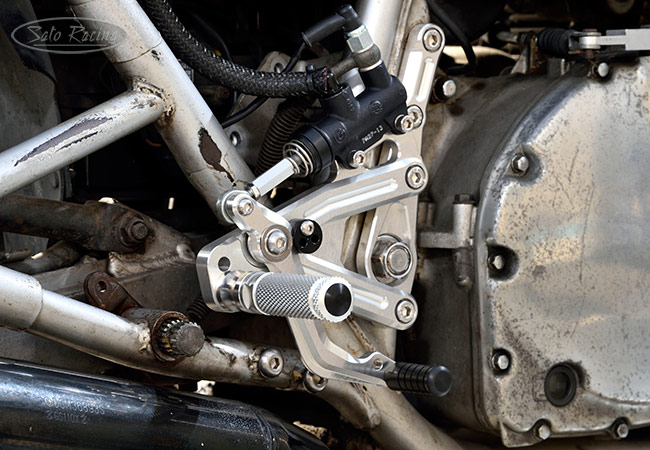 Rear Sets part# S-KAT81RSB-SV for Brembo master cylinder. (Master cylinder sold separately). A P-1.0 brake light switch is pictured attached to the master cylinder. It is included with the Rear Sets.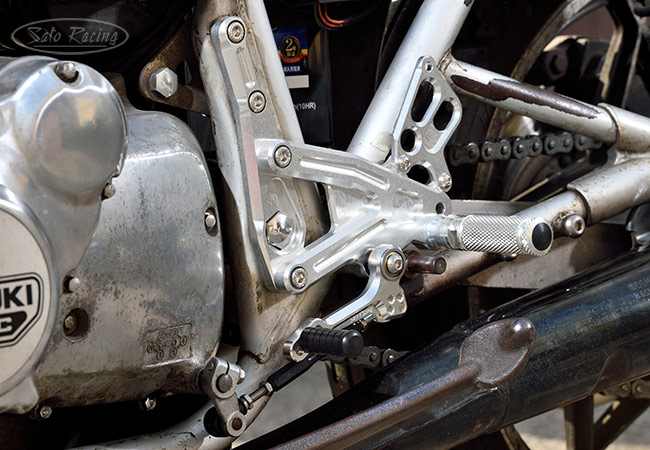 Provides a stock shift pattern. Adjustable design lets you change the postion of the Step Plate and the Foot Peg to your liking. The Pedal Tip (toe peg) position is also adjustable.

The standard Pedal Tips are made of tough Delrin plastic. Additional Pedal Tip styles, such as aluminum Pedal Tips with rubber sleeves, are an available option: More Details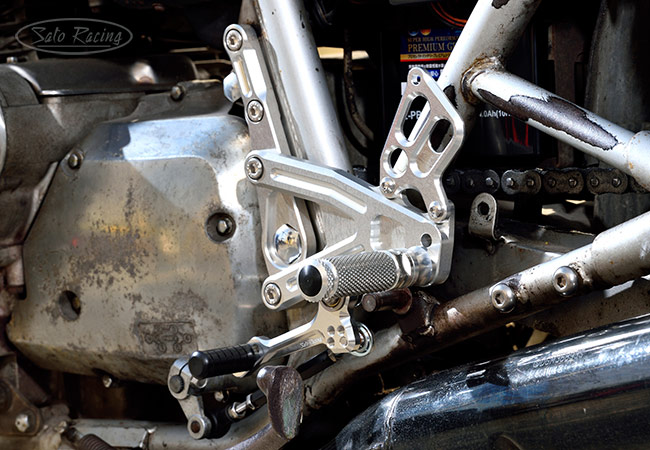 Rear Sets for Nissin master cylinder
(P-1.25 brake light switch is included)
NOTE: Please prepare your own Nissin master cylinder.
(recommended with banjo bolt mounting at the top)
Disassembly / rearrangement may be required.
BLACK
S-KAT81RS-BK
$635
SILVER
S-KAT81RS-SV
$635
Rear Sets for Brembo master cylinder
(P-1.0 brake light switch is included in kit)
BLACK
S-KAT81RSB-BK
$635
SILVER
S-KAT81RSB-SV
$635
BREMBO MASTER
CYLINDER [BLACK]
MC-B1
$90
Have questions or prefer to order by phone? You can call us to place an order -



More Sato Racing items for gen1 Suzuki Katana