KAWASAKI Z1000J / GPZ1100 (+ others) ('81- )
REAR SETS
SATO RACING Rear Sets for 1981 and up Z1000J and GPZ1000 (+ other Kawasaki models that share the same frame) feature parts CNC-machined out of high strength anodized billet aluminum, with stainless steel bolts. Modular design provides 6 adjustable foot peg positions so you can find the ideal position for your riding style. Kit includes an integrated Brembo master cylinder with a brake light switch attached, for maximum compatibility. Choice of all-Black anodized finish, or Gold anodized finish with Black exhaust hanger.

The standard Rear Sets provide a stock shift pattern. We also make a Reverse Shift version of these Rear Sets.

Requirements for installation:
- A new brake hose in the correct length for use with the provided master cylinder.
- Adjust position of side stand, since there may be interference issues.
- Adjust canister bracket position to work with the provided hanger.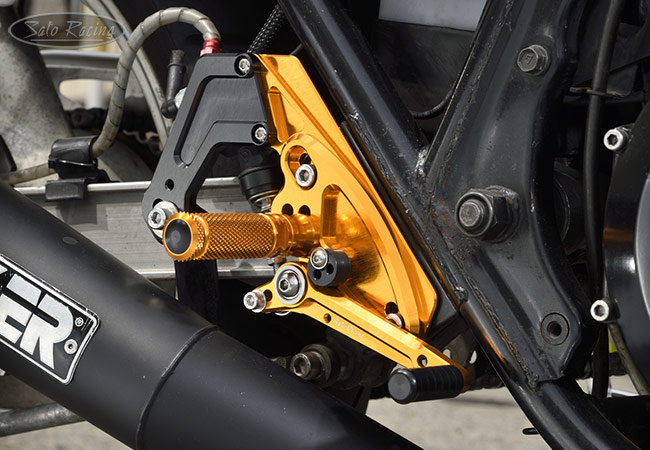 The shift and brake pedals utilize miniature double stainless bearings for smooth, precise lever action. The finely knurled Foot Pegs are fixed (non-folding), and provide optimal grip, along with a comfortable, intuitive feel. A master cylinder with a pressure-type brake light switch are included in the kit. A different length brake hose may be necessary.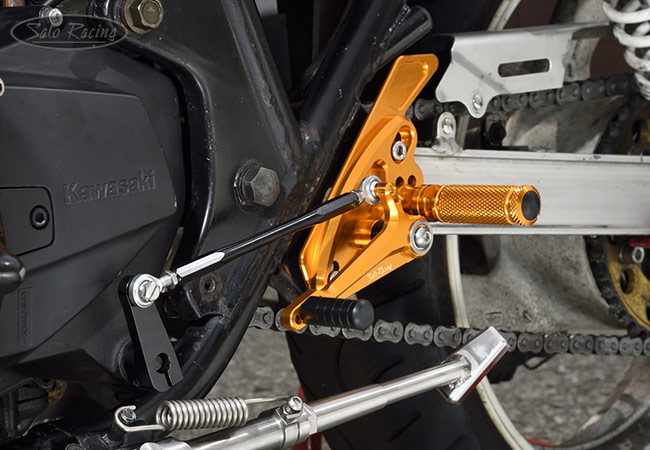 Rear Sets (standard version) - provides a stock shift pattern. Adjustable design lets you change the postion of the Step Plate and the Foot Peg to your liking. The Pedal Tip (toe peg) position is also adjustable.

The standard Pedal Tips are made of tough Delrin plastic. Additional Pedal Tip styles, such as aluminum Pedal Tips with rubber sleeves, are an available option: More Details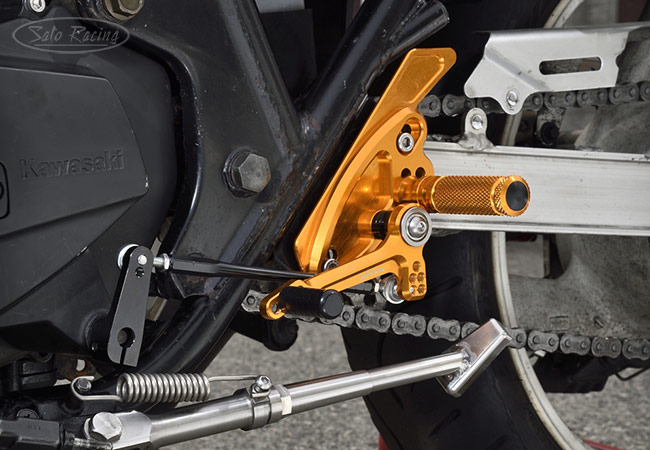 Reverse Shift Rear Sets - provides a dedicated GP-style reverse shift pattern.
If using the stock side stand, you might need to modify it to avoid interference.
Rear Sets (Stock Shift)
BLACK
K-Z1000JRS-BK
$585
GOLD
K-Z1000JRS-GD
$585
Reverse Shift Rear Sets
BLACK
K-Z1000JRSR-BK
$585
GOLD
K-Z1000JRSR-GD
$585
These Rear Sets models are 'special order' items that we don't
expect to regularly keep in stock, so Contact Sato Racing
if you are interested in ordering a set. (ETA is 4-8 weeks)
Have questions or prefer to order by phone? You can call us to place an order -



More Sato Racing items for Kawasaki