BMW R nineT Racer ('17-'20)
REAR SETS
SATO RACING Rear Sets for 2017-20 BMW R nineT Racer is a track-engineered design, with all parts precision CNC-machined from lightweight and high strength anodized billet aluminum, with stainless steel hardware. You can choose from 4 adjustable foot peg positions in a useful range for performance riding, bringing your feet higher up compared to stock. Choice of Black or Silver (clear metal) anodized finish.
POSITIONS
1
0mm
(stock position)
18mm Up
(0.7" Up)
2
15mm Forward
(0.6" Forward)
18mm Up
(0.7" Up)
3
0mm
(stock position)
33mm Up
(1.3" Up)
4
15mm Forward
(0.6" Forward)
33mm Up
(1.3" Up)
note: all measurements are in relation to the stock peg position on a Racer (0 mm).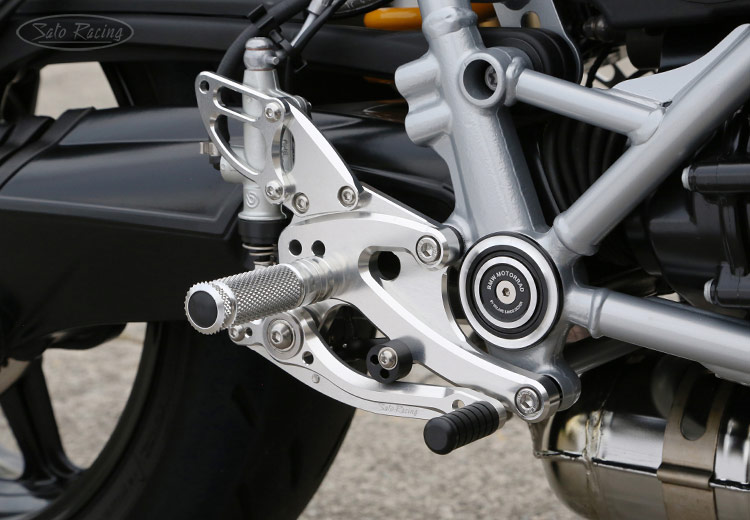 Choose from Silver (clear metal) or deep Black anodized finish.

4 adjustable foot peg positions can bring your feet as much as 15mm forward and 33mm higher
up compared to the stock set, so you can find the ideal position for your stature and riding style.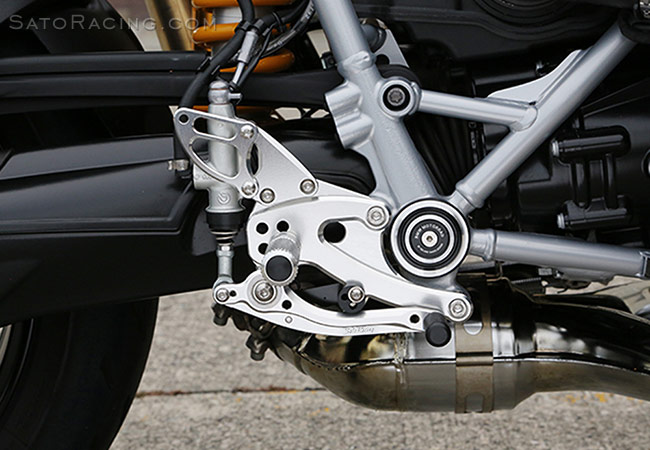 The shift and brake pedals utilize double stainless bearings for smooth, precise pedal movement
with a solid feel. You can adjust the rest height of the brake pedal by rotating the pedal stopper.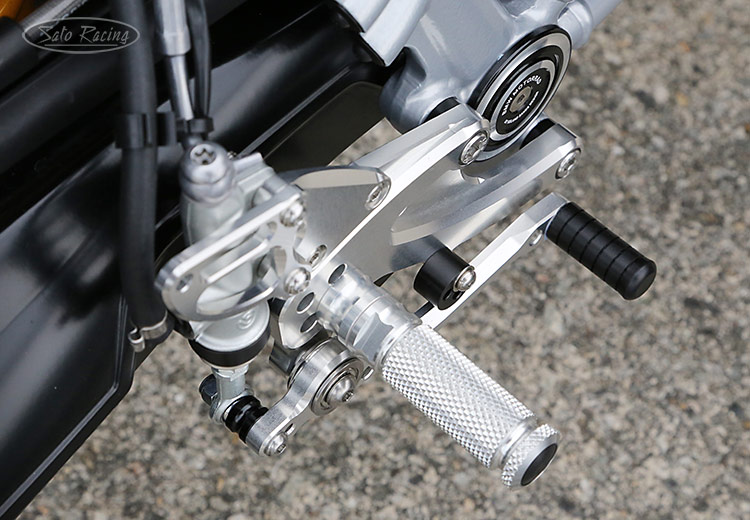 A mechanical brake light switch is included with these Rear Sets.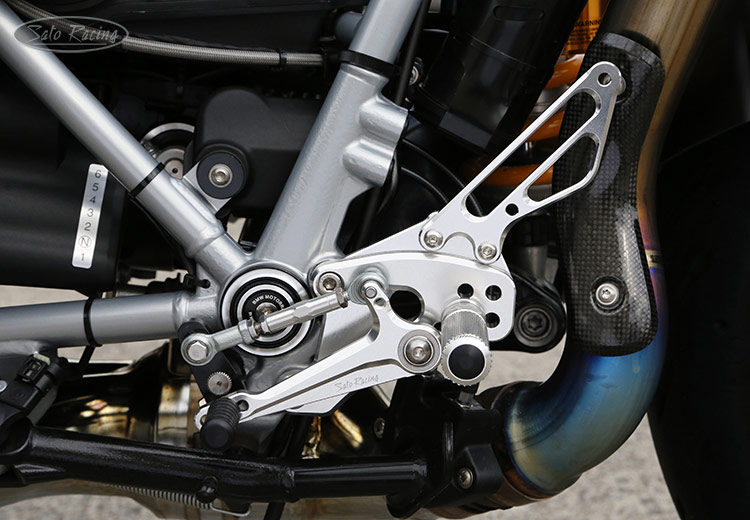 The foot pegs have a knurled pattern for excellent grip, along with a comfortable,
intuitive feel. The positions of both the foot pegs and the pedal tips are adjustable.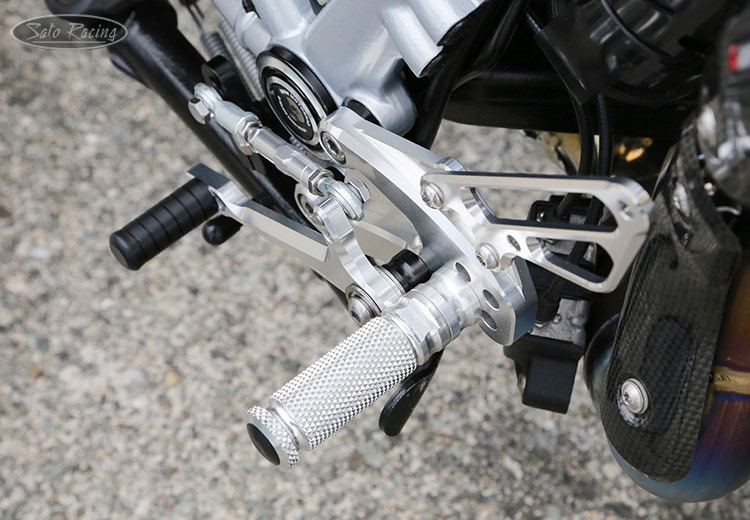 These Rear Sets provide a stock shift pattern.
(Reverse/GP shift pattern is not an option for this model).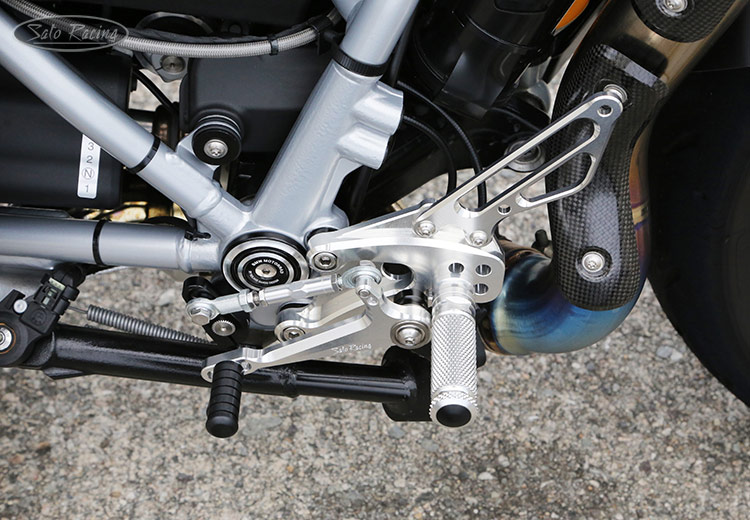 The standard Pedal Tips are made of tough Delrin plastic. Additional styles of Pedal Tips,
such as aluminum Pedal Tips with fluted rubber sleeves, are an option: More Details
BLACK
BMW-R9TRARS-BK
$600
SILVER
BMW-R9TRARS-SV
$600
(Brake light switch is included in kit)

2017 BMW R nineT Racer with SATO RACING Rear Sets, Axle Sliders and other parts.

OPTIONS



Cutout-style FOOT PEG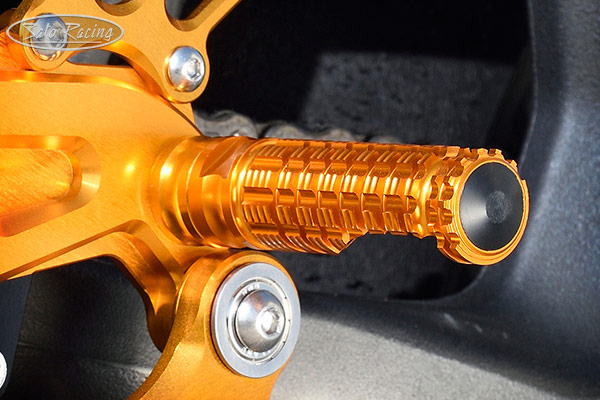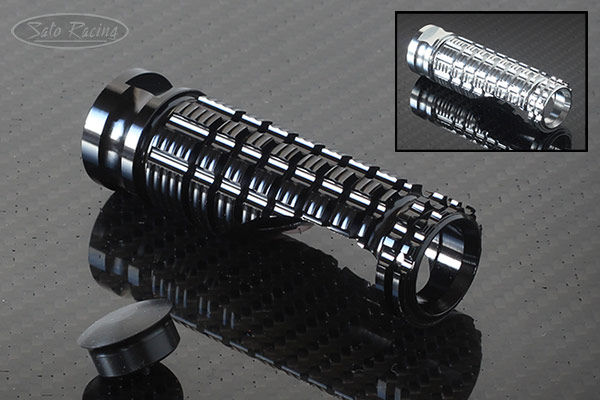 This super-lightweight anodized billet aluminum peg for competition use* features a rectangular-motif grip pattern. An End Cap made of abrasion-resistant black Delrin is included.

* NOTE: Due to the lightweight hollowed-out design, these pegs are intended for track use only. Not recommended for heavier riders or stunting purposes.
Race Concept Cutout-style FOOT PEG (Sold individually)
BLACK
RCPEG-BK
$48
SILVER
RCPEG-SV
$48
* Click Here for important info about Sato GOLD-anodized parts.
Have questions or prefer to order by phone? You can call us to place an order -



More Sato Racing items for BMW R nineT Racer