YAMAHA YZF-R1 ('15- )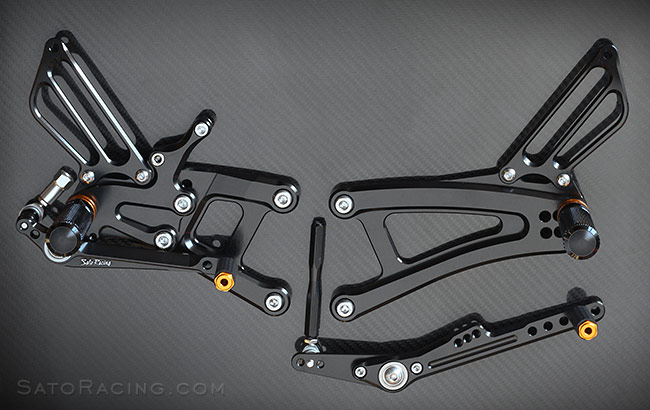 SATO RACING 'Race Concept'-edition Rear Sets are pure, no-compromise racing rear sets designed for track-only bikes.

Our 'Race Concept' Rear Sets (design v.15) for 2015 and up Yamaha YZF-R1 / R1M are made from high grade billet aluminum anodized in your choice of all Black with Gold accents, or Gold over Black. Modular step plate design lets you select from 5 adjustable positions that raise your foot position up to 47.5mm higher and 25mm-45mm further back compared to stock, for a more aggressive riding position well suited for the track. You can use these Rear Sets with the stock shifting pattern, or switch them to reverse (GP-style) shift patttern.

NOTE: Not recommended for street use. Not compatible with stock brake light switch sensor or stock exhaust hanger.

For more 'street'-friendly Rear Sets, see our standard R1 '15- Rear Sets.
POSITIONS
| | | |
| --- | --- | --- |
| 1 | 25mm Back | 35mm Up |
| 2 | 25mm Back | 47.5mm Up |
| 3 | 35mm Back | 35mm Up |
| 4 | 35mm Back | 47.5mm Up |
| 5 | 45mm Back | 35mm Up |
| 6 | 45mm Back | 47.5mm Up |
note: all measurements are in relation to stock position (0 mm).

The shift and brake pedals utilize double stainless bearings for smooth, precise pedal movement.
Gold-anodized aluminum Pedal Tips with fluted rubber grips are standard with these Rear Sets.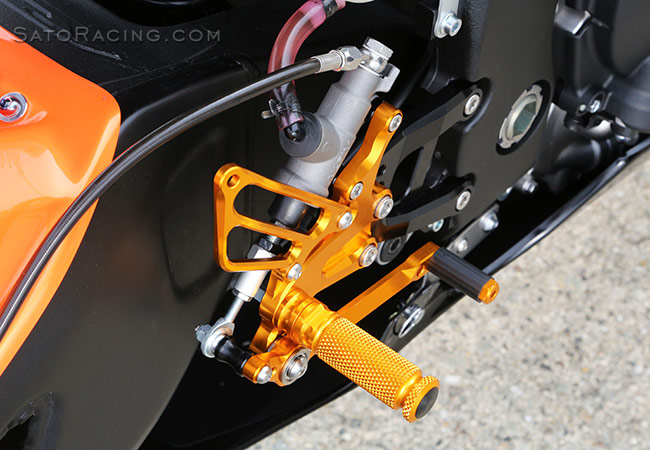 Knurled footpegs provide excellent grip even in wet conditions.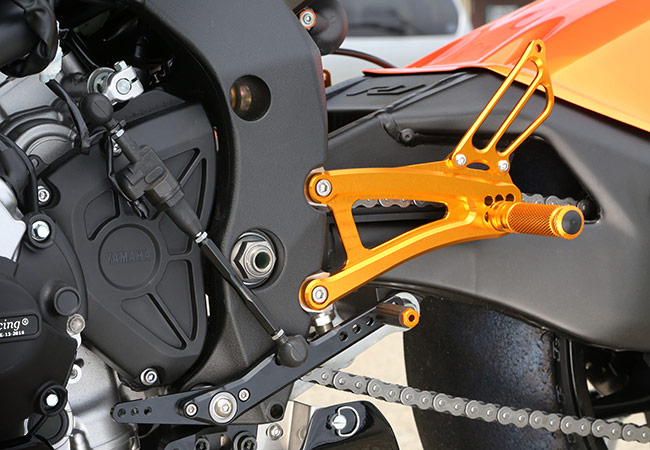 The shift pedal has multiple adjustment points for fine-tuning the shifter feel.
To change to reverse (GP) shift pattern, relocate the shift rod to the opposite end of the pedal.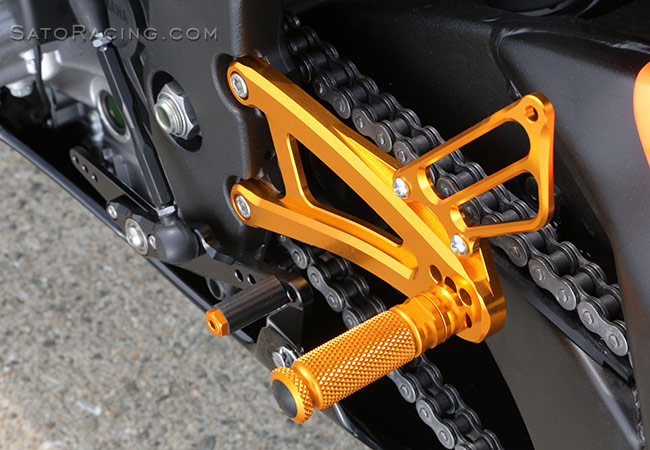 BLACK
w/ Gold accents
Y-R115RCRS-BK
$630
GOLD *
w/ Black Base Plate + Shift Pedal
Y-R115RCRS-GD
$630
* Click Here for important info about Sato GOLD-anodized parts.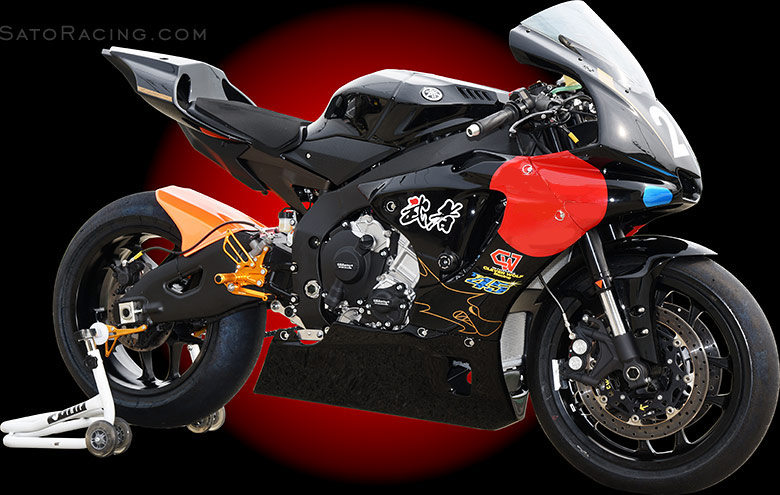 SATO RACING offers a full selection of Replacement Parts for our Rear Sets.
* * * Contact us to place an order * * *
To find out individual part names & numbers, see the illustrated
parts list included with your Sato Rear Sets.

More Sato Racing items for '15 YZF-R1