YAMAHA FZ-09 / MT-09 / XSR900 '14-'20
RACING HOOKS
These lightweight, high strength anodized billet aluminum SATO RACING Racing Hooks for 2014-20 Yamaha MT-09 / FZ-09 and 2016-21 XSR900 provide sturdy strap-down loops that are ideal for hooking tie-down straps and bungee cords, very useful when you need to strap the bike down to transport it. Choice of Black or Gold anodized finish. Includes stainless steel bolts. (L/R Set of 2)

(Racing Hooks shown installed on a '14 MT-09)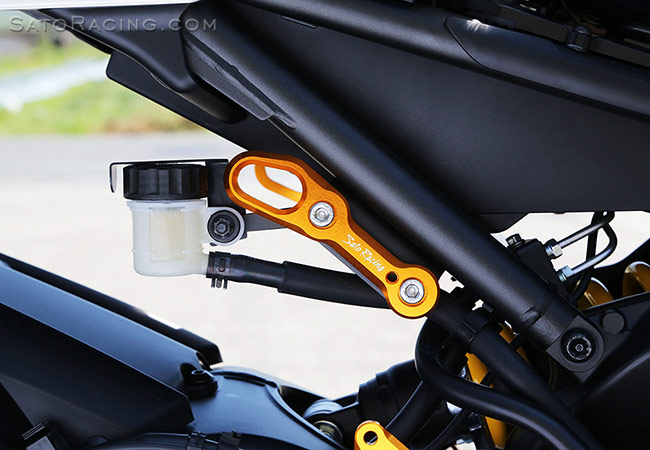 An alternate method of attaching the brake fluid reservoir is shown above. For this, use Universal Bracket 50mm x M8 x M6 (part# UB-M850) and a 3mm Collar (part# CLR3-8) to fit behind the mount holes. ('16 Yamaha XSR900 pictured)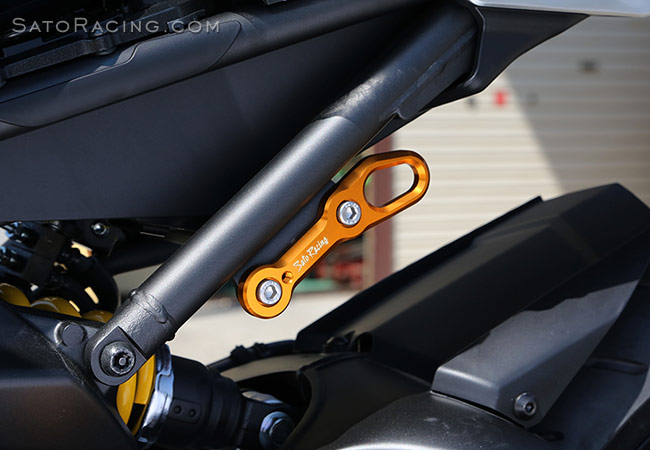 (Racing Hooks shown installed on a '16 XSR900)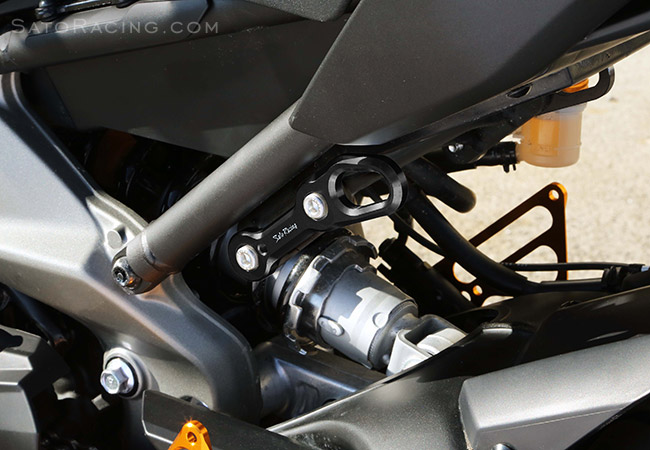 (Racing Hooks shown installed on a '14 MT-09)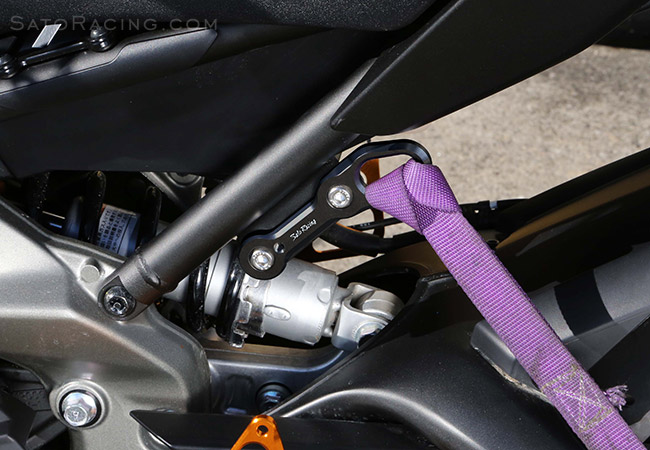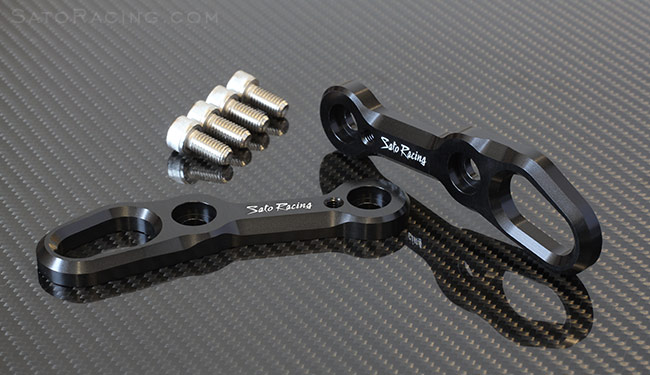 RACING HOOKS (Set of 2)
BLACK
Y-MT09HOOK-BK
$60
GOLD
Y-MT09HOOK-GD
$60



OPTIONAL PARTS


| | |
| --- | --- |
| | Universal Bracket - Use to attach the stock brake fluid reservoir to the Racing Hook. (M6x10mm bolt sold separately): |
UNIVERSAL BRACKET
25mm x M6 [BLACK]
UB-M625-B
$8.00
(Our Universal Brackets are available in other lengths and colors as well.)
SOCKET HEAD BOLT
M6 x 10mm
SBT-M610
$1.50
| | |
| --- | --- |
| | Alternate method to attach the stock brake fluid reservoir: Universal Bracket (UB-M850-B) + Collar 3-8 (CLR3-8) |
UNIVERSAL BRACKET
50mm x M8 x M6 [BLACK]
UB-M850-B
$10.00
(This Universal Bracket model is also available in Silver and Gold)

Collar 3-8 is recommended if attaching the Universal Bracket behind the hook as show in the photo above. It is an anodized aluminum spacer the same thickness as the Universal Bracket. Install behind the front hole of the Hook:
COLLAR 3-8
CLR3-8
$6.00
* Click Here for important info about Sato GOLD-anodized parts.
Have questions or prefer to order by phone? You can call us to place an order -



More Sato Racing items for FZ-09 / MT-09 / XSR900

HOME | YAMAHA Index | FZ/MT-09 2014-16 Index | FZ/MT-09 2017-20 Index