HONDA CBR1000RR ('04-'07)
REAR SETS ver.2 design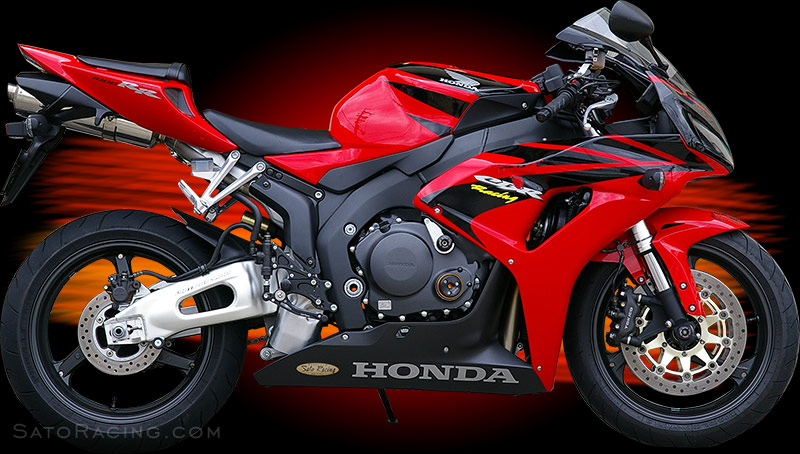 SATO RACING Rear Sets for 2004-2007 CBR1000RR are CNC-machined from high grade billet aluminum and anodized in your choice of Black, Silver (clear metal), or vivid Gold finish, with stainless steel bolts. Modular design provides 7 adjustable positions that can bring your feet up to 30mm higher and 20mm back compared to stock. You can easily switch to a reverse shift pattern too.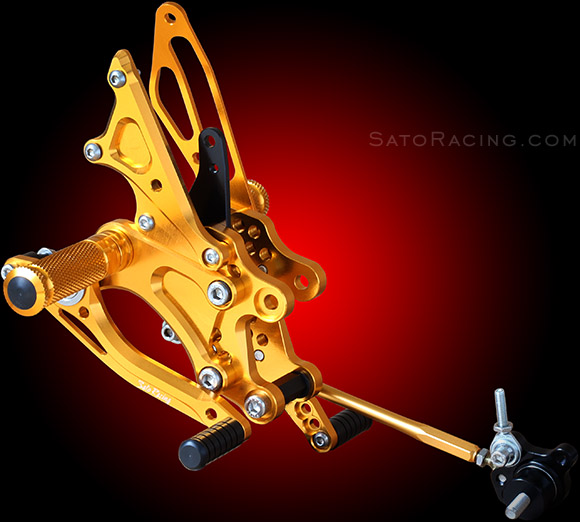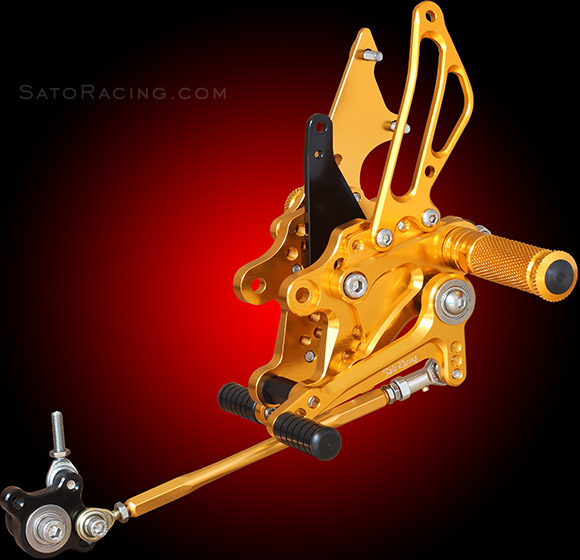 POSITIONS
| | | |
| --- | --- | --- |
| 1 | 0 mm | 10mm Up |
| 2 | 10mm Back | 10mm Up |
| 3 | 0 mm | 20mm Up |
| 4 | 10mm Back | 20mm Up |
| 5 | 20mm Back | 20mm Up |
| 6 | 10mm Back | 30mm Up |
| 7 | 20mm Back | 30mm Up |
note: all measurements are in relation to stock position (0 mm).
NOTE: The following install photos show an earlier design version of these Rear Sets.
The latest version of our CBR1000RR Rear Sets have some minor design differences.

Finely knurled Foot Pegs combine excellent grip with a comfortable feel.
The standard Pedal Tips are made of tough Delrin plastic. We also have
other optional types of Pedal Tips that work well with these Rear Sets.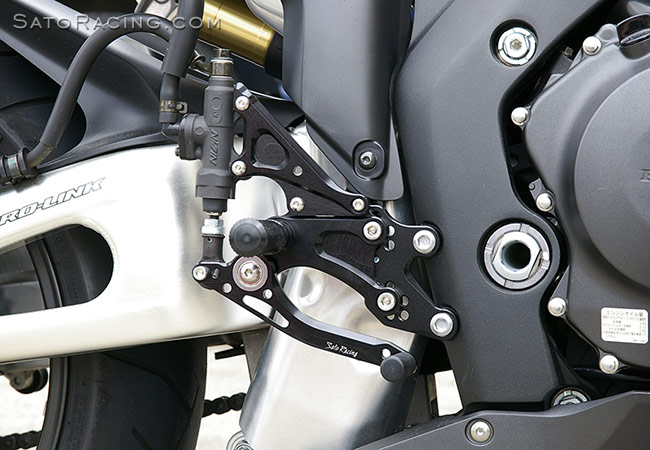 The shift and brake pedals utilize double stainless bearings for smooth, precise movement.
Though not shown in this photo, a brake light switch is included with these Rear Sets.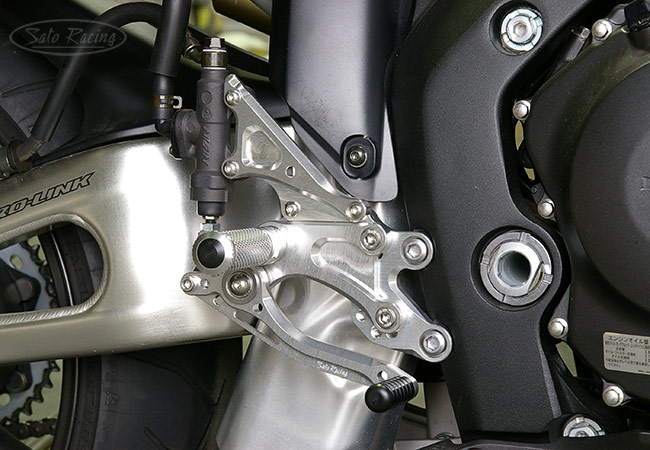 The base plate has multiple adjustment holes so you can find the ideal position for your riding style.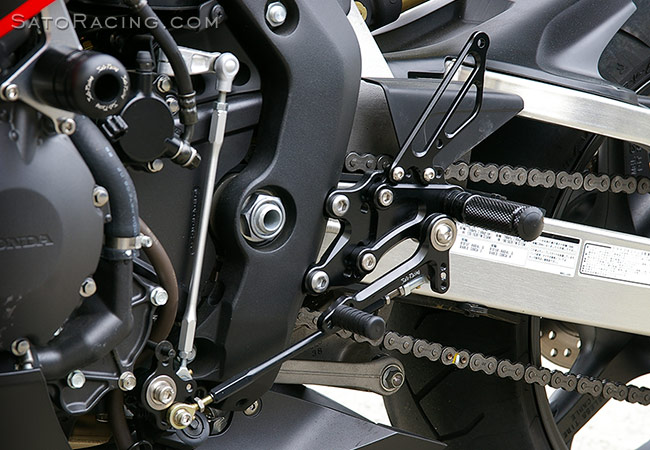 The shift linkage design lets you use the Rear Sets with either stock shift pattern
or reverse (GP style) shift pattern. (Reverse shift pattern shown in photo above).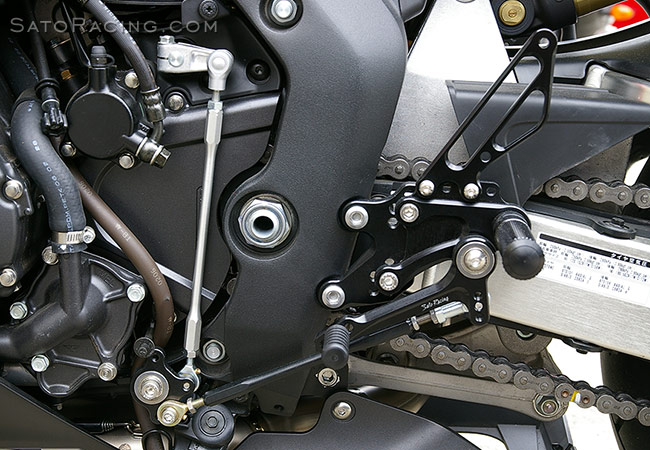 The Rear Sets mounting plates provide 7 positions in a wide adjustment range,
so you can choose the position most ideal for your height and your riding style.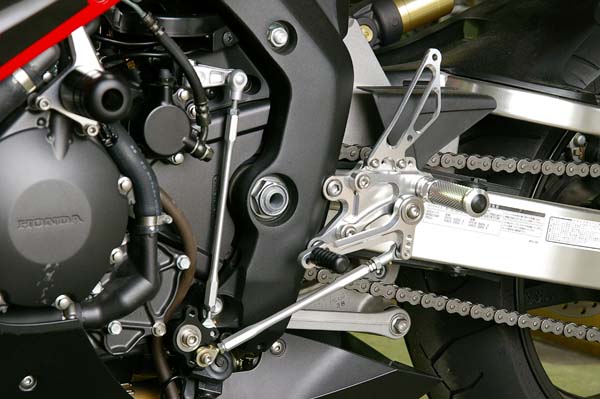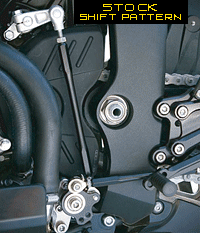 You can change the shifting pattern by relocating
the SATO SHIFT ROD to the upper or lower hole.
BLACK
H-CBR1RS2-BK
$550
SILVER
H-CBR1RS2-SV
$550
GOLD*
H-CBR1RS2-GD
$550
(Brake light switch included.)
* Click Here for important info about Sato GOLD-anodized parts.

REPLACEMENT PARTS
SATO RACING offers a full selection of Replacement Parts for our Rear Sets.
* * * Contact us to place an order * * *
To find indvidual part names and numbers, see the illustrated parts list
included with your Sato Racing Rear Sets, or view the PDF: Parts List
Some common replacement parts for these Rear Sets
can be purchased in our online store:
FOOT PEG [BLACK]
PEG-BK
$38
FOOT PEG [SILVER]
PEG-SV
$38
FOOT PEG [GOLD]
PEG-GD
$38
PEG COLLAR 12 [BLACK]

PEGCLR-12B
$15
PEG COLLAR 12 [SILVER]

PEGCLR-12S
$15
PEG COLLAR 12 [GOLD]

PEGCLR-12G
$15
HEX HEAD M8-45mm
(Foot Peg bolt)
HBT-M845
$2.00
SPLIT WASHER M8
SWS-8
$1.20
BEARING COLLAR SUS
(R-side #17)
BGCLR-SUS
$6.50
STANDARD PEDAL TIP
(DELRIN plastic)
ST-001D
$15
BUTTON HEAD M6-20mm
(for Pedal Tip)
BBT-M620
$1.50
SOCKET HEAD M6-20mm
(L-side #6)
SBT-M620
$1.50
ROD END COLLAR 3
(L-side #23)
RDED-CLR3
$6.00
Some additional parts such as Shift Rod, Rod Ends and related hardware can be found HERE.
(For replacement parts not listed on our website, contact Sato Racing for an estimate.)

More Sato Racing items for '04-'07 CBR1000RR