SUZUKI GSX-R1000/R ('17- )
REAR SETS
SATO RACING Rear Sets for 2017-18 Suzuki GSX-R1000/R are CNC-machined from high strength billet aluminum and anodized in your choice of all Black, or Gold finish with Black-anodized shift pedal assembly. Choose from 5 adjustable foot peg positions that bring your feet progressively higher up and further back compared to stock, to help you achieve a more aggressive riding position well-suited to the fast straights and steep lean angles you may encounter on the track. These Rear Sets can be set up for either stock shift pattern or reverse (GP style) shift pattern.

Available options for these Rear Sets include a Shift Spindle Holder which reinforces the shift shaft for more precise shift action.
POSITIONS
| | | |
| --- | --- | --- |
| 1 | 12mm Back | 20mm Up |
| 2 | 12mm Back | 30mm Up |
| 3 | 12mm Back | 40mm Up |
| 4 | 24mm Back | 30mm Up |
| 5 | 24mm Back | 40mm Up |
note: all measurements are in relation to stock position (0 mm).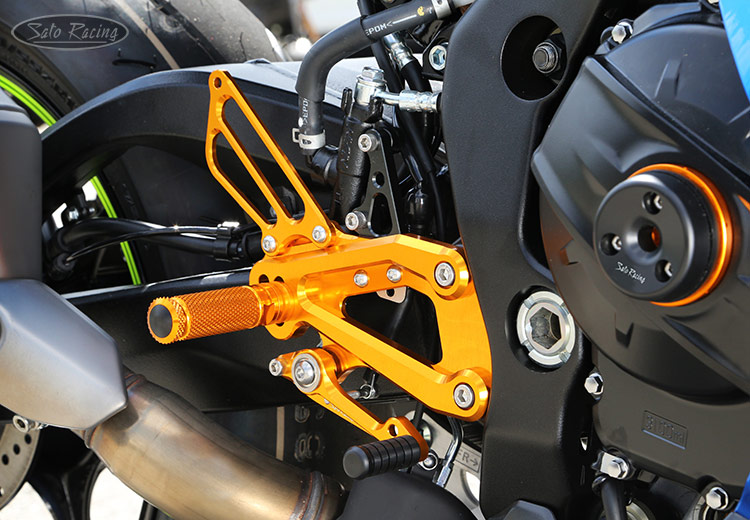 The brake pedal has double stainless bearings for smooth, precise movement and a solid feel.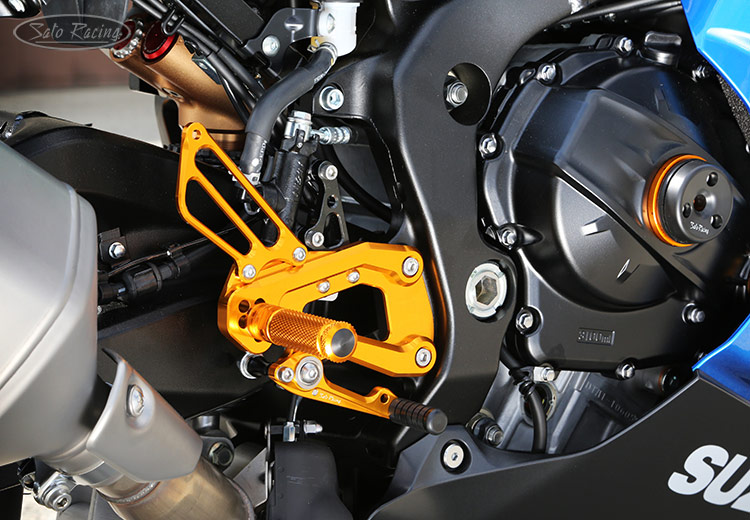 Foot Peg position is adjustable. You can also adjust the positions of the pedal tips.
These Rear Sets are fully compatible with the stock brake light switch and ABS.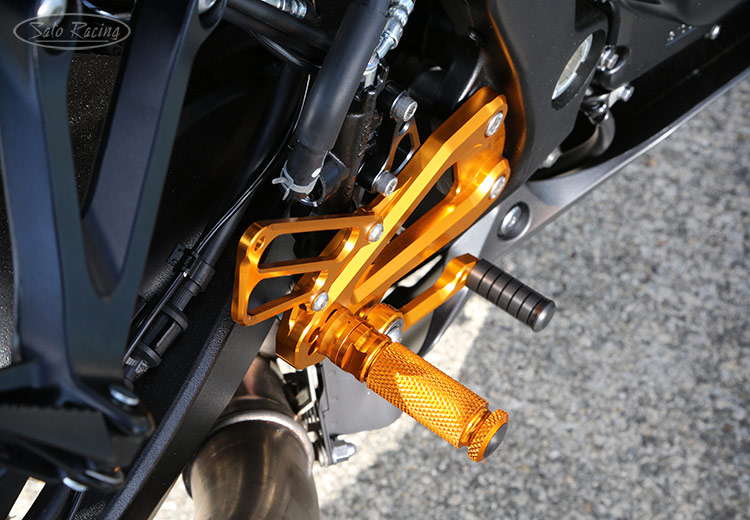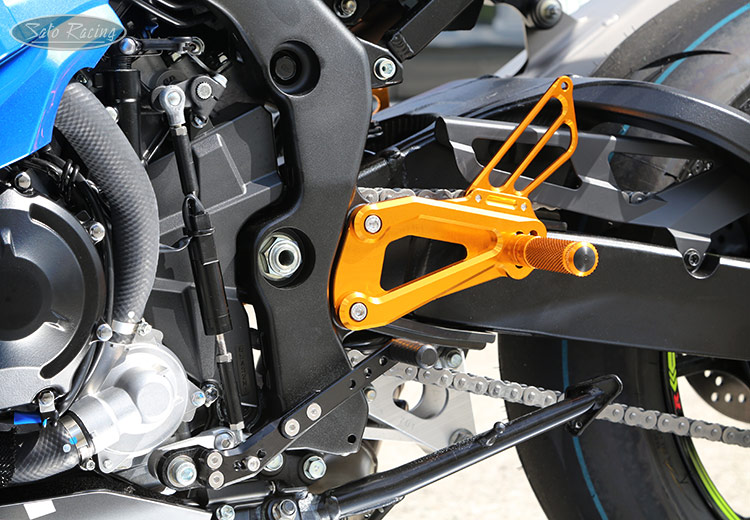 The shift pedal has multiple adjustment points for fine-tuning the shifter feel.
(Shift pedal assembly comes in Black only)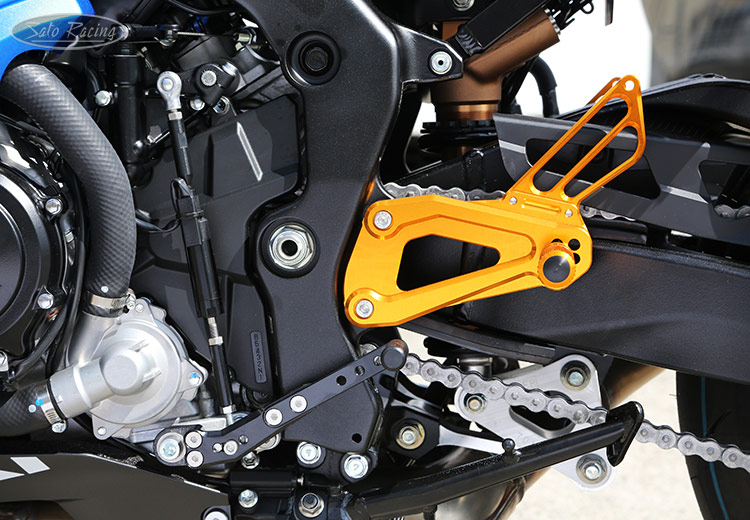 You can switch to reverse (GP) shift pattern by flipping the stock shift arm.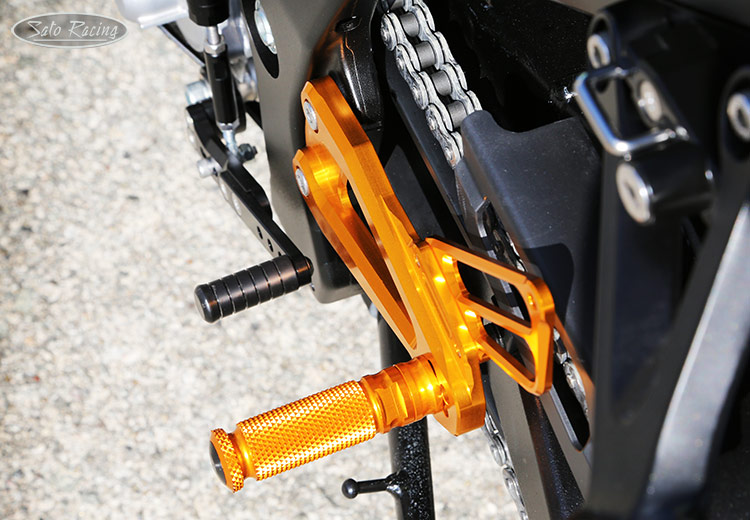 The Foot Pegs have a finely knurled pattern for great grip and a comfortable, intuitive feel.
BLACK
S-GSX117RS-BK
$565
GOLD*
w/ BLACK Shift Assembly
S-GSX117RS-GD
$565
* Click Here for important info about Sato GOLD-anodized parts.



OPTIONAL PART


SUZUKI GSX-R1000/R ('17)
SHIFT SPINDLE HOLDER
SATO RACING Shift Spindle Holder for 2017 Suzuki GSX-R1000/R reinforces the stock shift spindle, adding strength and rigidity to the spindle and reducing lateral movement and excessive play during shifting. Works great with Sato Racing Rear Sets. Gold anodized billet aluminum with a Teflon-coated bushing.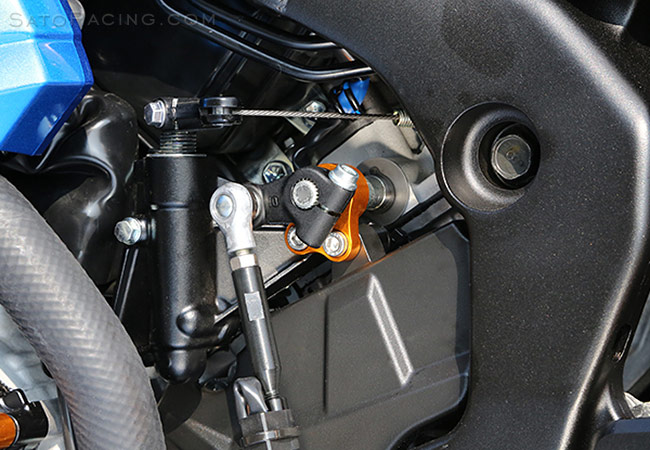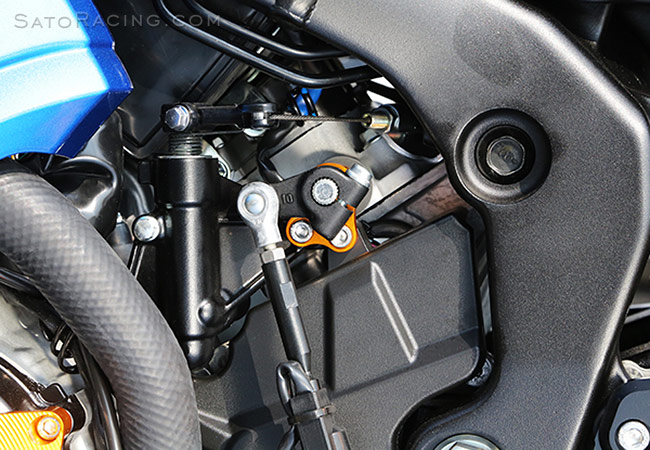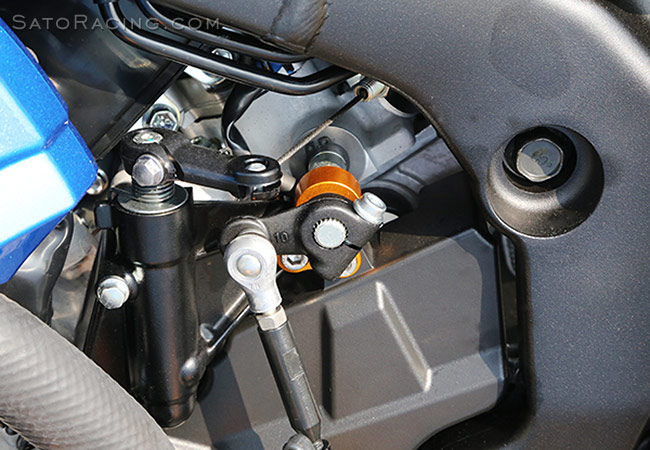 GOLD*
S-GSX117RS-SHDR
$90
* Click Here for important info about Sato GOLD-anodized parts.

More Sato Racing items for '17 GSX-R1000/R