KAWASAKI Ninja 1000 (Z1000SX) ('11-'13) /
Ninja 1000 ABS ('14-'16) / Z1000 ABS ('11-'16)
REAR SETS
SATO RACING Rear Sets for 2011-16 Ninja 1000 models, along with Z1000 ABS, are track-engineered and CNC-machined from high grade billet aluminum anodized in your choice of deep Black, Silver (clear metal), or vivid Gold finish, with stainless steel bolts. Modular design is fully adjustable in a wide range of positions, so you can find the ideal position for your riding style.

The standard Rear Sets provide a stock shift pattern. Dedicated Reverse Shift Rear Sets are also available.
POSITIONS
| | | |
| --- | --- | --- |
| 1 | 15mm Forward | 0mm |
| 2 | 0mm | 0mm |
| 3 | 5mm Back | 12.5mm Up |
| 4 | 20mm Back | 12.5mm Up |
| 5 | 14mm Forward | 10mm Up |
| 6 | 0mm | 8mm Up |
| 7 | 0mm | 22mm Up |
| 8 | 16mm Back | 21mm Up |
Note: all measurements are in relation to stock position (0 mm).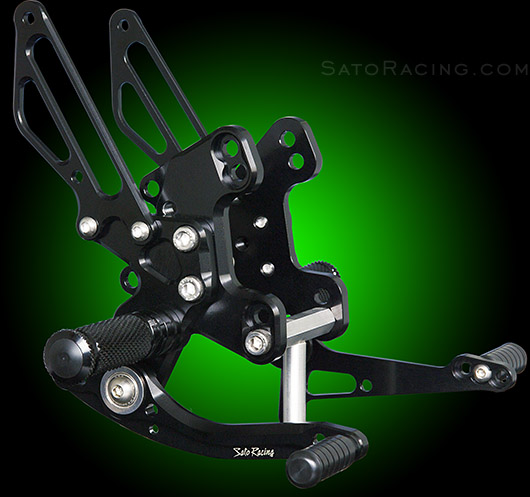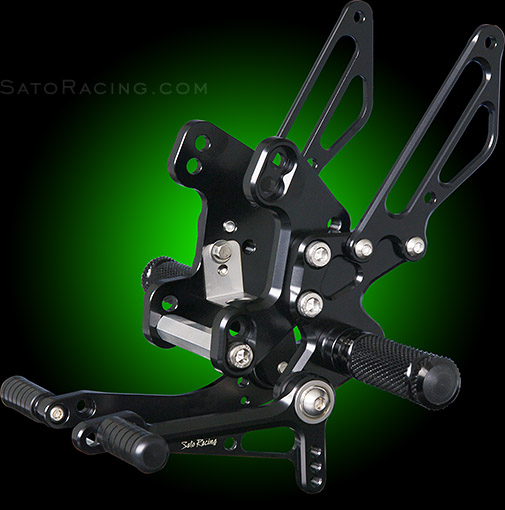 Standard Rear Sets (stock shift pattern)
(Shift Rod is also included in kit)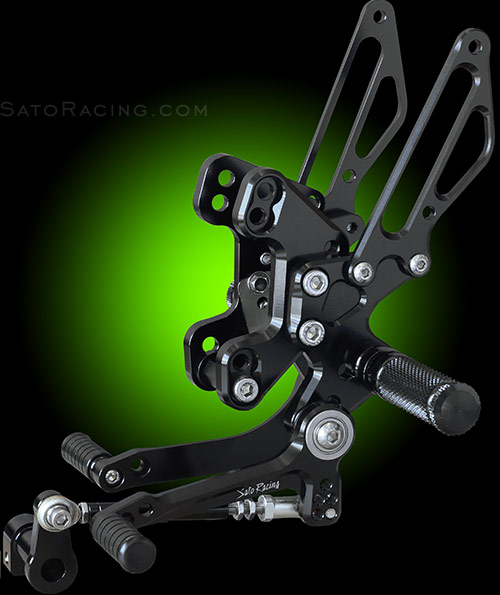 Reverse Shift Rear Sets kit includes a shift pedal assembly and
change arm designed to provide reverse (GP-style) shift pattern.

The shift and brake pedals utilize double stainless bearings for smooth, precise pedal movement.
These Rear Sets are designed for compatibility with the stock brake light switch hardware and ABS.

The Foot Pegs have a finely knurled pattern for excellent grip and a comfortable, intuitive feel.
The standard Pedal Tips are made of tough Delrin plastic. Additional Pedal Tip styles, such as
folding-style Pedal Tips with fluted rubber sleeves, are available as an option: More Details

Standard (stock shift) Rear Sets shown above. Reverse Shift Rear Sets are also available.
The positions of the Base Plate, Step Plate, and Foot Peg are each indepentently adjustable.

Multiple adjustment holes on the shift pedal let you fine-tune the shift stroke: Attaching
the shift rod to the lowest hole provides the shortest stroke. (Standard Rear Sets shown)
Rear Sets (stock shift)
BLACK
K-N1000RS-BK
$595
SILVER
K-N1000RS-SV
$595
GOLD*
K-N1000RS-GD
$595
Reverse Shift Rear Sets
BLACK
K-N1000RSR-BK
$645
* Click Here for important info about Sato GOLD-anodized parts.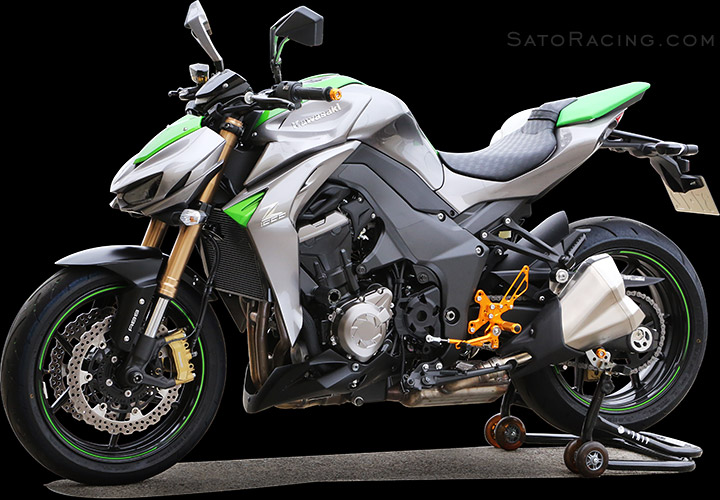 SATO RACING offers a full selection of Replacement Parts for our Rear Sets.
* * * Contact us to place an order * * *
To find out individual part names & numbers, see the illustrated parts list
included with your Sato Racing Rear Sets, or view the PDF: Parts List

More Sato Racing items for these Kawasaki models