HONDA 919 (HORNET 900)
REAR SETS
Sato Racing Rear Sets for Honda 919 / Hornet 900 are CNC-machined from high grade billet aluminum and anodized in your choice of Black or Silver (clear metal) finish. The shift and brake pedals utilize double stainless bearings for smooth, precise pedal movement. Deeply knurled footpegs provide optimal grip even in wet conditions, along with a comfortable, intuitive feel. Modular design lets you select from 5 adjustable foot peg positions in a range that brings your feet progressively higher and further back compared to stock, for a sportier, less upright riding position.

An optional matching Passenger Peg Kit is an available option, providing tandem brackets for those times when you would like to carry a passenger.
POSITIONS
| | | |
| --- | --- | --- |
| 1 | 10mm Back | 20mm Up |
| 2 | 10mm Back | 30mm Up |
| 3 | 20mm Back | 30mm Up |
| 4 | 20mm Back | 40mm Up |
| 5 | 30mm Back | 40mm Up |
Note: all measurements are in relation to stock position (0 mm).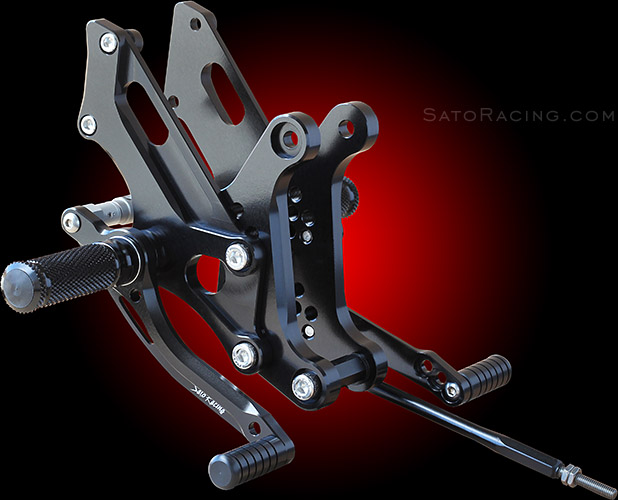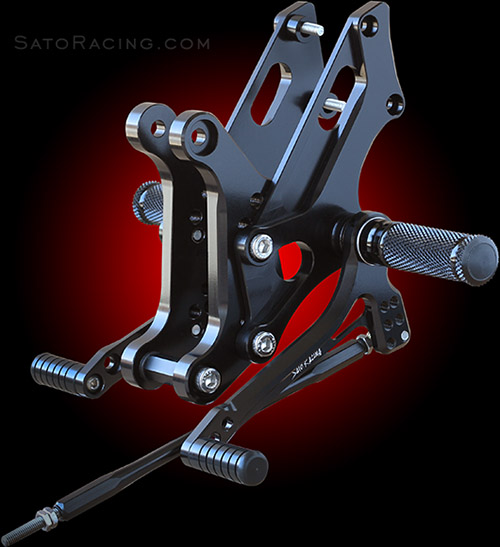 Note: The following install photos depict our original 919 Rear Sets. Our latest
Rear Sets for 919 have an updated pedal design, among other improvements.
(See photos at top of page).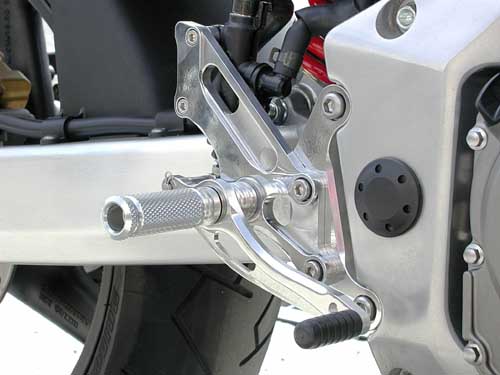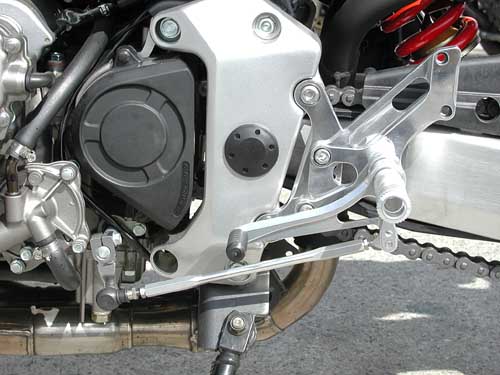 You can switch from stock shift to reverse shift pattern
by rotating the change arm.

BLACK
H-919RS-BK
$545
SILVER
H-919RS-SV
$545
(Brake light switch included.)

OPTIONAL PARTS

PASSENGER PEG KIT
Anodized billet aluminum brackets with compact folding passenger pegs featuring a knurled grip pattern that matches our 919 Rear Sets footpegs. Choice of Black or Silver.
(For use with Sato Racing 919 Rear Sets)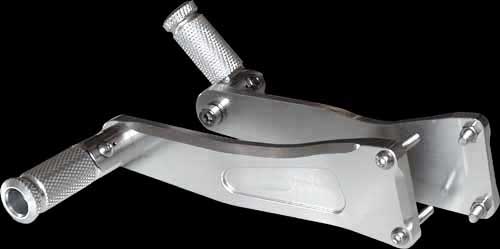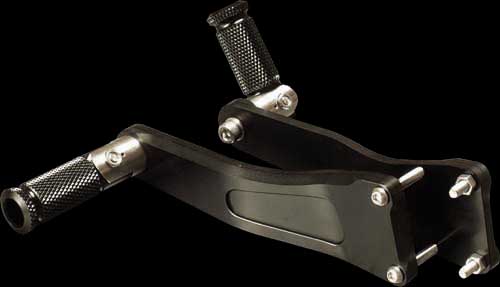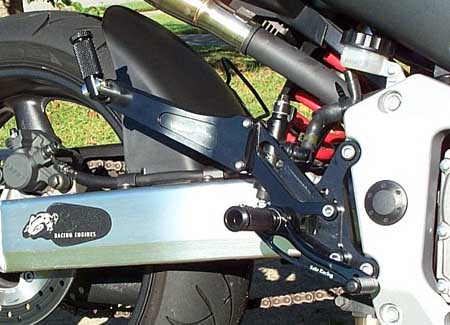 BLACK
H-919RS-PEG-BK
$209.95
SILVER
H-919RS-PEG-SV
$209.95

REPLACEMENT PARTS
SATO RACING offers a full selection of Replacement Parts for our Rear Sets.
* * * Contact us to place an order * * *
To find individual part names & numbers, see the illustrated parts list
included with your Sato Racing Rear Sets, or view the PDF: Parts List

More Sato Racing items for the 919